Let's face it: at the end of the month, money is tight. You have rent and other bills due soon, not to mention that Christmas shopping can obliterate your wallet. You're ready to start 2018 with a new budget, but you've still got a few days left before the start of your clean slate. We get it, you want to eat something that's not fast food, but you have to be smart about it. Here's a list of local restaurants where you'll get the most bang for your buck.
Note: This story is part of an ongoing "Rent Week" series about where to eat affordably in Baton Rouge.
---
Price tag: Under $3 for individual chicken pieces
As Baton Rouge's oldest operating eatery, it's safe to say this isn't The Chicken Shack's first rodeo. Established in 1935, the joint has served juicy fried chicken for more than 80 years—plenty of time to perfect that batter recipe.
Chicken Shack offers daily lunch specials (call 383-0940 to find out the daily entree), a two-piece special every Tuesday and Saturday for $1.61, and The Shack breakfast is only $4.29. However, The Chicken Shack has plenty of options, all affordable for the diner ballin' on a budget—check out the full menu here.
---
Price tag: $2.50 a la carte
Nestled a stone's throw away from LSU's campus on Nicholson Drive is La Salvadorena, beloved in the Capital City for its authentic Latin cuisine. You can get pupusas—read why our food critic loves them in this 225 restaurant review—tacos, tamales and tostadas for $2.50 each. Even with its plate options, there's nothing on the menu above $12, and the servings are huge enough to warrant a to-go box.
Nevertheless, If getting to the LSU/downtown area is a stretch for you, La Morenita Meat Market's taqueria serves $1.99 tacos daily, along with platters and combos. Mestizo owner Jim Urdiales frequents the store weekly—check out what he puts in his shopping cart in this 225 feature.
---
Price tag: $6-$8 per pizza
All it takes is one visit to Lit to make you a believer. Developed by Izzo's Illegal Burrito co-founders Ozzie Fernandez and Gary Kovacs, the build-your-own concept was a natural success with the local pizza scene (Catch up on the details in our 225 Dine First Look here). You can get a cheese pizza for $6, a two-toppings pizza for $7 or unlimited toppings/signature pizza for $8.
Bonus: The pizzas are 11 inches, meaning they're bigger than the normal personal pizza, so fill up on half and take the rest home for a second meal. Another tip: download the Flok app as a digital punch card and get a free pizza on your 10th visit. Lit Pizza has two locations on Burbank Drive and Airline Highway, with four more in the works across Baton Rouge and surrounding areas.
---
Price tag: Under $3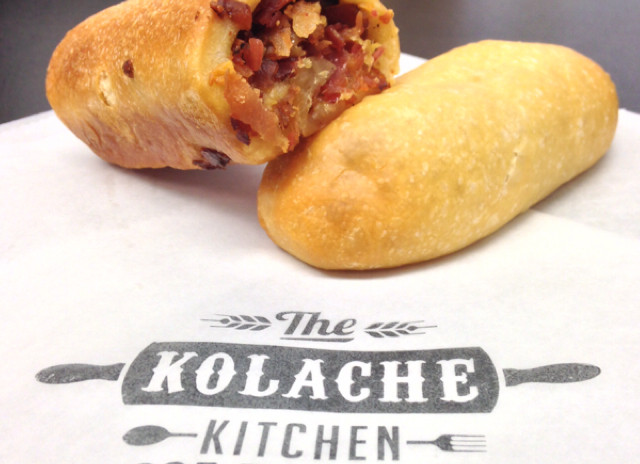 You either love Kolache Kitchen, or you're asking: what's a kolache? Short answer: it's heaven wrapped in warm, baked dough for less than $3. You can get your choice of savory meat and cheese or fruit kolaches. Or you can opt for the ranchero, which is a larger ball of bread with meat, cheese, scrambled eggs and salsa baked inside, for a more filling breakfast at around $4. Owner Will Edwards has locations on Jefferson Highway and Nicholson Drive, so you're set on either side of town.
Bonus: for a sugary New Orleans-inspired breakfast, Coffee Call sells three beignets for $2, or stacks of beignet fingers at $2.20 for a small and $3.50 for a large. Pro tip: the large is no joke. Depending on how many are dining, it's usually wise to stick with the small. Coffee Call is great for those late-night cravings, too.
---
Price tag: $7-$10
The win-win here is being smart about your wallet and still eating healthy. There are nearly 50 options of toppings to choose from, like edamame, sun-dried tomatoes, hummus and quinoa, and several protein options to keep it satisfying. But once you see the size of the finished salad they hand you across the counter, you'll realize "satisfying" might be an understatement—it's enough greens to stretch over two meals. The Salad Shop also serves up the Baton Rouge-favorite Sensation salad dressing among its dressing options.
Locations in the Acadian-Perkins Plaza and on Coursey Boulevard make it easy to get some cheap greens on both sides of town.
---
Vietnamese Pho
Price tag: Around $10, but it'll last 2-3 meals
It's no secret the 225 Dine staff loves pho. We've written about the complex art of pho, how comforting the hot, flavorful soup can be and gushed about it in our Fast Break lunch series. Head to any one of Baton Rouge's top-notch Vietnamese eateries, such as Pho Cafe, Ava Street Cafe, Bao Vietnamese Kitchen, Saigon Noodles or Dang's, among others, for some pho and you'll likely get a bowl bigger than your head. Most restaurants have pho without meat or with tofu, or you can order it with steak, chicken, beef, brisket, shrimp, flank and more. Grab a bowl for around $10, eat until you're stuffed and take home the rest—we guarantee one bowl can last for up to three meals.