---
2020 Best of [225] Voting Kick-Off Hot Off the Press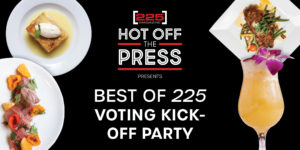 Join us for the first 225 Hot off the Press of 2020: the official voting kick off for the Best of 225 Ballot. We are excited to partner with Rouj Creole for a great night of food, drinks and music!
Not only will you enjoy great specials, from happy hour to tasty bites, Rouj will also offer a limited amount of VIP tickets. The VIP ticket includes a private area that offers a unique tasting experience from all CGH restaurants: Rouj Creole, City Pork and City slice. Along with these favorite food items you will have access your own bar that offers complimentary beer, wine and specialty cocktail.
We hope you can join us on Thursday, March 5 from 5:30-7:30 p.m. for the celebration in kicking of the 2020 Best of 225 Voting. For more information and to RSVP, click here. Limited space.