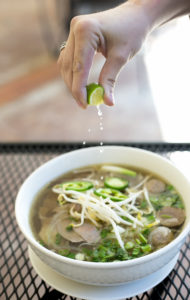 Listen: I love pho. My blood is probably 20% pho. I've tried every noodle shop in town, and I have to say, the brand new Bảo Vietnamese Kitchen is giving the rest some stiff competition.
While some pho purveyors seem to rely more on the after-the-fact veggie, seasoning and sauce add-ins to kick up the flavor, Bảo's broth is spicy, rich and flavorful all on its own. That's great for me, because while I'm on Whole30, I can't have rice noodles or any Sriracha, hoisin or fish sauce. I was pleasantly surprised to find I didn't miss any of the above in the bowl of combination beef pho I ordered, though I'm sure it'd be even better with all the fixins. And with a combination of meats from the juicy rare steak to the somewhat intimidating tripe, there's plenty to discover here.
Tucked into a corner of Panache Plaza on Perkins Road, Bảo boasts an upgraded interior complete with juicer behind the bar to squeeze sugar cane and orange juice fresh to order, plus roomy outdoor seating in the courtyard out front. The menu ranges from pho and banh mi to homestyle Vietnamese beef stew and wonton soup to broader East Asian entrees like fried rice. The Vietnamese beef stew, especially, is hearty, deeply savory with succulent slow-cooked beef and certainly a unique dish for a typical noodle house. For a quick lunch, it's filling, comfy and affordable.
Bonus: It serves up a gorgeous Thai tea topped with whipped cream. Though I'm not allowed to try it on Whole30, I have it on good authority from our photographer that it tastes like a strong, thick sweet tea. When I return to order a bowl of pho with actual noodles in it, I'll definitely be trying one of those as well.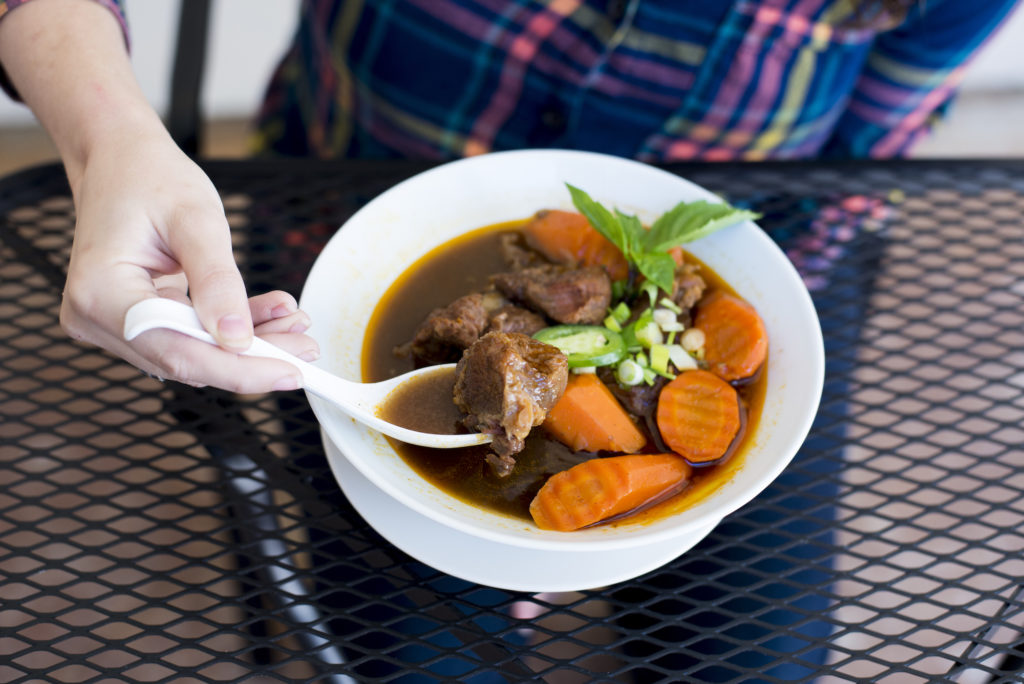 By the way, if you're curious, check below to see what the Bảo's combination pho looks like before the broth is poured in.