Mestizo owner Jim Urdiales weighs tomatillos at the Latin American meat market and grocery store La Morenita. Photo by Collin Richie
---
Jim Urdiales eyes a pyramid of bright green tomatillos in the expansive produce section of La Morenita, the large Latin American grocery store on Florida Boulevard. A few days earlier, Urdiales bought a crate of tomatillos here for the roasted salsa verde he makes for his restaurant, Mestizo. Now it's time to stock up again. While here, he'll pick up fresh poblano peppers for house-made green molé and a large bag of cotija, the grated cow's milk cheese from Mexico that he uses for garnishing nearly every dish on the menu.
"I probably come here at least once a week," Urdiales says.
He's not alone. Since it opened in 2011, La Morenita has attracted a growing number of Latinos now residing in Baton Rouge as well as practitioners of Latin American cooking who can't get enough of its variety and comparatively low prices.
The sign outside reads "meat market," but inside there's an impressive bounty of produce, dried chiles, canned and dried beans, tortillas, snack foods, baked goods, dry goods, cleaning products and even candles honoring saints. A taco counter on one side of the store supplies some of the most flavorful and inexpensive lunches in Baton Rouge. Not to be outdone, the meat market spans the entire rear wall with all manner of cuts, many of them marinated in vibrant paprika-centric adobo.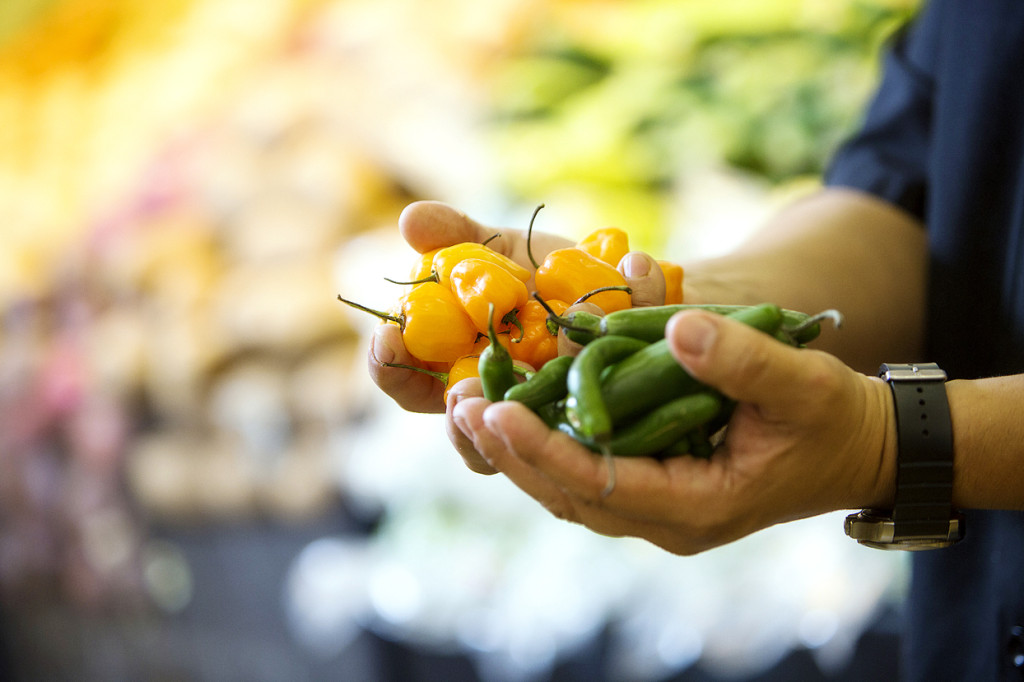 La Morenita was launched in Port Arthur, Texas, and has since expanded to Beaumont, Lafayette, Gretna and Baton Rouge, says manager Guillermo Rosas.
"There are a lot of Latin people here who wanted something like this," he says. "They want to shop and eat the way they remember from home."
Store items spring from Mexico, Central America and South America.
That's one of the things that sets this store apart, Urdiales says while eyeing the dense cheese section awash in cremas (a sour cream equivalent), queso fresco, Oaxacan cheese and others. "There are a lot of nuances separating, say, Honduran cooking from the cooking of El Salvador, and this place carries a big variety of products from several different countries."
At lunchtime, the taco counter and its seating area draw mothers and small children, workers, Latinos and Anglos on the hunt for authentic fare. The point-and-order line features large pans of pork, chicken and beef prepared in various styles. You can also usually find pupusas, chile rellenos and flautas.
The adjacent self-serve topping bar features flavorful salsas, fresh limes and shredded cabbage. Like everything else at La Morenita, the taco counter is as authentic as it gets—hard shells and grated cheddar are nowhere in sight.
---
Jim's Picks
Restaurateur Jim Urdiales grew up in a family of Mexican restaurateurs, but he's also been an enthusiastic student of authentic Mexican cooking. Several culinary trips have taken him to different parts of Mexico, including Oaxaca, Veracruz, Merida, Puebla and Guadalupe. "I come back inspired," he says.
Here are some of Urdiales' go-to items when shopping at La Morenita:
Dried hibiscus flower: Urdiales reconstitutes these in water to release a stunning red-pink hue, then mixes the liquid with simple syrup for a tasty mocktail.
Chicharrones: The Latin version of cracklins', these deep-fried pork skins are available in large supply at La Morenita. Urdiales recalls savoring an unforgettable taco in Mexico that featured a simple combination of Oaxacan cheese, caramelized onions and crumbles of crisp, salty chicharrones.
Dried chiles: The shelf life and reasonable price of a bag of dried chiles makes it a must-try at La Morenita. To use, simply reconstitute the chiles in water, then mince and add to sauces, salsas, soups, chilis and more.
Nopalitos: The prickly pear cactus is popular in Mexican cooking, but it takes time to trim away the inedible spikes. Urdiales recommends buying a bag of prepared nopalitos, which can be cooked and served like collard, mustard or turnip greens.
Plantains: The produce section holds a steady supply of plantanos, which are often sliced into cubes, smashed and pan-fried. Urdiales advises waiting to cook the plantains until they are so black you're tempted to throw them out.