---
Sometimes, when the weather is nice, Penni Guidry and David Mooney sleep on their porch.
Gauzy lace curtains, blowing gently in the breeze, offer all the privacy they need.
From their rumpled white daybed, they can hear all the neighborhood nighttime sounds through their screened windows. Sneakers hitting the pavement as joggers pass by. Slamming doors as children are called in for dinner. A grandmother down the street singing a hymn. The echoes of frogs and crickets and barking dogs. And then, when dawn breaks, the roll of a garbage truck or the buzz of a lawn mower.
"People say the kitchen is the heart of the house," Guidry says. "But I say ours is the porch."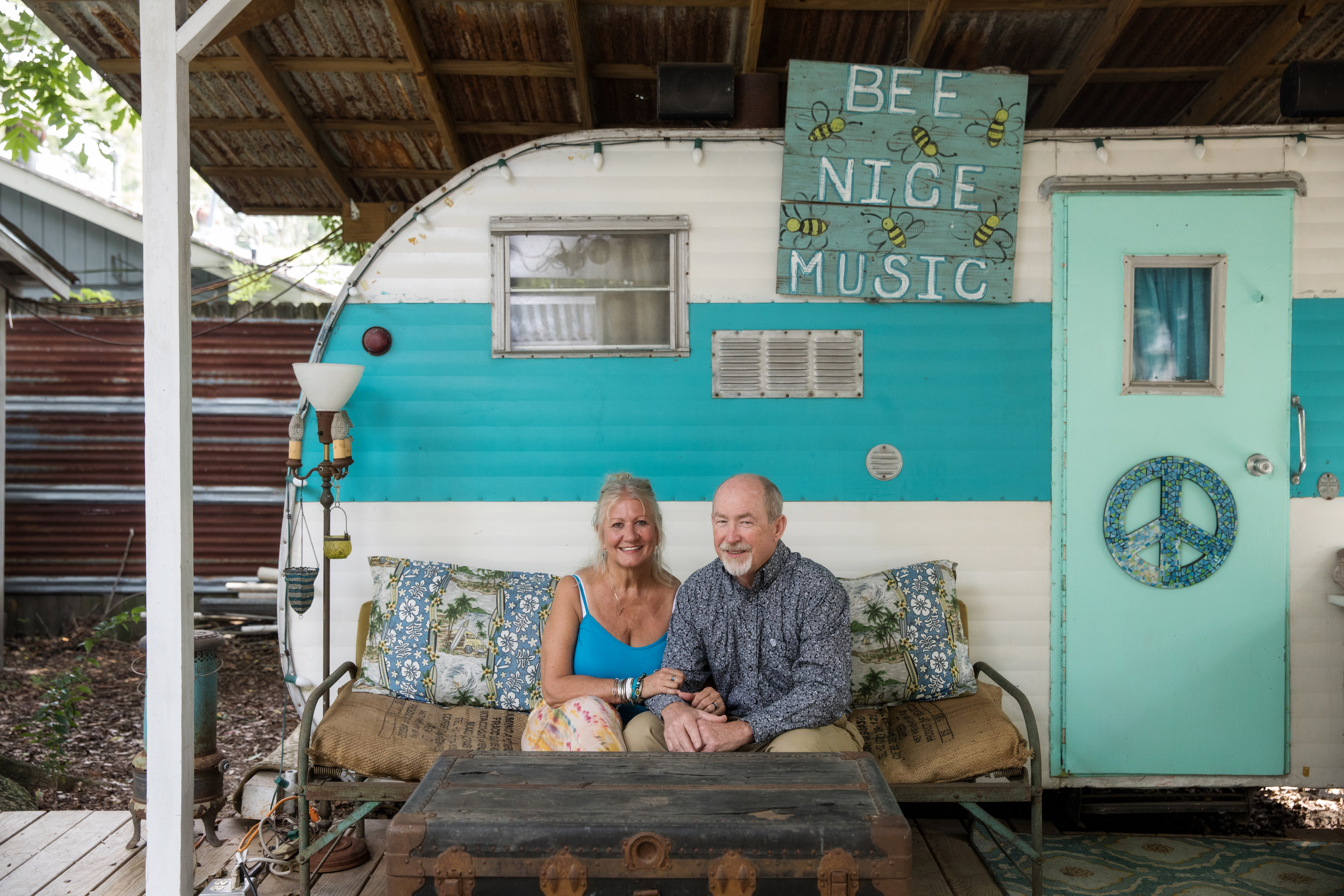 This is the spot the couple seems to feel most at home—perched outside on wicker chairs, calling out greetings to neighbors passing by.
Everyone in the Capital Heights neighborhood knows Guidry and Mooney. The 65-year-olds own Bee Nice Music, a music venue in their backyard. It's three lots of pastel paradise, full of hippie campers and quirky furniture.
"We're old and we like music a lot but don't like going out late after 10 o'clock," Guidry says, recalling their early vision for the yard.
So they called three musicians they knew and asked if they'd be willing to play a free show. That first show led to 40 others and counting.
But the couple's passion for the neighborhood doesn't stop once the guitars and speakers are packed up. They've hosted weddings in the yard. Kids find their way back there, hunting for rocks and treasures. They run a Little Free Library nearby. On Halloween, they'll often turn the yard into a haunted park. Each year has had a different theme: the Mooney Dead & Breakfast, the Zomb' Prom, Tied & Died.
"We brought Halloween back to Capital Heights, girl," Guidry says.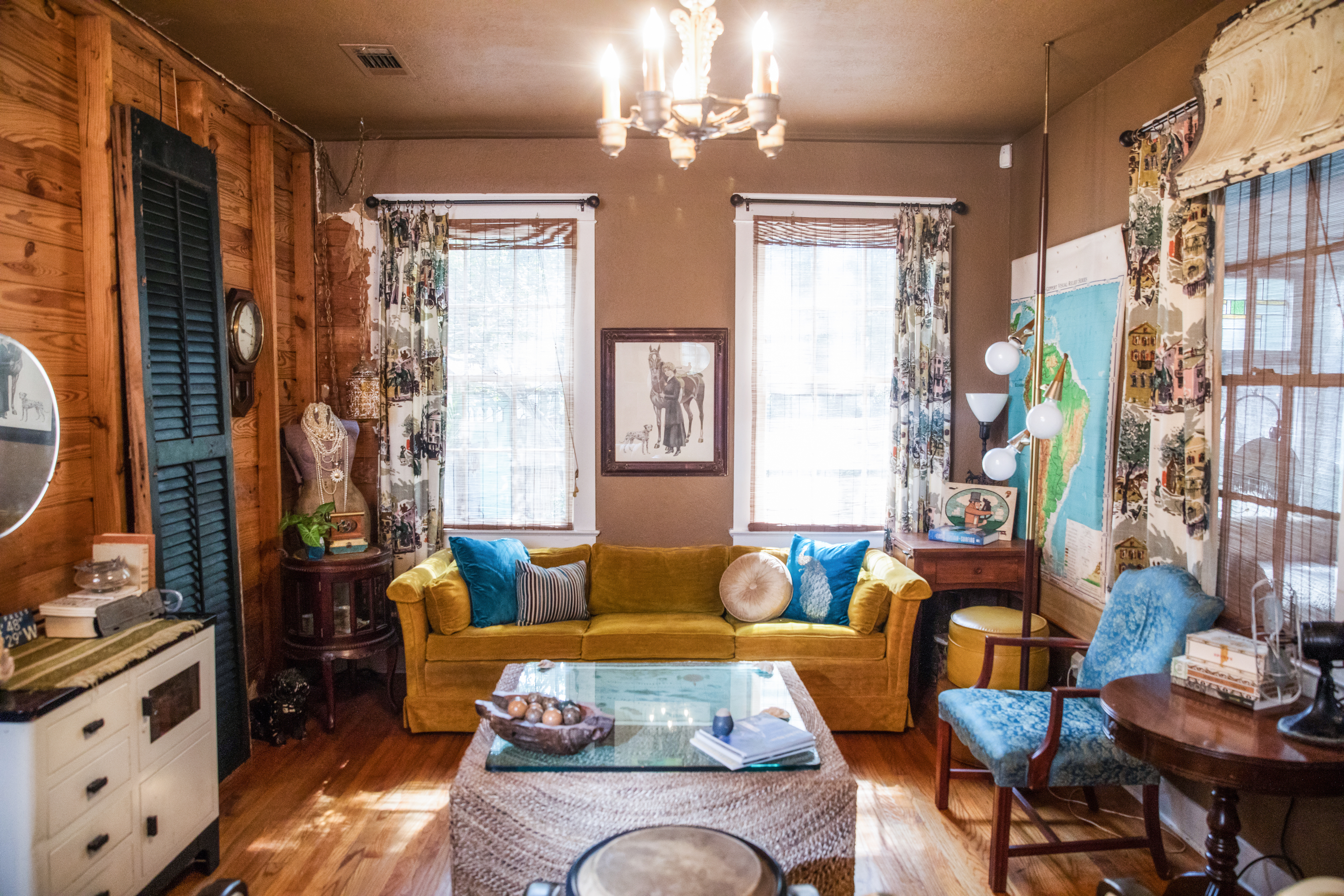 Inside their 1945 house, the mood is just as beachy and laid-back as their music venue.
Stepping into his living room, Mooney gestures to the space and deadpans: "When the taxman comes to the door, don't it look like a rummage sale?"
"Dave is gonna quote songs all day," Guidry says dryly. "That's how he talks."
Mooney is quoting a Creedence Clearwater Revival song to poke fun at what Guidry has done to the place. Everything here is one of her thrifty finds, from the Caribbean-patterned curtains and mustard-colored sofa to a giant map of South America. The map is hung on the wall with two screws and a prayer, Guidry says, winking.
There's not much point in asking where anything in their house is from. The answer is the same for every piece. If it's not a Craigslist score, it's a casual, "Oh, we found that on the side of the road."
Their favorite roadside find was a pair of high-end Bose speakers. Guidry sat on them while Mooney ran home to get the car.
Another time, they found a suitcase full of World War II pictures, which they donated to a local museum.
"People are crazy just to let go of it all," Guidry says.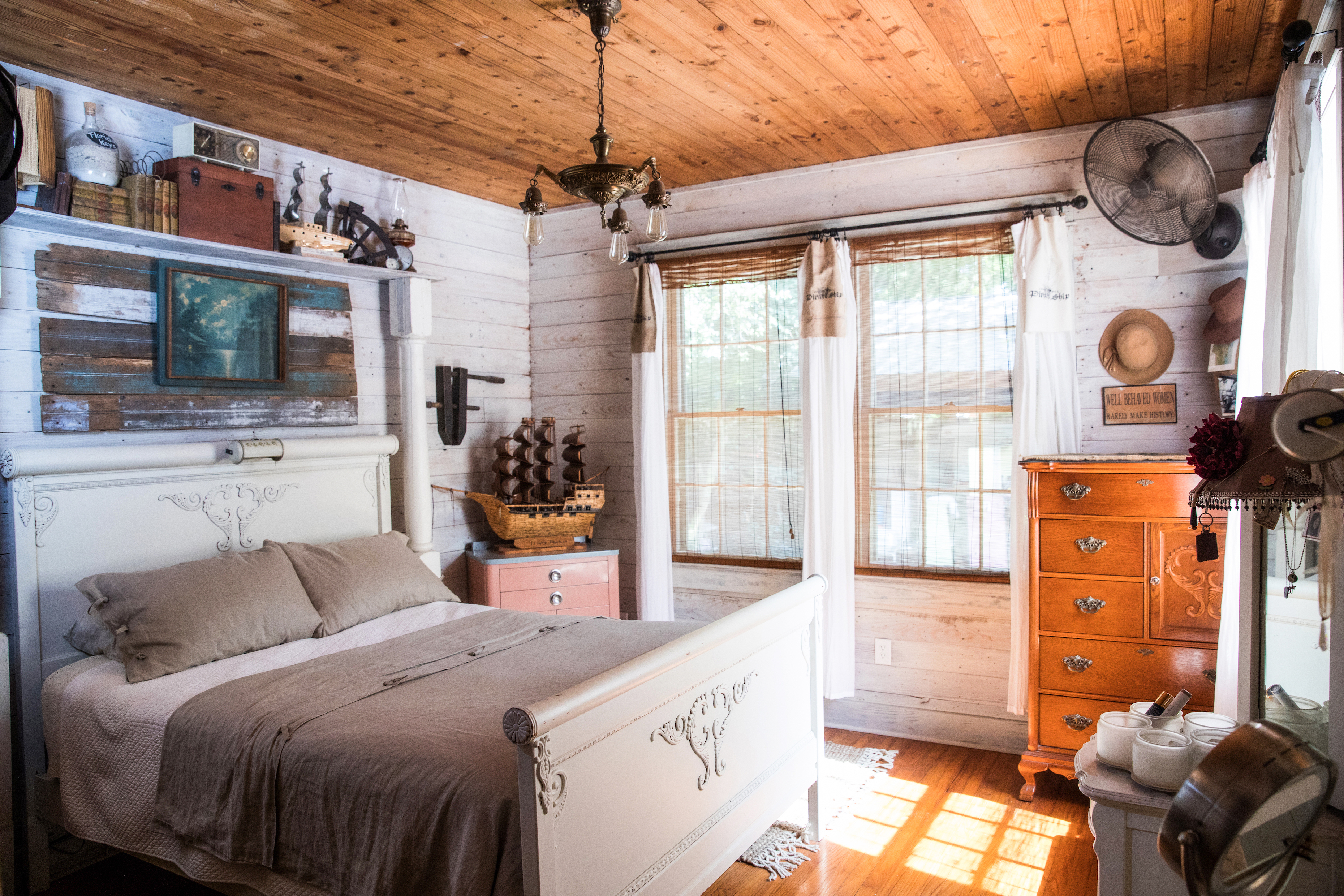 The couple has shared this house for nearly 10 years. Seated on palm-leaf print chairs in their living room this afternoon, they trade barbs.
"When I moved in, there was only a computer, peanut butter and a really gross La-Z-Boy recliner. And I said, 'You've been robbed!'" Guidry says with a laugh.
Not true, Mooney interjects—he also had a treadmill. But in all seriousness, he says, he is more interested in the bones of the house, while Guidry is in charge of the ever-changing decor.
Dressed today in a beach-ready spaghetti-strap tank and loose drawstring pants, Guidry blends right in with her design aesthetic. Mooney, who is a local attorney, is more buttoned up, wearing a collared shirt and slacks.
Guidry recalls a time when Mooney was a little more wild, though.
They met at church when they were kids, when she was drawn immediately to his bell-bottoms and long hair. They parted ways before meeting again a little more than 10 years ago, and they've been inseparable since.
From a design standpoint, they say they don't agree on much. Mooney is especially frustrated by all the exposed shiplap walls Guidry loves, and the excess of stuff he says they don't really need.
"But I love her more than I hate some of the things she does," he says.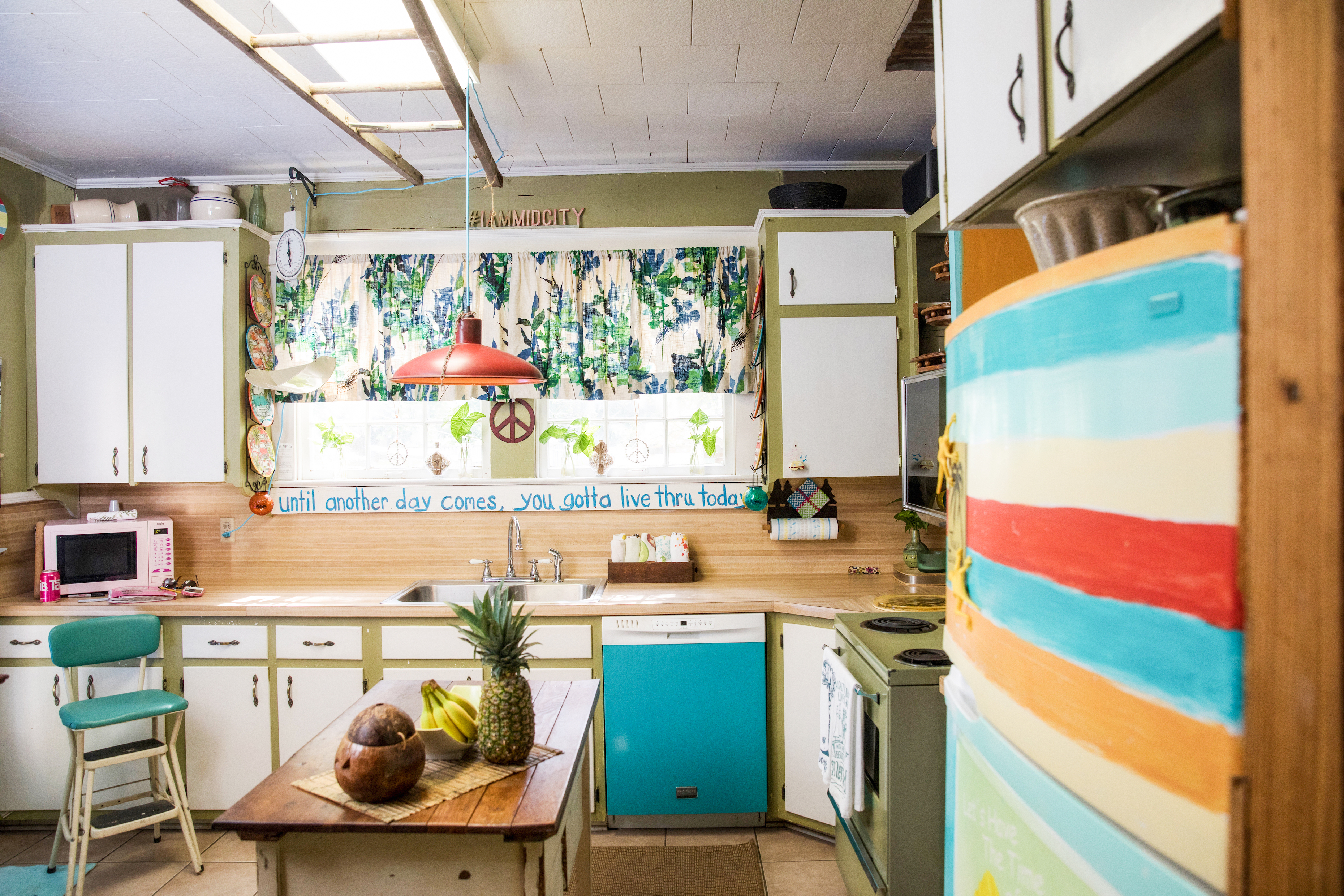 Spend a few hours with them, though, and you'll realize they have more in common than they admit.
They both love Key West, dumpster diving, and heirloom art and antiques. They're happiest when the house is full of company and activity. They love music. There is a speaker in every room.
On their baby-blue front door, a West Indies poster is framed by dozens of signatures in black permanent marker. The couple asks artists, travelers and musicians who visit to sign the door. It's a living testament to all the life that's passed through their home—this thoughtful, playful space they've created.
"Twenty years from now, when we're dead and gone," Guidry says, "I want kids who grew up on our lawn to point at it and tell their kids, 'We had the best time out there.'"
But reading the notes on the door, with words like "togetherness," "awesome time," and "love y'all," it's clear that they've already given enough memories to last a lifetime.
---