---
Editor's note: This article has been updated to correct inaccuracies. Solon Britt is a former shelter assistant director, not director; the spelling of Dr. Carrie Schultz's name has been corrected and her website has been updated to brhousevet.com instead of housepethousevet.com. 225 regrets these errors.
---
How does a full day of sunbathing, hanging with friends, a hot bath and a nap on a plush bed sound—for your dog?
It's fair to say people treat their household pets differently than they did a few decades ago.
"It seems to me that the way America's culture is going in terms of dog ownership, owners are all about better care," says John Bolin, owner of Doggie Play Camp. "Dogs are continually becoming more important parts of the family. They've taken on a different role—more than just a pet."
When pet owners go on vacation, more often they are opting for at-home sitters or luxe pet hotels. During the rest of the year, some pets don't even have to leave home for checkups and haircuts.
Animal experts in Baton Rouge gave us the lowdown on three pet care trends on the rise locally.
In-home pet sitting is about more than scooping the litter box
It's the 4th of July, and most Baton Rougeans are downtown enjoying the booms and cracks of fireworks over the river.
But Solon Britt is in a client's living room, comforting five Biewer Yorkshire Terriers and three puppies. He's paying extra attention to Haley, who has separation anxiety, and making sure the 6-week-old puppies stay on their hourly feeding schedule.
Britt is the owner and sole operator of PetVacayBR, an at-home pet sitting company. His business is about more than stopping by for a few hours to feed and walk the pets—he lives with the pets while their owners are away, keeping each pet on its daily routine with set mealtimes and adequate play.
The one-man stint gets tough, he says, but he'd give up all the fireworks in the world to spend time with his furry friends.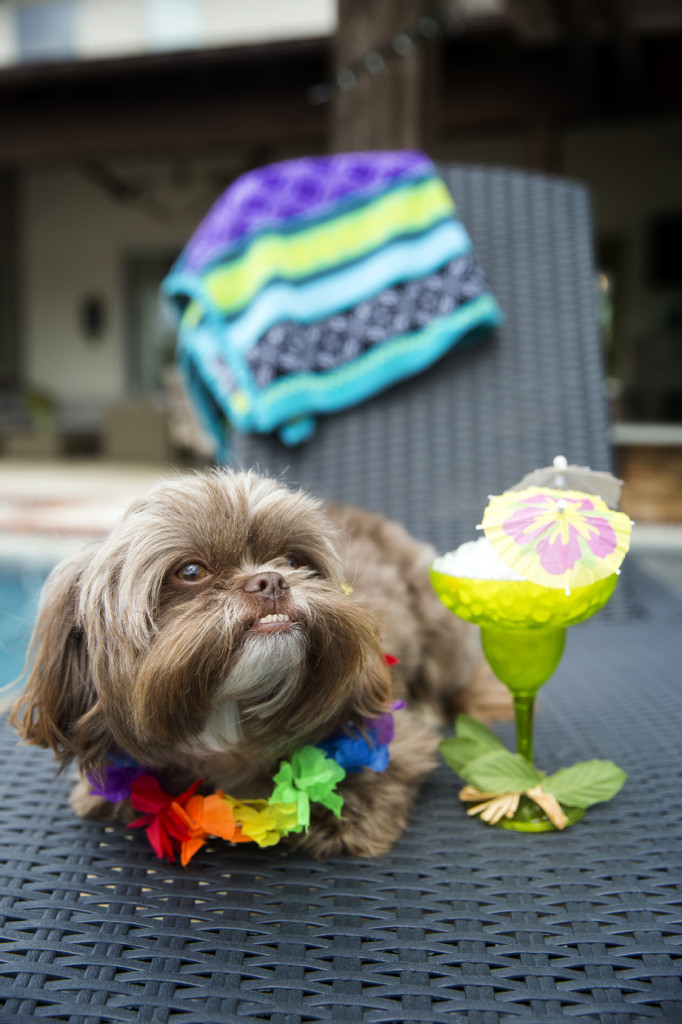 ---
"PetVacay is 24 hours a day, every day, all year," he says. "Many days I begin at 5 a.m. and end by sleeping at a client's house."
Over major holidays, he is typically booked with overnight stays five or more nights in a row.
Britt has meet and greets with new clients to get to know the pets and gather emergency info.
While the job is fun and rewarding for the former rescue shelter assistant director, Britt says safety, trust and respect between himself and his clients are his priorities.
His hard work has paid off. Commercial Properties Realty Trust—the company that owns downtown residences 525 Lafayette, One Eleven and Onyx Residences—recently even appointed Britt their recommended pet sitter.
As an owner of four dogs himself—Blue, Story, Lyndon and Ken—Britt says, "At the end of it all, I just want to make sure your dog is cared for like mine is."
Pet resorts and day camps offer luxury living
Raise your hand if your pup has a bed but would rather sleep in yours. Or on the couch. Or really anywhere but the pet bed you purchased.
That concept is the backbone of John Bolin's dog boarding service, Doggie Play Camp—where pets can sleep wherever they like, as long as they are comfortable.
Bolin first dreamed up Doggie Play Camp seven years ago, following a stressful experience he had kenneling his four dogs when he went on vacation.
Doggie Play Camp was created to keep dogs in a homelike environment with 24/7 supervision and company. Bolin's facility features about 1,200 square feet of outside play area in addition to the 1,600-square-foot building.
He started it as a small project out of his own home, but the business has since grown, now operating out of a former law office building with two other pet sitters.
The living area has a TV, a couch and ottomans for the dogs. Despite the ottomans, the pups often follow the overnight sitter to the one real bed.
"They hit you with that helpless, pleading, puppy-dog look," Bolin says.
Much like Britt, Bolin takes new clients through a meet-and-greet that includes a tour of the camp and a behavioral assessment of the client's animals. Bolin can't board animals with extreme separation anxiety or aggression, and all pets must be at least eight months old and up-to-date on vaccinations.
While Doggie Play Camp can hold up to 25 dogs during "day play," Bolin says the building can only sleep up to 15 dogs comfortably overnight.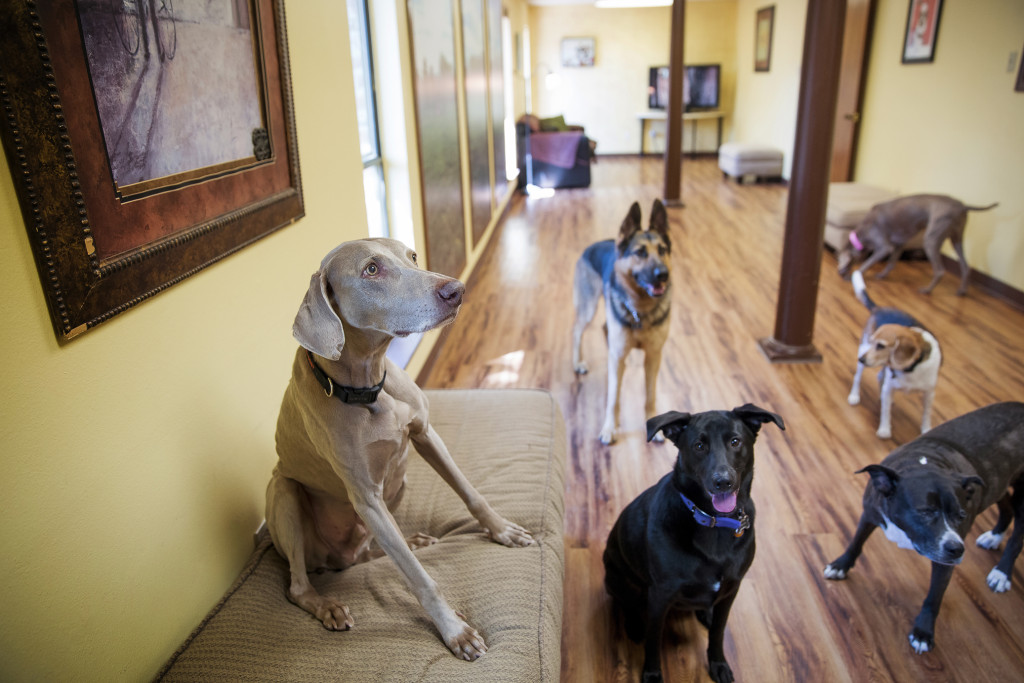 ---
"Dogs get to have fun and rest when they want to," he says. "It's entirely up to them."
Mobile pet care brings health services and grooming home
Every vet who's worked in a clinic has witnessed a cat get scared and start biting and clawing, Dr. Carrie Schultz says.
Schultz worked in animal clinics for nearly three years, but she opened HousePet HouseVet mobile care after noticing how stressful medical services can be for some animals.
With her house-call service, a comfortable home environment and less time-pressure puts pet owners at ease and allows Schultz to discuss treatment options in-depth with them. Plus, getting pets care without having to transport them to and from home helps minimize their stress and discomfort.
Schultz drives an SUV packed with two Yeti 45-quart coolers to keep medicines from overheating, a duffel bag stocked with exam room tools such as nail clippers, ear cleaner and a stethoscope, plus leashes, toys and treats.
She can administer injections, oral and topical medicine and perform minor surgeries, such as small cyst removal. She refers clients to clinics for procedures such as blood work, X-rays, large-scale surgeries and emergencies.
When it comes to grooming, Lindsay Thompson also hopes to minimize pet stress with her own mobile luxury-pet-grooming business, K9 Krewe.
Equipped with a van featuring steps, a hydraulic table, bathtub, shower head and 100-gallon hot water heater, Thompson travels to her clients' houses to pamper pets.
A basic spa treatment includes ear cleaning, nail trimming, shampooing and conditioning, a facial and hand-drying.
Mobile grooming services are pricier than typical pet salons, but Thompson says the convenience and comfort makes the premium worth it for her clients. It's a good option for dogs that have trouble with car rides or busy clients who don't have time to drive their pets to the spa, she says.
K9 Krewe only accepts clients who schedule standing appointments every one to four weeks, so as long as your pup needs pampering at least once a month, K9 Krewe can help.
---
Local at-home pet sitters
Safe at Home Pet Sitting: safeathomebr.com
Snaggle Foot Pet Sitting: batonrouge.snagglefoot.com
PetVacayBR: petvacaybr.com
Catherine's Critter Care: catherinescrittercare.com
K9 Krewe: facebook.com/k9krewebr
Home Sweet Home Pet Sitters: batonrougepetsitters.com
The Pet Nanny: thepetnannybr.com
BR pet resorts and day camps
Camp Bow Wow: campbowwow.com/batonrouge
Petz Plaza: petzplaza.com
Petropolitan: petropolitan.us
The Cattery: thecatterybr.com
Doggie Play Camp: doggieplaycamp.com
Lucky Dog Lodge: luckydoglodgela.com
Highland Road Animal Hospital: hrah.com
All Pets Hospital: allpetshospital.com
Mobile pet-care resources
Soggy Dogs Mobile Grooming: soggydogs.net
K9 Krewe: K9krewe.com
All Around Pet Salon: allaroundpetsalon.com
Home Veterinary Services: homeveterinaryservicesbr.com
HousePet HouseVet: brhousevet.com
Know a pet care service we missed? We'd love to learn about it. Share it in the comments below.
How to find pet-friendly hotels at your vacation destination
Pets Welcome and Bring Fido allow you to find pet-friendly hotels, outdoor restaurants, dog-friendly attractions and pet services along your travel route and at your destination.