---
Joe Burrow has the same routines every Saturday before a game.
He eats a caramel-apple sucker on the bus ride to the stadium. He flips one of his socks inside out (usually his left). And two minutes before taking the field, he listens to the same exact song.
It's a minute and 53-second instrumental called "New York City Rage Fest" by Kid Cudi. Despite what the name may imply, it's not your typical hype-up song. There's no hardcore hip-hop beat, no heavy metal guitar riffs. And, being an instrumental, there obviously aren't lyrics touting hard work or winning championships.
Ironically, it's an electronic, synth-y, sort of dance-pop track, with a trippy, repetitive drum thumping throughout.
It's a little different. But that's just par for the course for Burrow.
The Athens, Ohio, native is a bit out of the norm from what LSU has seen under center in recent years. He's the son of a longtime football coach and was born and raised surrounded by the game.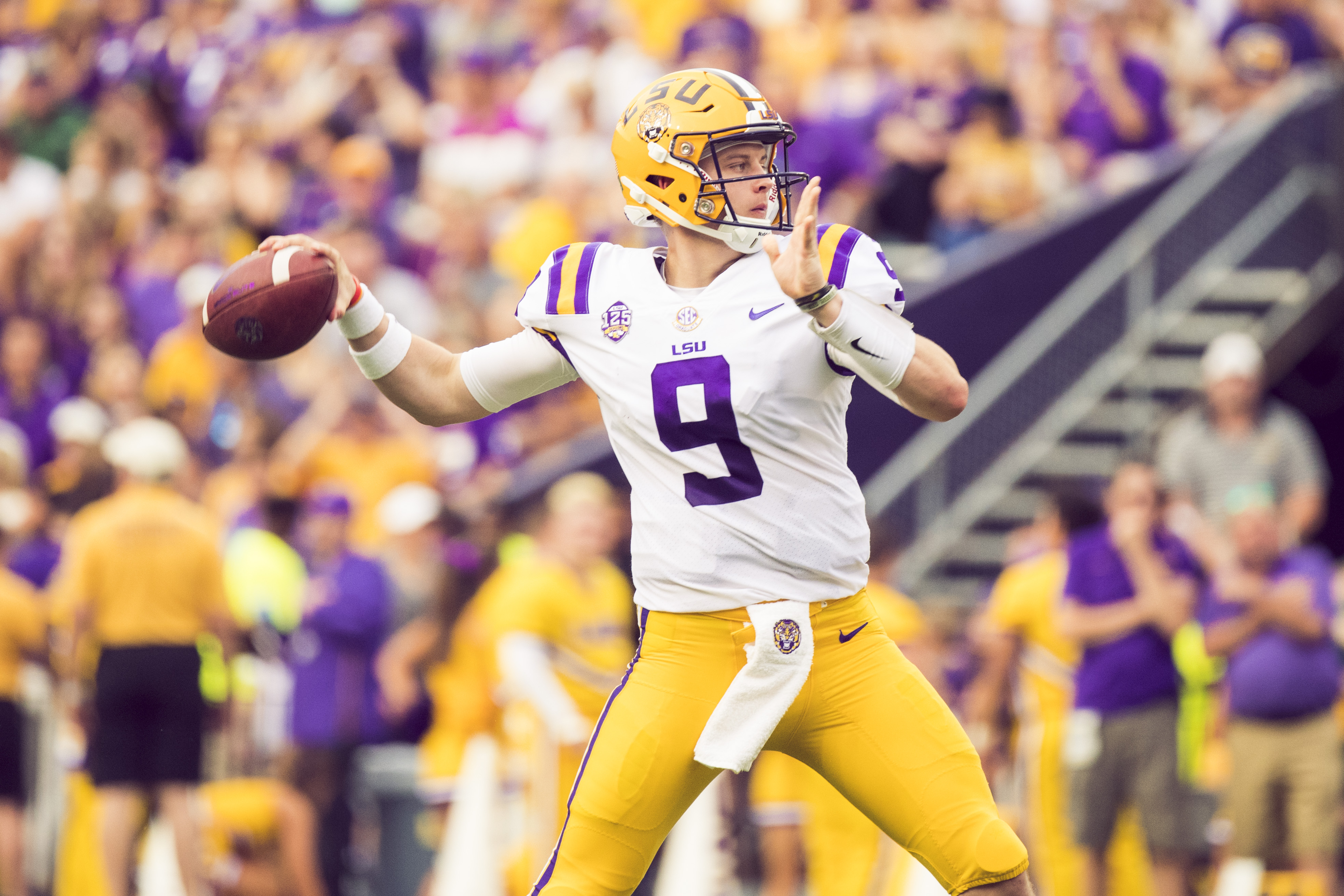 Off the field, he's an easygoing, laid-back and rather endearing kind of guy. When it's go time, he's quite the opposite.
Ask any former or current coach what Burrow's like on the gridiron, and you'll repeatedly hear words like "gritty" or "tough" or "competitor."
He has a swagger a lot of quarterbacks lack. He doesn't shy away from contact and openly admits he won't play it safe by sliding, even if a big hit is coming.
He likes to talk a little smack, and he has the game to back it up.
"I'm just a competitive guy," Burrow tells 225. "Whether I'm playing chess, pingpong or on the football field, that kind of comes out whenever there's competition. There's a lot of different ways to lead, but when guys see you getting in scuffles … taking late hits—it kind of fires up your team a little bit. That's just what I try to do to be a leader."
Joe Burrow is a different kind of cat, but he may just be the one to lead the Tigers to a place they haven't been in quite some time.
---
STEPPING (SLOWLY) OUT OF THE DARK AGES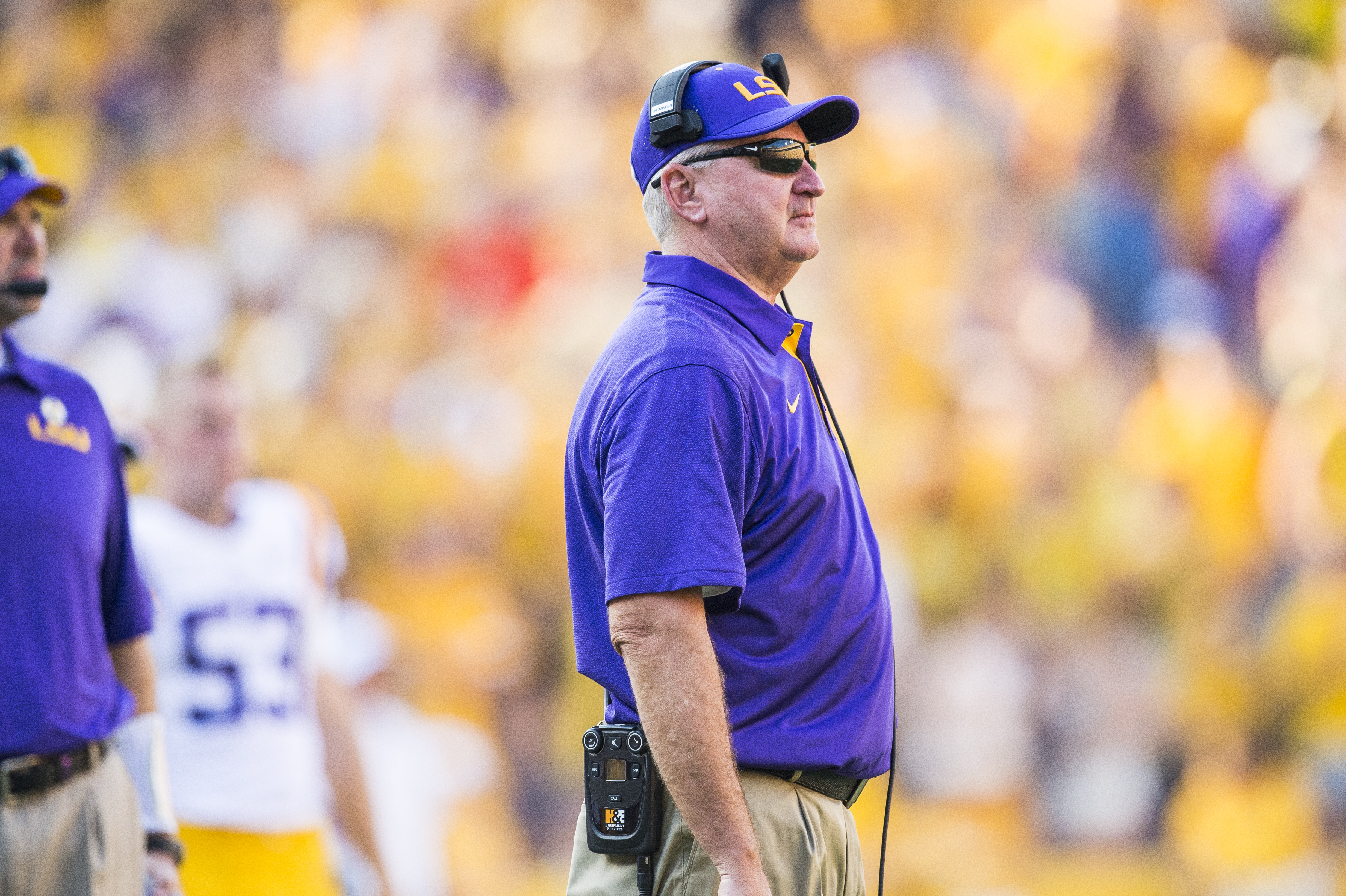 It's no secret the LSU offense hasn't exactly been prolific in recent years.
The Tigers have finished in the upper tier of the SEC in yards per game just once in the past decade. The team has ranked right in the middle of the pack three times in that span but finished in the lower half every other year.
The numbers get even more bleak when broken down to passing stats. Since 2009, LSU has ranked dead last in the league in pass yards more times than it has finished in the top half.
Many people feel LSU has been stuck trying to transition out of the antiquated ways of former coach Les Miles, who relied on a more old-school, hard-nosed style of offense that centered around a strong running game.
Even Burrow admits it was a concern of his when he decided to transfer out of Ohio State a little more than a year ago.
"That was one of my big questions when I was deciding where I was going to go last year," he says. "But you could tell that they wanted to move in a different direction."
There's no denying coach Ed Orgeron has made an effort to modernize the Tigers offense since his formal hiring in 2016. His one-year stint with Matt Canada running the offense in 2017—despite ending in an ugly divorce—did look different.
Even with this past season, while the end result wasn't much to brag about, the style of play was noticeably different. First-year offensive coordinator Steve Ensminger aimed to spread the field more, forgoing the I-formation heavily in favor of the shotgun.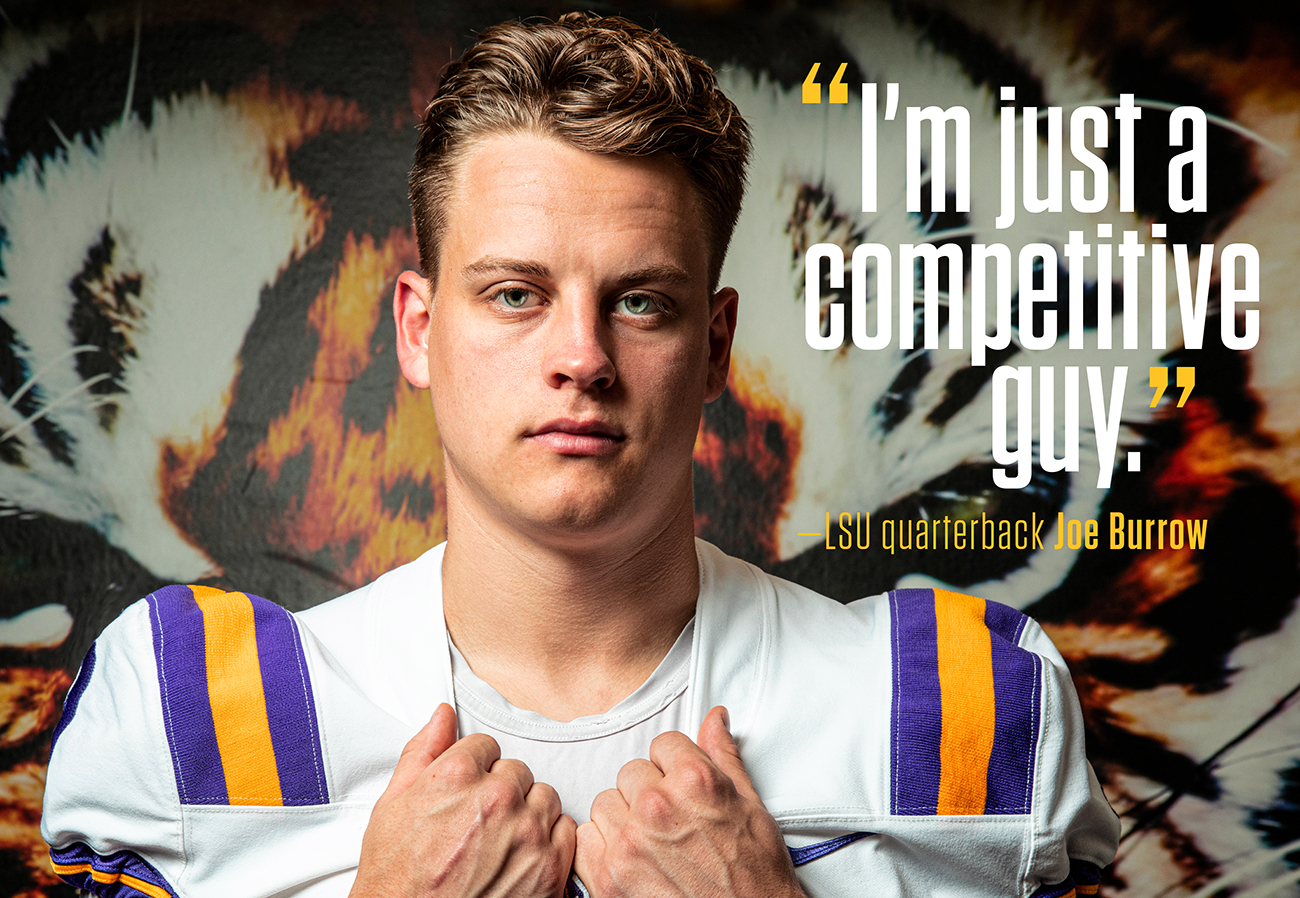 It resulted in LSU averaging nearly seven more passes per game along with roughly six fewer runs.
That may not seem like a big deal, but in a game comprised of roughly 70 plays per team, those snaps make a difference over the course of the season.
Burrow wound up throwing 104 more passes and 431 more yards than his predecessor, Danny Etling, despite taking over an offense that needed to replace its leading passer, two leading rushers, three leading receivers, and more than half its starting offensive line.
"Last year going into the spring, we didn't know who we were," Ensminger said at the LSU's Coaching Caravan this summer, citing the uncertainty all across the offense. "There were a lot of questions to get answered, so we couldn't be as broad last spring. We had to confine what we did."
But this year is different.
This time, the Tigers return a vast majority of the offensive starters from last season as they enter year two of the Ensminger era.
This time, Burrow has a full year under his belt in Baton Rouge, as opposed to the mere months he had prior to last season.
And this time, LSU has a new addition to the coaching staff that might just be the missing piece it's been looking for.
Meet Joe Brady.
---
THE SAINT THAT WAS SENT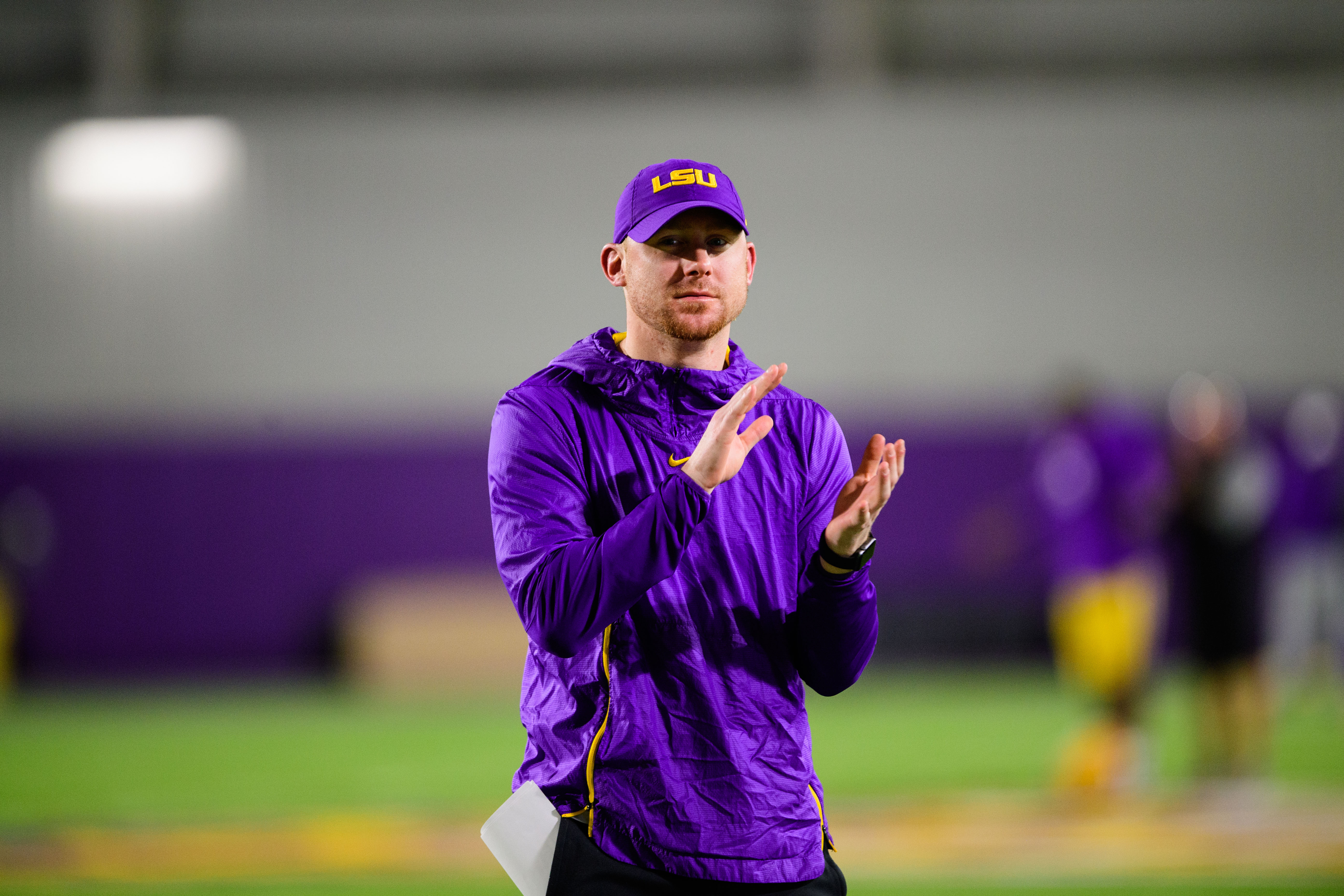 It says a lot if you're able to catch the eye of Saints head coach Sean Payton.
He's a highly regarded football guru that has put together record-setting offenses during his time in New Orleans. But something about Brady drew Payton to pluck him from his modest graduate assistant title with Penn State and hire him as an offensive assistant for the Saints.
The job was a massive step up from any position Brady had previously held. His playing career as a backup wide receiver for William & Mary consisted of three receptions for 34 yards, and he joined the Tribe's coaching staff one year later as a linebackers coach.
He spent two seasons in that capacity before moving to his grad assistant role with Penn State. Two years later, the now-29-year-old was coaching in the NFL.
"He came [to New Orleans] with some pretty good insight relative to certain elements of the passing game," Payton said at his season-ending press conference earlier this year. "He's a tremendous worker and a guy that you could rely on for information relative to what a quarterback or a system might be doing. His background relative to the [run-pass option] stuff was very good. He was someone who was good to work with and good to have on the staff."
Brady's meteoric rise through the coaching ranks continued when LSU managed to lure him to Baton Rouge to help modernize the Tigers' offense.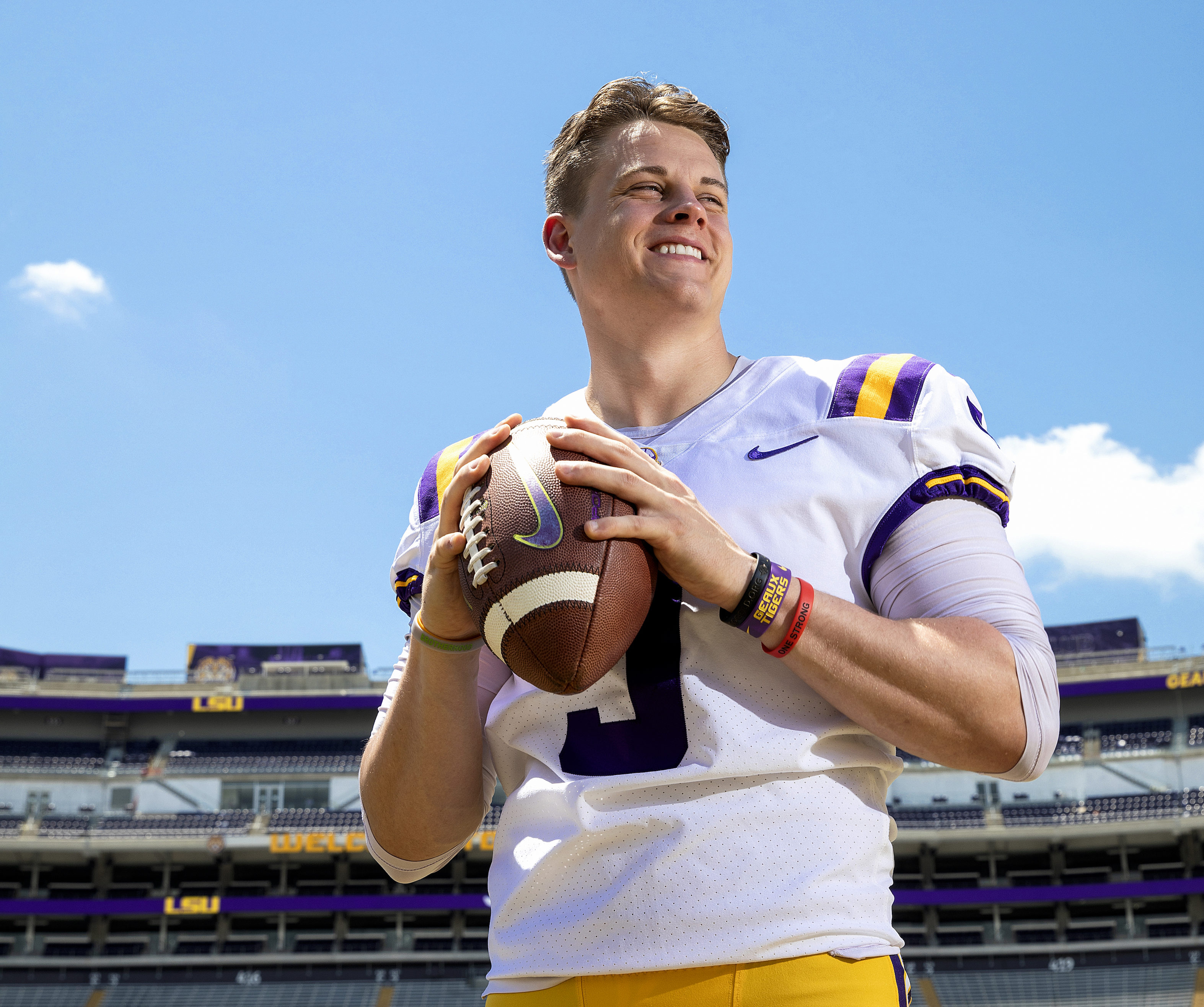 He was only formally announced as the Tigers' passing game coordinator in late January, but it hasn't taken him long to leave his mark on the offense.
"We're more advanced on offense than we've ever been," Orgeron said during the Coaches Caravan this summer. "One of the things that we have to do at LSU in the spread offense is give our players space, put the ball in their hands and let them make plays. We have to improve in our short passing game, our intermediate passing game and our crossing routes to make things difficult for the defense. Joe Brady has brought all of that to our game."
The two seasons Brady was involved with the Saints, the team's offense averaged 385.2 yards and nearly 30 points per game. He worked with some of the NFL's best at their respective positions, including Drew Brees, Michael Thomas and Alvin Kamara.   
It's premature to compare LSU's roster to some of the brightest stars of the professional game, but there's also no denying the embarrassment of riches at the Tigers' disposal. Brady has seen the weapons he has to work with, and the potential is sky high.
"I saw LSU as an elite opportunity," Brady says. "The receiver unit at LSU—it's hard to find a better unit to coach, both from a historic standpoint and the group I'm coaching right now. I thought having an opportunity to put a stamp on the offense to help take LSU to the next level from an offensive perspective was an opportunity I couldn't pass up."
Combine Brady's brain with Burrow's brawn, and LSU just might have the tools to change the narrative.
---
JOE + JOE = GO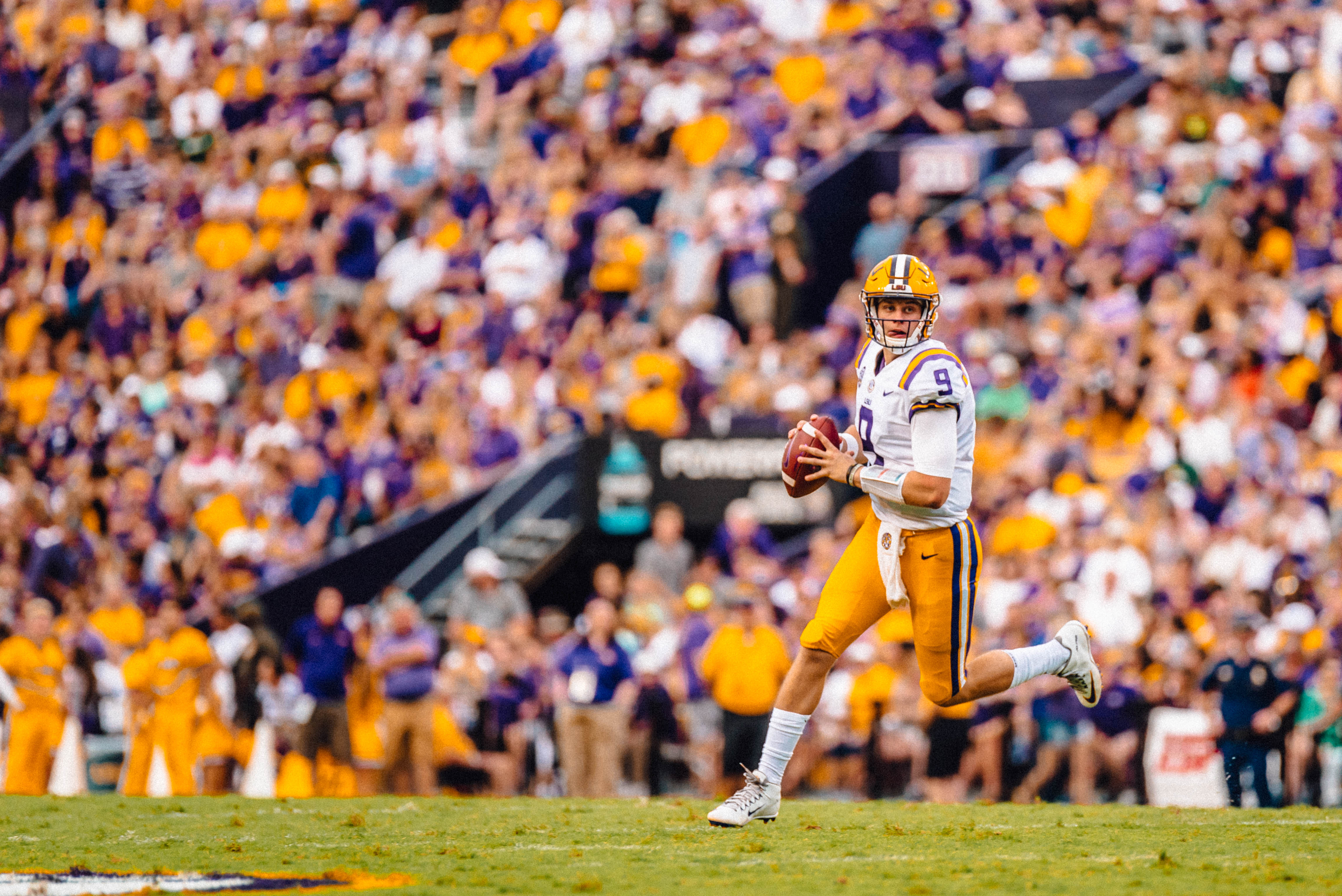 It's hard not to feel like the stars are finally aligning for LSU.
Its quarterback is established. The offensive system is moving in the right direction. And the roster is littered with four- and five-star talents. Now, it's just a matter of execution.
So the question must be asked: How, tangibly, will the offense be different in 2019?
Two words: speed and space.
LSU did make a shift to a more spread out offense last season, but Brady is looking to take that to a whole new level. And in case you're in need of some early proof, the Tigers did not line up under center for a single snap the entire spring game.
"You're going to see an up-tempo offense that's going to get our speed in space," Brady says. "That is different than things I've seen in the past. When you're an up-tempo offense that gets your speed in space, good things are going to happen. You can get the best players on the field with the ball in their hands. I think then, you're sitting back and enjoying what you're watching. Get your popcorn ready."
Don't blink though, because this movie is going to be quick.
Not only will the speed of the players speak for themselves, but the speed of the unit will increase. "We won't huddle," Brady has said on multiple occasions, hinting at a fast-paced, blow-and-go style offense that looks to tire out and confuse the opposing defense.
"I think the thing that hurts defenses—and this was when I was a position coach, I remember talking to the defensive coordinator and I said, 'Does the fast tempo hurt us?'" Ensminger says. "He said, 'No. It's the change of tempo.' I really think that with our personnel, you've got to be able to change the tempo, and you've got to be able to shift and motion."
LSU seems to be culminating in a perfect storm of Ensminger's vast knowledge from more than 30 years in the coaching world, Brady's youth and innovation, and Burrow's natural skill set and football IQ.
It's quite an interesting trio, too. Ensminger is a little more old school, but as a former quarterback and tight ends coach, he's certainly not opposed to throwing the football.
He's a fast talker with a country accent, but he embodies Louisiana through and through. The players love him, and Orgeron trusts him.
Add to the mix a guy like Brady, who hails from South Florida and didn't have a profound playing career. He's the same age as LSU's oldest player, punter Zach Von Rosenberg, and can relate well to the players and what they've been learning in the modern era of football.
The working relationship is a strong one as well. They constantly bounce ideas off each other, accepting some while opting against others.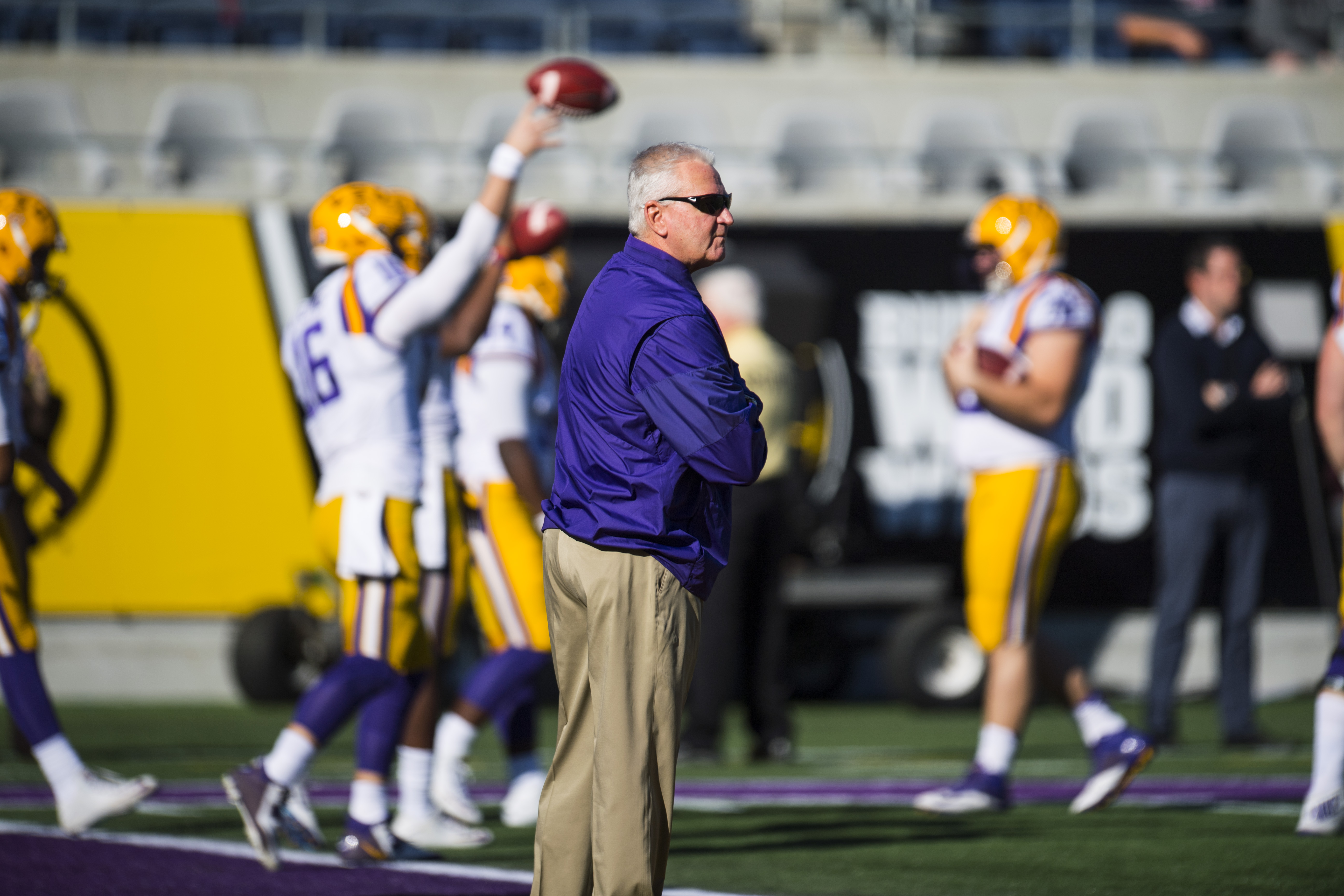 Ensminger says he "has no ego" when it comes to working with Brady and tweaking some of the pieces to his established offense. Brady seconded that sentiment, acknowledging that it's Ensminger's offense at the end of the day. All the group is trying to do is win football games.
"All (Ensminger) wants is for LSU to have success," Brady says. "So, when you work for a guy who doesn't believe in 'my way is the only way,' you enjoy that interaction every single day. He's a character. He's a personality."
Burrow has taken all the changes to the offense in stride, too. In the offseason, he's done everything from spending extra hours studying film and poring over the playbook, to leading voluntary practices with the wide receivers on the weekends.
"Joe Burrow is everything you're looking for in a quarterback," Brady says. "I've said it before: Give me 11 Joe Burrows, and we're going to be a winning football team. Having Joe behind center as a quarterback, you have a chance of winning every single game. He makes everyone around him better. I know everybody on the team, every offensive person, they'll run through a wall for him. As a coach, he's the type of guy you want to coach because he always wants more."
Despite all the positivity surrounding the program and the offense in particular, some LSU fans will inevitably remain skeptical that change will actually come. And that's understandable.
But if there's ever been a season to allow yourself to believe, this may just be the one.
"You can tell this year is really different," Burrow says. "Coach [Ensminger] and Coach Brady have done a great job of bringing in new concepts from a lot of different people, and a lot of different players and kind of building this thing. I think not only the team, but the fans are going to be happy with what they see come September."
---
Listen to our preseason sit-down with Burrow from the Tiger Pride Podcast:
---
This article was originally published in the August 2019 issue of 225 Magazine.
Click here to read our special Tiger Pride section, highlighting the passion and pageantry of LSU football.