---
Samara Thomas has filled her apartment with art and inspiration—black-and-white photographs from her travels, a line-art piece that a friend bought in Portugal and, most noticeable, a menagerie of leafy plants.
Potted plants line the floor, are propped on the mantle and hang from the ceiling. Others bask in the sunlight on the balcony, visible behind half-opened blinds.
The plants are the subjects of green ink drawings the 26-year-old artist sells at Mid City Makers Market. Her plant series is popular. But her black ink-on-wood-glue pieces, also sold at the Makers Market, are perhaps more personal.
Thomas discovered the process of adding ink to wood glue herself. To create the pieces, she first covers white matboard or reclaimed wood with wood glue before dropping ink onto the surface. Mixing the two creates a chemical reaction, she says. The ink spreads into organic shapes that resemble a cross between dandelions and cells under a microscope. Once the surface dries, she connects the ink globs with thin lines that look like stylized spaghetti strands.
"I'm really connected to this piece," Thomas says, holding one of her largest ink-on-wood-glue works, named "Melanoma" for the weathered, almost diseased appearance. It's an old piece of driftwood her dad found off the coast of Georgia, where her parents used to live. She says she has inherited her father's love of finding and reclaiming old objects. The wood might have been part of a boat, she adds, pointing to the remnants of old canvas.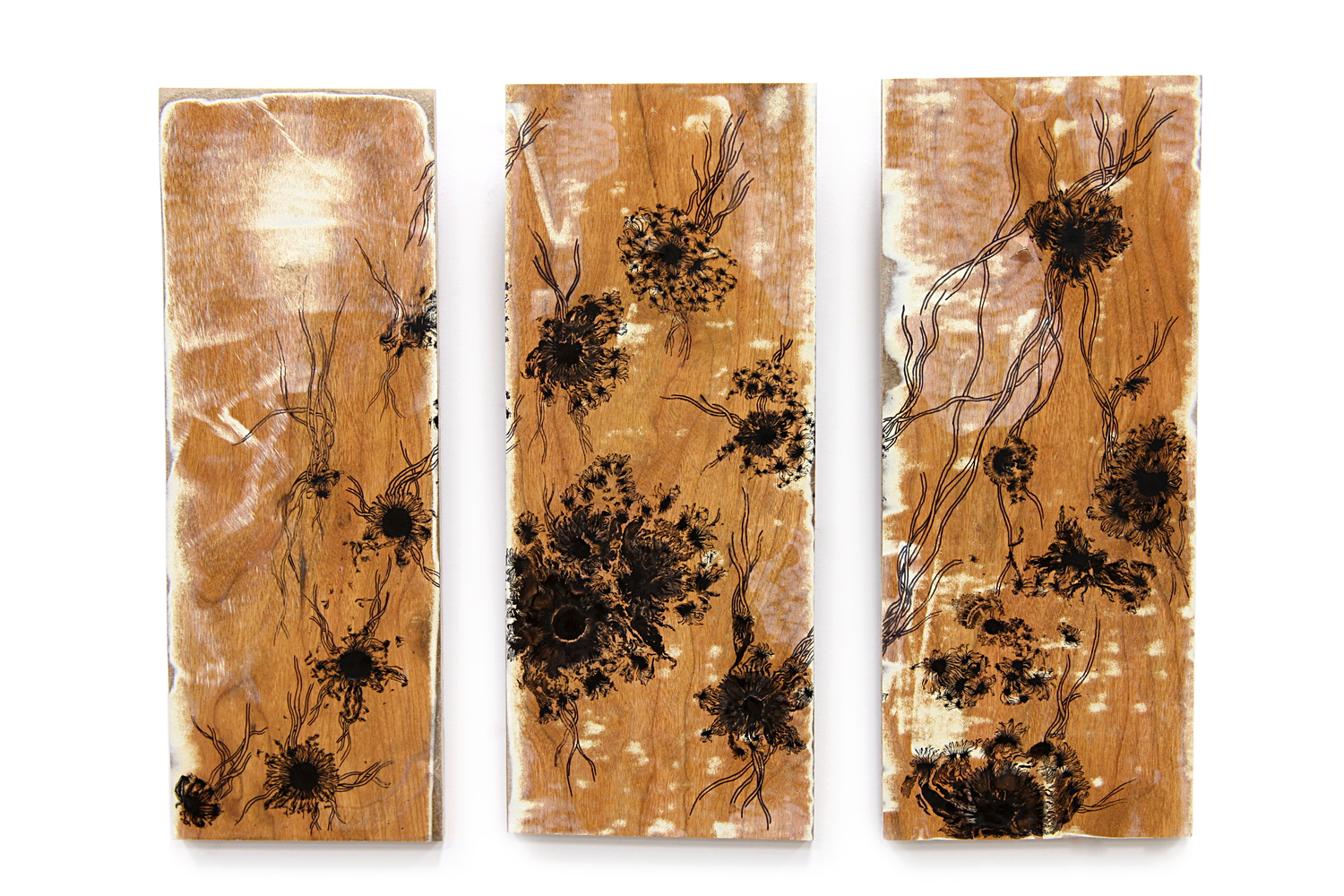 Born in Sussex, England, Thomas moved to Atlanta as a high school student. In 2013, she received a bachelor's degree in visual art from Belhaven University in Mississippi before moving to Baton Rouge in 2016.
Sitting cross-legged in a round wicker chair in her apartment, Thomas traces her ink-on-wood-glue drawings back to her junior year of college. She opens a black, leather-bound sketchbook to a white foam fruit net pressed inside—the kind often wrapped around apples or pears like little crochet sweaters. She recalls finding the fruit net in a studio classroom at Belhaven. Before long, it inspired sketches and installations.
"I found more in the grocery store and decided to start gluing them together, so I created giant sculptures out of, like, thousands of these. I had so much fun," she says, smiling. "I would go to different stores, asking produce managers if I could take them. I only got in trouble one time for taking them."
Thomas continued to sketch fruit nets, and the motif of interconnected lines soon resurfaced through her ink-on-wood-glue drawings.
"It kind of happened by accident, that whole process of discovering how the ink reacts with the wood glue," she says.
For her senior exhibition, she covered several matboard squares with wood glue and ink before drawing in those same interconnected lines that filled her sketchbook.
After graduating from Belhaven, Thomas started using other colors to create textures, and she replaced matboard with reclaimed wood.
"I was always collecting pieces of wood that I found on the side of the street. I definitely did a bit of dumpster-diving while I was in college," she says, laughing.
She is still experimenting with her ink-on-wood-glue technique. And she's also continuing work on her plant series, taking up linocut printing to create prints of her original botanical drawings.
Find her work at the Mid City Makers Market most months or at samarathomas.com.
---
This article was originally published in the March 2018 issue of 225 Magazine.