---
If your biggest problem this summer is sleeping too well at night, we've got the solution: gruesome, salacious and tragic tales of true crime in our own backyard. Nothing passes hours at the beach quite like pages and pages of axemen, murderesses and cannibalism. But for the deep divers out there, there's also plenty of material on heavy, thought-provoking issues like humanitarian crises, police corruption and racial violence. Pick your poison.
---
The Axeman of New Orleans: The True Story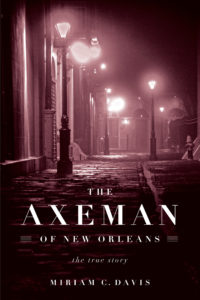 Miriam C. Davis
From 1918 to 1919, a shadowy figure terrorized New Orleans, entering homes of Jewish bakers and Italian grocers while they slept and brutally axing entire families. Trace his bloody trail through a mysterious web of murders as this book tries to pin down the true identity of the man who claimed to be "a demon from the hottest hell."
---
Five Days at Memorial: Life and Death in a Storm-Ravaged Hospital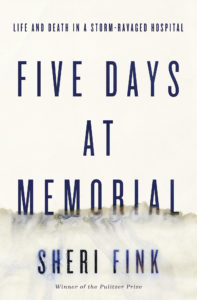 Sheri Fink
In the days that followed Hurricane Katrina, the staff, patients and refugees at New Orleans' Memorial Hospital faced life-or-death choices. As this harrowing deep dive reveals, some of those patients had death chosen for them. Five Days paints a bleak, unflinching picture of the darkest days inside the hospital.
---
Legendary Louisiana Outlaws: The Villains and Heroes of Folk Justice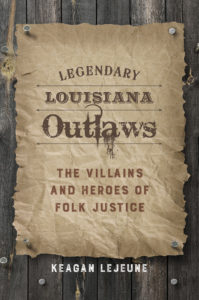 Keagan LeJeune
From the legendary Bonnie and Clyde to 19th-century train robber Eugene Bunch, who was called "Bloody Tangipahoa's Robin Hood," this wide-ranging anthology recounts the biggest figures of Louisiana's crime history.
---
Mad Madame LaLaurie: New Orleans' Most Famous Murderess Revealed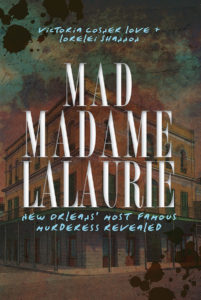 Victoria Cosner Love & Lorelei Shannon
Delphine LaLaurie ruled Creole society in 1830s New Orleans, until a fire at her Royal Street mansion revealed her grisly secret: an attic full of chained, abused and mutilated slaves. Follow the journey back to antebellum Louisiana to find the true story of one of the city's most famous haunted houses and the murderess who lived there.
---
Murder in the Bayou: Who Killed the Women Known as the Jeff Davis 8?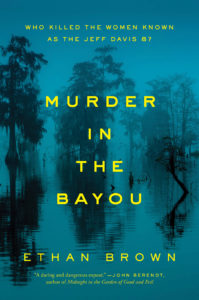 Ethan Brown
The unsolved murders of eight women in Jefferson Davis Parish between 2005 and 2009 have seen countless potential resolutions, from a serial killer to dirty cops. Acclaimed journalist Ethan Brown digs up all the clues to this haunting case, its mishandled investigation and the forgotten victims.
---
The Story of Dan Bright: Crime, Corruption and Injustice in the Crescent City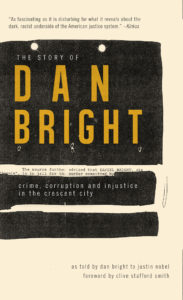 Dan Bright & Justin Nobel
At only 26, New Orleans drug lord Dan Bright was locked up and sentenced to death for a murder he didn't commit by a system desperate to get him off the streets. This riveting and revealing read tells Bright's rise, fall and eventual exoneration from his own point of view.
---
 Shots on the Bridge: Police Violence and Cover-Up in the Wake of Katrina
Ronnie Greene
If you're into American Crime Story, then this is required reading before season two, which will focus on Hurricane Katrina. Revisit the shooting of unarmed evacuees on Danziger Bridge by NOPD officers, the subsequent cover-up and the trial that shed light on the violent aftermath of the storm.
---
Coroner's Journal: Forensics and the Art of Stalking Death in Louisiana
Louis Cataldie
Former East Baton Rouge coroner Louis Cataldie had one of the most macabre and fascinating jobs in the state from 1998 to 2003. In this memoir, he recounts his experiences with a number of memorable and bizarre local cases, including the victims of serial killer Derrick Todd Lee.
---
I've Been Watching You: The South Louisiana Serial Killer
Susan Mustafa
It's a case seared in the memories of every longtime Baton Rouge resident: the decade-long serial-killing run of Derrick Todd Lee. Mustafa's account not only plumbs the depths of the investigation but offers voices to the seven known women who lost their lives at Lee's hands.
---
Shake the Devil Off: A True Story of the Murder that Rocked New Orleans
Ethan Brown
A year after Addie Hall and Zackery Bowen found love and national attention in the wreckage of Katrina, Bowen jumped to his death from a French Quarter hotel with a note confessing that Hall's body was in their home—in the fridge, on the stove and in the oven. It's one of NOPD's most gruesome cases.
---
This article was originally published in the May 2017 issue of 225 Magazine.