Baton Rouge restaurants keep raising the bar. In openings over the past year, we've seen design on a new level in this city: bars tiled with eye-catching geometric patterns, ceilings with moody industrial lighting and walls covered with expansive, original murals. The gussied-up interiors set the mood, conveying that crucial first impression that if the owners poured this much love into the layout, the food has got to be good.
And with ambiance like that, there's only one thing to do: Dress for the occasion. We searched the racks at local boutiques for trendy fall pieces that remind us of the details in these eateries. Leather, fringe, fur, velvet, sequins—even millennial pink—there's as much of an art to this season's fashions as there is to memorable restaurant design. Cheers to a stylish night on the town.
---
Styling: Elle Marie | Photography: Jordan Hefler | Creative direction: Jennifer Tormo
Hair: CeKeisha Williams | Makeup: Shelby Mumphrey with assistance from Katrina Liza
Models: Halei Shaw for FiftyTwo45 with appearances by Zach Johnson and Savannah Bee
Stylist's assistant: Charlene Guilliams
---
Scents of smoky meat hit you before you even walk in the door at BRQ Seafood & Barbeque. The food is packed with all of the flavor you expect from a great barbecue joint, but the restaurant's interior is a step up from the no-frills eateries we've become accustomed to getting our brisket from in the South. A dainty, dusty-pink, off-the-shoulder dress with a high neck and billowy sleeves complements the restaurant's neutral color palette, Western vibes and twinkling lights. BRQ is at 10423 Jefferson Highway. brqrestaurant.com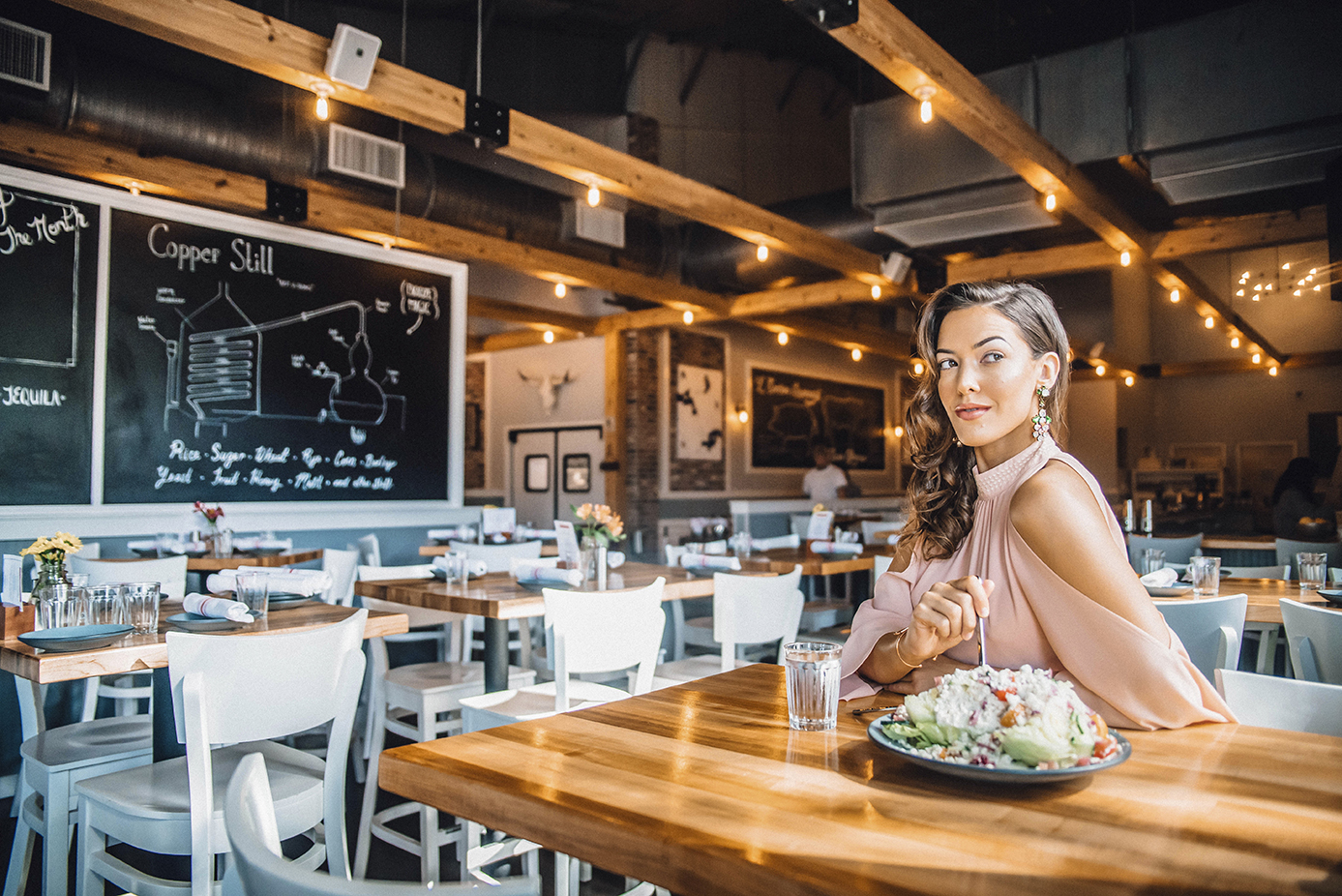 Esley open-shoulder dress ($54)
Rose gold bow bracelets ($12 each)
From Soiree Baton Rouge

"Southern Charm" earrings ($5)
From NYA Accessories
---
The black-and-white geometric tiles and smooth black marble countertops are the focal point of Magpie Cafe's downtown location, so a sleek monochrome look is in order here. Leather pants are a showstopper, offset with a crisp black halter top, chunky blue booties and chic ponytail. Sporty Spice would be proud. Magpie Cafe downtown is at 333 Laurel St., #110. magpiebrla.com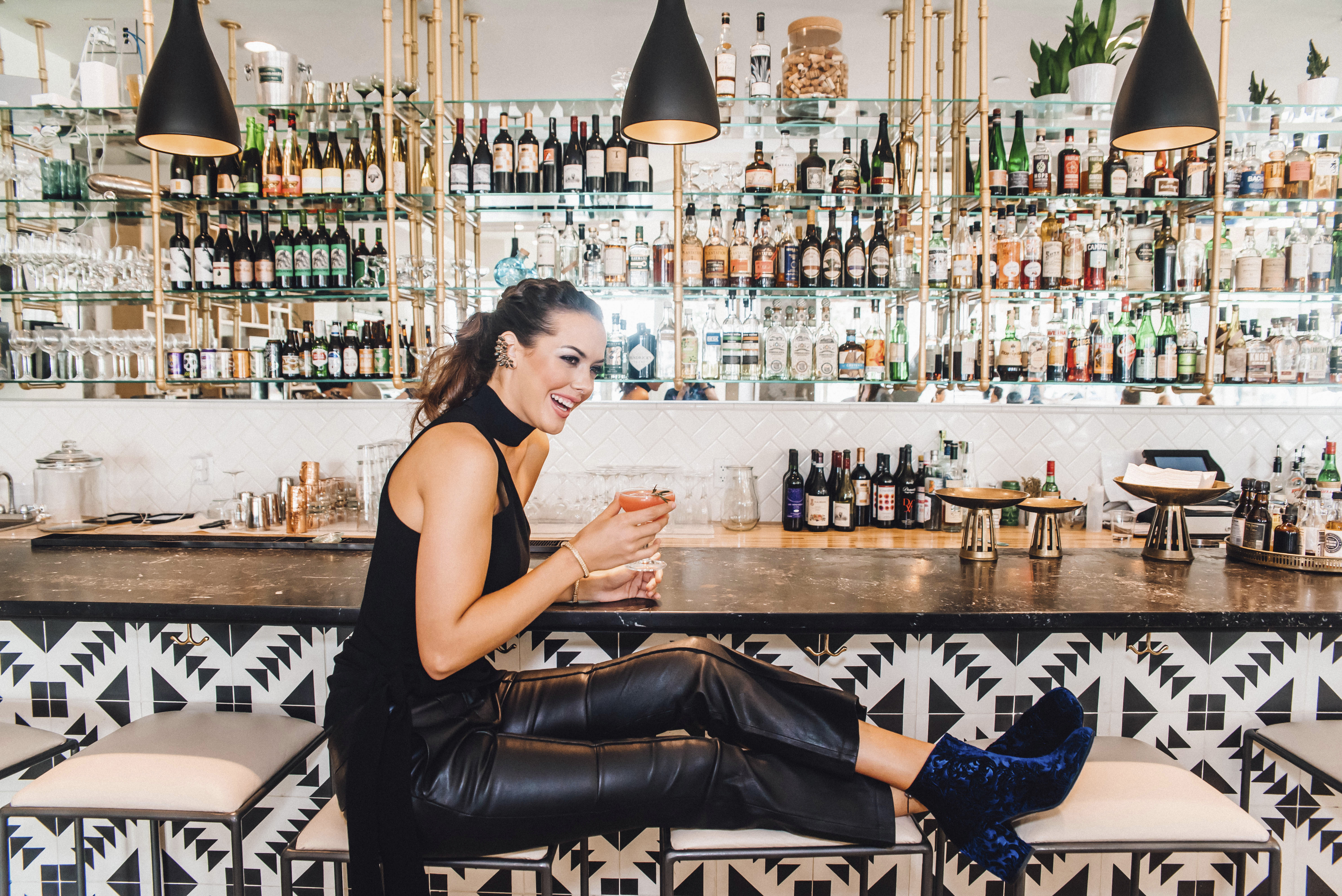 Cinq à Sept top ($295)
From Chatta Box Boutique
Gold bangles ($10 each)
From NYA Accessories
A.L.C. "Evan" cropped leather pants ($995)
Stuart Weitzman "Bacari" blue leather bootie ($535)
From NK Boutique
Cuff earring
Stylist's own
---
Half of Magpie Cafe downtown is floor-to-ceiling windows, and interesting scenes are reflected everywhere: lightbulbs and pendant lights dangling from the ceiling, sculptural green cacti stretching toward the light, concrete flooring catching early-evening shadows. The best thing about getting drinks here is people watching from those windows. But passersby are just as curious of you as you are of them. A showstopping look like this Western-inspired fringe dress deserves to be seen through the looking glass.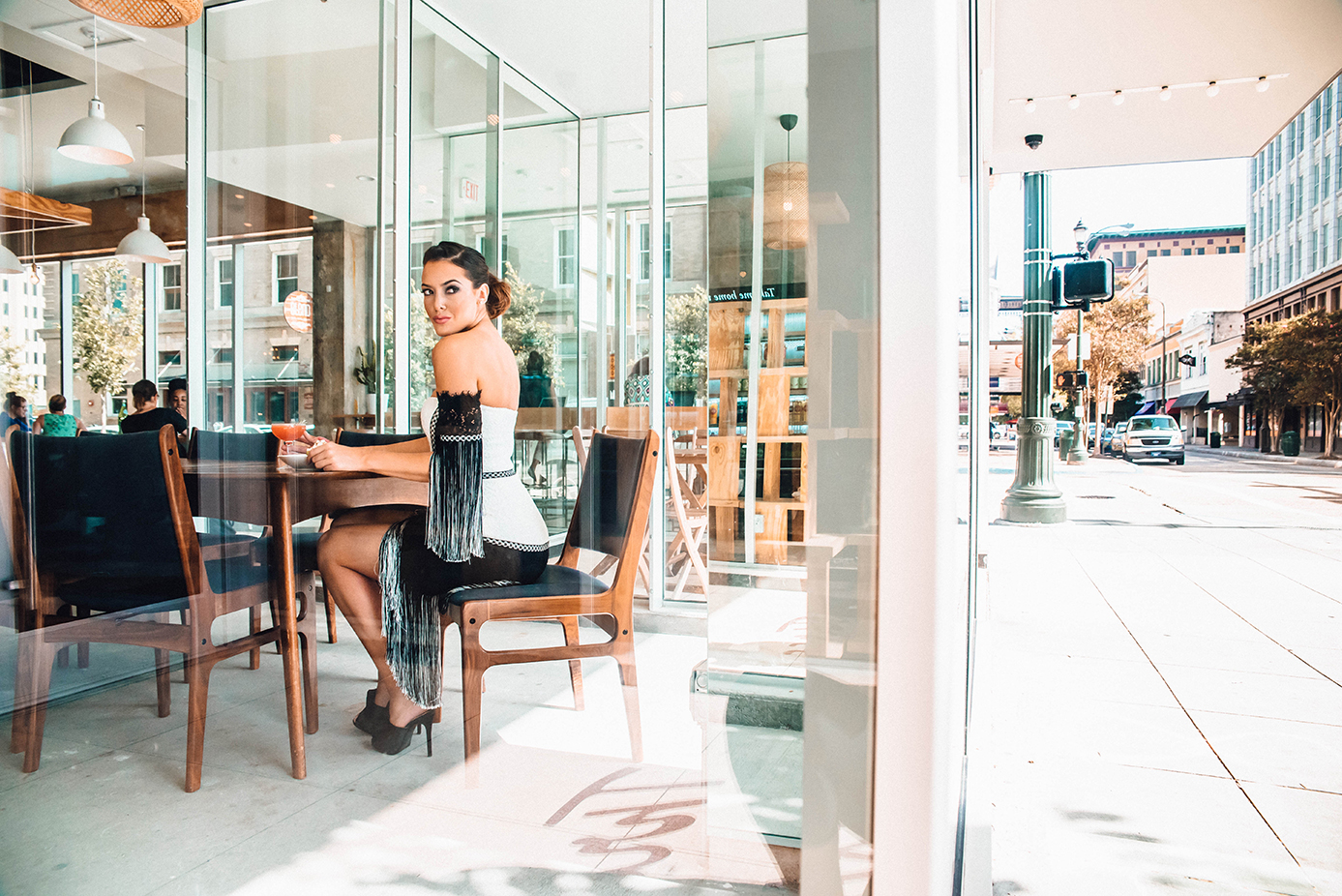 Alexis off-the-shoulder fringe dress ($682)
From Chatta Box Boutique
Liliana heeled mules
Stud earrings
Stylist's and editor's own
---
More than 320 bottles of wine are displayed like art on a gallery wall in Kalurah Street Grill's main dining area. Maybe this is the restaurant's way of telling us that the food and drinks are art here. Either way, K Street is all warmth and class. Golden light beams down from Edison bulbs and bounces off the restaurant's brilliant wood accents. There are no white tablecloths here; it's all about freshly rolled brown craft paper branded with the K Street logo. A soft, shimmering crushed-velvet slip dress and a clean button-down and textured blazer paired with jeans are dressy without being over-the-top. And that's pretty much the K Street vibe to a T. Kalurah Street Grill is at 2857 Perkins Road. kalurahstreetgrill.com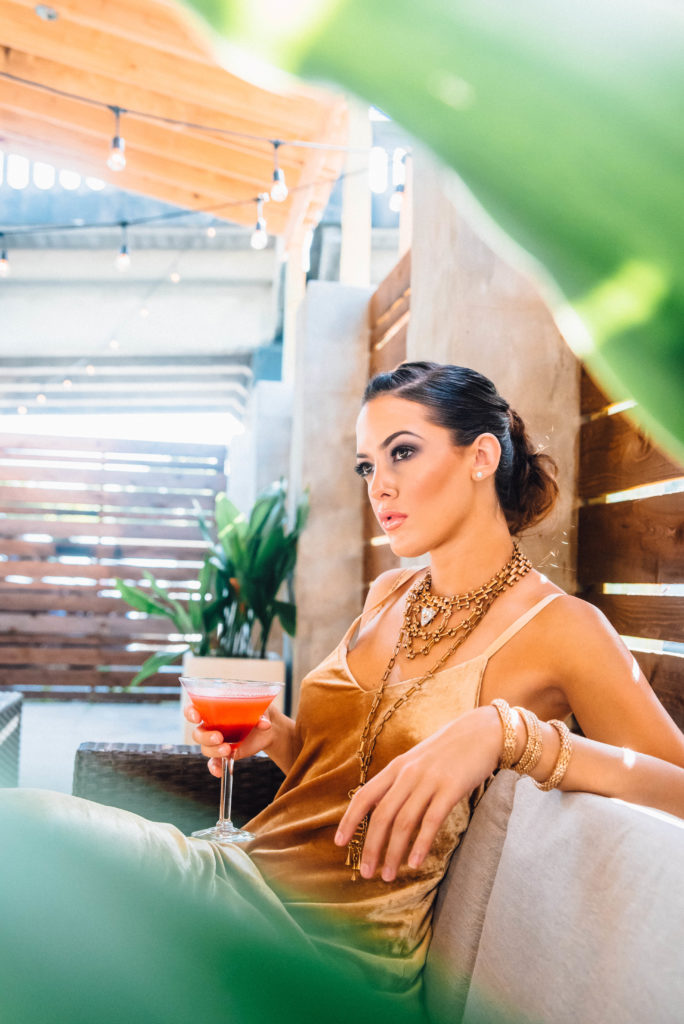 ON HER
A.L.C "Annex" velvet dress ($695)
From NK Boutique
"The North" statement necklace ($375)
"The Fish" necklace ($350)
By local designer Percoisa
Gold bangles ($10 each)
From NYA Accessories
Liliana heeled sandals
Stylist's own
ON HIM
Stacy Adams blazer ($150)
Modena white button down ($39)
Milano embellished jeans ($139)
From Milano Uomo
Allen Edmonds "Chelsea" boots ($445)
From Carriages Fine Clothier
Watch and hat
Model's and stylist's own
---
Cane Land Distilling Co.'s outdoor bar area might take the cake as the coolest happy hour spot we've seen. It's decorated with salvaged sugar cane farming equipment, including a weathered, mammoth-sized bull gear and old fuel tank. A modern look, like this brick-red halter jumpsuit and boxy caged-metal clutch, is edgy enough to fit right in—and would be just warm enough when those coveted 70-degree fall evenings start to kick in. Is it October yet? Cane Land is at 760 Saint Phillip St. canelanddistilling.com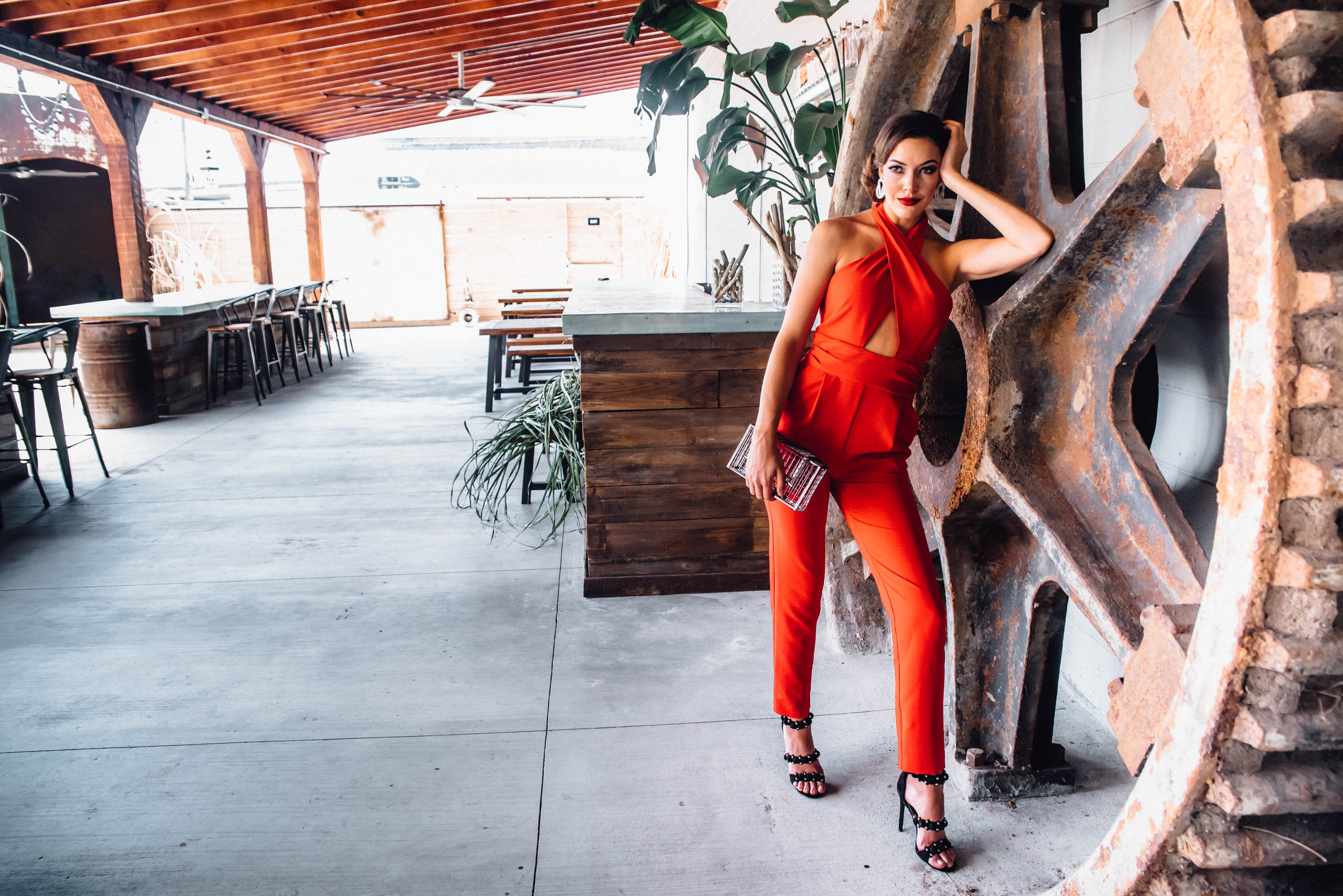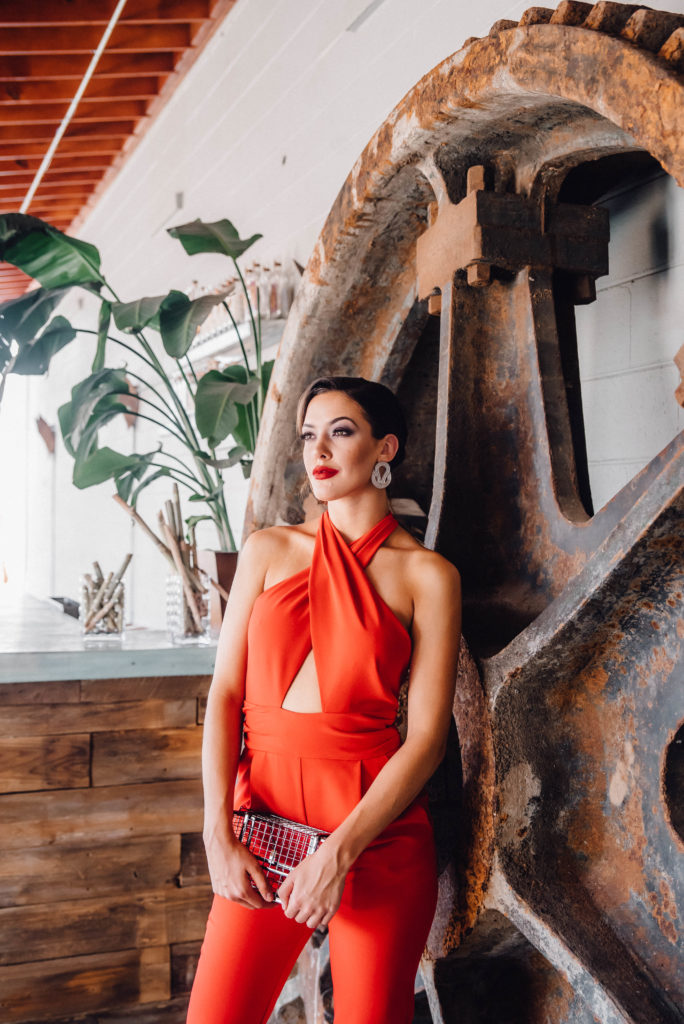 Milly Italian "Cady Nicole" halter jumpsuit ($495)
From NK Boutique
"Don't Cage Me" crossbody clutch ($25)
From NYA Accessories
Liliana sandals
Silver cross-knot earrings
Stylist's own
---
Indoors at Cane Land, a glass island bar-top rests on crown wheels and pinions as big as tires. Behind the bar, a Cane Land logo and shelves holding the distillery's spirits are backlit with neon lights. Don't be surprised if you see different colors during each visit—by pressing a few buttons on a remote, the owners can change the lights from turquoise to red to orange to cobalt blue. The bold decor choices beg for equally powerful outfits. A maroon fur coat and motorcycle-chic mini skirt or a silky mauve playsuit would do just the trick.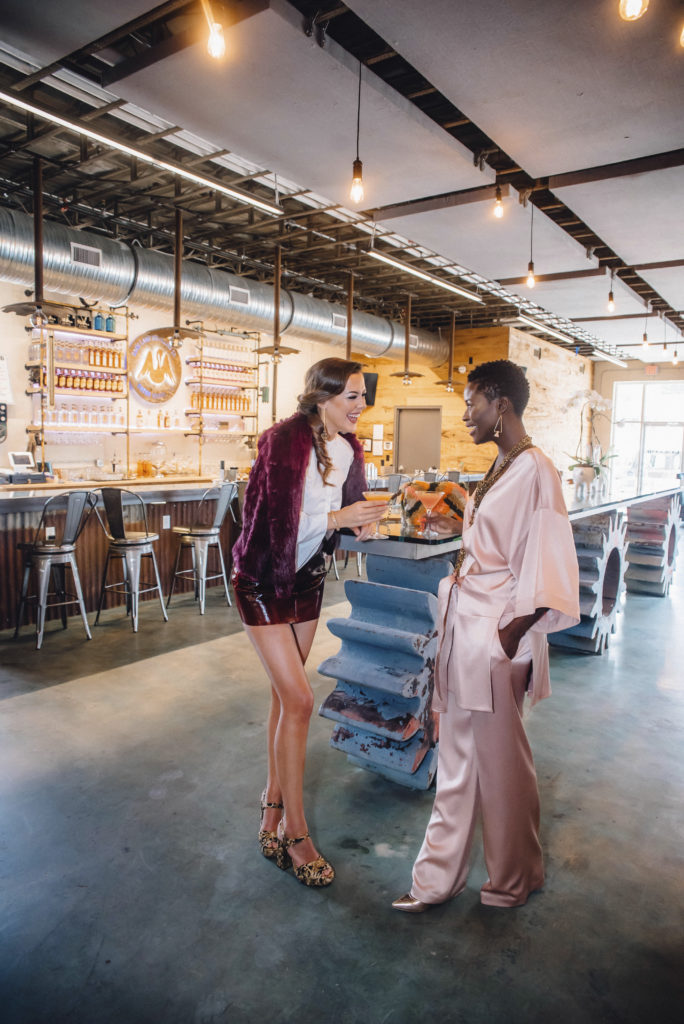 PICTURED LEFT
Rachel Zoe fur coat ($695)
Tibi satin poplin bell-sleeve tunic ($275)
Tibi patent coated mini skirt ($495)
Tory Burch sandals ($398)
From NK Boutique
"Bally" cage earrings ($250)
By local designer Percoisa
gold bangles ($10 each)
From NYA Accessories
PICTURED RIGHT
Halston Heritage top ($325)
Halston Heritage pants ($325)
From Eros
Sarah Briggs earrings ($54)
Tory Burch crossbody purse ($498)
From NK Boutique
Public Desire heels
Stylist's own
Buie necklace ($375)
Classic tassel necklace ($298)
By local designer Percoisa
---
Housed in the Watermark Hotel, The Gregory is one of Baton Rouge's most sophisticated new spots. This is an anniversary-dinner kind of place, from the luxe finishes (leather and brass barstools, suede benches and a black marble bartop in front of the display kitchen) to the elegant dishes (tender roasted duck leg and glazed foie gras with roasted apple, pepper jelly and arugula). A sequined gown, diamond drop earrings and cherry-red lips make for a stunning start to an unforgettable dinner. The Gregory is at 150 Third St. thegregorybr.com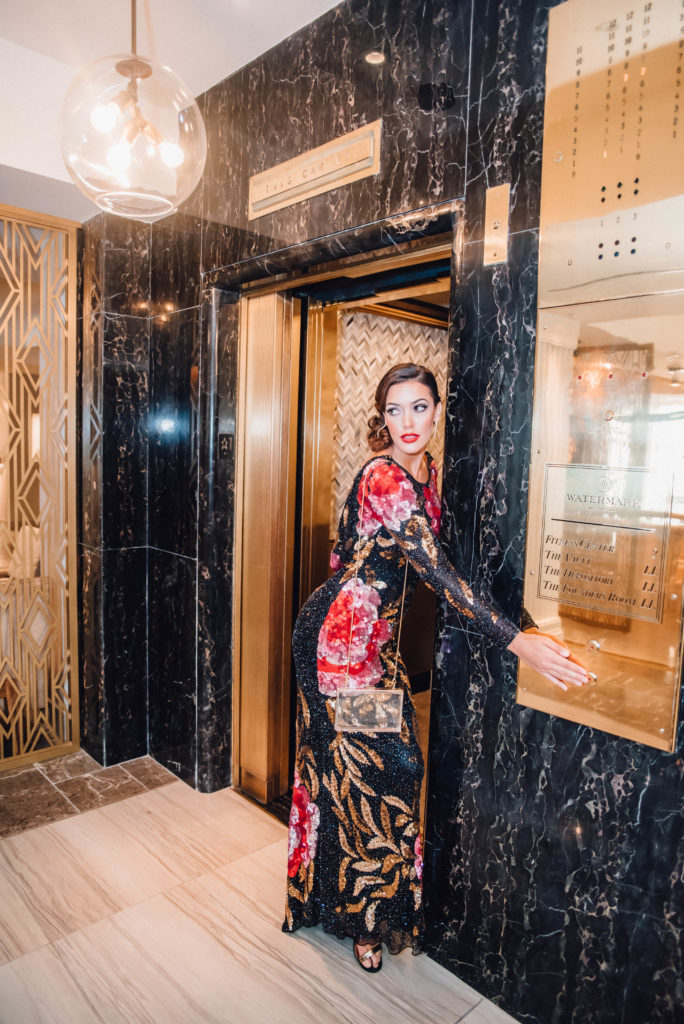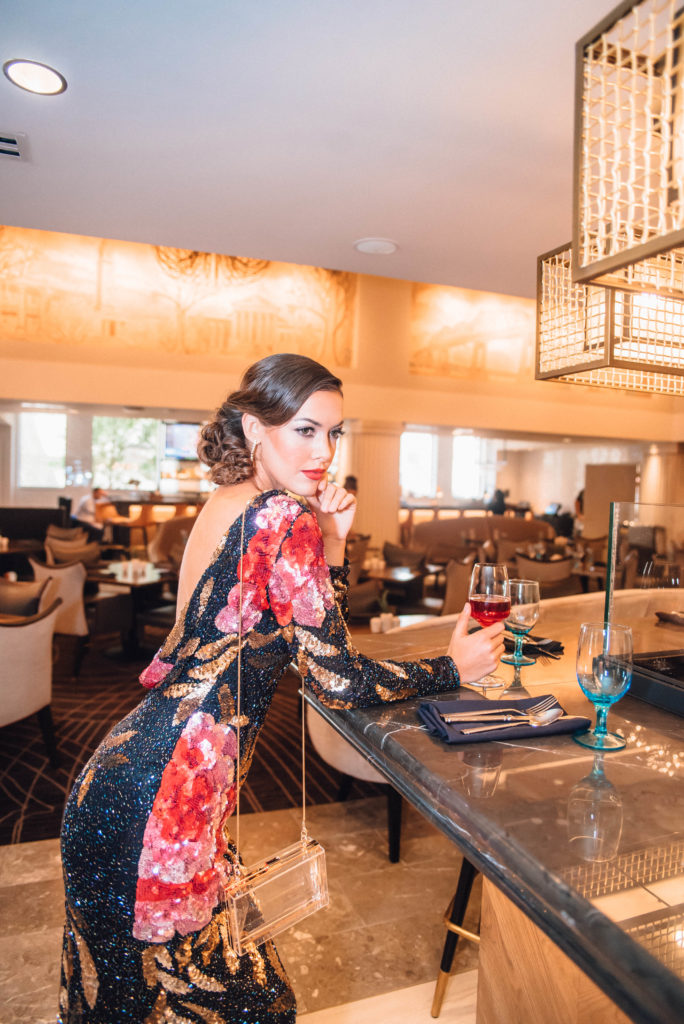 Mac Duggal sequin floral dress ($658)
Drop earrings ($58)
From Chatta Box Boutique
"Clear as Day" clutch ($20)
From NYA Accessories
Liliana heeled sandals
Stylist's own
---
You'll want to make an excuse to use the restroom at The Gregory. Actually, let's call it a powder room. It's a space straight out of a palace, with glittering chandeliers made from bike chains and glossy, silver patterned wallpaper. The mirrors upon mirrors on the wall will make you feel like the fairest of them all.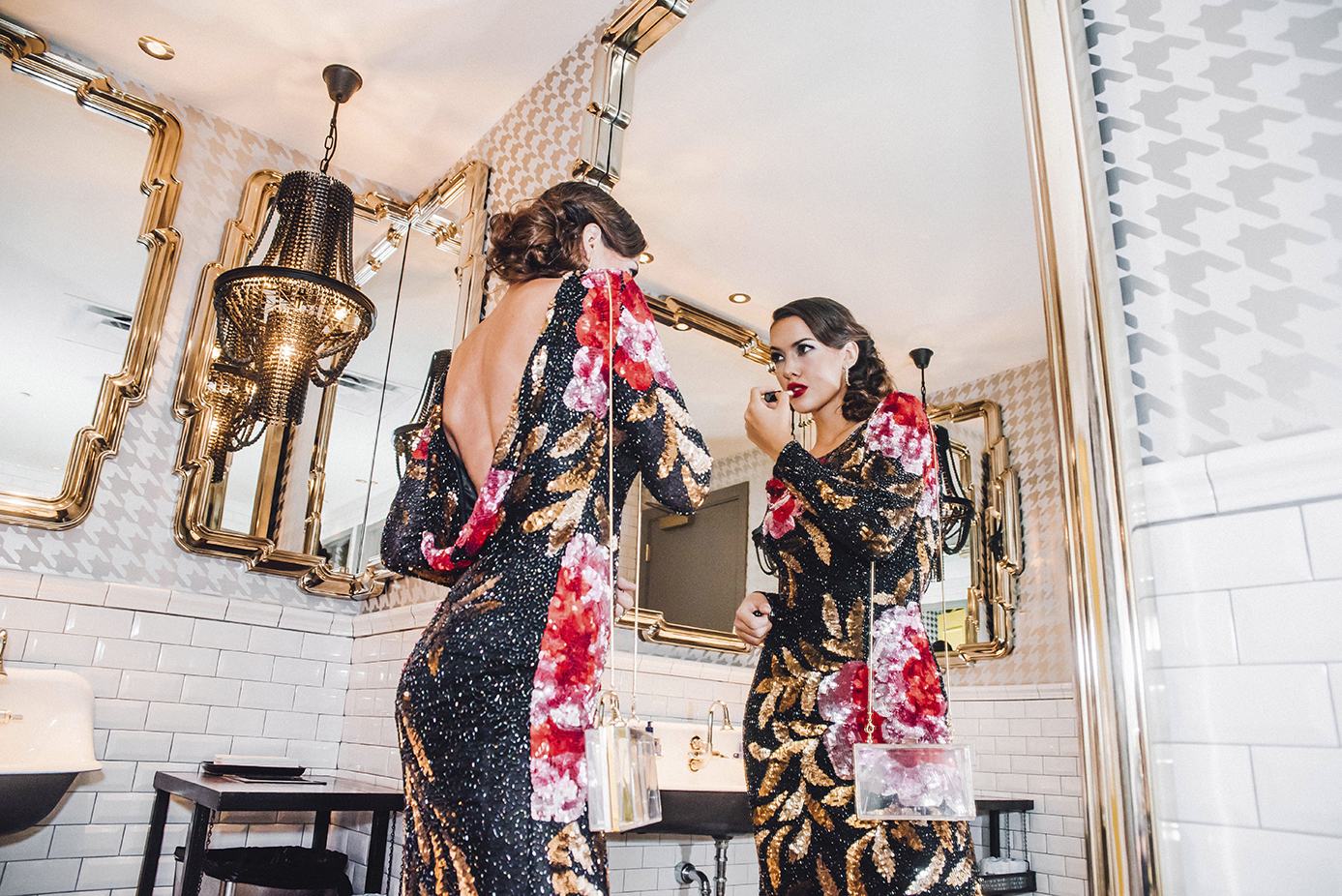 ---
A white marble staircase near the entrance of The Gregory is just asking for a Cinderella dress to match. A glistening Jovani gown with a halter top and plunging neckline feels timeless enough to match the historic details of the Watermark Hotel, which was formerly the Louisiana National Bank. Today, the restaurant is framed by bas-relief murals by sculptor Angela Gregory, which were commissioned in 1949 and professionally restored for the hotel's opening last year. But like its restaurant, which displays its menu on iPads, we're into modern touches, too. This dress has an amazing one: pockets.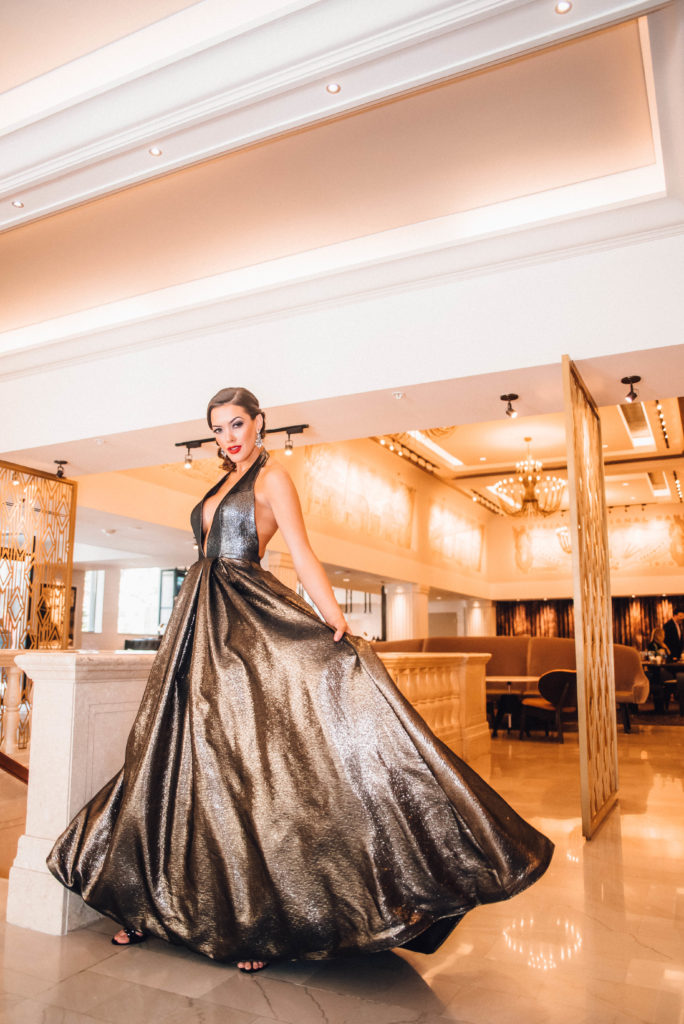 Jovani gown ($649)
Chandelier earrings ($58)
From Chatta Box Boutique
---
Check out more shots from this month's cover story fashion shoot below. Click the thumbnails to enlarge.
---
This article was originally published in the September 2017 issue of 225 Magazine.