---
Styling: Elle Marie | Hair: CeKeisha Williams | Makeup: Shelby Mumphrey
---
Brooks Nader has been back in Baton Rouge for less than an hour, and all she wants is a bag of hot fries.
"Please, mom. Please," she begs her mother, Holland Nader.
It's the Wednesday before Thanksgiving, and Brooks has been awake and traveling since 4 a.m. The Manhattan-based model caught an early flight to Baton Rouge to spend the holiday with her parents and three sisters.
It's nearing lunchtime when she and her mom arrive at their first stop for the day: the home of Brooks' childhood best friend, Taylor. The Highland Road area house is the location of today's 225 magazine shoot.
And so, the hot fries. Holland offers to make a quick trip to the store during the shoot for any snack her daughter wants, and that's what Brooks has to have. Chester's, she specifies, the $2 kind you can get at the gas station. She's been craving them for months.
"You can't get them anywhere in New York," Brooks pleads with her reluctant mom. "Besides, it might even look cute for the pictures."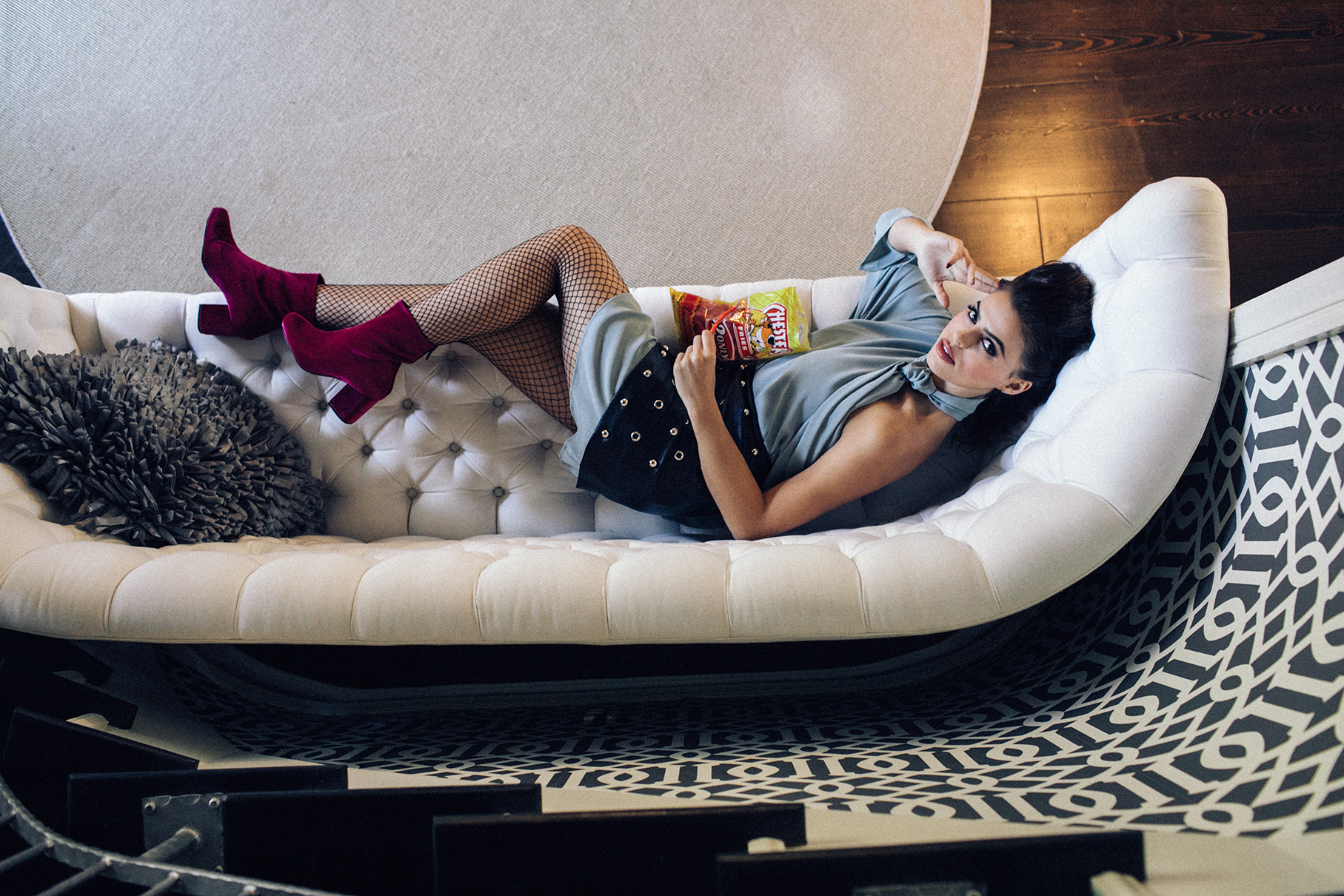 C/MEO Collective Everlasting one-shoulder dress, $152
DO+BE studded faux leather skirt, $48
Free People "Cecile" velvet fuschia ankle booties, $168
From Rodeo
Fishnet stockings
Earrings
Stylist's own
---
In Manhattan, Brooks is paparazzi material, a model on the rise whose face has appeared in magazines and beauty campaigns. She has "public figure"-status on Instagram.
But back home in Louisiana, to Holland and the rest of her family, she's "Brooksy." She is still the same girl who graduated from Episcopal High School and used to babysit the neighborhood kids.
Whether she's in New York or Baton Rouge, though, it seems Brooks is Brooks. Her mom gives in and gets her the hot fries.
At 20, Brooks has already mastered what it takes some adults years to figure out: how to be unabashedly herself, hashtag-no-filter.
The way her mom puts it: She's tenacious, confident and resilient.
"She was always a driven little thing," Holland says. "She's one of those kids who, when she decides she's going to do something, she is just going to do it. There is no stopping her."
About six months ago, Brooks moved to the Big Apple to pursue modeling full time. Since then, she's already been featured as an up-and-coming model in Sports Illustrated and Playboy. She's shot commercial work for hotels and swimwear and accessories lines. She's posed for Laura Mercier and Bobbi Brown beauty campaigns. She even recently landed a speaking role in a movie.
Brooks stands 5-foot-8, her Kardashian-level curls reaching just past her shoulders. She is part-Lebanese, a trait she thinks has helped her land more gigs.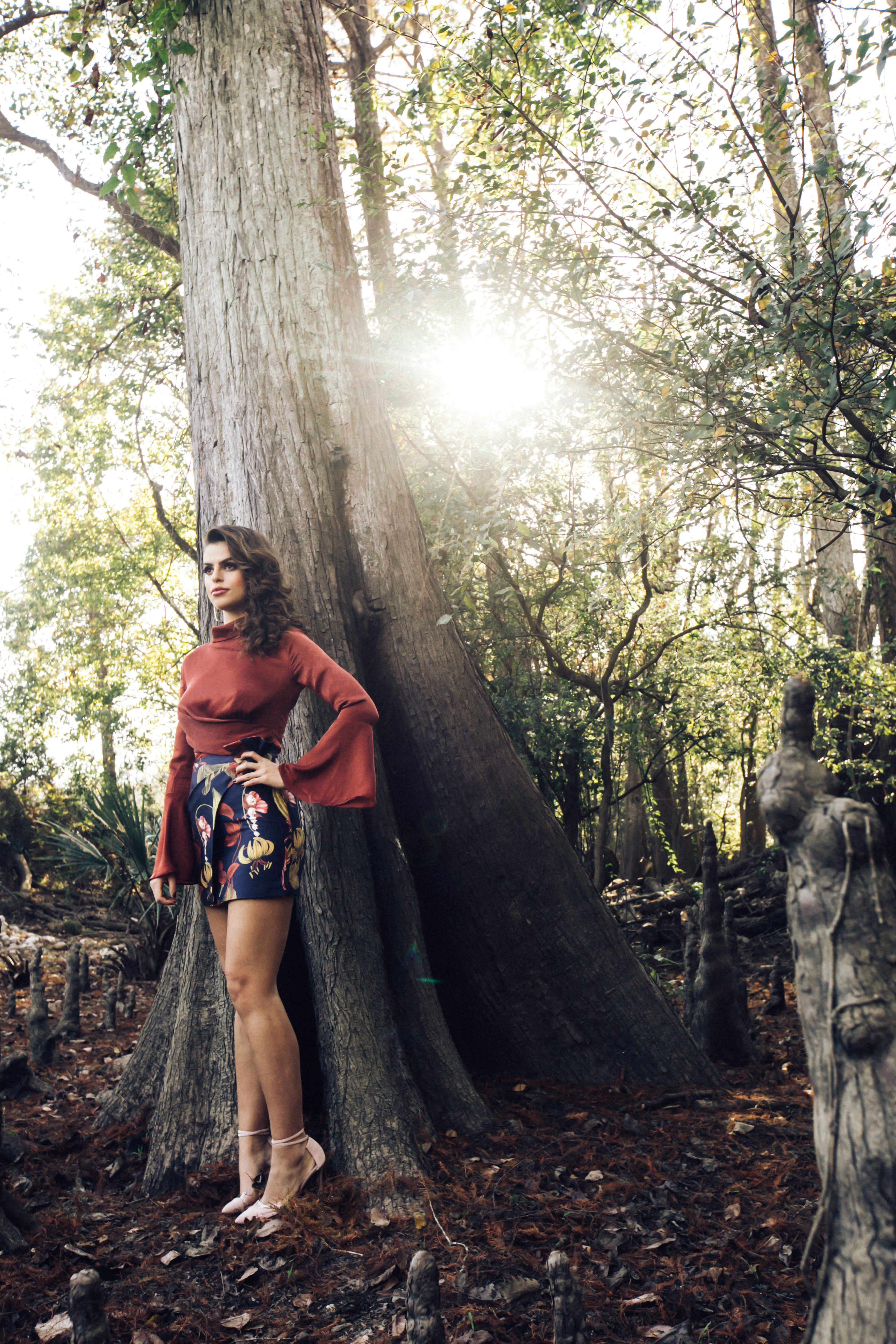 DO+BE top, $40
C/MEO Collective skirt, $130
Raye sandals, $201
From Rodeo
---
She's used to the texts from friends now: "Is this you?" they'll ask, attaching photos of magazine pages or mall billboards. She has been photographed going to dinner with Kendall Jenner and Justine Skye. Her posts on Instagram, where she has more than 186,000 followers, consistently get thousands of likes.
"People think it's all glitz and glam, but it's work," Brooks says. "Physically and mentally, it takes a lot out of you. You really have to commit to the full lifestyle and take it seriously."
Brooks' version of 9-to-5 is more like 5 a.m. to 8 p.m. After that, networking often carries on into the night. For some models, she says, that might mean partying, but not her. She'd rather chill at home with a bottle of wine.
"I'm such a granny. I'm an old soul," she says.
Despite her quick climb up the modeling ladder, Brooks insists she never planned to be a model. Pinning down the moment she had her big break is a little murky, but it seems to have all started in summer 2016, when she moved to New York for an internship with a meeting and event space company. At the time, she was a finance major at Tulane, trying to get experience on her summer break. She started networking around the city, and then her agent Chad Gavery found her on social media.
"He works with some of the most powerful people in the world," Brooks says, listing off models like Candice Swanepoel, Cindy Crawford and Gisele Bündchen.
Since connecting with Gavery, Brooks has signed with agencies in New York, Los Angeles and Miami. Last May, she moved to New York permanently.
It sounds almost like an overnight success story, but Brooks' mother thinks it was a long time coming. She believes her daughter was destined to model.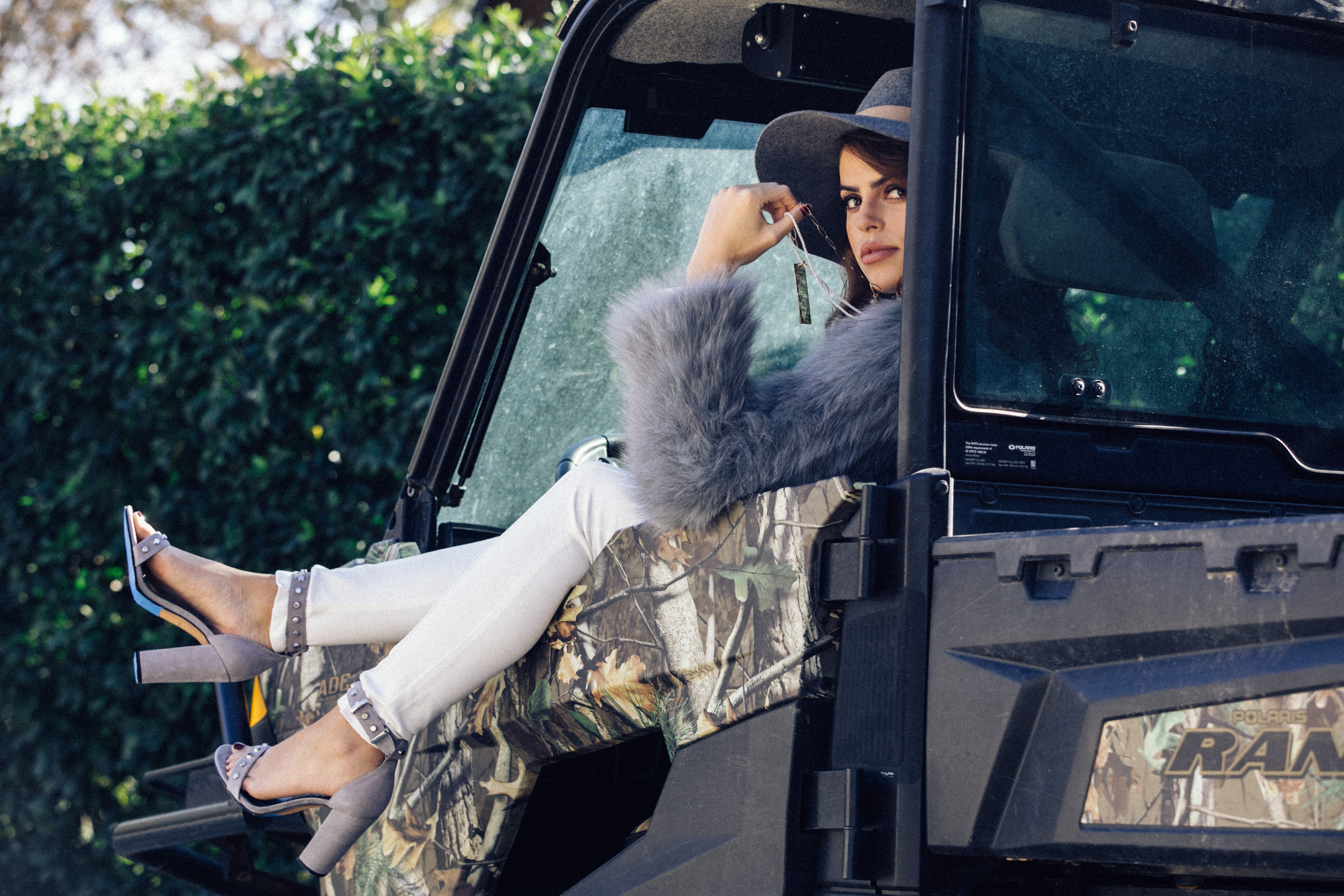 Michael Stars "Midnight Ride" wide-brim hat, $68
H Brand fur jacket, $1,035
Sanctuary "Dreamer" shirt, $90
White ponte pants, $153
Holly Zaves earrings, $58
Holly Zaves necklace, $275
From Lukka
Dolce Vita shoes, $124
From Rodeo
---
"She's been modeling around the house since she could walk," Holland says. And when Brooks announced her plans to move to New York, Holland says she never worried. "I knew she had found her niche."
At this afternoon's photo shoot, Brooks' two worlds collide for the first time. She poses for the camera, like always. But today she does it away from Manhattan's grit and glamour, in perhaps her most comfortable setting ever: the house where she and her friends rode ATVs as teenagers. The closets here, she jokes, are probably bigger than her SoHo apartment.
She loves New York, but nothing will ever compare to a meal at Sammy's Grill or a snoball on a sticky summer day.
"I miss the food. People try to copy the food [in New York]," she says. "I miss the fresh air a lot, too … Now Baton Rouge is like a vacation."
So, what's next for her? Brooks says she isn't sure, but her mom has an idea: "The sky is the limit, pretty much."
---
Click the photos in the gallery below to enlarge:
---
This article was originally published in the January 2018 issue of 225 Magazine.