---
Popular interiors trends have moved in a few directions. Modern, sleek lines, yes, but also rustic, organic materials that bring craftsmanship to your walls and the outdoors in.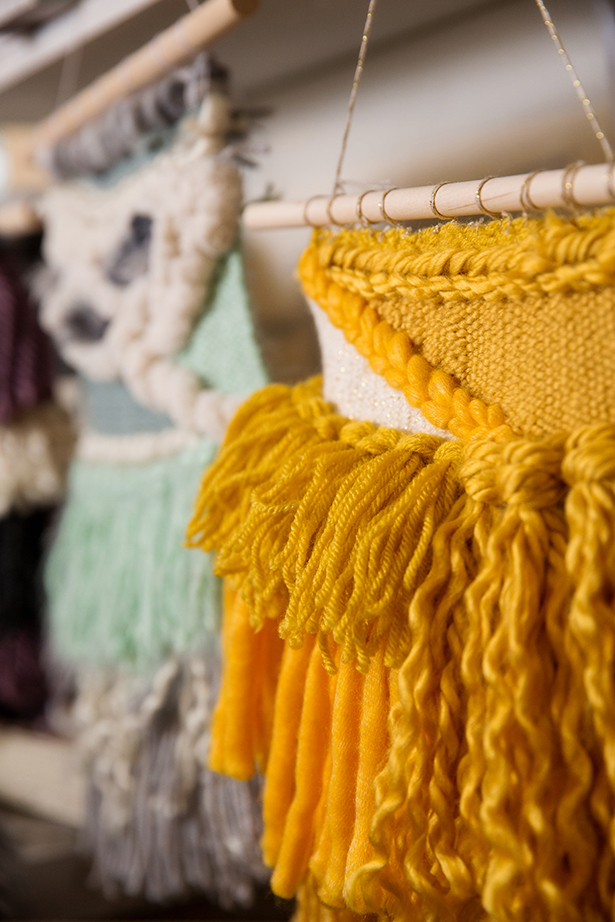 The latter has inspired a wave of textile artists like Courtney Tate, the weaver behind the one-woman operation, Hemmed In. On any given night, find her perched on her couch in front of the TV, a small frame loom in her lap, poking away with a giant needle and yarn. First she winds a thick, plain thread—the "warp" thread—through the loom to create the foundation through which the yarn is woven. Then comes tying on layers of tassels, threading in different colors and knots and inventing a three-dimensional art piece from scrap.
She likes to wing it, letting each design create itself and improvising with different materials and colors to create one-of-a-kind, handwoven wall hangings. Sometimes inspiration comes from the environment, like one weave she modeled after the tide while she was longing for a beach trip. Other designs simply play between the colors and textures of the yarn.
"I have so much yarn," Tate says. "There are little piles of leftovers everywhere—in my living room, in my room. My friends will be like, 'Can I move this little pile of string?' And I'm like, 'No, that's my recollect [pile] that I make stuff into again!'"
The 24-year-old freelance photographer from Houston studied photography at LSU, but no matter the creativity that goes into lining up a shot and capturing a moment, she missed the sense of creating something with her hands. She stumbled across handwoven tapestries on Pinterest and decided to pick up the hobby as an outlet for pent-up creative energy.
Before long, she was taking commissions for nurseries and college apartments, and made her debut at the Mid City Makers Market in October. Most of her work is custom-ordered and tailored to suit a certain room or home, but she is slowly building up a stock of tapestries for markets and a soon-to-be-launched Etsy store.
It's been a rush, but Tate's taking it in stride.
"For me," she says, "it's therapy."
Find her at courtneytate.com or on Instagram @hemmed_in
---
This article was originally published in the December 2017 issue of 225 Magazine.