---
What started as a Halloween parade has evolved into a city-wide, week-long celebration. The organization behind the festivities, 10/31 Consortium, expanded its scope in recent years, utilizing America's spookiest holiday to strengthen Baton Rouge one candy bar at a time.
While 10/31 Consortium officially launched in 2010, its charitable mission did not truly begin until it got its nonprofit status in 2016.
One of the organization's primary objectives is to "revitalize trick or treat"—that is, it aims to give underprivileged children the Halloween every child dreams of. Working with the Big Buddy Program, 10/31 Consortium provides Halloween costumes to children who otherwise would not have access to them.
"Our mission is to serve our community through the fun and creativity of Halloween," co-founder Kelley Stein says. "We're kind of like a Halloween version of Toys for Tots."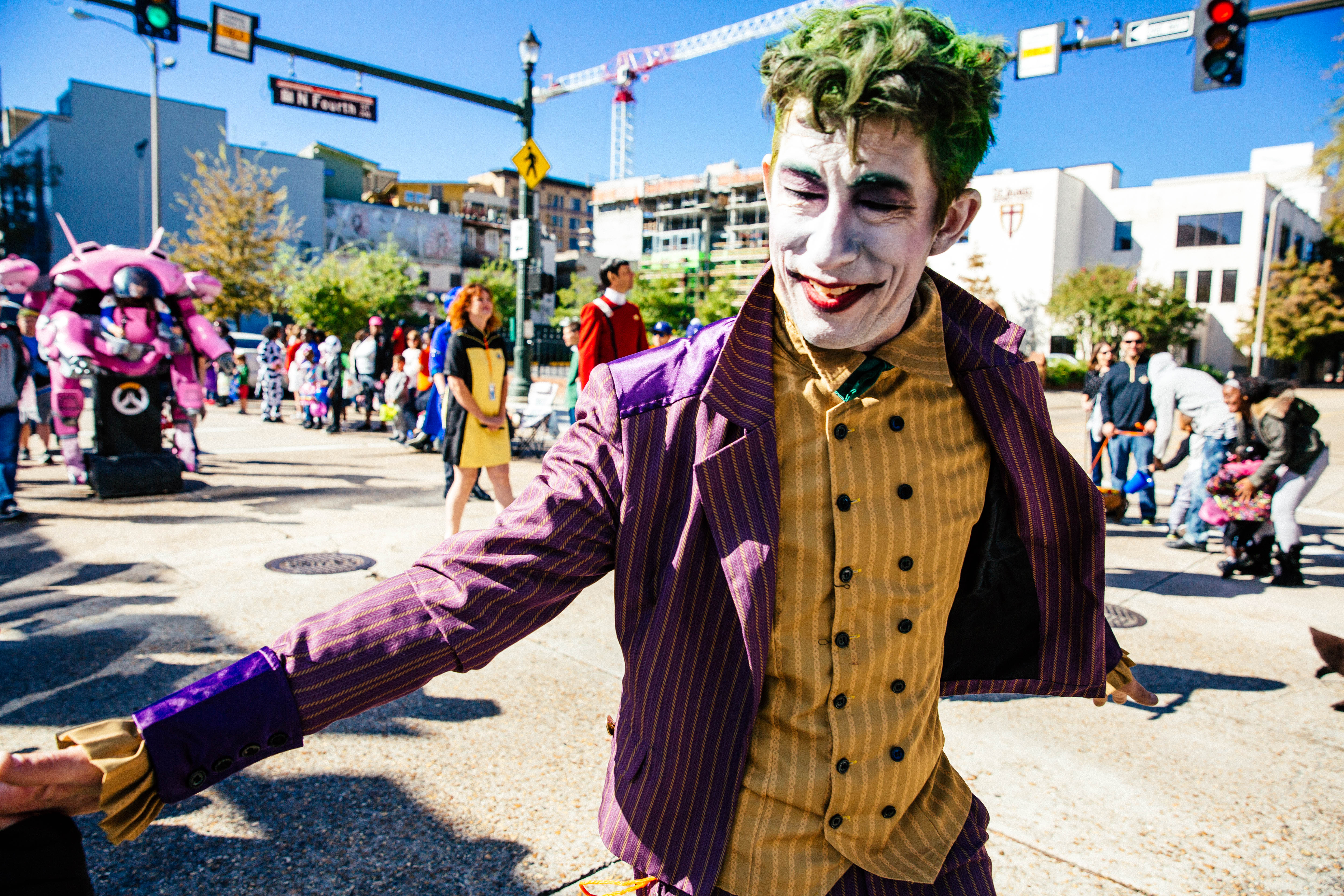 When the organization began working with Baton Rouge's Melrose Place neighborhood off Florida Boulevard in 2016, Stein says only 40% of the community's children had costumes—most of them were trick-or-treating in their school uniforms. Last year, 100% of the neighborhood's trick-or-treaters were in costume, and about 35 more houses were giving out candy. This year, 10/31 Consortium will be expanding into the Bonair and Broadmoor subdivisions.
For Stein, the success of the organization's community-building efforts has been the best part, outside of the many opportunities to don a costume.
"It's very rewarding," she says. "It's a lot of hard work, but it's a labor of love. To see a child's imagination come to life through a costume is a really special feeling."
Revitalizing trick-or-treating is only one part of the work 10/31 Consortium does. With its annual Fifolet Halloween Festival, now in its third year, the organization works with local businesses to fill an entire week of October with Halloween revelry.
This year's festival kicks off Oct. 19 with the organization's Ghostly Gala, an over-the-top masquerade ball that serves as its primary fundraiser. Other events include a murder mystery dinner, a zombie pub crawl and a cemetery bike ride.
And, of course, it wouldn't be the Fifolet Halloween Festival without the Baton Rouge Halloween Parade, happening Oct. 27. Expect to see parading krewes, dancers and bands adhering to this year's theme of "Things That Go Bump in the Night." The parade will also feature its first-ever female grand marshal, Jodi Koontz of the popular radio show Murphy, Sam and Jodi.
"Part of what we want to do is make Baton Rouge a Halloween destination," Stein says.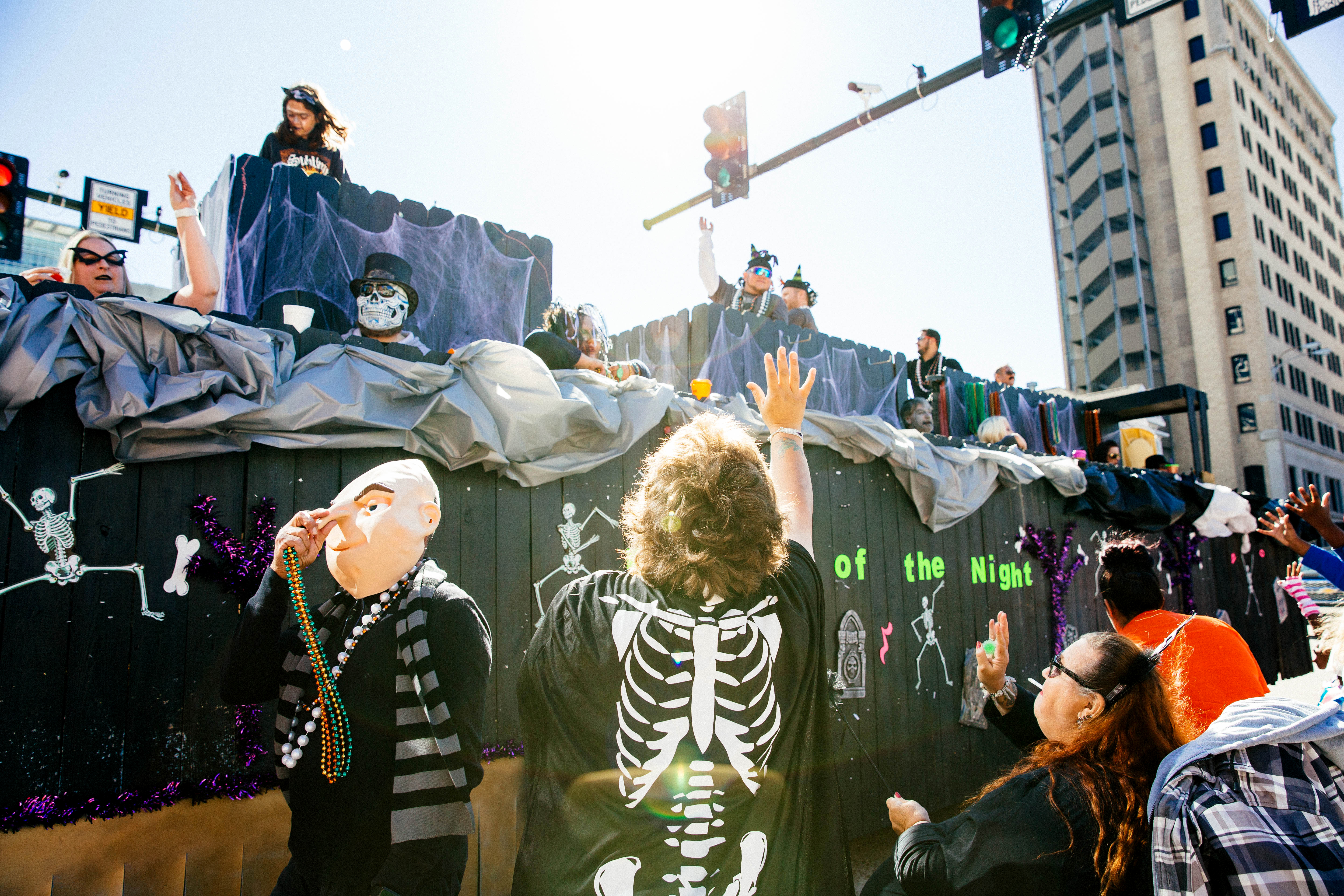 ---
FIFOLET HALLOWEEN FESTIVAL
A sampling of the many events 10/31 Consortium is hosting and supporting this month
Oct. 19
Ghostly Gala at the Crowne Plaza Executive Center. This masquerade ball and fundraiser kicks off the festival and features a performance by Bayou Cirque entitled "Dark Circus."
Oct. 20
Midnight at the Masquerade — A Murder Mystery Dinner! at the Woman's Club.
Oct. 25-31
Fantasy Feast. Participating restaurants around Baton Rouge will be serving up Halloween-inspired dishes, with 10% of the proceeds benefiting 10/31 Consortium.
Oct. 26
Zombie Pub Crawl. Participants will skulk to several participating bars, taking advantage of unique drink specials just for the undead.
Oct. 27
Pumpkin Pi 3.14-Mile Race. This race will take place along the Mississippi River levee at the USS Kidd. If you're feeling especially confident, you can tackle the Tough Pumpkin Challenge and run the race while holding a pumpkin.
Halloween Town. The levee will also play host to a Halloween-themed pop-up festival with food, drinks, music, contests, vendors and more.
Baton Rouge Halloween Parade. Louisiana's spookiest parade will roll through downtown Baton Rouge, complete with dancers, bands, costumes and, of course, candy.
The Resurrection III. 10/31 Consortium hosts a raucous afterparty following the parade.
Oct. 28
Royalty Brunch. At this event (location not available at press time), the Kids' Court will present the Halloween Parade Awards and top fundraising teams will be honored.
Cemetery Bike Ride — Velo de los Muertos! Starting at the Louisiana State Museum, members of the organization and Bike Baton Rouge will host a
12-mile bike tour through the Capital City's cemeteries.
See the full Fifolet Halloween Festival calendar and updated information at 1031consortium.com. Click here for more Halloween events around Baton Rouge.
---
This article was originally published in the October 2018 issue of 225 Magazine.