---
It was Los Angeles in 1984, and fate seemed unkind to Team USA.
Right before the summer Olympic games began, Team USA's great women's gymnastics hope had suffered a knee injury. And there was stiff competition from the rest of the gymnastics world to snatch the gold.
But Mary Lou Retton wasn't going to let something like an injury stop her. She was a 16-year-old powerhouse, after all. Retton, with her tiny frame and bob haircut, was about to take U.S. women's gymnastics to a level it had never been before.
She earned perfect 10s on both her floor exercise and vault, becoming the first American woman to win the all-around gold. The fame that accompanied it was immediate: Retton was named Sports Illustrated's Sportswoman of the Year and became the first spokeswoman for Wheaties.
But for McKenna Kelley, the legendary Retton is just mom. The Olympic gold medals at the family's house in Houston are an added bonus, of course, considering that Kelley is an LSU gymnast and part of the university's standout last two gymnastics seasons.
"Growing up, I don't think I ever fully grasped what it even meant for her to be an Olympic champion," Kelley says. "I had heard that so much, but she was just mom to me."
Gymnastics is not like baseball or basketball, sports that are easily passed down to your children through afternoons spent on the court or playing catch. Its rigor and dedication to training can be a more solitary endeavor. Even still, there's no guarantee of success.
Yet, for LSU's squad, success seems all but hereditary. The team is home to two exceptional athletes whose mothers were Olympic gymnasts: Kelley and her All-American teammate, Ashleigh Gnat.
While Gnat's dad, Ray, was a collegiate gymnast at LSU, her mom, Joan, did a bit of history-making herself—winning 10 national championships and competing in the 1972 Olympics in Munich.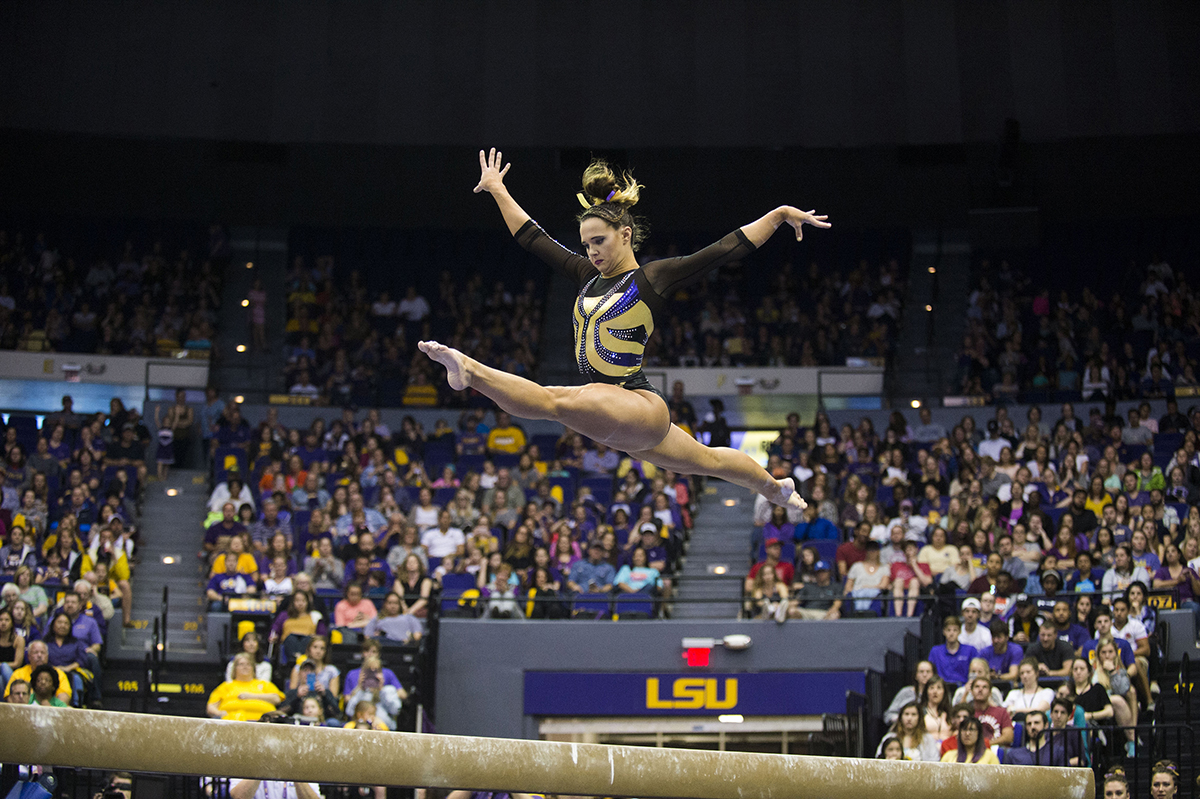 There's footage of her floor excercise on YouTube, and she floats and flutters like a butterfly. Ashleigh loves to watch her.
"I watch the videos a lot, actually," Ashleigh says. "She's so beautiful to watch."
That sentiment is mutual for her mother.
"Sometimes I get overwhelmed," Joan says. "Not only at her gymnastics performance, but just the person she's become. She has a great heart. She's beautiful inside and out, and I get so filled with pride every time I watch her."
Joan says Ashleigh was practically born in the gym. Joan and Ray Gnat opened up their own gymnastics facility as coaches in Florida and would take Ashleigh to work with them every day. They first brought her to the gym two days after she was born.
"As she started walking, she started doing forward rolls and then cartwheels and then handstands, and I think it just grew from there," Joan says.
While raising Ashleigh, Joan says she never forced her daughter to keep up with gymnastics, but Ashleigh fell head over heels for the sport anyway. Now, Ashleigh confides in her mom and dad about all things gymnastics.
Kelley's road to the sport mirrors Ashleigh's. Retton put Kelley in gymnastics when she was 2 years old, along with her three sisters.
"Gymnastics was what she knew, and she wanted her kids to try it out," Kelley says, smiling at the memory. "I mean, what kid doesn't love to run around and jump on a trampoline? It's easy to put them to sleep after that."
Like Joan, Retton never pressured her children to continue gymnastics, leaving it up to them to decide. Kelley's passion was born out of true love for the sport—though she did inherit her mother's dedication.
"I would miss birthday parties, playdates and sleepovers because I wanted to be at the gym," Kelley says. "Even when I was little, I always looked forward to practice."
Having an accomplished Olympic mother does come with a certain amount of pressure, and Kelley isn't totally immune. There are those who criticize her, saying she's benefited from nepotism and has only come this far because of who her mother is. But doubters and critics come with the territory, and it helps that her mother has always been there to help her find her own path, she says.
Now that she's old enough to understand the scope of her mother's accomplishments, she, too, can't get enough of watching old footage of her mom.
"I'll watch interviews of her after the Olympics and I'm like, oh my God. She was so cute with her little voice and her hair," Kelley says.
While the girls forge their own paths, gymnastics will always bring them and their mothers together. The sport is the backbone of both the Kelley and Gnat families, a bond that despite time and age cannot be broken.
But Kelley still laughs at all the talk of having an Olympian mother.
"It's so funny when people ask about her, because I still just see it the same," Kelley says. "Like I don't get it. She's just my mom." lsusports.net