---
Notice is about 48 hours in advance, if he's lucky. The call comes in, and there's little time to think, just mobilize.
It's logistics and locations, then lights, camera, action.
For Contrast Films boss Jordy Wax, the creativity comes in the frenetic in-between moments, blooming up fast from intuition, years of practice and sheer, deadline-riding hustle.
"You have to be able to trust your gut a lot," Wax says. "The key is surrounding yourself with good people and delegating tasks, not internalizing the whole thing."
This lean and responsive approach has brought Contrast in collision with a slate of all-star musicians, and last year alone the Zachary native produced work in New York, Los Angeles, San Francisco, Philadelphia, Detroit, Charlotte and Las Vegas.
It's late in the afternoon on a humid Monday, and Wax is walking through the Contrast headquarters in downtown Baton Rouge.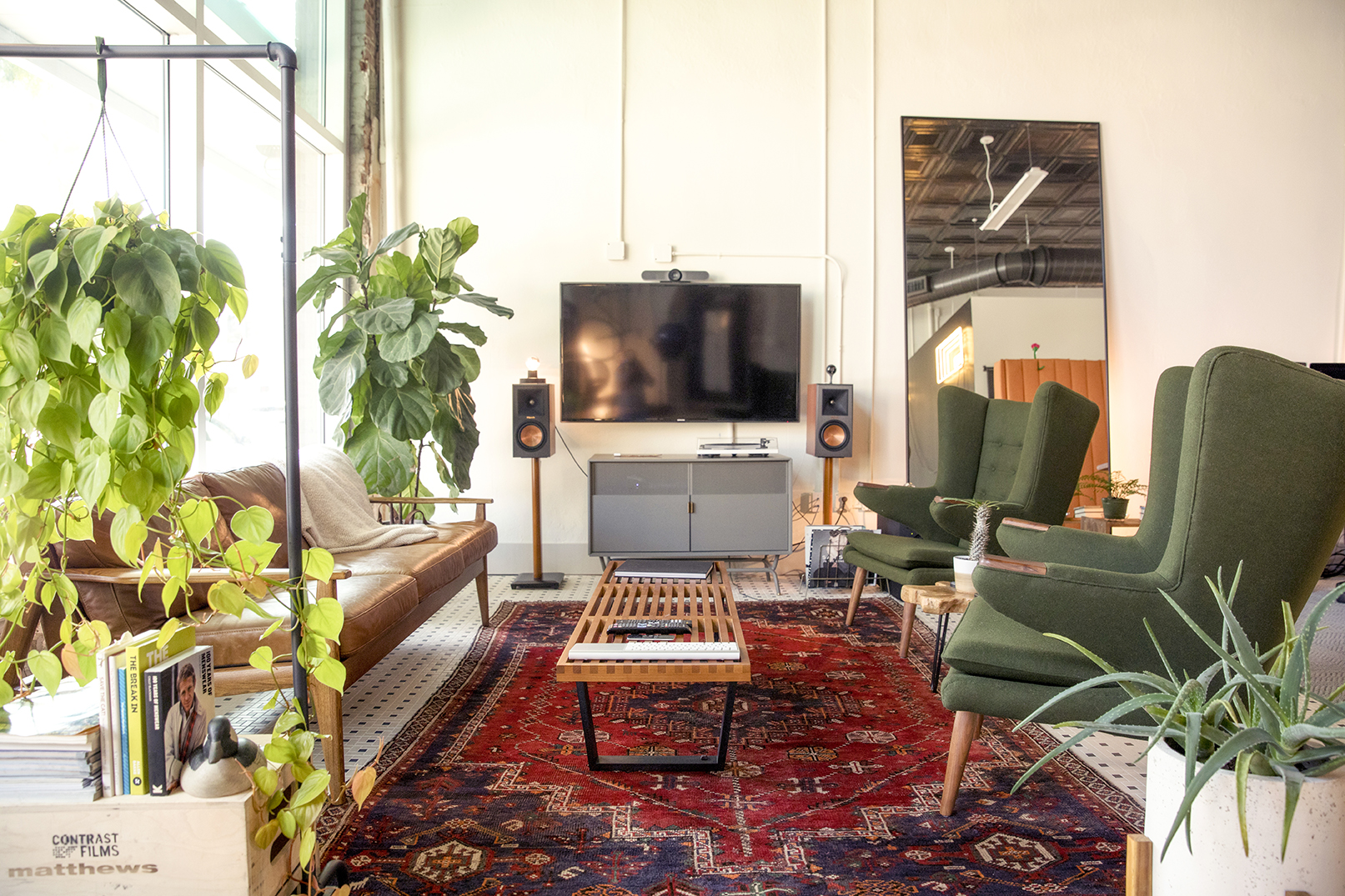 He's just fielded a call from Vevo, the major label-sponsored music video platform with 25 billion views per month—also his chief client. Vevo wants Contrast on top of a building in Brooklyn on Wednesday to film with platinum-selling rapper A$AP Rocky.
"Cole [one of Wax's three full-time employees] is flying out at 6 a.m. tomorrow to location scout," Wax says. "We'll need three cameras, so about six or seven guys. We don't know if we need lighting because we don't know where we will be exactly. And we have to find a good couch and figure out how to get it up on a roof."
Later that day, Wax has to cancel the drone company he hired for the A$AP Rocky shoot. President Trump is scheduled to arrive in New York, and suddenly Brooklyn is a no-fly zone.
These challenges are typical, and Wax is relaxed in his office as he passes plush burnt-orange dividers and a giant 48-star American flag hanging above Reagan-era office chairs and leafy vines. Sage-laced incense burns near a large TV and a stack of magazines.
"We were going for 1980s Baptist vacation Bible school vibes," Wax says of the space.
In churches is where Wax fell in love with cameras. In middle school, he had a youth pastor with a filmmaking background who taught his group staging, camera work and editing.
In 2011, Wax and his creative partner, Chase Smith, branched out from shooting weddings to start Contrast, first with an Abita Brewing Company commercial and then a live performance series called SerialBox.
"We would beg bands to let us film them" for SerialBox, Wax says, "and set everything up just to have some fun and get great footage for our reel."
Producers were watching. Vevo loved SerialBox and came calling.
After immediate success with Vevo's DSCVR series in 2016, connections led Contrast to Spotify, creating clips for its Most Curated Playlist, Rap Caviar, Rock This and Viva Latina streams.
Since then, Wax has worked with St. Vincent, Lorde, Demi Lovato, Khalid, Halsey and SZA, among others.
"What I've learned is you can't assume because these are stars that they are comfortable with cameras and immediately get what you're going for," Wax says. "Nothing replaces communication and making the people you collaborate with feel welcome and comfortable."
A few years ago, Smith left Contrast, but still serves as Wax's go-to director of photography on a contract basis.
"When Jordy discovered the true role of a producer, all the nuts and bolts of making a shoot happen, it was a no-brainer that's what he was going to focus on, and his creativity took a different form," Smith says. "He makes it look easy, and it's not."
Wax wants Contrast to stay nimble, not unlike how he and Smith began.
He rents a small office in New York for Vevo and Spotify work, but he says Baton Rouge will always be home.
With Vevo's built-in audience, every piece Contrast makes for the platform is guaranteed a huge audience—even after a recent deal moved all of Vevo's content to YouTube on a unique Vevo channel.
And that A$AP Rocky video? The artist canceled the day of the shoot. Wax doesn't even blink. Up next for Contrast is the launch of its new Vevo series, Lift.
"I never wanted to be the business guy that decided video was an avenue for that," Wax says. "I got into video work to make videos. That sounds redundant, maybe, but it's an important distinction. That's what we are passionate about." contrast.tv 
---
---
This article was originally published in the August 2018 issue of 225 Magazine.