Studio 9170 is not a co-op. That's one of the first things owner Jane Chapman says as she unlocks its glass doors. She steps into the painting-adorned space that serves as both lobby and gallery, the back wall lined with delicate pieces of ceramics and pottery.
It's also not part of the neighboring church on South Choctaw Drive, though they do share a kitchen. Chapman really wants Studio 9170 to be known as a place for creating, and for the network of talented artists who come here.
"We meet together and discuss what we're doing, and we discuss families, everything," Chapman says. "It's kind of one big happy family."
Studio 9170 rents spaces to artists all working in different areas, ranging from word art to wedding painters. Chapman started Studio 9170 around seven years ago, after she retired from her job as the founder and CEO of Plain Jane, a gift manufacturing and distribution company,  and started looking for places to paint with her friends. One of those friends, Nancy Smitherman, was quick to point out that she already had the perfect place: her now-empty warehouse, which formerly housed Plain Jane. The rest was history.
"Within a month, we had taken the shipping door and replaced it with those glass doors and divided the studio spaces up equitably," Chapman says.
As she walks around, she gives a detailed tour of all 12 artist stations that make up Studio 9170. She unhooks the curtain to each station, which contain anything from armchairs to hats to vases full of paintbrushes. She stresses that the studio isn't just about her creative pursuits.
"It's not about my history. It's about us being together now," Chapman says. "A lot of us are retired, so we have a place we can come and be together and share our love of art."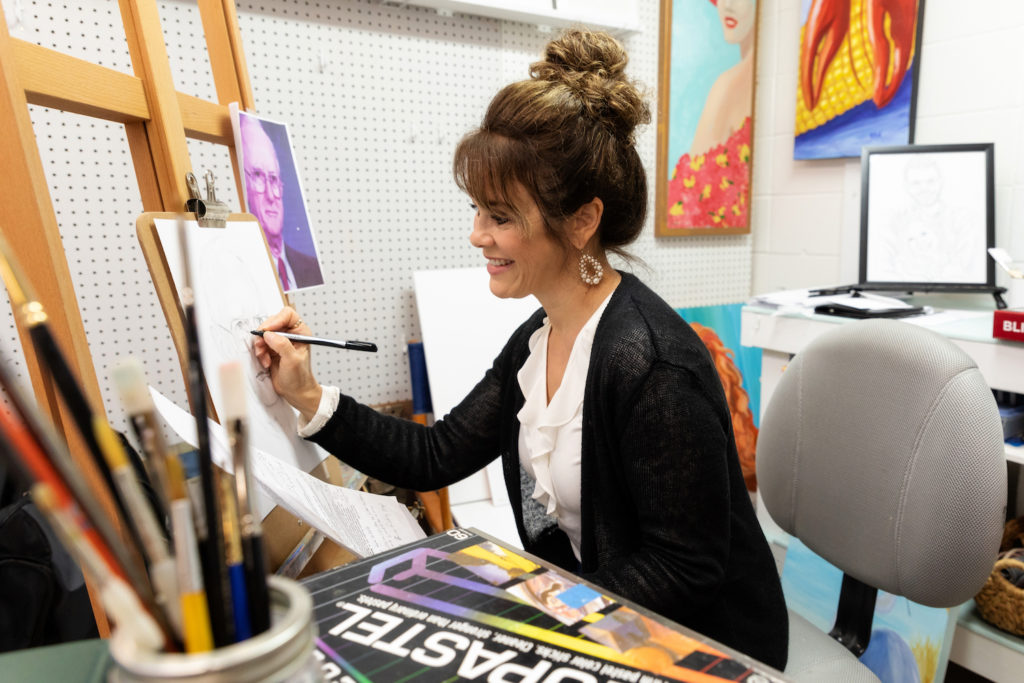 Each of the 12 artists has a key to the place, and they have a system for working together: If they want company, they draw back their canvas curtain so their space is open to visitors, closing it for privacy. Some artists work together; there are sisters-in-law who share a station with their easels right next to each other. Others, like Keith Morris, a nature and live event painter, works alone, but still appreciates the constructive criticism of his creative neighbors, since, as he says, "My wife says everything is beautiful."
Chapman is thinking of expanding, potentially adding four more stations. She's also started vetting potential new studio members, because most of the artists in the space up until now were all people she knew from around the art scene. There's no skill level required—the artists range from beginners to people who have been painting their whole lives.
The first Tuesday of every month is usually designated open studio time; visitors are welcome to go to the studio and watch the artists paint. The artists occasionally host group shows and sale events as well.
Besides constructive criticism, the members also have lunch together. Sometimes they bring their own lunch and hang out in the joint kitchen shared with the church, or sometimes they get po-boys from Tim's Po-Boys, which is right next door.
Either way, they work hard to foster a community atmosphere. And it seems to be working—there are several artists on a waiting list, hoping to get an empty space.
But many of the artists have been there from the beginning and aren't planning to give up their spot anytime soon. As Chapman says, "People stay. They come, and they stay." Find Studio 9170 on Facebook
---
This article was originally published in the January 2020 issue of 225 Magazine.