---
There is no shortage of coffee options in Baton Rouge. If you live in Mid City, downtown or the LSU area, there are at least a couple within a short drive, from chains like CC's Coffeehouse to local shops like French Truck Coffee.
But in north Baton Rouge, the average Scotlandville resident or Southern University student has to hop on the interstate to get to the nearest coffee shop. In March, Southern Grind Cofé owner Horatio Isadore changed that.
Southern Grind Cofé on Scotland Avenue is just two minutes from Southern University. Nestled between aged and vacant buildings in an unmarked strip mall, the coffee shop brings a burst of life to the area.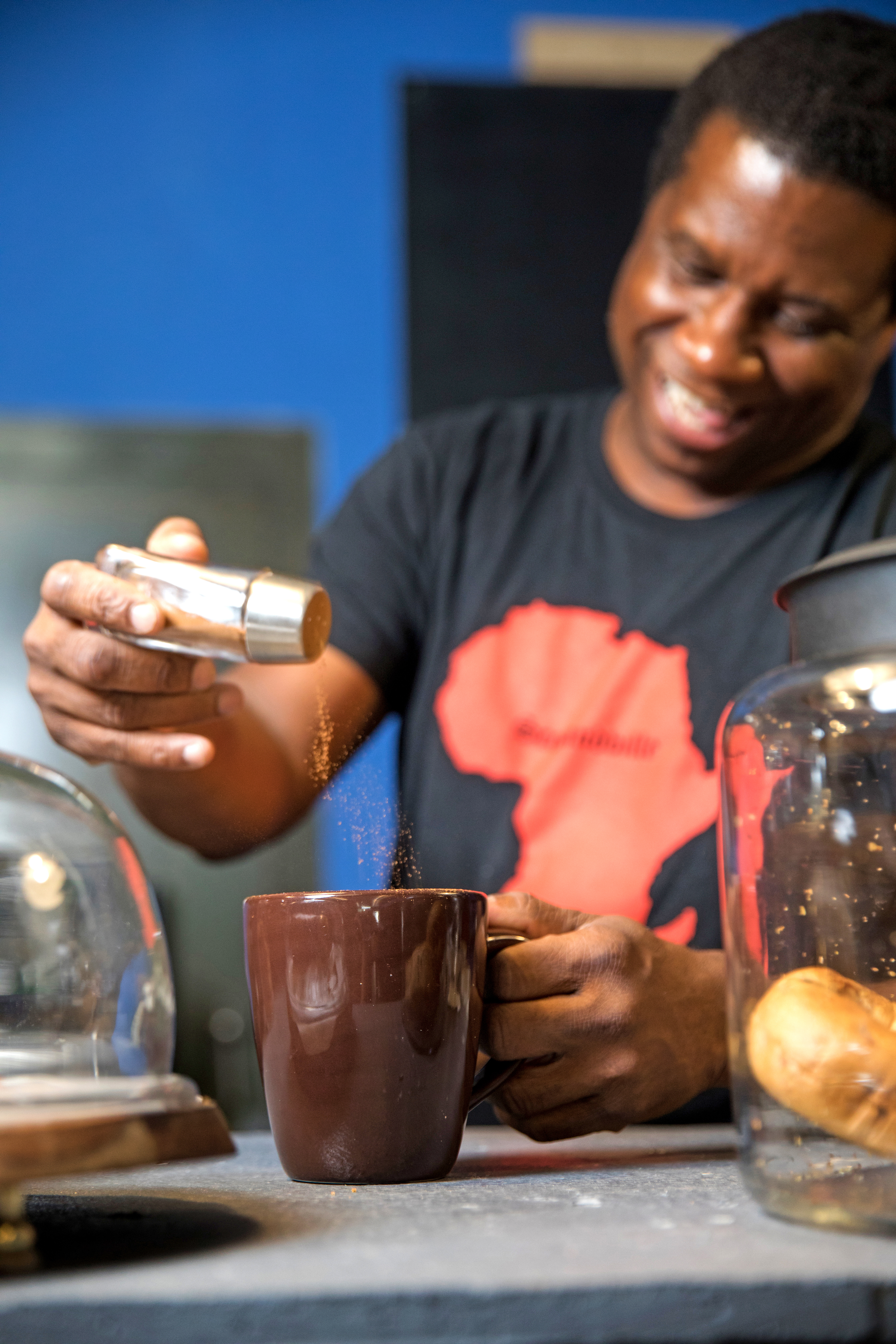 "After I went to school in the '90s at Southern, I came back and ran [House of Java at Southern] in the 2000s—[the area] looked very similar to how it looked when I was in school," Isadore says. "I just wanted to put something up for the university and make the community proud."
After years in the coffee industry, the Baton Rouge native wanted to create a space where the African-American community could buy coffee and healthy food options, host events and meetings, study and find helpful resources. After purchasing his shop in fall 2017, he opened the doors just a few months later. Combining the words, "coffee house" and "cafe," Isadore named his store Southern Grind Cofé.
He has decorated the store using vintage antiques from his personal collection. Spanning one wall is a long bookshelf filled with pieces of history. From vintage radios to black-and-white photos of Scotlandville Magnet High School track teams, every item on the shelf tells a story.
Near the entrance, a window ledge is covered in business cards and flyers. Realtors, interior decorators and business owners from the area leave stacks of cards in hopes of making new connections within their community.
"The people really make this space," Isadore says. "We openly welcome anybody, but this may be the only coffee shop intended for African-Americans."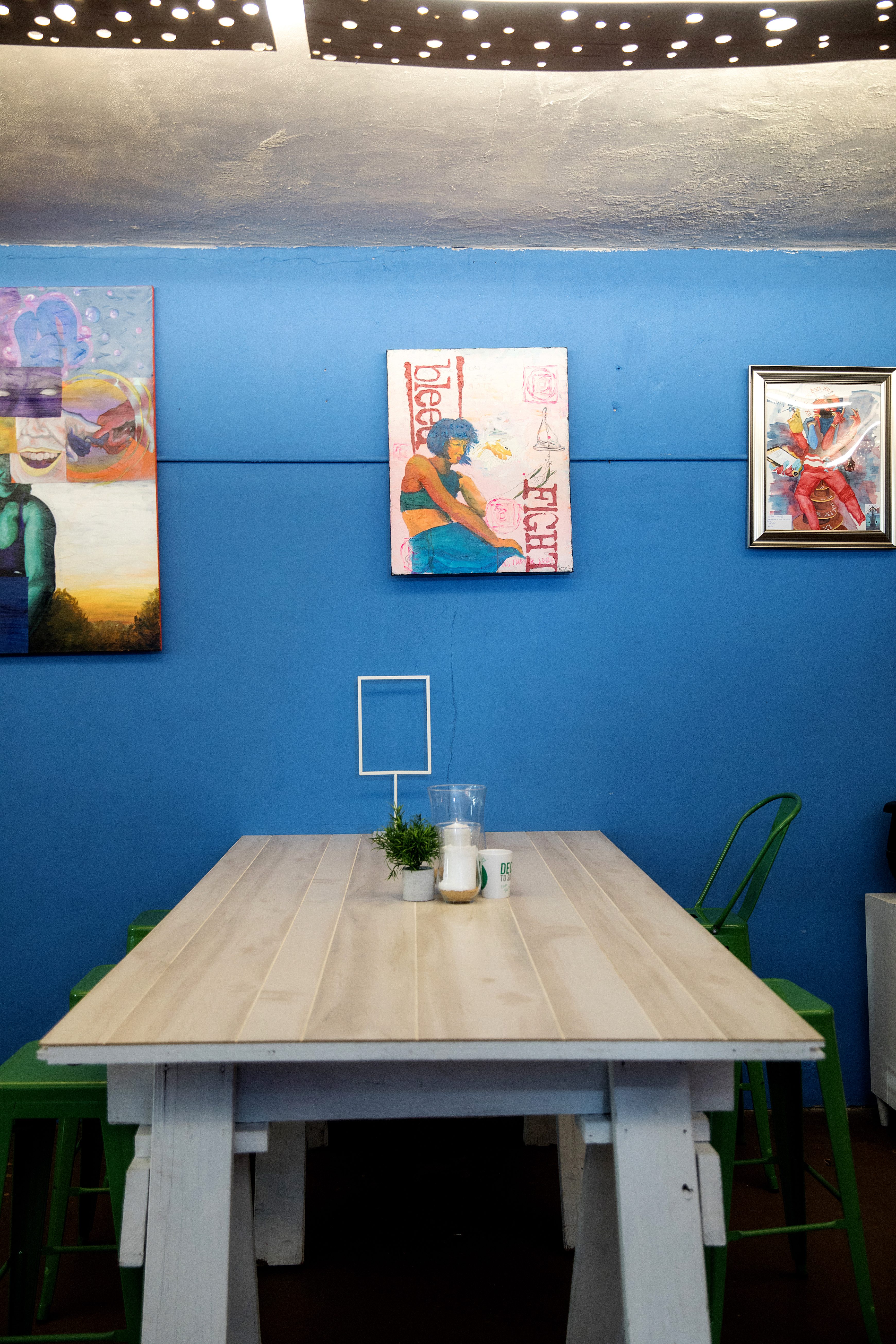 As Isadore envisioned, people from all walks of life come through the doors of Southern Grind Cofé. Whether they are students, lawyers, sanitation workers or creatives, Isadore greets his customers with a welcoming smile. Kind and soft-spoken, he holds conversations with regular customers, laughing and catching up with them as if they were old friends.
On a recent warm afternoon, the shop is a relaxing escape from the noise of the nearby highway. New Orleans-style jazz music plays lightly from the speakers overhead. In between customers, Isadore sits cross-legged in his cushioned chair to watch videos on his iPad. Across from him, a student in basketball shorts and sneakers types away, his laptop propped on his lap.
The menu includes coffee, tea, espresso drinks, smoothies, fresh fruit and baked goods. Isadore's best seller is the strawberry and banana smoothie, he says. This fall, he plans to add vegetarian, vegan and gluten-free options such as soups, salads, sandwiches and vegetable smoothies.
Until then, Southern Grind Cofé will continue to host community events like "Cops, Coffee and Conversation"—an event where locals can voice their concerns and speak with members of the Baton Rouge Police Department—discussions on depression and suicide awareness, open mic nights and financial literacy classes. Most importantly, his main goal is to inspire, educate and serve the community with his coffee shop, he says.
"It's the people's shop," Isadore says. "There's a space for everybody." Find Southern Grind Cofé on Facebook.
---
This article was originally published in the October 2018 issue of 225 Magazine.