Just before her 30th birthday, labor and delivery nurse Emily Andrus made a personal commitment. It was time to buy a house. She had a stable job at Woman's Hospital. She knew exactly what part of town she wanted to live in. And, she and her rescue cat were feeling crowded and isolated in their small one-bedroom apartment near the Ascension Parish line.
"It was close to work, but not to anything else," Andrus says. "And I really wanted to get on this side of town."
That meant the Garden District, close to the dinner-and-drinks venues that Andrus frequents with her friends. It's where she now lives in her own three-bedroom, two-bathroom bungalow.
It's on the National Register of Historic Places and has hardwood floors, high ceilings and loads of natural light. The front porch is perfect for sitting, and a small private patio has the benefits of a backyard without the chore of lawn maintenance. When Andrus bought the 1,350-square-foot home, it had already been renovated. That meant she could focus on furnishing it in a girly, DIY style that includes family hand-me-downs and budget finds.
Overall, Andrus says, the home-buying process was surprisingly smooth and fast. She and realtor James Fogle found her home in less than a month.
"I think this house is as close to perfect for me as it gets," Andrus says. "It makes me feel like I'm really part of Baton Rouge."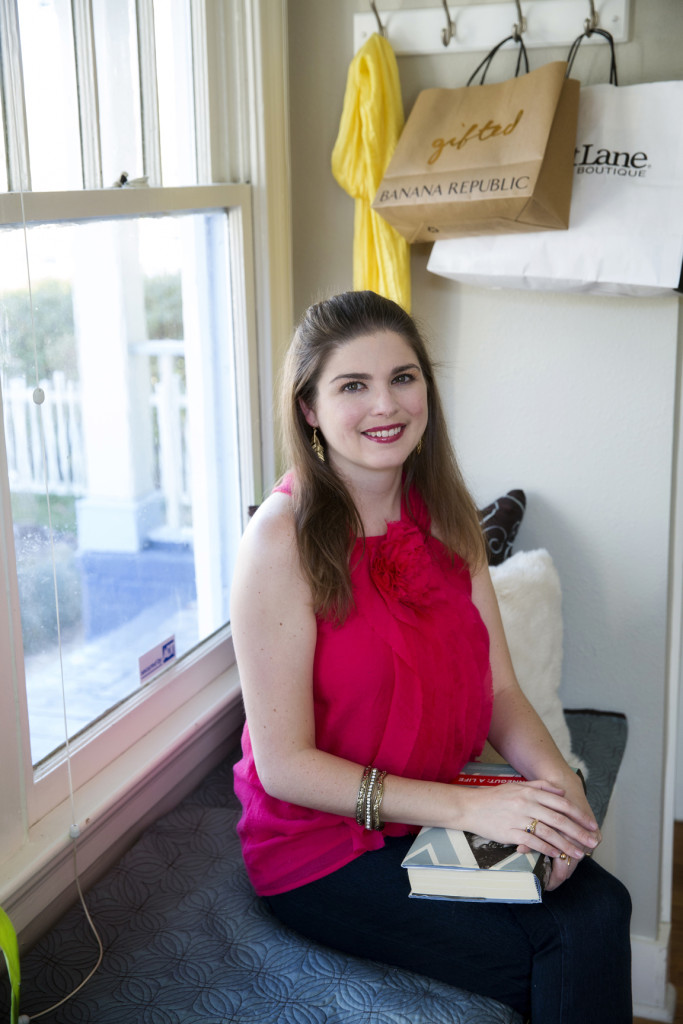 What made you decide to take the plunge?
I thought I was ready to buy a few years ago, but I wasn't 100% sure that I was going to stay in Baton Rouge. This time, I knew I was ready, and I knew where I wanted to live.
Where was that?
I was interested in the Garden District, Capital Heights and the Jefferson/Essen area. I also looked at a house in Webb Park.
Along the way, did anything scare you about the process?
I kept thinking about money. I wanted to make sure I didn't get in over my head with my monthly note.
How did you think through what you could afford—not just the note, but also the homeowners insurance and property taxes?
I had a whole Excel budget [spreadsheet] done before I started looking, and I could adjust how much my house note was to see what I could afford overall. I shopped the homeowner's insurance, and for the property taxes, I had a friend help me look them up so I'd have a good idea of what it would be.
What piece of advice would you offer someone considering buying their first house?
Get a realtor who knows the part of town you're interested in, not just someone who can punch an addresses into a GPS. Sit down with a CPA or a parent, someone who knows a lot about money, and get them to help you figure out what you can afford.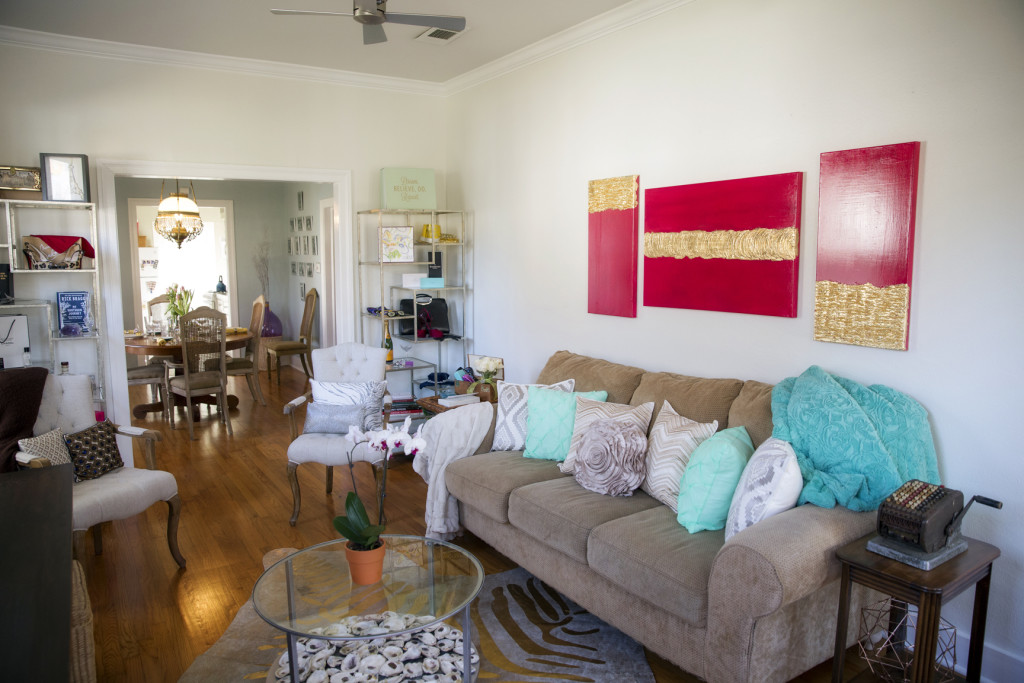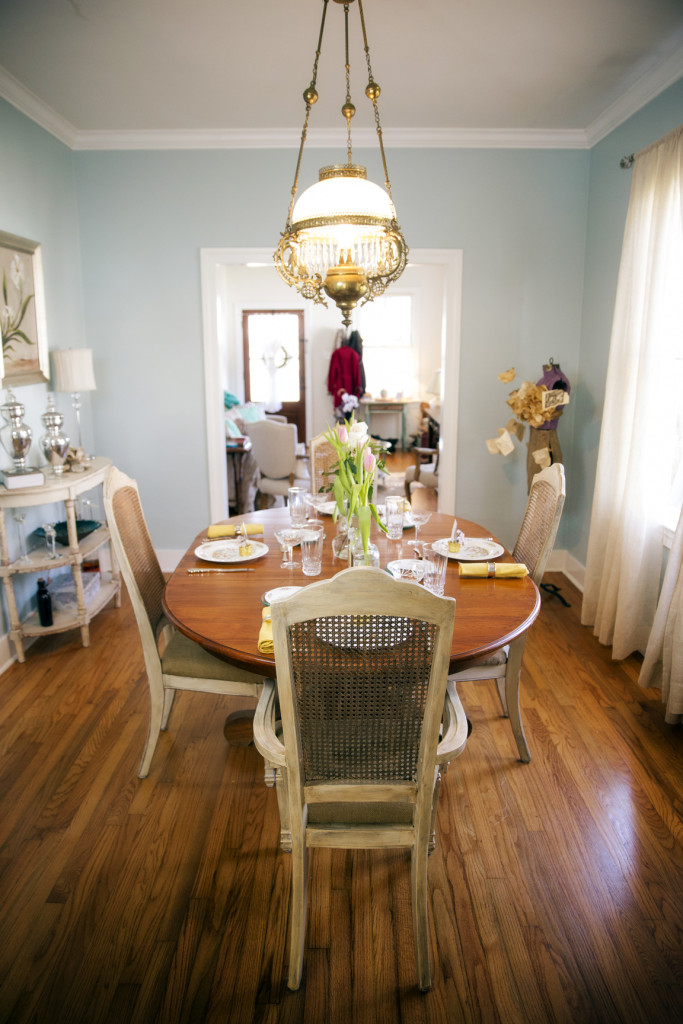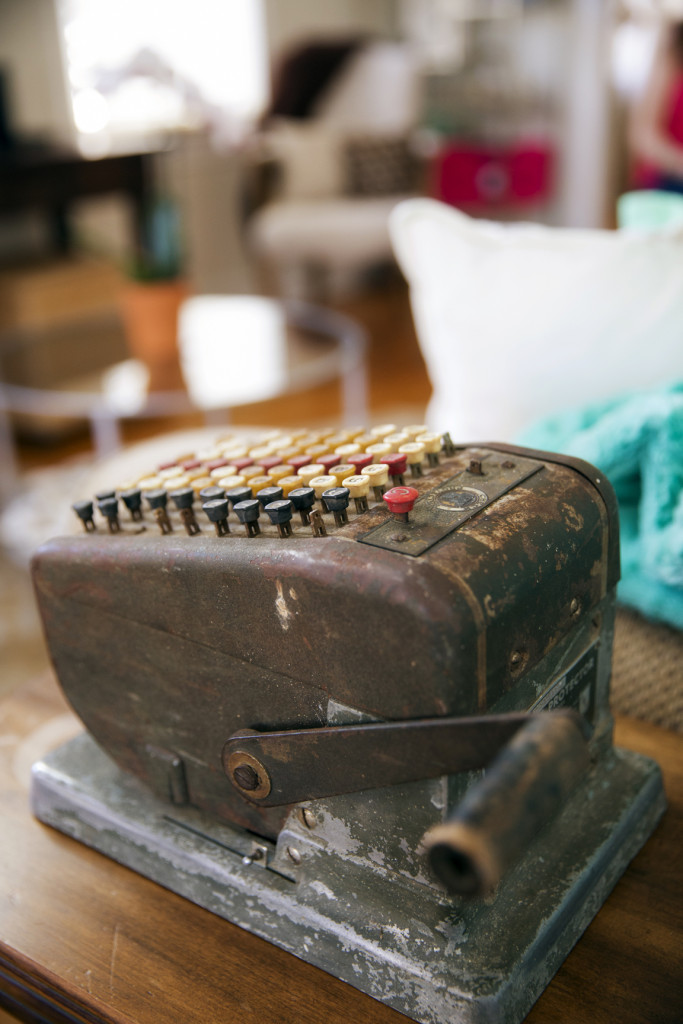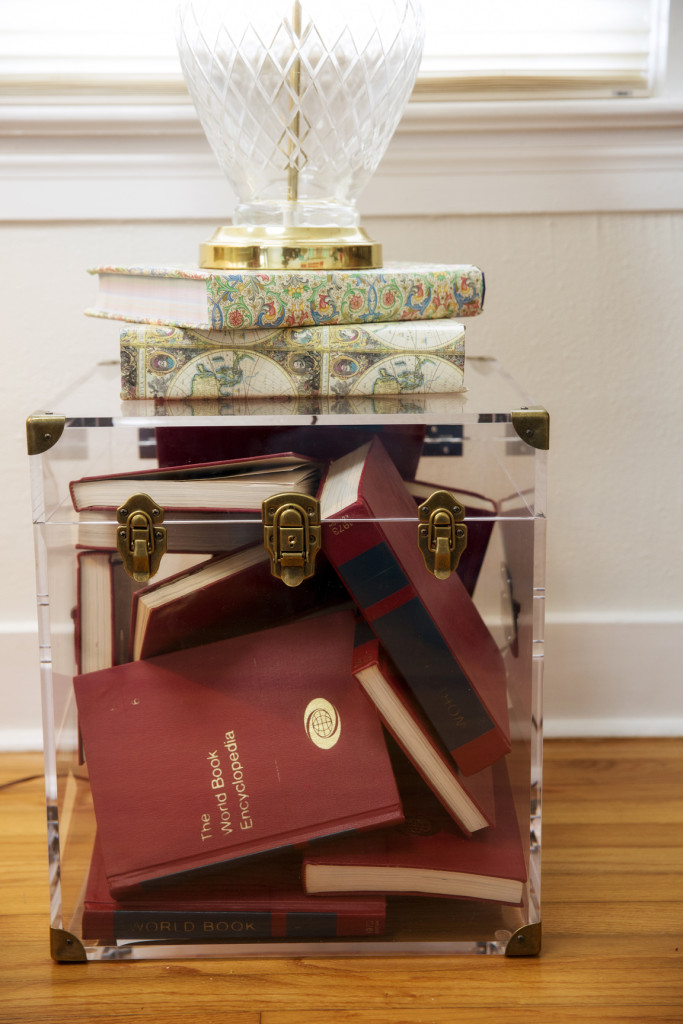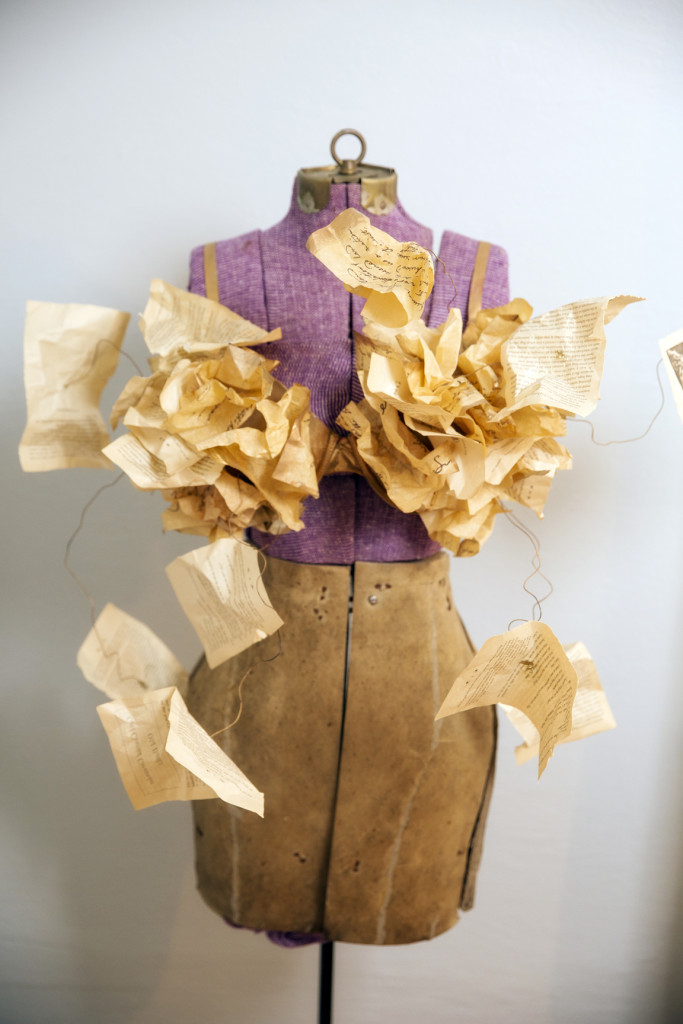 ---
---
About two years ago, newlyweds and young professionals Kristin and Steve Diehl were renting an apartment on Jefferson Highway and were eager to move to the pedestrian-friendly Perkins Road overpass area. The restaurant-rich area fit their lifestyles as food enthusiasts. Steve Diehl is a private chef who caters parties and holds cooking classes, and the couple enjoys dining out and entertaining at home.
"We really loved the walkability of the area," says Kristin Diehl, 31.
But the search for the perfect house in their price range wasn't easy.
"We'd find things that were either built out, but still had too much left to be done, or that were too expensive per square foot," recalls Steve Diehl, 36.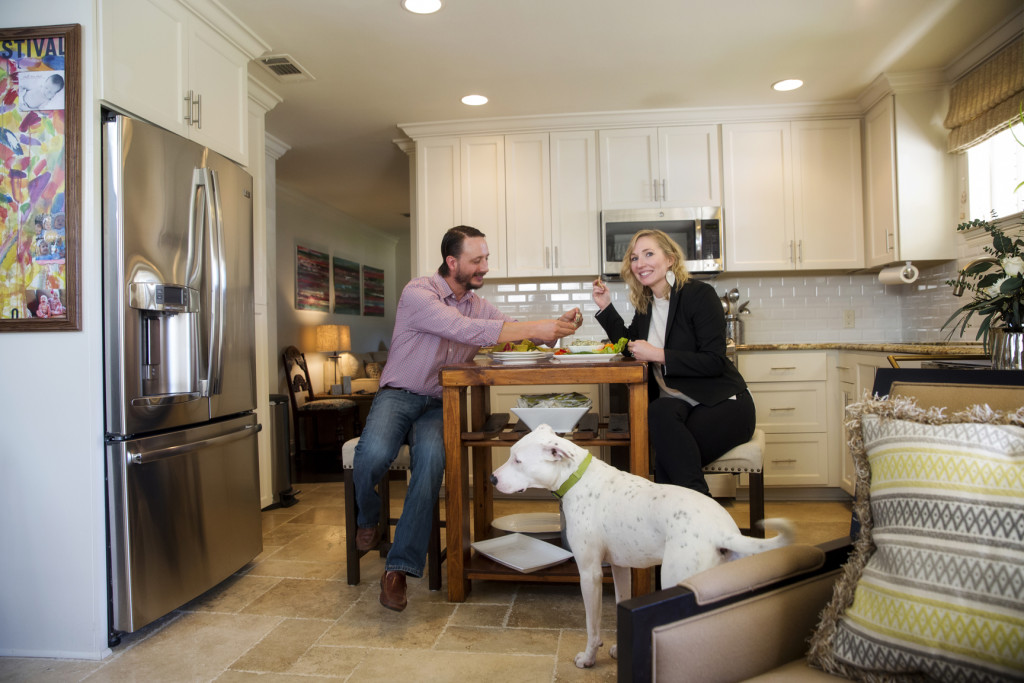 ---
Six months after they started looking, the couple's agent, Jerry del Rio, spotted a new listing on the MLS (a suite of real estate information services for brokers) for a move-in-ready home on Lydia Street. It was the right fit and the right price, Kristin says. The couple made an offer immediately.
Their 1,800-square-foot, three-bedroom, two-bathroom residence combines the charm of a historic neighborhood with the convenience of modern amenities, including a large master bedroom with ensuite bathroom and generous closet space. The open kitchen gives Steve enough room for developing and testing recipes for his sushi-centric boutique catering business. It shares space with a tidy den, where Kristin serves signature cocktails as Steve cooks. The den leads to an outdoor patio and backyard enjoyed by the couple's dog, Jost.
How did you know this was the right house?
It was exactly where we wanted to be, it was already renovated and it was in our price range. And when I saw the master closet, I was sold.
Did you shop around for homeowners' insurance?
We have USAA insurance, so when it came time for our homeowners', nothing else compared. It was an easy decision and was a very easy process.
Did you budget for new furnishings or landscaping?
With furniture, I've added a little bit at a time, and I spend a lot of time rearranging. I don't want things to look too trendy. With the yard, we're doing it in phases. We had to take out an oak in the backyard, so landscaping back there will come later.
What piece of advice would you offer someone considering buying their first house?
Get pre-approved for a loan. It saves so much time once you start looking. And use a mortgage calculator to find out what you can expect to pay per month.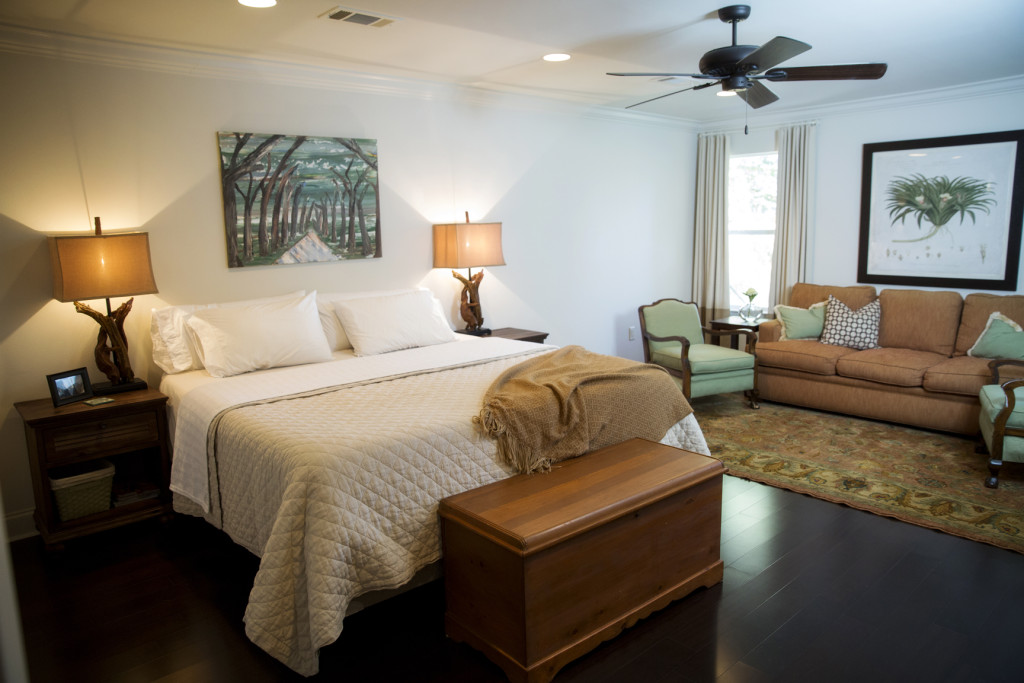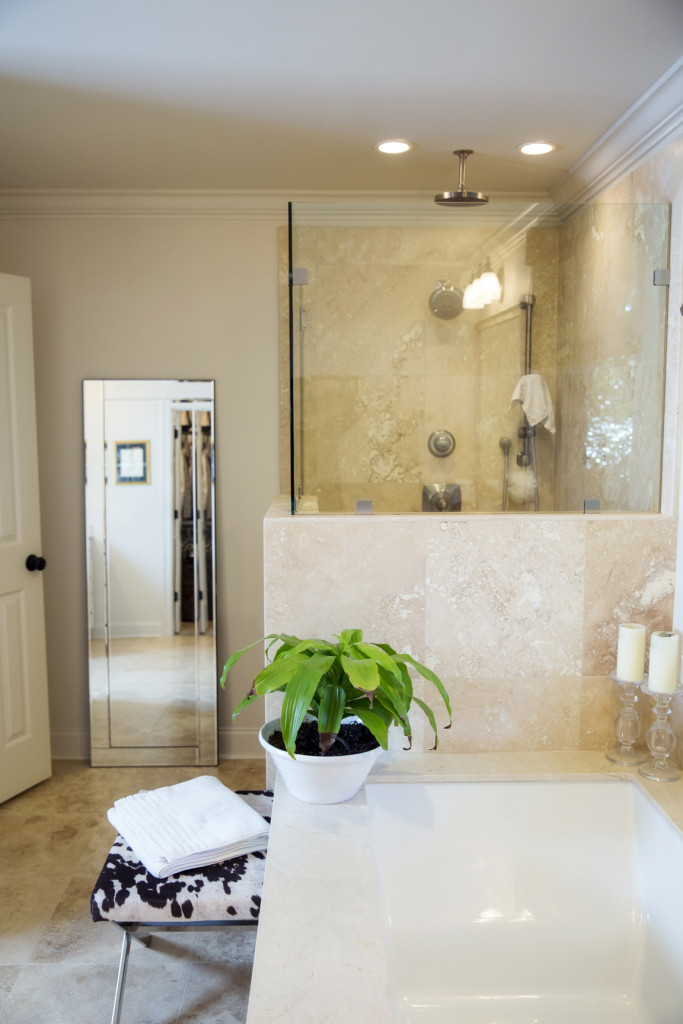 ---
Looking to buy a home for the first time?
Meet with a financial advisor. They can help you get pre-qualified for a loan and figure out how much you can afford for a monthly mortgage, realtor Jerry del Rio says. Your realtor and advisor can also help you account for HOA fees, insurance payments, closing costs and other hidden expenses that you'll need to add to your budget.
Figure out what part of town you want to live in. Think about where you spend time socially, what type of neighborhood you want to live in and schools in the area. A realtor can also help you watch out for areas at higher risk of flooding that will require pricy insurance, she says.
Find a realtor you trust. They'll guide you through everything, helping you stay within your budget and find a safe place that fits your needs.
—JENNIFER TORMO