---
Since 225 first hit the presses in November 2005, there have been some

remarkable sports moments and athletic achievements in Baton Rouge

. Simply put, Baton Rouge is a great place to follow, be a part of and cover sports.
---
2008
LSU's national college football championship
This was its second since 2003, with a 38-24 victory over Ohio State in the Louisiana Superdome. The Tigers (12-2), in coach Les Miles' third season, became the first two-loss team to win the BCS title (both losses were in triple overtime). The championship game had a roster with names that will live in LSU history, like quarterback Matt Flynn (pictured), running back Jacob Hester, defensive linemen Ricky Jean-Francois and Glenn Dorsey and wide receivers Brandon LaFell and Early Doucet. The team dominated, sent the fan base into a wild French Quarter celebration and launched an LSU-championship-gear-buying frenzy.
---
2008
The 50-year anniversary celebrations of LSU's 1958 national championship football team
This team was known as much for being undefeated as the "Chinese Bandits." Guys like coach Paul Dietzel and players Warren Rabb, Gus Kinchen, Durel Matherne, Lynn LeBlanc, Don Purvis and others had a blast with media appearances and celebrations of their accomplishment half a century later. Dietzel died in September 2013.
---
2008
LSU's run to the Final Four
It was March Madness at its best as the Tigers, a No. 4 seed, upset first Duke and then Texas in overtime to get to the Final Four. Coach John Brady's team, with a roster of players almost exclusively from Louisiana that included Darrel Mitchell, Tasmin Mitchell, Garrett Temple, Tyrus Thomas, Glen Davis and Darnell Lazare, truly shocked the college basketball world. LSU ultimately lost to UCLA in the national semifinals.
---
2008
The sudden death on the basketball court of Glen Oaks star Shannon Veal during a playoff game
Veal was not only a future college player with a high ceiling—she was heavily recruited—but her death impacted more than just the basketball community. It ultimately led to legislation that put AED (Automatic External Defibrillator) devices in gyms and on fields across Louisiana.
---
2008–present
Staffing changes at the LHSAA
From the retirement of former commissioner Tommy Henry in 2008, to the subsequent six-year, often acrimonious term of Kenny Henderson, to the hiring last winter of Eddie Bonine, who came from Nevada and took over as executive director, the Louisiana High School Athletic Association saw many changes over the past decade. Bonine, who has proven himself a master negotiator with an ability to open dialogue, solved a major officiating rift this summer, but now has to deal with the public-private split that in itself could be one of these top-10 stories. Currently only football has a championship split, but Bonine has to face the possibilities of it reaching into other sports and/or their championships.
---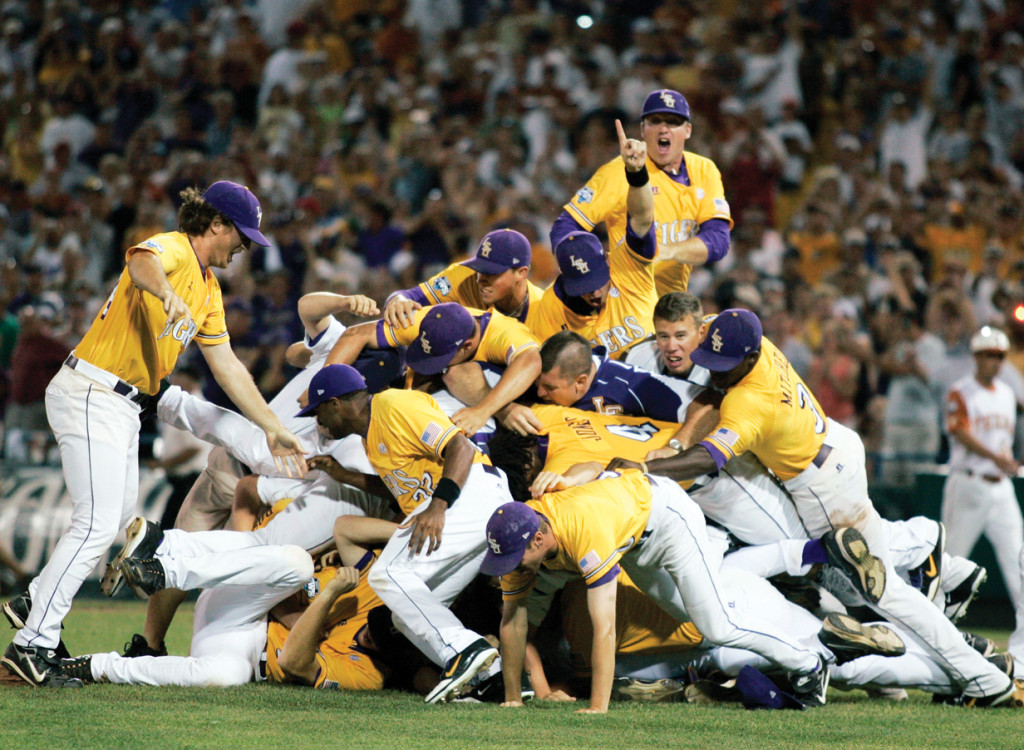 2009
LSU baseball got back on top by winning the College World Series
LSU dominated college baseball in the 1990s, and in 2009, the team climbed back to the top. It was coach Paul Mainieri's third year, and his team beat Texas in the championship game 11-4 for LSU's sixth national title overall and first since 2000. The star-studded team included future Major Leaguers Louis Coleman, Anthony Ranaudo, DJ LeMahieu and Mikie Mahtook.
---
2011
The hiring of Carolyn McKnight as BREC superintendent
Bill Palmer had been with the Baton Rouge parks and recreation commission for 33 years when he retired in October 2011. His replacement, McKnight, has since been an aggressive overseer and taken the "Imagine Your Parks" campaign full-throttle, making many changes and seemingly handling the many challenges and controversies that come her way with political grace and accomplishment.
---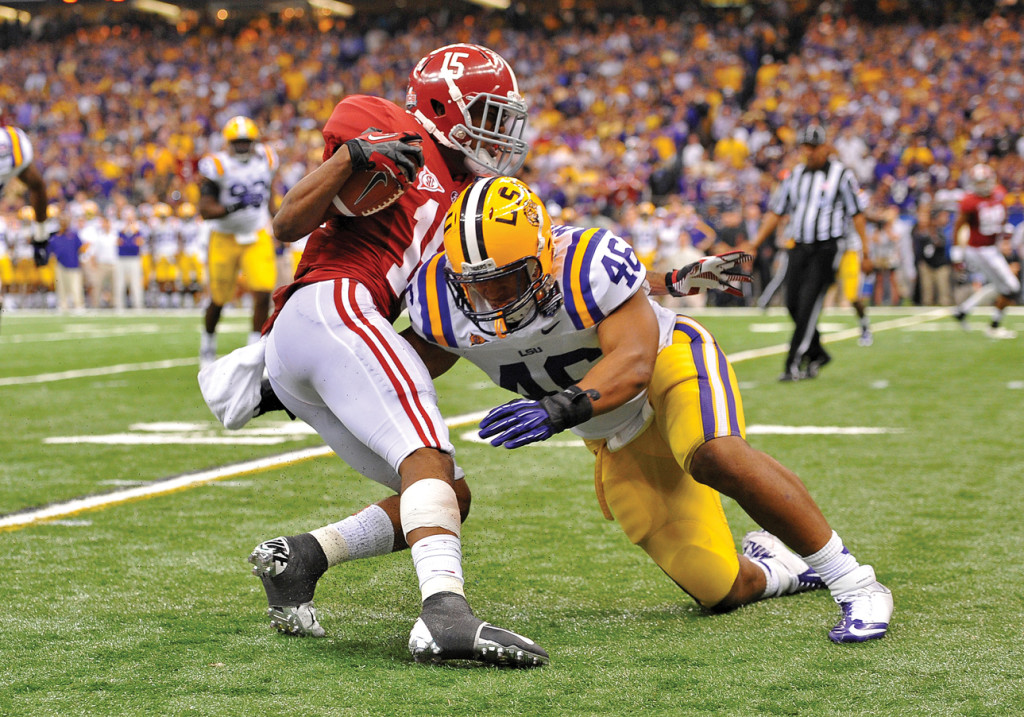 2011
LSU's loss to Alabama in the national championship football game
Until then, considering the Tigers' unbeaten record against what was probably its toughest schedule ever, you could have called it one of the greatest seasons in college football history. LSU that season beat then-No. 3 Oregon, won at No. 2 Alabama in a 9-6 overtime thriller, beat No. 3 Arkansas and held opponents to 10 points or fewer eight times as it entered that BCS title game in New Orleans with a 13-0 record. But the Tigers, No. 1 in the country since Sept. 24, lost 21-0 on a night when quarterback Jordan Jefferson and his offense never got anything going. The loss couldn't have hurt LSU fans more, since Alabama was led to victory by Nick Saban.
---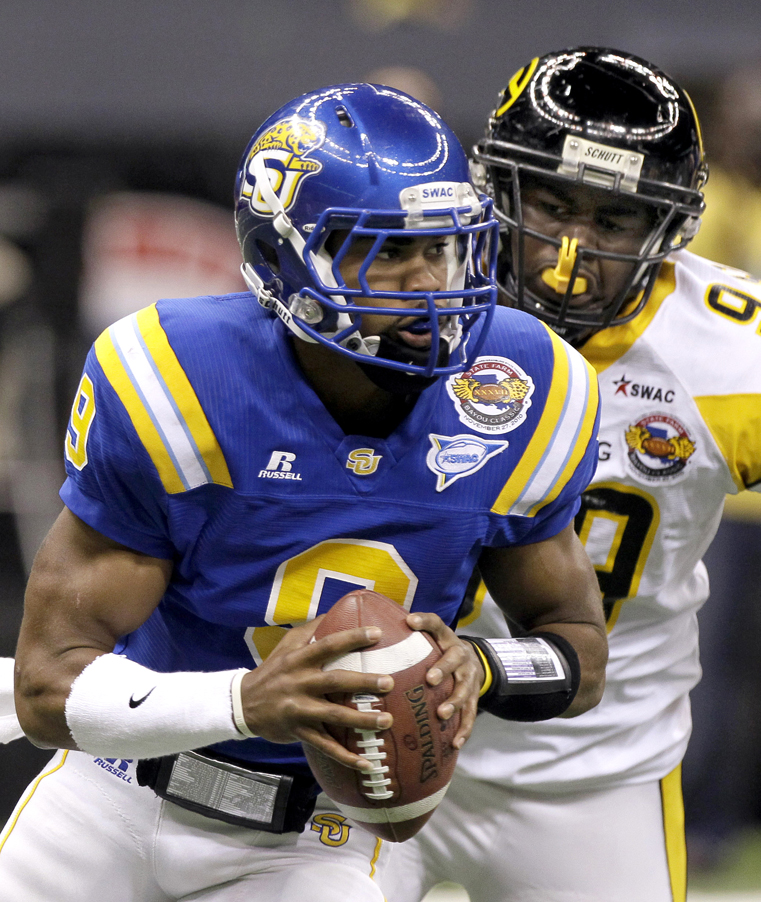 2011–2015
Southern University athletic department's battles with the APR (academic progress rates)
An already-financially strapped program saw the NCAA declare twice that all its teams were ineligible for post-season play. The NCAA even told the SU football team this year it could not have a spring practice. Despite the battles, the only Jaguars team truly hurt by the post-season play ban was the tennis team, which was denied trips to the 2014 and 2015 NCAA tournaments despite winning Southwestern Athletic tournament titles. The football team won the 2013 SWAC championship, but the conference typically foregoes trips to the NCAA playoffs. Finally, this past May 15, Southern regained good standing.
---
2014–2015
University Lab School's reigning season
The high school is no stranger to sports success, but last school year the Cubs won the state title in football, boys' basketball, girls' basketball, girls' soccer and girls' tennis. It's a sports year that will likely never be duplicated. The state football crown was the school's first since 1988, but for the respective basketball teams of coaches Joe Spencer and Bonita Johnson, it marked back-to-back championships.