---
It's rare that a sport can bring five generations together. But on a recent Sunday morning at BREC's Greenwood Community Park in Baker, athletes of all ages are playing pickleball. To a soundtrack of '80s and '90s music, men and women criss-cross the court, volleying the ball back and forth.
Though you might not have heard of it until recently, pickleball's origins date back to the '60s. The game shares much of its DNA with tennis, with similar mechanics and scoring. It is even played on tennis courts, with some slight modifications.
At Greenwood, tennis courts set for demolition were instead reformatted to meet the demand for pickleball.
"The easiest way to describe pickleball is miniature tennis played with a plastic paddle instead of a racket and a wiffle ball," says Kyle Chittenden, the pickleball director at The Legacy at Bonne Esperance. Chittenden is also part of Baton Rouge Pickleball, a group attempting to start a local competitive league.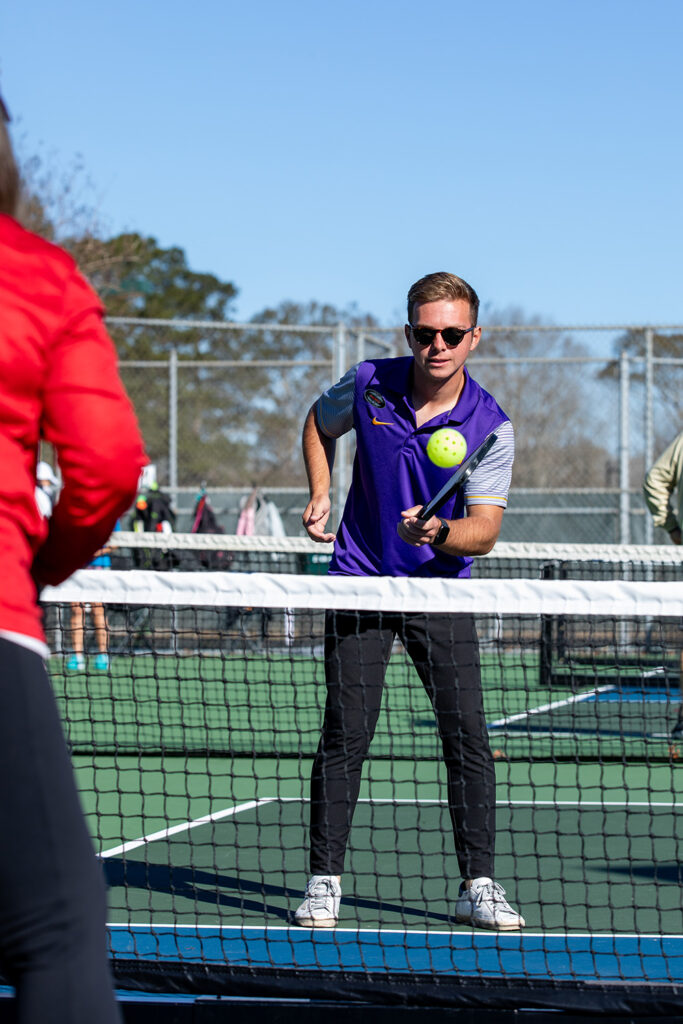 Despite only having an estimated 500,000 players in the U.S. five years ago, the number of "picklers" grew to about 2.5 million by 2021. Pickleball is the fastest growing sport in America. Just last month, publications from New York Magazine to The Seattle Times speculated on the sport's future.
In the Capital City, pickleball is now offered everywhere from BREC parks to the YMCA.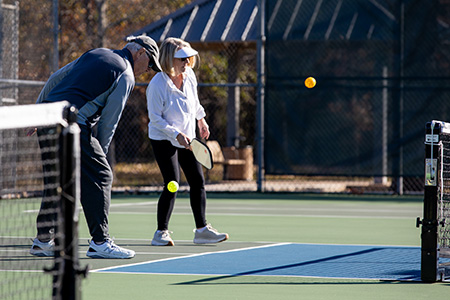 "Our end goal is to bring in new players. Some people just want some sort of activity where they can get exercise and socialize," Chittenden says. "And COVID has kind of been a great thing for pickleball because it is naturally distanced; you play about 6 feet apart from one another, the balls are plastic so they're easily sanitized, and you never have to make contact."
After trying to get involved with BREC's basketball league at age 53 as a way to keep himself active, Robert Kelly, BREC's pickleball coordinator, fell into pickleball.
"Pickleball is the only sport that I know of where multiple generations can compete and have fun in the same sport," Kelly says. "In March, I'm having a fun tournament where grandmothers are competing with their granddaughters. And they're excited about doing that."
For one semi-retired couple, the Hostetlers, pickleball is a way to keep active when not managing their small business.
"It's a really tight community that's really geographical," Lisa Hostetler says. "Here at Greenwood, we're all good friends, we travel to tournaments together, and there's a lot of really good socialization out of it."
Across a dozen courts around town, college students face off against opponents sometimes three times their age while words of encouragement volley across the low-hanging net between.
"That was awesome," says one Greenwood pickler to her opponent.
They both laugh and continue their match. Later, they'll offer newcomers their spare paddles—and a chance to try the sport for themselves.
---
This article was originally published in the March 2022 issue of 225 magazine.