---
It might be because she's an earth sign.
Hannah Dick is a Taurus. And she wonders if that's why she's always dreaming in a neutral color palette.
In shades of sandy browns, muted greens and peachy terracottas, her warm style is ever-present, from her home's light fixtures to the diaper bag in her closet. It's in her artwork, too.
"My friends will say, 'Really? Brown again?" she says with a laugh. "But it all kind of matches."
From her lovely, indeed-very-brown St. Francisville home, the 30-year-old makes jewelry and paintings.
The mom of two normally splits her time between her business, Always Afternoon, and her job in nursing. Since her youngest child was born in December, though, she's been staying home with her family.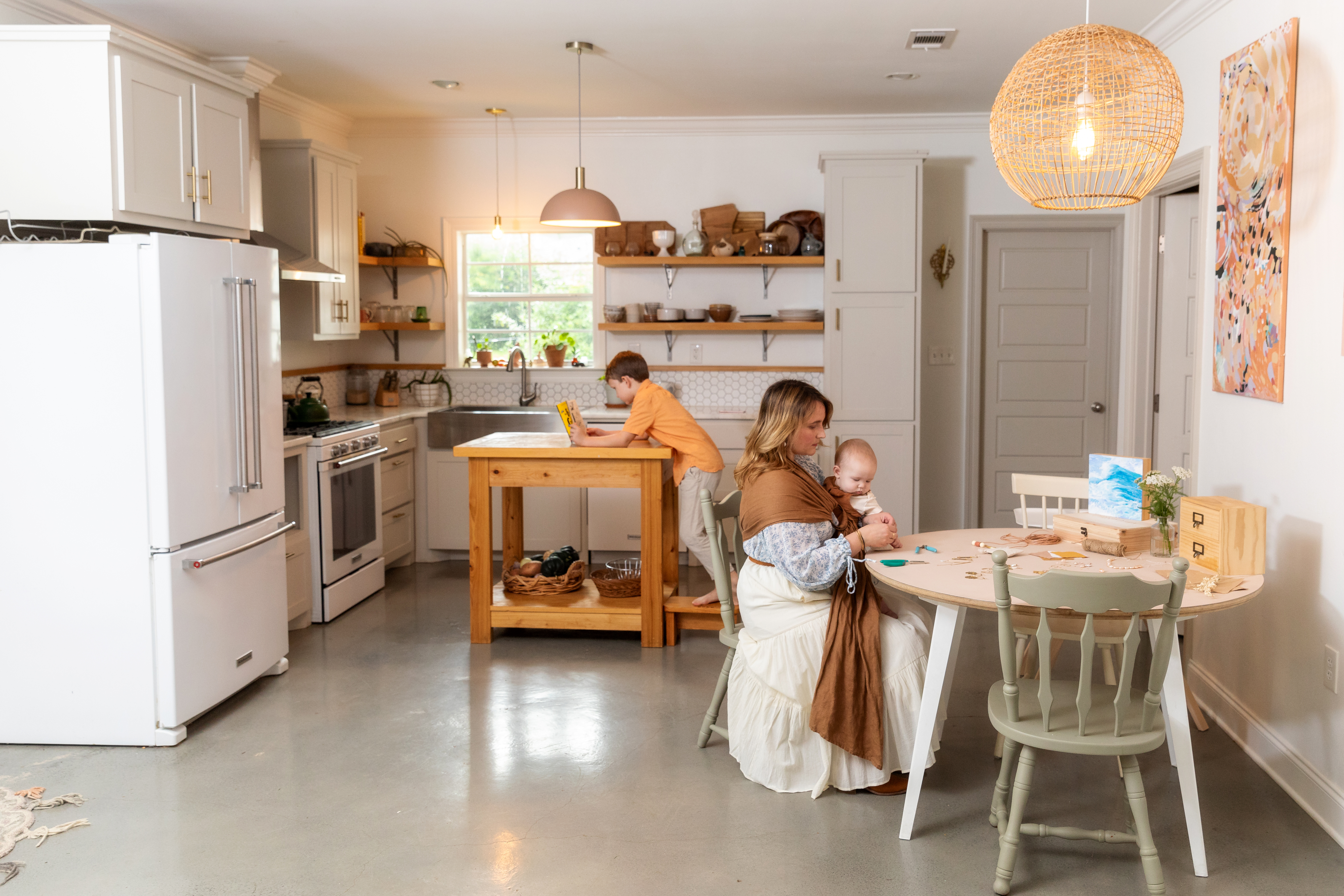 It's given her more time to make earrings, necklaces and bracelets. Her pieces are at once dainty and statement-making. She pairs small, delicate beads with larger geometric shapes and curvy arches. Her best-seller is the Aliz, a loopy, face-shaped brass earring.
Her paintings are representations of life and nature. Her abstract depictions of plants and water seem to move. They dance with colors, shapes and patterns.
Dick looks at her jewelry as so much more than fashion accessories, though. And her paintings are more than objects to hang on the wall. She pours a piece of her soul into each item.
She creates spontaneously, spreading her materials across her round kitchen table. Her plan evolves as she goes.
"I think of my art as a journal entry," she says. "It's alive. Human."
Her Seed Pod painting series represents how art mimics life. When a seed sprouts, it grows in one direction. But through the course of its life, it often changes its mind. It will push and pull in another direction entirely.
Dick was inspired to create the series by an elderly man she took care of in her nursing job. The patient was very sick, but she developed a bond with him over heart-to-heart conversations about life and art.
She learned he'd been an art dealer, curating collections in New York City for most of his life. With his one functioning eye, he looked at photos of Dick's work. They reminded him, he told her, of the birth and rebirth of a seed. Of how a plant recreates itself again and again.
"I love nursing because I love people," Dick says as she recalls her patient. "You're interacting on a personal level with people you would never have interacted with outside of your normal life."
And this patient changed her forever. He nicknamed her the "seed pod girl," and her art was newly inspired.
This idea of the seed pod is why she creates so organically.
It's perhaps also why she's so committed to the slow fashion movement, which prioritizes a slower, more thoughtful production of clothing in an industry that's overrun with fast fashion. The slow concept emphasizes fair wages for employees and more sustainable production.
And if consumers invest in higher quality pieces, the hope is that they'll make purchases less frequently and lessen the fashion industry's carbon footprint.
Always Afternoon's jewelry pieces are made from natural and ethically sourced materials like uncoated brass, freshwater pearls and vintage beads. Dick recycles fabric scraps and dried flowers in her packaging.
Even her company name was inspired by nature.
"Always Afternoon is a type of daylily," she explains. "I found it randomly skimming through a floral magazine about 10 years ago and decided that would be my artist name, even before the jewelry came along."
And that daylily? Its ruffled petals appear delicate, but the flower is tough and can survive some of the harshest climates.
In fact, it re-blooms season after season, time and time again.
---
Find her jewelry
Artist Hannah Dick sells her Always Afternoon pieces at makers markets around Baton Rouge, although many have been put on hold because of the coronavirus pandemic. In the meantime, find her pieces for sale at alwaysafternoon.com.
---
This article was originally published in the August 2020 issue of 225 Magazine.