Jessica Haynes was never afraid to get her hands dirty. Growing up, she was a tomboy, spending most of her time outdoors.
When she was 16, she found a new way to get her hands messy: playing with makeup. Her mother gifted her a vibrant, multicolored makeup palette. Haynes fell in love with the ability to express herself through blush, eyeshadow and lipstick. Little did the then-high school junior know that she'd just discovered her lifelong passion.
Now 31, Haynes is a professional makeup artist, instructor, speaker and coach. Today, she sits in her downtown Baton Rouge studio, brightening up the cold, rainy afternoon in a snakeskin-print tracksuit, sequin slip-on sandals, hoop earrings and crystal-studded acrylic nails. The Zachary native thinks back to the beginning of her career.
In 2010, she started doing makeup for clients on her front porch after losing her job at MAC Cosmetics. She hasn't stopped working for herself since.
"When one door slams, I know another one will open," Haynes says. "I don't take 'no' as a means of rejection, but as a means of redirection."
Haynes does makeup for weddings, funerals, photo shoots, formal dances and graduations. Her favorite looks to create are eye-catching, sparkly and glamorous. Her motto is "go big or go home." From sculpted eyebrows to lined and plump lips, she strives to make clients feel like Hollywood stars.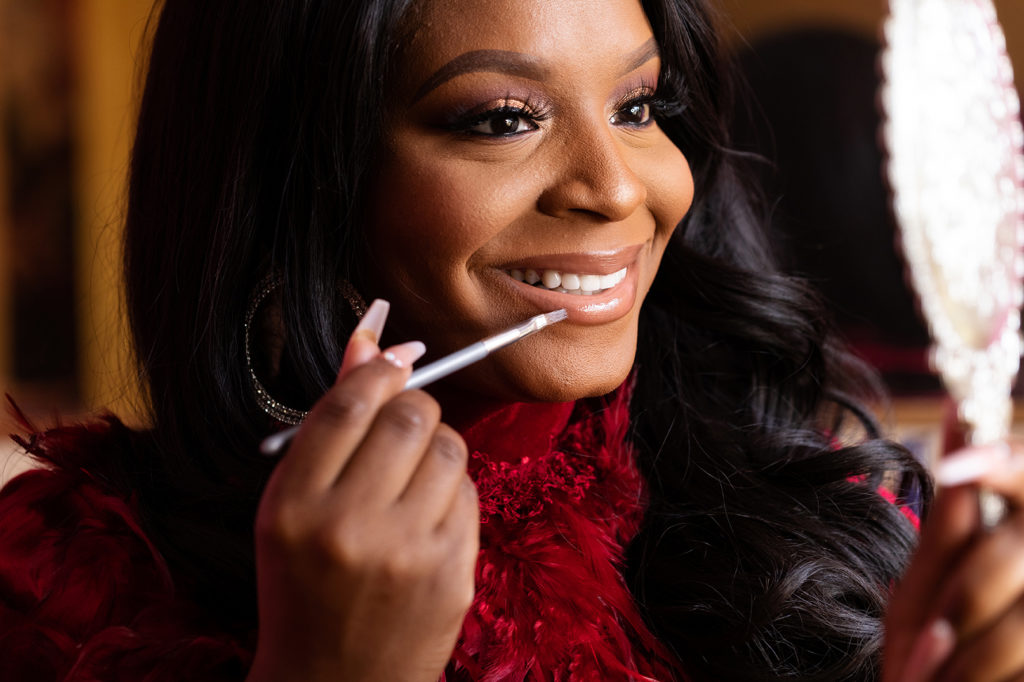 "If you can make it in Baton Rouge, you can make it anywhere."
[

—Jessica Haynes

]
Her signature looks feature voluptuous lashes, contoured cheekbones and striking eyeshadow art with intense, pigmented powders. Some styles are playful: bright neon eyeshadow, white eyeliner and bubblegum pink lips. Others are regal: gold sparkly eyelids, smoky eye creases and nude lip gloss.
Makeup comes naturally to Haynes. Before receiving her cosmetology license in 2016, she was completely self-taught. Now, she teaches classes to aspiring makeup artists across the nation and has done makeup for celebrities like Evelyn Lozada from VH1 reality TV series Basketball Wives and Portia Williams from Bravo reality TV series The Real Housewives of Atlanta.
In 2019, Haynes had her third cross-country makeup tour, Beatcamp, where she trained aspiring, beginner and professional makeup artists in cities like Atlanta, Chicago, Dallas, Houston, New Orleans, New York City and Washington, D.C.
"If you can make it in Baton Rouge, you can make it anywhere," she says. "People say if you make it in New York, then you can make it anywhere—but there's a whole lot more going on in New York than there is here. So if you're able to build your brand in a slower-paced city, sweetheart, you can make it anywhere."
After nearly 10 years in the industry, the beauty veteran is ready to expand her empire. This year, she plans to launch her own cosmetic line with diverse makeup shades, lashes and high-end brushes. Through growing her business, she hopes to inspire her local community and aspiring makeup artists looking up to her to follow their dreams and not take "no" as an answer.
"Makeup for me is not just about creating. It's a ministry," Haynes says. "It's a means of healing, building confidence and even rebuilding yourself in some instances." makeupbyjess.as.me