---
Five years before the removal of New Orleans' Confederate monuments drew protests, counter-protests and national media attention, Baton Rouge took down a Civil War memorial with little fanfare.
In 2012, the "Silent Sentinel," a tribute to Confederate soldiers from East and West Baton Rouge parishes, was removed from the North Boulevard median downtown to make room for Town Square construction.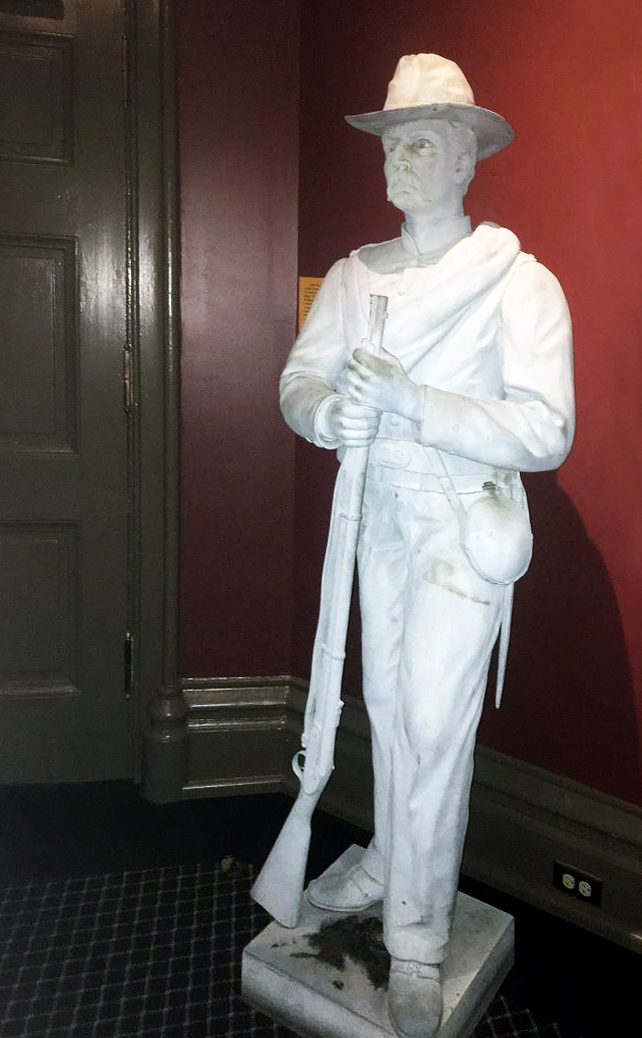 Today, it is part of the Old State Capitol's artifact collection, included in a display alongside Civil War-era documents.
Though its relocation didn't get much attention, that's not to say the cultural remnants of the Confederacy aren't controversial here.
The sports teams of the former Robert E. Lee High School now are called the Patriots, not the Rebels. Last year, the school was renamed Lee High School, but school board members who wanted to erase references to the Civil War general entirely were outvoted.
Flags have caused debate. In 1994, the city-parish and the federal courthouse flew the controversial Confederate "battle flag" favored by segregationists during the Civil Rights era. But those flags were replaced with the "Stars and Bars," the first official Confederate flag and the only such flag flown in Baton Rouge before the city fell to Union troops in 1862.
Today, behind city hall, the Stars and Bars waves alongside several other flags that have flown over Baton Rouge, right between a Louisiana state and "Bonnie Blue" flags.
Since 2008, only the national flag, with a few exceptions, is allowed at federal courthouses, although the Baton Rouge-based Middle District of Louisiana continued to fly a Confederate flag until at least 2015.
---
OTHER CIVIL-WAR RELATED SITES IN BATON ROUGE
Kirby Smith Hall: The crumbling LSU dormitory, named for Confederate general Edmund Kirby Smith, is slated for demolition.
Pentagon Barracks: The longtime U.S. military post was occupied by both Confederate and Union troops. It now houses a museum, the lieutenant governor's office and apartments for legislators.
Magnolia Cemetery: A number of Confederate dead are buried here, at the site of some of the heaviest fighting of the Battle of Baton Rouge. Union dead are buried across the street in Baton Rouge National Cemetery.
Old Arsenal: This structure next to the state capitol survived the 1862 Battle of Baton Rouge along with the Barracks. Some of the graffiti left by Union soldiers still is preserved there. Later used as a museum, it has since closed.
Old State Capitol: Was gutted by an accidental fire while occupied by Union troops. A monument on the grounds marks where Henry Watkins Allen, a Civil War-era governor, is buried.
---
This article was originally published in the October 2017 issue of 225 Magazine.