---
Customers don't just come to Militello's for the shoe repair services. They come for the staff. In particular, the former-employee-turned-co-owner, Clyde Lawrence.
Lawrence started working at Militello's Shoe Repair in 1976. After finishing a seasonal job at Payless, his former store manager recommended him to Fred Militello Sr. for a shoe repairman position at the shop.
"When I came in and talked with Mr. Militello for the job, he said, 'If you learn this, you'll always be able to get a job, because it's a needed profession,'" Lawrence says. "So I said, 'OK. I'll try it.' And here we are."
After 33 years of shining, repairing and rebuilding shoes, Lawrence was presented with a new opportunity: store ownership. Last year, Militello retired and was ready to sell his business. He asked Lawrence if he was interested in purchasing it.
Lawrence talked things over with his wife, Jerri Brown, who was initially unsure about them taking on a new business venture instead of retiring.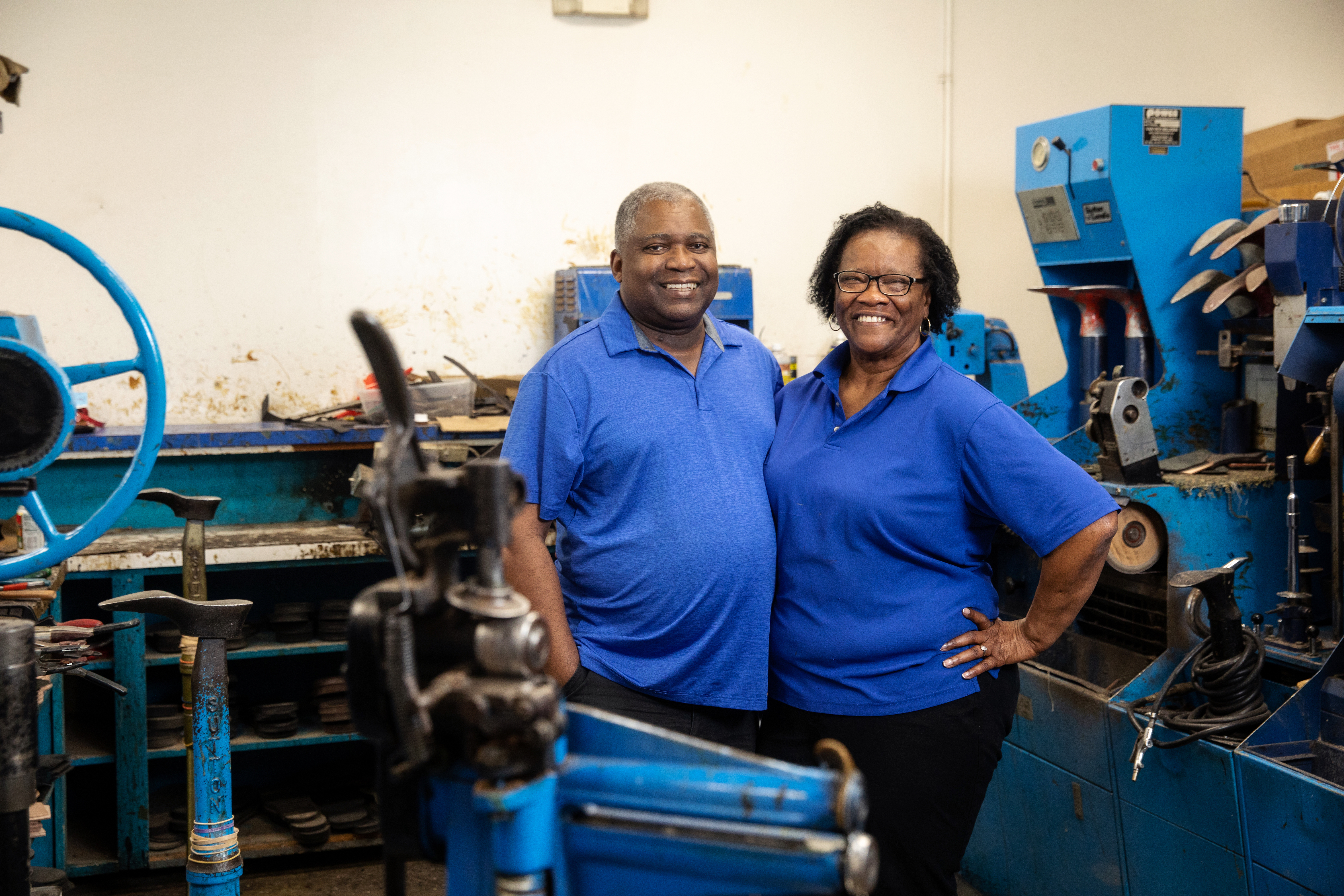 "My husband was like, 'Mr. Fred wants to sell the shop, and he's offered me the opportunity to buy it,'" Brown recalls. "That went along for about a week. Then he mentioned it again. He said, 'I need to give him an answer. He wants to know,' I said OK and walked over behind the counter. I looked around and thought, "Oh, God—can we do this?" … And here we are a year later, and it's been fantastic."
Inside the shop, two comfy chairs sit on a platform. Throughout the day, this is where professionals, politicians, priests and other locals climb in and out of the chairs to get their shoes shined and catch up with Brown and Lawrence.
"It's like a barbershop or bar here," Brown says. "When people come to get their shoes shined, they sit back, relax and some of them share stories or vent."
The real magic though, happens behind the counter. The staff uses heavy blue shoe pressing and sanding, stitching and nailing machines that do everything from stretching shoes to buffing and staining leather.
Along the walls, tall shelves are lined with loafers, heels, boots and wedges tied in clear plastic bags. Each pair is labeled with a blue tag marked with the customer's contact information.
There's hardly a shoe the Militello's team can't fix. Their services include shoe cleaning and conditioning, shining, re-soling, stretching, adding new heels, and zipper and strap repairs. The shop also repairs purses, jackets and briefcases.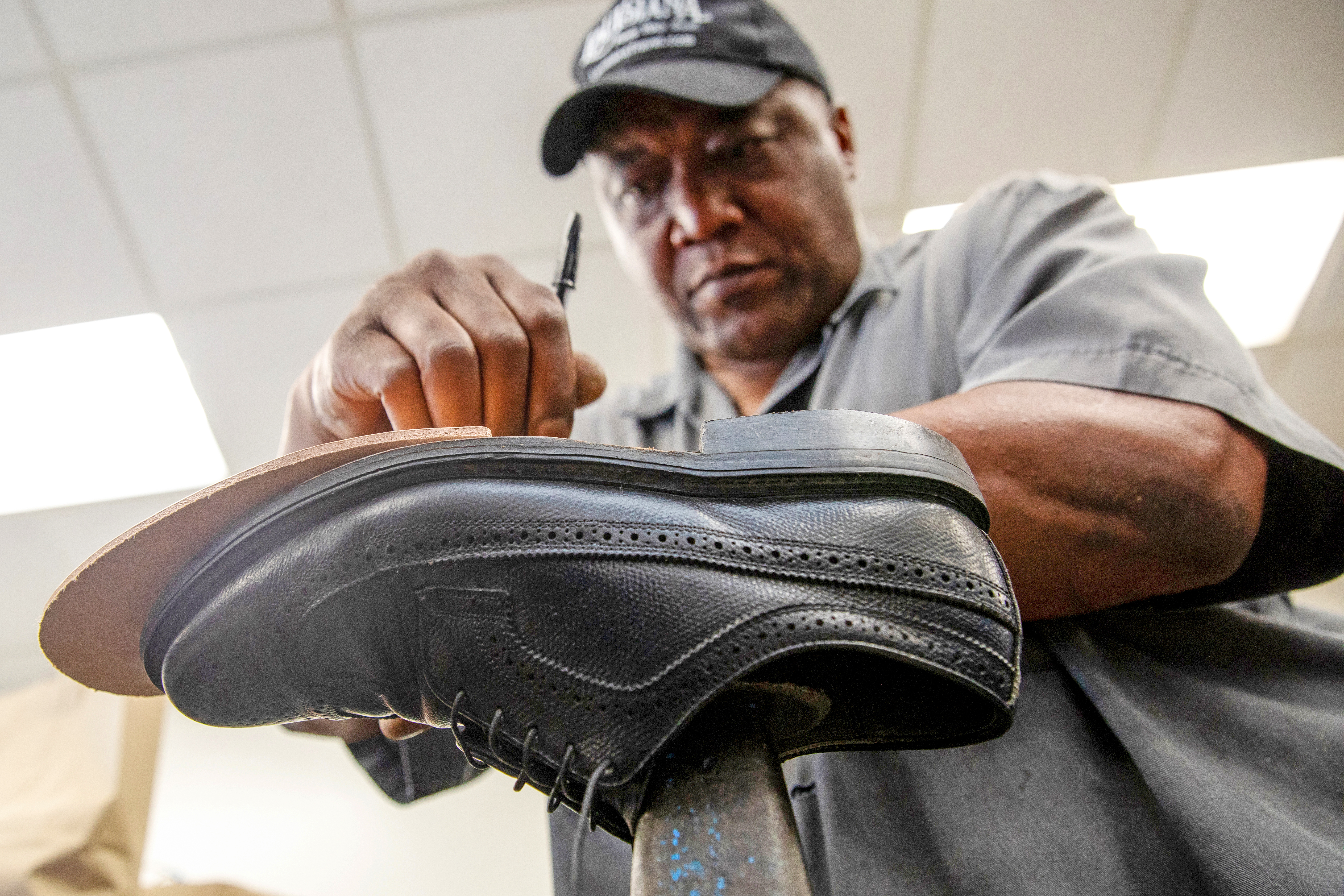 Caption: Inside Militello's, the shelves are lined with bags of customers' loafers, heels, boots and wedges.
---
On average, Brown and Lawrence say the shop receives about 100 shoe and 10 purse work orders per day. Its customers range from young women with bags full of worn high heels to older men wanting to get their boots clean before football season.
"You don't need to throw shoes away," Lawrence says. "You can save some money by getting them repaired, and at the same time, you can keep those favorites alive. Many people want to hold onto history."
As Brown and Lawrence enter their second year of business, Lawrence says the plan is to eventually change the name of the shop to Quality Shoe Service. Though Lawrence likes the shop's name, Militello asked that it be renamed under new ownership.
Otherwise, the couple doesn't see much that needs to change. They'll continue making small improvements around the shop and maintaining friendly relationships with their regular customers.
"We want to succeed not just for us," Brown says, "but because Militello put his life into this business." militelloshoerepair.com
---
SHOE TALK
Chatting with Militello's owners
The most frequently requested services at Militello's are …
"Fixing women's heels. The little cap on the bottom of the high heel wears out. The cap is often plastic, so we replace it with a more durable rubber cap." — Clyde Lawrence
The most unique pair of shoes you've repaired is …
"A 40-year-old pair of child's boots. The grandmother brought them in. They were her son's, and he had a daughter who was getting christened. The grandmother wanted to bring the boots back to life so the little girl could wear them. She had them in Ziploc bags for 40 years. After we restored them and she saw those boots again, she was so impressed." — Jerri Brown
Your secret to working together as a married couple is …
"Whatever happens at work, stays at work. We lock the door and leave everything at the shop. When we're at home, that's our time for us." — Lawrence
Your most popular seasons are …
"Fall and winter. It really starts to pick up around football season." — Lawrence
---
This article was originally published in the June 2019 issue of 225 Magazine.