People are so surprised when they see Farr Park for the first time, says the park's Equestrian Center Director Melissa Wood. They can't believe all the park has going on in the middle of a city, she says.
Minutes from LSU's Tiger Stadium and the River Bend subdivision, the nearly 300-acre Farr Park is a magnet for equestrian enthusiasts, from novices to pros.
The site is one of BREC's most popular, but many of its activities remain hidden gems, including weekend trail rides, riding camps and special events like the upcoming Kentucky Derby viewing party May 7, 3-6 p.m.
Farr Park also offers year-round riding lessons in both English and Western riding styles. And its signature Hearts & Hooves program, which takes place during the school year, enables children with developmental challenges to feel the exhilaration of mounting up and going for a ride.
Wood says there can be a special connection between people and horses. It's something she knows firsthand. The Baton Rouge native grew up owning and riding horses and excelling at barrel racing, an event in which horses and riders compete for time by completing a pattern around arranged barrels. Wood has worked at Farr Park for a decade—the last five as its director—and she says she hears frequently from parents about positive changes in their children as a result of connecting with horses.
"It's a story that gets told over and over again," Wood says. "When kids realize they have to relax and be assertive if they're going to work with this enormous animal, they can't help but develop confidence. We hear all the time about children who are shy or timid feeling that sense of empowerment."
"We hear all the time about children who are shy or timid feeling that sense of empowerment."

–Farr Park Equestrian Director Melissa Wood
The Hearts & Hooves program, offers participants—who might have cerebral palsy, Down syndrome, autism or developmental delays—a chance to develop that confidence.
During six-week sessions throughout the school year, volunteers, sometimes two per participant, assist these special-needs riders up onto a mounting block and then into the saddle.
Once they're ready, the volunteers take them around the ring, where they might play games or meander along the outdoor trail.
The gentlest horses have been selected for the job, Wood says, and instinctively, they know what do.
"It's a wonderful program. It helps the kids develop their core strength and coordination," Wood says. "It's a time when these kids can really have fun and experience this incredible feeling of being up on a horse."
Beyond Hearts & Hooves, the park offers lessons to riders ages six and older. Throughout the year, students arrive at Farr Park's serene and expansive grounds off River Road for afternoon lessons.
The barn, located at the back of the property near the arena, is currently home to 48 lesson horses and 37 border horses.
There's a lot of anticipation when riders first arrive at the arena. They check a dry erase board to find out which horses they've been assigned; squeals erupt when they get their favorites. Then, they head to the tack room to remove saddles and bridles, which they've been taught how to place on horses. They also learn to groom the animals and clean their hooves.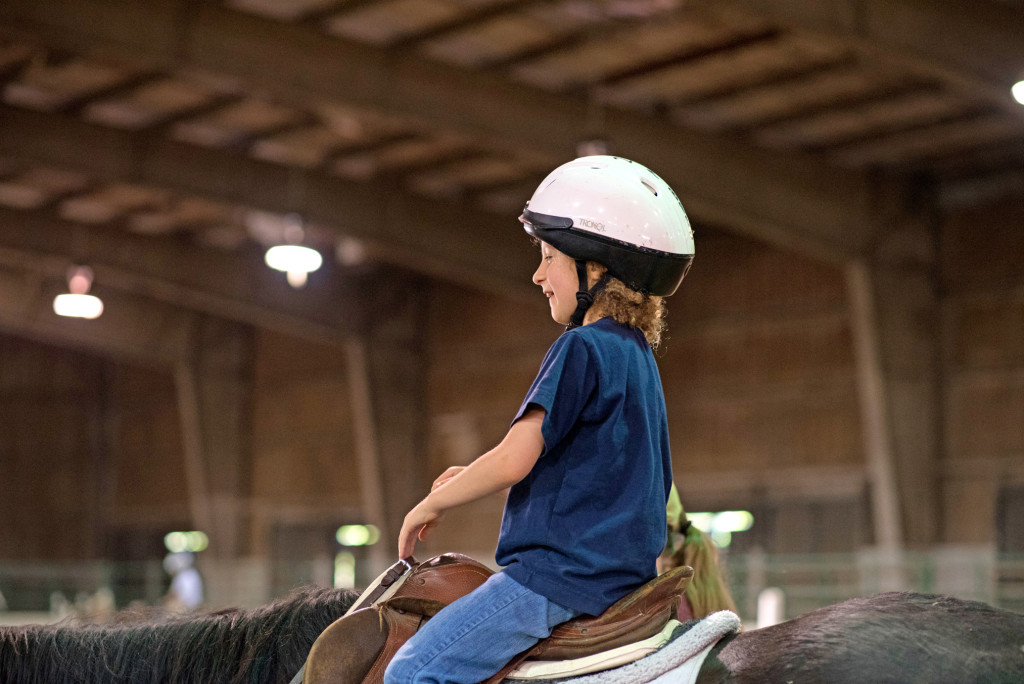 Once the horses and riders are ready, they enter the arena or an outdoor riding ring.
Lessons are designed for either English-style riding with its traditional jumps, or Western, with its eventual barrel racing. Farr Park gives about 400 lessons a month, Wood says.
On weekends throughout the year, families can also sneak away to the quiet of Farr Park's lush trails for guided trail rides. A favorite side activity while riding is to try to spot the nesting bald eagles that make Farr Park and the surrounding area their home, Wood says.
Trail rides are reserved in advance and are open to groups of two to eight at a time.
And for riders who get really serious, the site hosts its own competitive horse shows.
Most recreational riders at Farr Park don't own their own horses and trailers and aren't participating in the traveling show circuit. Farr Park allows them to experience competition.
"It gives them a taste of what's next for riders and lets them shoot for something," Wood says. brec.org/farr