Let's talk about Desireé Dallagiacomo's thighs.
Men do, shes says. Men she doesn't know who simply feel entitled to gawk. Men in parking garages and drug stores.
She talks about her thighs, too. In her smash hit YouTube clip "Thighs." And you know what, she asks? Her thighs hope your thighs have a great day.
Dallagiacomo's verbal vaulting is a briefing on her stance against the misogyny of the male gaze.
And before she even finishes reciting her poetry, the rapt audience is ready to rise up alongside her.
"We spent a lifetime hiding," she intones. "Shake out of this shame."
This isn't poetry. Poetry is polite.
This is a battle cry.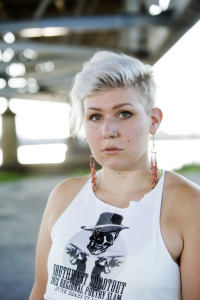 The 25-year-old's words are like a sucker punch to the chest. She flips her verses from nimble to naked, from a low-boil growl that bends her mission toward a taunting manifesto and then straight to soft, vulnerable sounds that waver but never once threaten to wilt.
It's earned her features in the Huffington Post, triggered backlash emails and response videos from male rights activists, attracted autograph-seekers on the streets of New Orleans, and hung a giant question mark over what one socially conscious artist does with a heaping slice of Internet attention.
"This woman is amazing," one commenter posted beneath "Thighs."
"Yas girl," wrote another, in small but mighty terms. And on and on.
Having grown up in a "typical California hippie town," but in government housing with her six siblings and a single mom who juggled four jobs, the artist always finds subjects she's more interested in discussing, like identity politics.
But make no mistake: She is about as famous as a spoken word poet from Baton Rouge can get.
"Being a visible person does a weird thing to writing," she says. "It makes me really think about what work I'm creating."
In 2014, Dallagiacomo placed third in the Individual World Poetry Slam, and most weeks, when she's not on the road or at class at UNO where she studies sociology and creative writing, she can still be seen at Eclectic Truth, Baton Rouge's weekly poetry slam held at the Arts Council.
This increasingly bright-lit stage holds sway over just half of her work, however.
The other part of Dallagiacomo's passion is performed in schools, face to face with the children of south Louisiana, as program director of Forward Arts, Inc. The non-profit is headed by long-time Baton Rouge poets and event organizers Chancelier "Xero" Skidmore and Donney Rose.
Rose calls Dallagiacomo fearless—a trait that serves her equally well in the classroom as it does at raucous poetry slams.
"She's not afraid to take her writing and delivery to a dark, vulnerable place," Rose says. "She doesn't hide her narrative in shame but brings it to the forefront and empowers a legion of followers to feel like their stories are valid."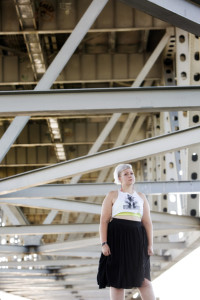 AmeriCorps and its City Year program that provides education support for high-poverty students first pulled Dallagiacomo to Baton Rouge in 2009.
And now with Forward Arts, she shows local students ways to channel their frustrations, fears and dreams in creative directions.
Part mentor, part rock star performer, she gets students to open up and express themselves in novel ways. And when a light bulb goes on and glows bright for the first time, there's no feeling like it.
"How would you describe your feelings?" she recently asked, encouraging a young student.
"My sadness is like a well with no water," he replied.
"You're a writer," she responded ecstatically. "You should be writing."
"It's revolutionary for a campus," she says today. "Some of these students can feel so dehumanized. It's amazing when they start to feel safe when showing their humanity to their classmates."
Dallagiacomo's work now is informed somewhat by her reading tours and rising status, but not as much as it could be.
Having spent years writing in reaction to a father destroyed by addiction and a brother lost to incarceration, she remains focused on things like feminism, self-empowerment and perseverance. Healing and change loom large among her muses.
One piece is called "Real Sex Tips," and it skillfully counters the messages spread across magazines at every checkout counter in America. It's the kind of message that she feels grew more out of necessity than creativity.
"Am I going to be this niche, or will I continue to have my creative freedom? I don't want to stop writing for years because everyone just wants to hear the same poem they saw on YouTube," she says. "I hope to stay in spoken word long after I'm a viral sensation. That is so fleeting." poemsbydes.tumblr.com and forwardarts.org
---
Watch the video for "Thighs":