---
About 225's food critic: Benjamin Leger previously served as managing editor for 225 and was the editor of its Taste section from 2012 to 2021, editing, writing and steering the direction of its food coverage in print and online. He is passionate about all things food and food journalism, and has written about the greater Baton Rouge area's cuisine and culture for nearly two decades. 

THE BASICS: Martin Wine & Spirits has been in the New Orleans area since the 1940s, and Baton Rouge since 2006. Its Perkins Palm location moved to new digs further down Perkins Road on Moss Side Lane in 2021, quietly adding a deli counter a few months later. Plenty of seats and a nice lunch menu have made this a popular spot for sandwiches and salads.
WHAT'S A MUST: The Reuben is a knockout, with flavorful and tender corned beef, sauerkraut and Russian dressing on traditional rye bread. The Smoked Salmon BLT features great-quality smoked salmon on toasted sourdough. We hear the Californian with oven-roasted turkey and havarti is also a favorite. The salads are plenty satisfying, too, with the Martin Salad offering a Cobb-like spread of bacon, chopped egg, radish and tomato on greens.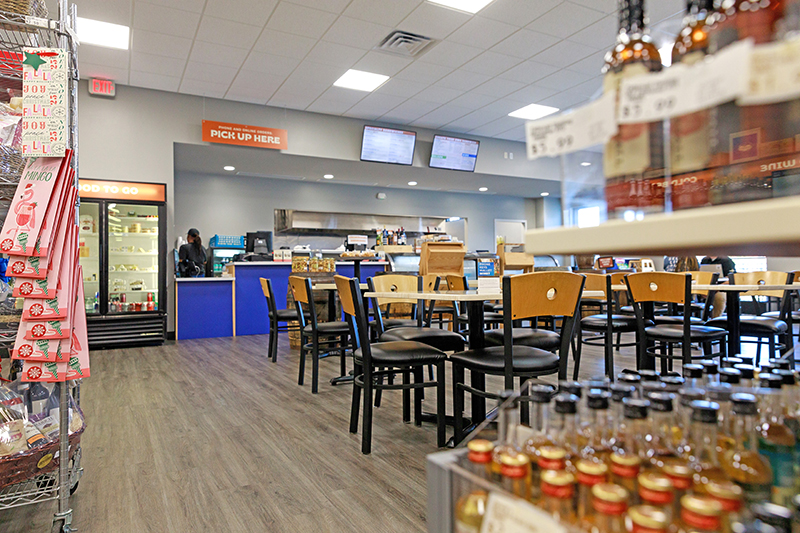 There's something about lunch from a deli counter that just feels like a small gift to yourself. You know the meats are going to be high quality. You know the bread will be fresh and toasty. And you know you'll walk away satisfied but not uncomfortably full.
By now, we're all familiar with Martin Wine & Spirits, the respected New Orleans wine store that's had a location in Baton Rouge for nearly two decades. But after moving to a shiny new building across from Pennington Biomedical Research Center in 2021, the owners added a lunch counter serving sandwiches, soups and salads every day of the week.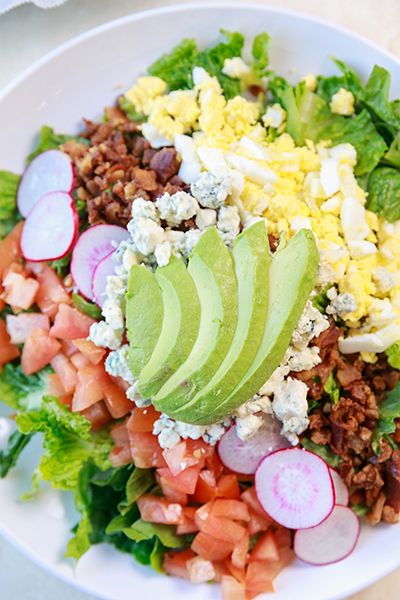 One late November day, I made a lunch date with a friend to catch up and try out what Martin's had to offer.
Even though it is still very much a bustling wine shop, there's ample dining space here with more than a dozen tables inside and several more on the patio. As it was cold and windy that day, we opted for a table inside by the windows. 
---
My friend had his eye on the Reuben, which seems to be a popular item, and I opted for the Smoked Salmon BLT. 
I always appreciate places where salad isn't an afterthought, and Martin's has several interesting options. We decided to split the Martin Salad, and I added a cup of the soup of the day: Tomato Basil.
The salad and soup came out first, and we were both impressed by the salad's size. Arranged a bit like a Cobb, there were crumbles of bacon, chopped egg, tomato, slices of radish and avocado on top of crisp romaine and spinach. It comes with blue cheese crumbles, but because I'm not a fan, our server thankfully substituted shredded Parmesan. 
The balsamic dressing we got on the side was kind of gloopy, but we were overall happy with the salad's variety and freshness. It could easily be a full lunch for one person.
The cup of Tomato Basil soup was a respectable size, creamy and warming, but otherwise a fairly standard version.
---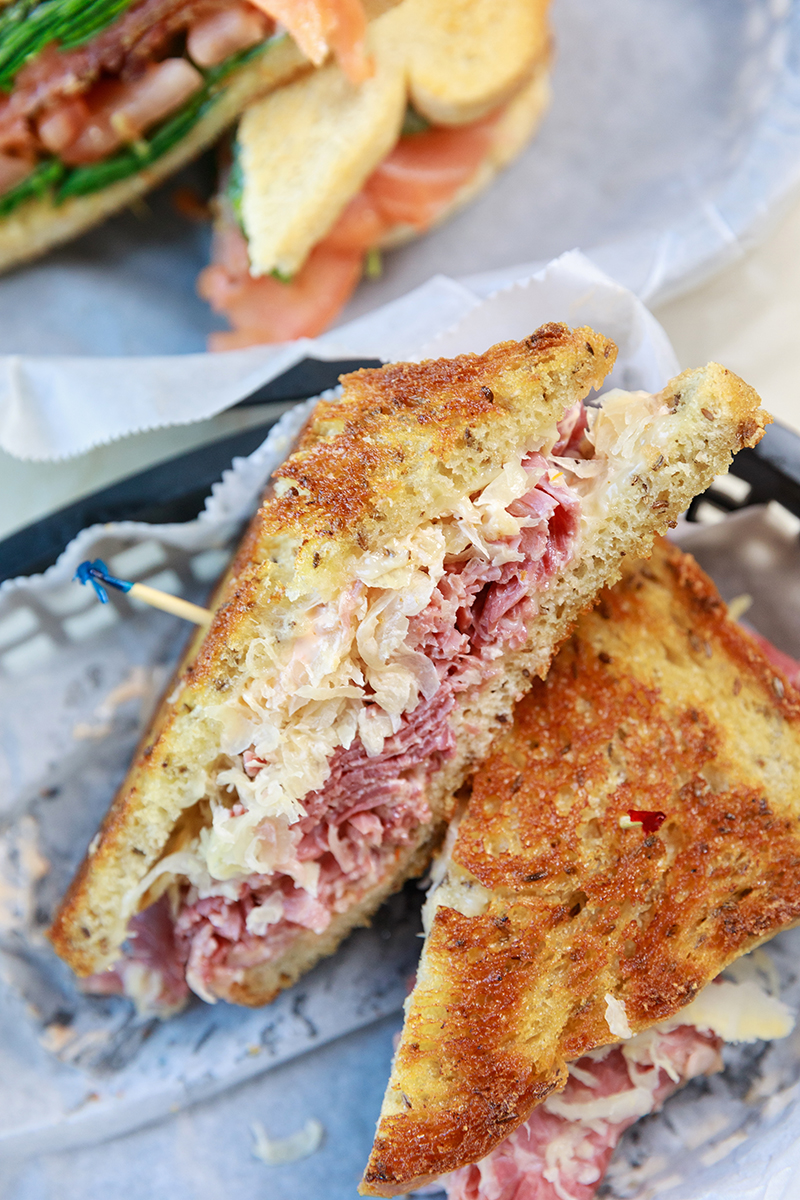 Next came the sandwiches, which arrived quickly.
The Reuben featured grilled corned beef, melted Swiss, sauerkraut and Russian dressing on rye bread. I told my friend I expected his review once he took his first bite. Here's how that went down:
Friend, taking a bite: *closes eyes and releases a satisfied sigh*
Me, laughing: "Hang on. Let me write that down."
He passed it over to me for a few bites of my own. The rye was warm and flecked with those unique and pungent caraway seeds. The sauerkraut was tangy, and the cheese and dressing added mellow and sharp contrasts without taking over. They let the real star shine: the corned beef. It was tender, flavorful, salty, oh-so-juicy and layered in that sweet spot between piled high and just a few slices.
I envied that he got to finish it.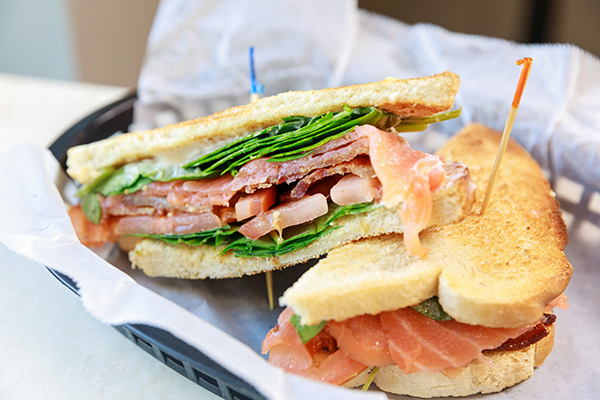 My Smoked Salmon BLT offered similarly ample slices of smoked salmon with crispy bacon, fresh spinach and tomato on a perfectly toasted sourdough. The menu also mentioned wasabi mayo, but I think my sandwich was slathered with traditional mayo on this day.We both agreed that while the smoked salmon tasted great, the sandwich on a whole was missing something. Maybe it was the spice of wasabi flavor, or some onions or capers to add a tangy bite.
For us, the Reuben was the winner of this lunch for its flavor and quality.
And quality is something Baton Rouge has come to expect from Martin's. The wine selection is always top notch, so it's nice to see that matched at the deli counter. It seems like the word is out, too, as most of the tables filled up during our lunch. 
An added bonus: There's a selection of wines at the counter, so you can get a glass with your meal if you aren't heading back to work after.
My friend and I unanimously vowed to return. We'll both probably be clamoring for that Reuben, too.
While I'm not normally one to eat something so decadent at lunch and then sit at a desk for the rest of the afternoon, I make exceptions for treats like this. 
Monday-Saturday, 10 a.m.-4 p.m.
Sunday, 10 a.m.-3 p.m.
---
This article was originally published in the January 2023 issue of 225 magazine.