---
For me, DiGiulio Brothers has always conjured up fond memories of carefree Friday lunches, ice-cold martinis followed by romantic dinners, cool evenings on the patio soaking up the ambiance and the rich red sauce with that killer Italian bread.
Weekends there are very busy, yet we were unexpectedly seated immediately upon arrival. A quick glance at the Daily Specials chalkboard piqued our interest in the Fried Ravioli Special. Served with pink sauce, the four golden-brown pasta pillows in this appetizer were stuffed with a seafood filling that was creamy and light. The slightly sweet sauce of marinara, alfredo and aioli perfectly complemented the tender breaded pasta.
The huge serving of Cambozola and Roasted Garlic appetizer was anything but light. The earthy garlic was chewy and nutty—a perfect foil to the salty blue-cheese hybrid. Toasted baguette slices offered a tame delivery vessel for this rich starter that's best shared among a group.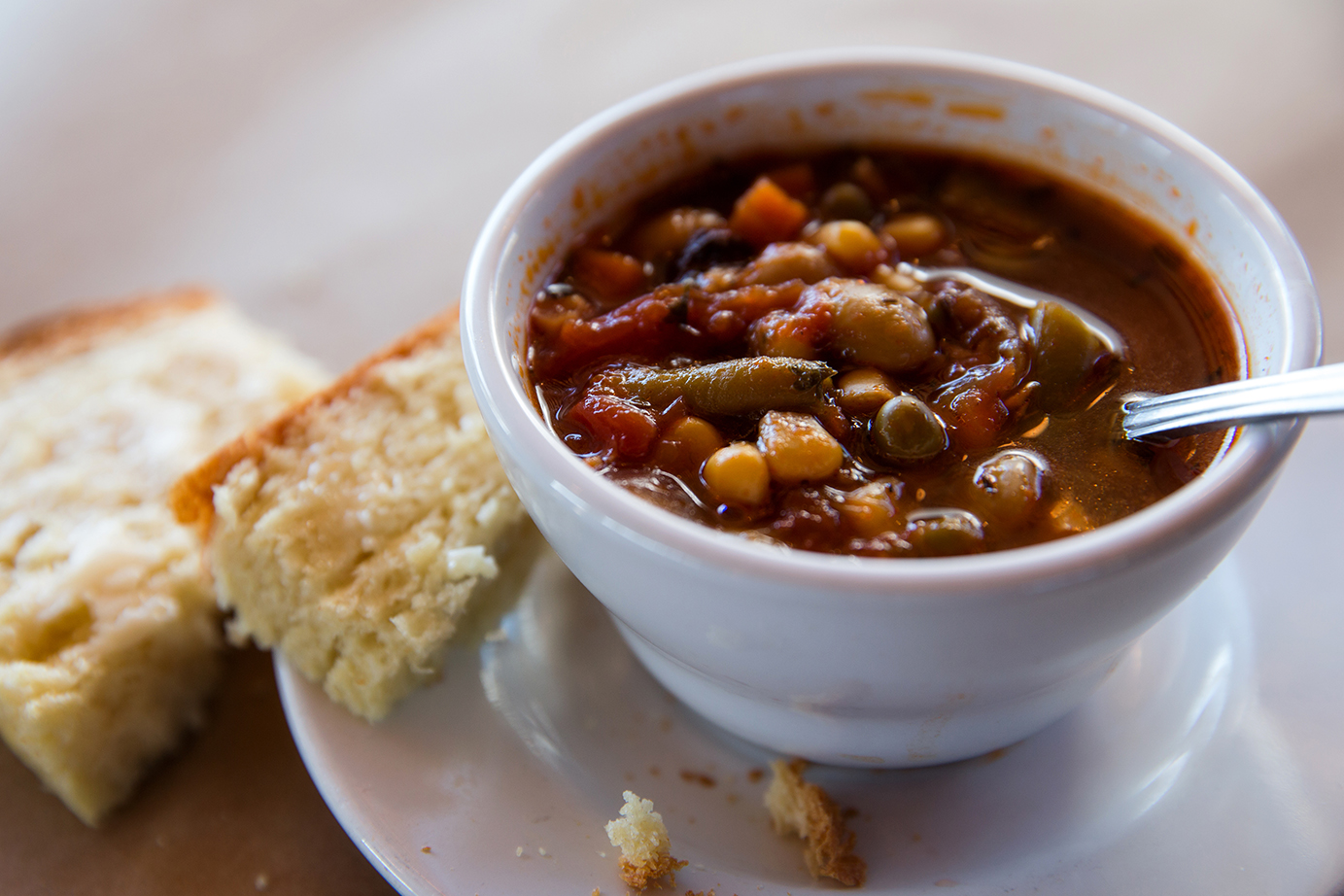 Speaking of sharing: I cannot resist DiGiulio's Minestrone Soup. This is a hearty cup chock-full of zucchini, carrots, green beans, corn and chunks of tomato in a peppery tomato broth capped off with a dollop of pesto. But sharing this soup leaves plenty of room for an entrée.
All entrées come with a house Italian salad. Simple but satisfying with romaine, shaved carrot, pepperoncini, olives and herby balsamic dressing, it was an excellent interlude between appetizers and our pasta entrées.
Spaghetti and Meatballs is one of three entrée items I seem to always alternate between and, since my friends ordered my other favorites, this was my standby. The slow-cooked red sauce was slightly sweet but not sugary with great acidic bite.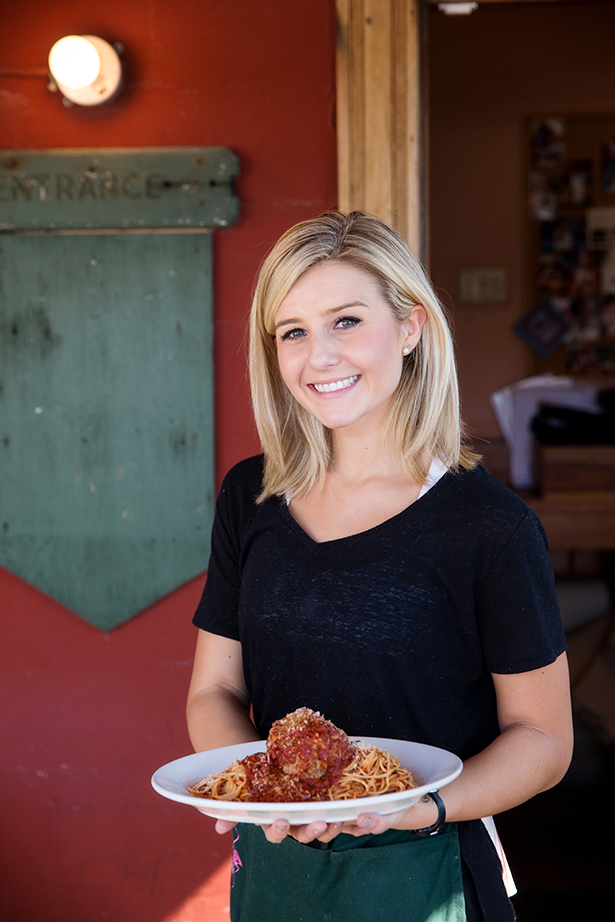 The al dente noodles had a fine coating of sauce, and the huge meatball was beefy with delicate spicing. This is an ample dish and more than I could eat in one sitting.
Another favorite entrée is Veal Piccata served with the restaurant's "G.O.P." pasta (fresh garlic, olive oil and parsley). The veal was pounded thin and lightly fried, accompanied by a lemon, butter and caper white wine sauce. The dish was delicate with the sauce adding bright notes of acidity all smoothed out with the butter. Size-wise, we easily consumed it without the need for a to-go box.
Veal Marsala, a scaloppini of veal in a rich Marsala wine sauce, was one of the bolder-flavored dishes we ordered. Cooked down no doubt for some time, the concentrated Marsala sauce was silky and luxurious yet didn't overpower the meat. The requisite GOP pasta was an appropriately light side for the substantial gravy.
The restaurant's Fresh Fish of the Day with piccata sauce is a good healthier option. My friend ordered an extra side of pesto pasta along with the standard GOP pasta, though, so clearly healthy eating wasn't much of a concern for us. The herbaceous pesto was punctuated by garlic flavor without being so heavy on the garlic/Parmesan combo found at other restaurants. Alone, the grouper was flaky and buttery, while the piccata sauce heightened those aspects.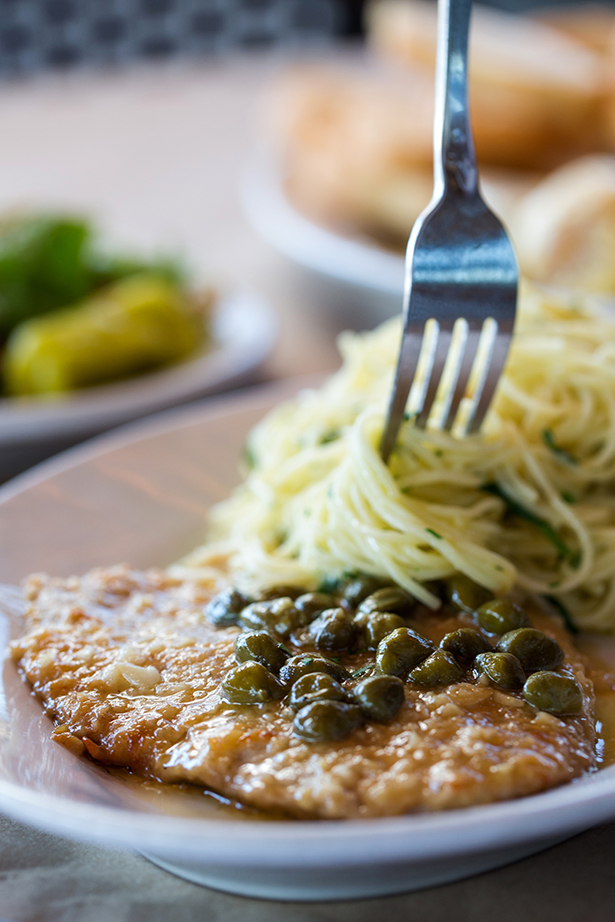 Our evening's dessert choices were Spumoni cheesecake and Tiramisu. The cheesecake is made fresh at Angelo Brocato's in New Orleans, with colorful layers of pistachio, cherry and vanilla, offering complementary flavors in each layer.
Each tier was sweet and fluffy, with the pistachio particularly prominent but not overbearing. The mild crust got lost but not missed amongst the bold flavors of the layers.
The housemade tiramisu was not as cloying and heavy as most—each component's flavor was distinctive. This serving had lots of espresso with just enough mascarpone and cocoa to balance the coffee bitterness. The ladyfingers were moist without being soggy.
There have been few changes throughout the years at DiGiulio Brothers except the occasional employee. It's still the same lively yet intimate interior, comfortable patio, ridiculously friendly staff and incredible old-school Italian staples I discovered as an undergraduate. I, for one, hope this timeless institution never changes.
---
The basics: We've made a tradition of visiting old favorites for the December issue's restaurant review, and DiGiulio Brothers has been a local favorite for more than 25 years. The small restaurant on Perkins Road doesn't take reservations, but it's worth the wait for the atmosphere, the Italian classics and a nice bottle of wine.
What's a must: Share the Cambozola and Roasted Garlic appetizer. The Veal Piccata entrée is pounded thin and features a light lemon, butter and caper white wine sauce. The housemade Tiramisu is moist without being too wet, and it is flavored with lots of espresso and cocoa.
---
Eat at Digiulio Brothers
digiulios.com
2903 Perkins Road
Hours:
Lunch 11 a.m.-1:45 p.m. Monday-Friday;
Dinner 5-10 p.m. Monday-Saturday;
Sunday brunch 10:30 a.m.-2 p.m.
---
Our food critic's name may be false, but the credentials are not. This gastronome has studied the history, cultivation, preparation, science and technology of food for more than 30 years.
This article was originally published in the December 2017 issue of 225 Magazine.