---
Try to pin down the culinary style of Asian street food booth Chow Yum Phat, and its proprietors chuckle.
"We pay homage to the traditional, but we give it our own twist," says Vu Le, who goes by the nickname "Phat." "There are Japanese, Vietnamese, Chinese and Korean influences, but there are no rules, and it's supposed to be fun. Basically, we cook what we like to eat."
Le founded the concept, with a name inspired by Hong Kong actor Chow Yun-fat. The chef, who got his start in his family's New Orleans grocery and deli, signed on to a booth at White Star Market when the food hall was still under development.
A few months before White Star Market opened in June, Le asked his friend Jordan Ramirez to become his business partner. Ramirez had been working at Iverstine Butcher and hosting pop-up dinners. He was also manufacturing his own hot sauce, Southern Wild, at the LSU AgCenter Food Incubator. The two had met years earlier when they both worked at Tsunami.
Now that the Government Street food hall is open, business for Chow Yum Phat has been better than anticipated. The eatery, they say, often sells 200 bowls of ramen alone in a given day—despite the summer heat—not to mention other menu items and daily specials. The line-up has been well-received, and that's inspired them to keep creating new weekly dishes.
"With Jordan on board, we can really fast-track stuff," Le says. "We're able to do what we want to do at a much faster pace. Ideas pop into our heads, and it's like a ping-pong match of mad science."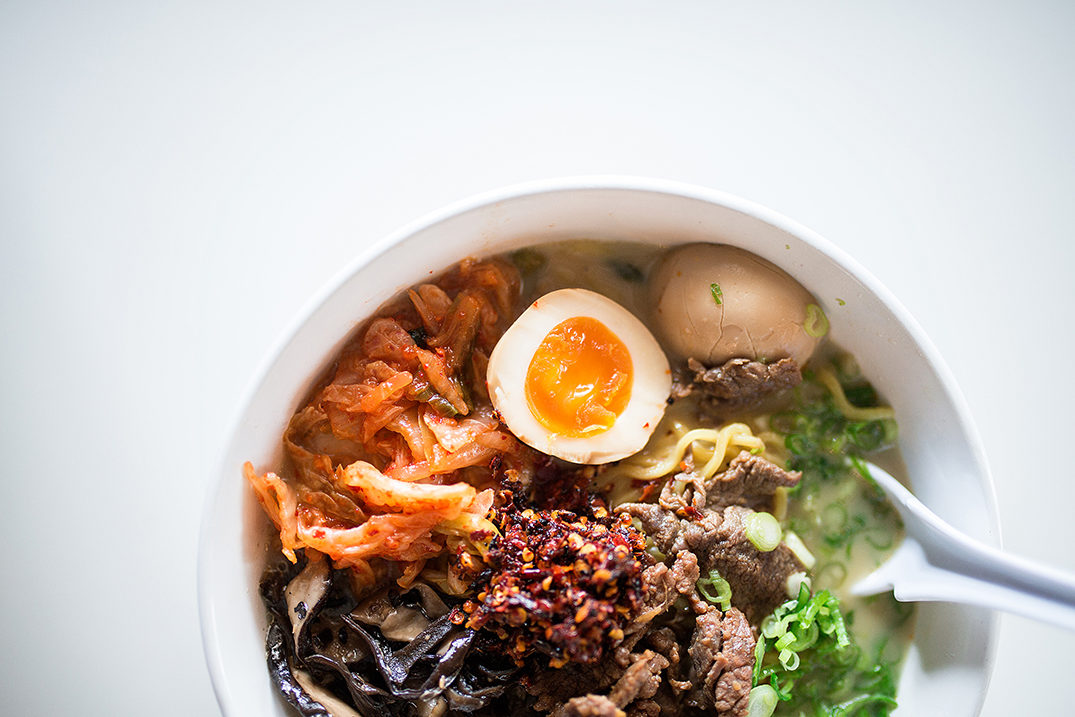 Chow Yum Phat's permanent menu includes four varieties of homemade ramen, a couple different bao, or steamed bun, dishes and the team's signature sticky wings.
There's more. New specials are rolled out regularly, including pho dumplings, the "Mi So Fresh" salad with Fullness Organic Farm greens, and a Vietnamese-inspired half-rack of ribs with chili glaze. A recent dessert, the Addie Cakes, combine fried bao dumpling dough with vanilla ice cream, miso butter pecan praline and coffee drizzle made with espresso from food hall neighbor Rêve Coffee Roasters.
Fans of Chow Yum Phat have learned to keep tuned in to social media for updates about daily specials. Who wants to miss green curry tater tots? No one.
Part of the team's daily routine means bellying up to the stove in White Star Market's commercial kitchen to make 45-50 quarts of the CYP (Chow Yum Phat) ramen broth. The master recipe is a labor of love.
"We start with fresh chicken and pork bones from Iverstine Butcher—I think we buy everything they have," Ramirez says. "It's simmered overnight, and we strain it in the morning."
Next, they make a rich flavoring agent from soy sauce and fish essence made from katsuobushi (dried, fermented and smoked tuna) and kombu (dried seaweed).
"When you're making a ramen, there are a lot of parts," Le says. "The interesting thing is that the broth changes. You have to taste it every day."
The steaming broth is poured over fresh ramen noodles and other ingredients. In the popular Ronin, that's seared pork belly, wood ear and shiitake mushrooms, and ajitama, a soft-boiled marinated egg.
Le and Ramirez are planning to roll out a food truck in the early fall with items that mirror their street-food fascination. They're also hosting pop-up dinners in venues like Phil Brady's, where they can continue
to play around with new flavors.
"We like food that's fun to eat and is nothing fancy," Le says. "We don't want to be too serious. Food shouldn't be too serious." chowyumphat.com
---
This article was originally published in the August 2018 issue of 225 Magazine.