---
May is a favorite month for us. Kids are getting out of school, summer is almost here, and it brings one of the loveliest holidays of the year: Mother's Day. In honor of all the festivities, we have created a late spring menu perfect for celebrating the occasions of the season. It is a light luncheon with a few recipes that are near and dear to us. The Mini Sherry Cakes are an updated version of something our grandmother used to make when we were little girls. We now enjoy sharing them with our family over Mother's Day.
ON THE MENU:
• Parmesan Crackers
• Cream of Artichoke Soup
• Spicy Shrimp Remoulade
• Mini Sherry Cakes
---
PARMESAN CRACKERS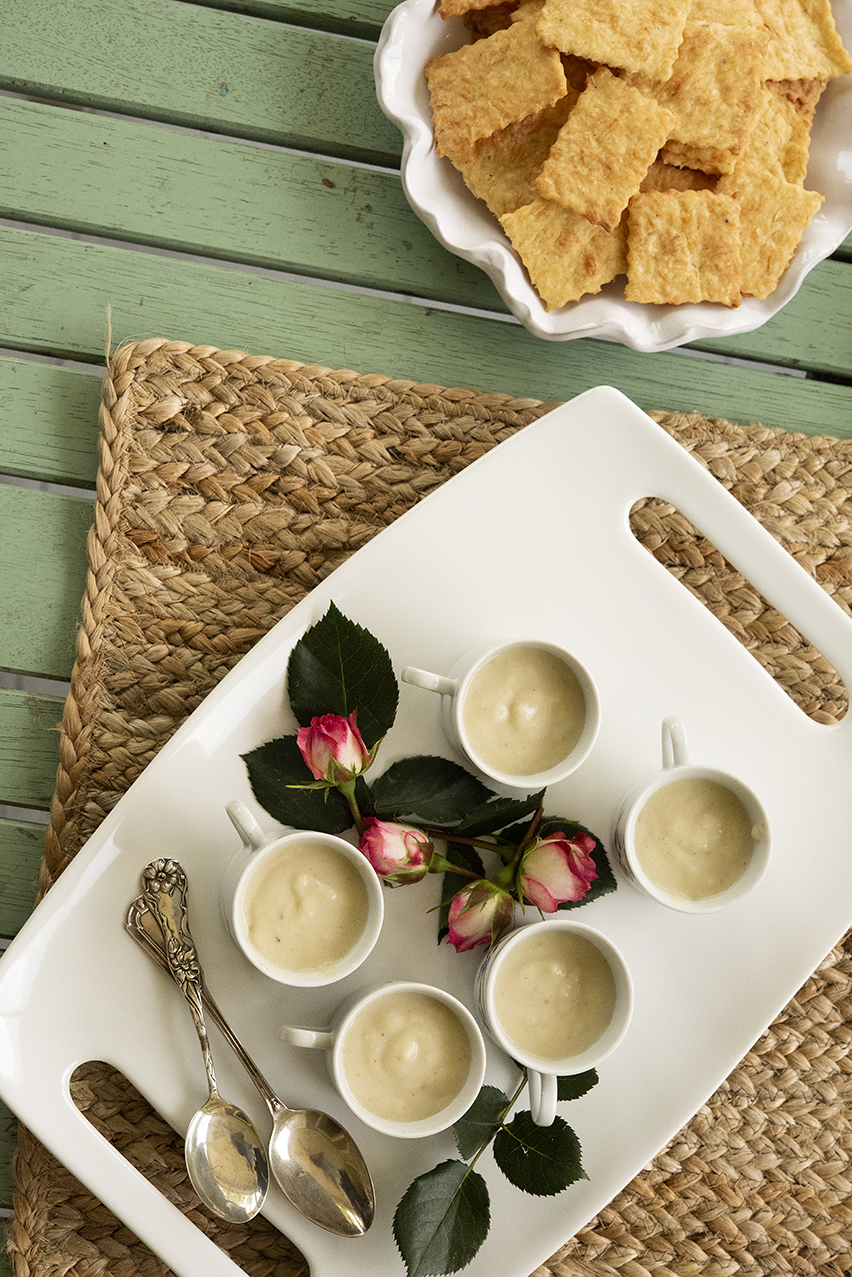 These snackable morsels are like a crispy version of a cheese straw. They have just the right amount of Parmesan to give them a little bite. A hint of pepper gives them a slight kick. These little crackers are great to serve along with soups and salads or just with a nice glass of wine. Keep them in an airtight container for up to one week—if they last that long in your house.
Servings: Yields 3 to 3½ dozen crackers
1¼ cups flour
1 teaspoon salt
½ teaspoon fresh ground black pepper
2 cups freshly grated Parmesan cheese
6 tablespoons cold butter
1 tablespoon hot sauce
1/3 cup whole milk or half and half
1. Heat the oven to 400 degrees. Line two baking sheets with parchment paper.
2. In a mixing bowl, sift together the flour, salt and pepper. Stir in the grated cheese. Use a pastry cutter or fork to cut in the cold butter.
3. Once the mixture resembles wet sand, add the hot sauce and the milk. Mix everything together until it forms a ball.
4. Sprinkle a little extra flour onto the lined baking sheets. Cut the dough in half. Place one half on one of the lined baking sheets.
5. Sprinkle the top of the dough with a little more flour. Use a rolling pin to roll the dough out onto the lined baking sheet. It should be 1/8-inch thick. Repeat this step with the second piece of dough.
6. Use a serrated knife or pastry cutter to score the dough into 2-inch squares. This will make it easier to break the crackers apart after they are baked. Bake the Parmesan crackers for 10 to 12 minutes or until golden.
7. Remove the crackers from the oven and allow them to cool. Break them apart, and serve.
---
CREAM OF ARTICHOKE SOUP
Soup really helps balance out a meal like this. The warm, slightly creamy soup is a nice complement to the spicy shrimp. When serving a soup like this for a crowd, we suggest demitasse cups. This soup is easy to double and can be frozen for up to three months. Make extra and keep it in the freezer to serve along with salads or sandwiches for a quick weeknight dinner.
Servings: 6
4 tablespoons butter
½ cup chopped onions
½ cup chopped celery
2 cloves minced garlic
2 15-ounce cans artichoke bottoms, chopped
½ teaspoon salt
¼ teaspoon pepper
¼ teaspoon herbes de Provence
4 tablespoons flour
2 cups low-sodium chicken broth
2 cups whole milk or half and half
1 tablespoon fresh lemon juice
1. In a large pot, melt the butter on medium. Add the onions and celery. Sauté 3 to 4 minutes. Add the garlic. Continue to sauté another 15 seconds.
2. Add the chopped artichokes, salt, pepper and dried herbs. Toss to coat.
3. Sprinkle in the flour. Continue to cook for another 2-3 minutes.
4. Stir in the chicken broth. Keep stirring to prevent the flour from getting lumpy. Continue until the mixture begins to get thick and coat the back of a spoon. Turn off the heat and allow it to cool.
5. Carefully pour the mixture into a food processor. Puree until smooth.
6. Pour the mixture back into the pot. Add the 2 cups of milk or half and half. Heat the soup on medium just until it begins to simmer. Add the fresh lemon juice. Serve the soup warm with the Parmesan Crackers.
---
SPICY SHRIMP REMOULADE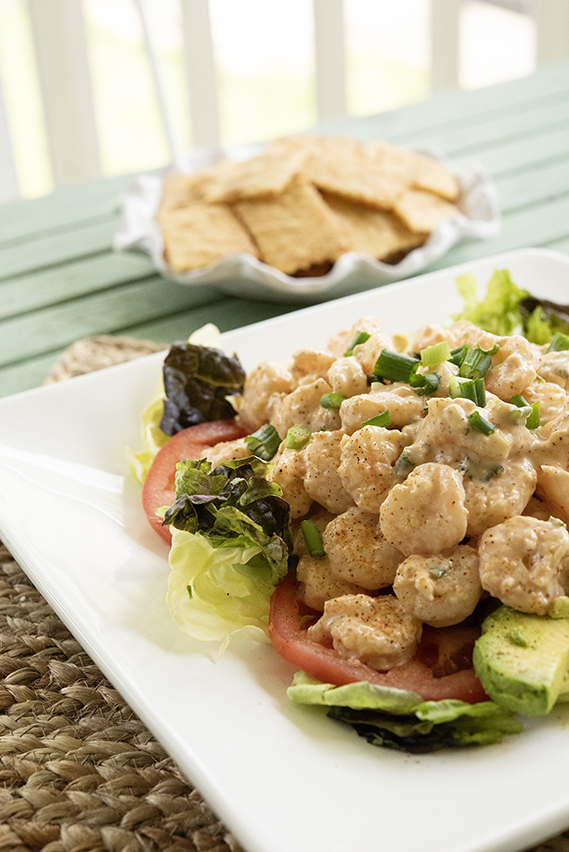 As we were growing up in New Orleans, our mother would make Shrimp Remoulade when she hosted luncheons. We felt we couldn't write a Mother's Day luncheon menu without including this recipe. Back then in the mid-'70s, it was chic to serve a recipe like this on a bed of shredded iceberg lettuce or stuffed into a tomato. We've updated this a bit to make the prep time easier. You can serve it all on a platter over Bibb lettuce with slices of ripe Creole tomatoes and avocado. This simple recipe can be made well in advance, and it's always a crowd pleaser.
Servings: 6
FOR THE SHRIMP:
2 pounds large shrimp, peeled and deveined
4 quarts water
2 tablespoons kosher salt
1 cup liquid seafood boil
3 lemons
2 bay leaves
1. Rinse the shrimp. Bring the 4 quarts of water to a boil.
2. To the water, add the salt and liquid seafood boil. Squeeze the lemons into the boiling mixture. Add the lemon rinds into the pot as well.
3. Once the mixture is back up to a rolling boil, add the shrimp and bay leaves.
4. Give the pot a good stir and let the mixture return to a boil. Allow the shrimp to boil 5 to 7 minutes, depending on the size of the shrimp.
5. Drain the shrimp well. Set them aside to cool.
To assemble the shrimp remoulade:
1/3 cup mayonnaise
¼ cup horseradish sauce
¼ cup Creole mustard
½ cup ketchup
2 tablespoons Worcestershire sauce
1 teaspoon hot sauce
2 tablespoons fresh lemon juice
½ cup chopped green onions
¼ cup chopped parsley
¼ cup finely chopped celery
¼ teaspoon Creole seasoning
1 head of Bibb lettuce
2 large Creole tomatoes
3 large avocados
1. In a mixing bowl, combine all the wet ingredients. Mix well to combine. Fold in the chopped green onions, parsley and celery. Sprinkle in the seasoning and set aside.
2. Add the cooled cooked shrimp to the remoulade sauce and toss to coat.
3. Cover the shrimp remoulade and chill for at least one hour before serving.
4. Spread leaves of Bibb lettuce on a serving platter. Slice the tomatoes and avocados, and scatter them on top. Sprinkle the veggies with a little extra Creole seasoning. Pour the shrimp remoulade over everything, and serve.
---
MINI SHERRY CAKES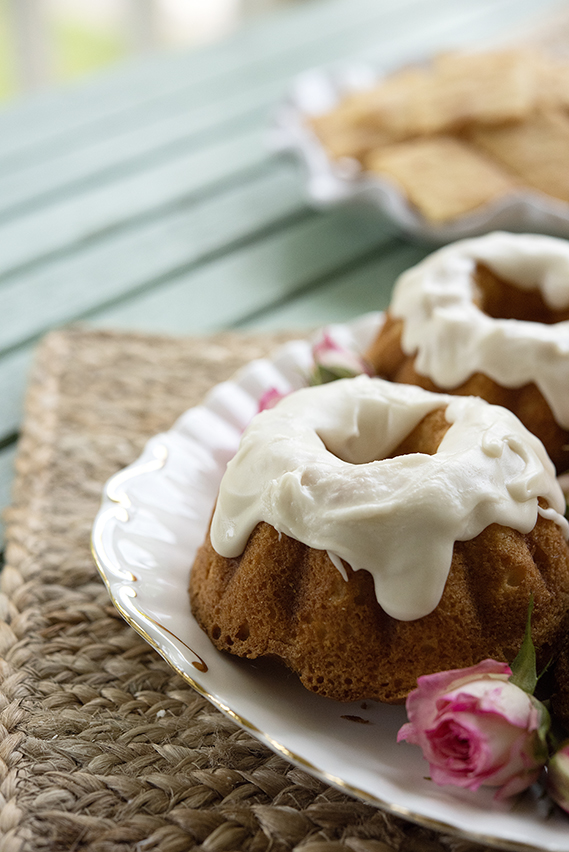 When we were little girls, nothing excited us more than when our grandparents from Texas would come to visit. What we loved most of all was the sherry cake our grandmother would make us. We decided to update this recipe and add it to this Mother's Day-inspired menu in honor of our grandmother. We made small individual cakes using mini bundt pans, which work just as well as a full-size bundt. Either way you choose, it is moist and delicious. It's a lovely way to end this spring meal.
Servings: 6
For the cakes:
1 box yellow cake mix, preferably all-natural
1 stick of butter, melted
3 eggs
¾ cup cream sherry
1 teaspoon pure vanilla extract
¼ cup sour cream
1. Heat the oven to 350 degrees. Grease the mini bundt cake pans or one large bundt pan.
2. Using an electric mixer, combine the cake mix with the butter on medium speed.
3. Add the eggs, cream sherry, vanilla and sour cream. Continue to mix on medium for 1 minute, making sure to scrape the sides of the bowl.
4. Pour the batter into the prepared pan or pans. Bake 20-25 minutes for the mini bundts or 35-40 minutes for a large bundt.
5. Run a knife around the edges of the bundt cake to help release it. Poke each cake several times with a toothpick. Brush each cake with a couple tablespoons of the sherry simple syrup.
6. Turn the cakes onto a cooling rack. Poke each cake again with a toothpick all over, and brush the tops with the remaining syrup.
7. Allow the cakes to cool completely before glazing.
For the sherry simple syrup:
¼ cup sugar
¼ cup water
¼ cup cream sherry
1. Place the water and sugar in a small sauce pot. Heat over medium heat until the sugar is dissolved.
2. Add in the cream sherry. Turn off the heat and allow the syrup to cool before using it to soak the cake.
For the glaze:
1 tablespoon softened butter
2 cups sifted powdered sugar
2 to 3 tablespoons milk
2 to 3 tablespoons cream sherry
1. Combine everything in a mixer until smooth. Pour over the cooled cakes.
2. Allow the glazes to set before serving. Store cakes in an airtight container. Cakes may be made 1 day in advance.
---
This article was originally published in the May 2018 issue of 225 Magazine.