---
St. Valentine of Rome is a saint from the third century A.D., who has come to be known as the patron saint of those in love. His feast is celebrated Feb. 14. Though 4th-century Romans did not necessarily indulge in the kind of cuisine we, today in America, think of as "Italian food," there is nothing more romantic than an elegant, delicious dinner inspired by the rich, hearty flavors of Italy. The beauty of this meal, besides the fact it is very tasty, is that it is easy to prepare and much of it can be done well in advance—leaving you more time to spend with your dinner guest(s). What better way to show someone special how much you care?
THE MENU
Recipes by Tracey Koch
• Melon wrapped in Prosciutto
• Grilled Caesar Salad
• Spinach-stuffed Shells Baked in Red Sauce
• Chocolate-dipped Strawberries
---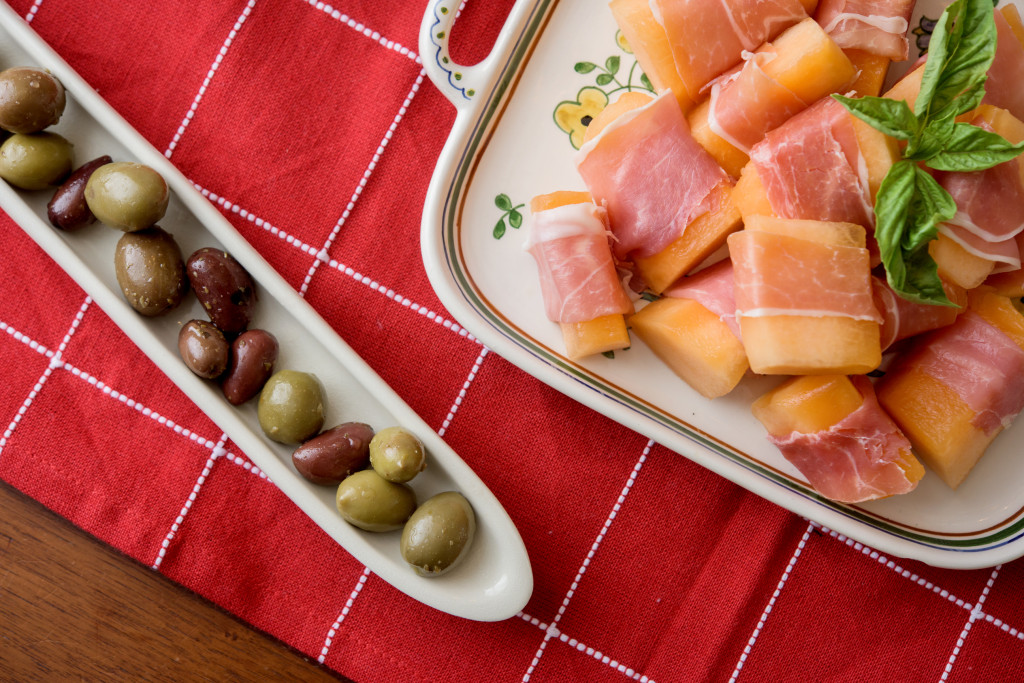 ---
Melon wrapped in Prosciutto
We always like to have a few things in our fridge to throw together to make a quick yet fabulous and impressive appetizer. Melon wrapped in prosciutto is on the top of that list. Wrapping fresh, sweet, juicy melon with salty prosciutto is a wonderful flavor combination and makes for a fun first course to whet your appetite. Serve it with a well-chilled prosecco to kick off your dinner.
Servings: 4
1 ripe cantaloupe
8 ounces thinly sliced prosciutto
½ cup high quality Balsamic vinegar
¼ teaspoon black pepper
½ cup extra virgin olive oil
¼ teaspoon kosher salt
¼ teaspoon red pepper flakes
¼ teaspoon dried Italian herbs
Loaf of crusty Italian bread or ciabatta
1. Cut the melon into slices and then cut each slice in half. Wrap each piece of melon with the thin slices of prosciutto and place them on a serving platter.
2. Whisk together the balsamic vinegar and black pepper. Pour it into a small bowl for dipping.
3. In a second small dipping bowl, stir together the olive oil, salt, red pepper flakes and Italian herbs.
4. Set the dipping bowls on the serving platter with the melon. Serve with warm, crusty Italian bread.
---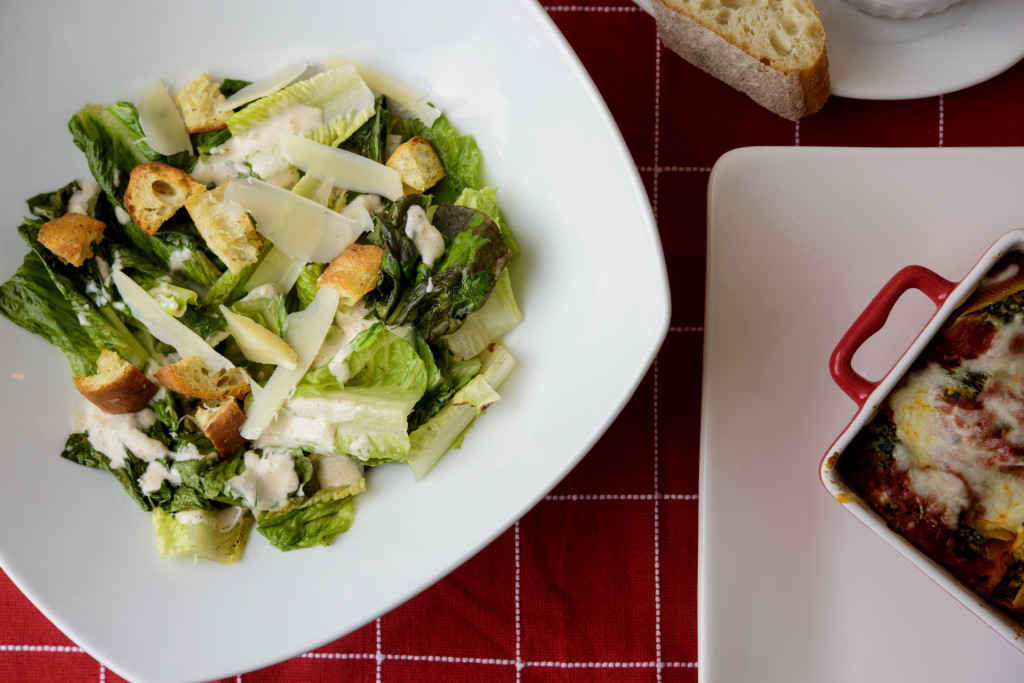 ---
Grilled Caesar Salad
Grilling the romaine lettuce in this classic dish takes salad to the next level. It gives the lettuce a sweeter, milder flavor than it has when served raw, and it blends well with this tangy dressing. Making homemade croutons for this salad is another extra step that takes this dish from ordinary to extraordinary.
Servings: 4
For the salad:
2 heads romaine lettuce
¼ cup olive oil
1 cup crusty Italian bread, cut into chunks
Salt and pepper to taste
Shavings of Parmesan cheese for topping salad
1. Wash the lettuce and pat dry. Cut the bottoms off and separate the leaves.
2. Heat the oven to 350 degrees. Toss the bread in 2 tablespoons of the olive oil. Season with the salt and pepper.
3. Place the bread on a baking sheet. Bake 10 to 12 minutes, or until golden and crisp, to make croutons.
4. Lightly brush the leaves with 2 tablespoons of the olive oil. Heat a grill to medium high heat.
5. Place the lettuce leaves over the heat and grill 1 to 2 minutes per side. Remove the lettuce from the heat, sprinkle with a little of the salt and pepper and allow it to cool slightly.
6. Cut the lettuce into fourths and place in a salad bowl.
7. Toss with the dressing. Top with the croutons and large shavings of Parmesan cheese.
For the dressing:
¼ teaspoon salt
¼ teaspoon black pepper
1 clove minced garlic
¼ cup fresh lemon juice
¼ teaspoon anchovy paste or fish sauce (optional)
1 tablespoon Dijon mustard
1 teaspoon Worcestershire sauce
¼ cup mayonnaise
¼ cup olive oil
½ cup Parmesan cheese
In a small mixing bowl, whisk together all the ingredients and set aside until you are ready to toss the salad.
---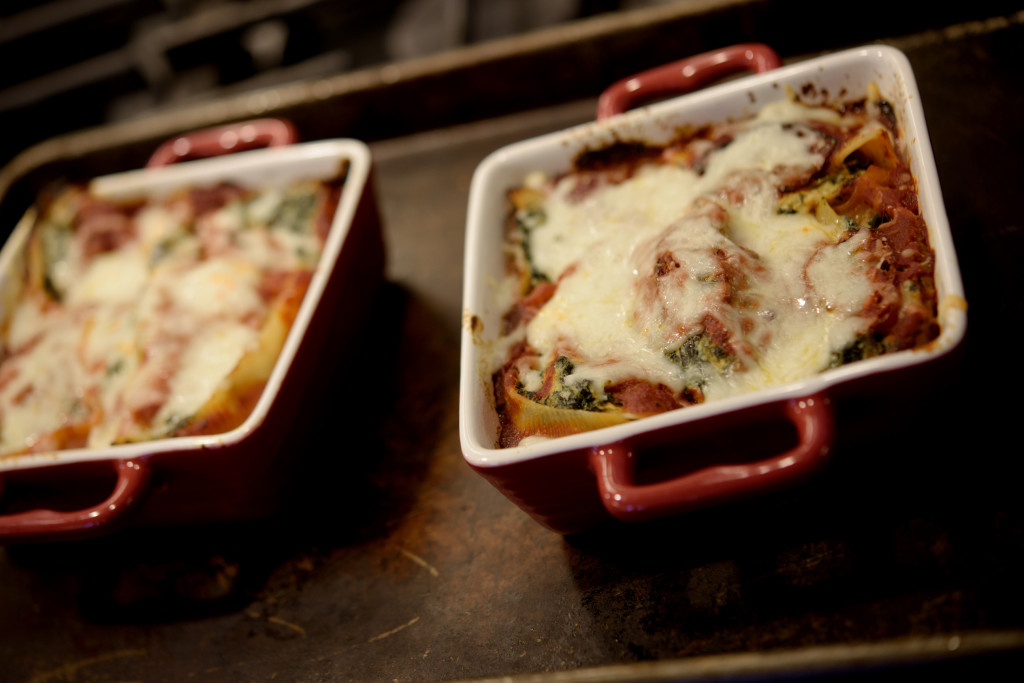 ---
Spinach-stuffed Shells Baked in Red Sauce
This sounds like a dish that would keep you slaving over the stove for hours, and your guests will think you have been cooking for days after they taste it. However, this dish is quite easy to assemble and takes only about 30 minutes of prep time.
Stuffing the shells raw is part of the key to putting this dish together so quickly. It also helps that so many delicious red sauces in jars are available at your local supermarket. Go ahead and enjoy your Valentine's Day dinner party while your oven does the rest of the work.
Servings: 4 (One serving equals 4-5 shells each.)
10 ounces frozen chopped spinach
2 tablespoons olive oil
2 cloves minced garlic
¼ teaspoon red pepper flakes
½ teaspoon salt
¼ teaspoon black pepper
1 cup ricotta cheese
¼ teaspoon ground nutmeg
½ cup grated Parmesan cheese
1 box jumbo pasta shells
24-ounce jars of your favorite red sauce
2 cups freshly shredded mozzarella cheese
1. Thaw the frozen spinach, rinse it and squeeze out as much liquid as possible.
2. In a sauté pan, heat the olive oil and add the minced garlic and red pepper flakes. Sauté 10 to 20 seconds or just until the garlic becomes fragrant.
3. Quickly add the spinach and sauté for an additional 1 to 2 minutes or until the spinach is just heated through.
4. Remove the spinach from the pan and place it in a bowl to cool.
5. Once the spinach is cooled, add the salt, black pepper, ricotta, nutmeg and Parmesan cheese. Stir until all is well incorporated.
6. Using a teaspoon and your fingers, stuff the raw pasta shells with the spinach filling. This filling is enough for about 20 jumbo shells.
7. In a 9-by-13-inch casserole dish or in four 2-cup individual casserole dishes, pour in half the red sauce.
8. Place the filled shells into the casserole and cover with the remaining red sauce. Cover the dish with aluminum foil and bake in a 350-degree oven for 50 minutes. Pierce one of the shells with a tester to make sure it is tender. If the shells are too firm, cover and bake for another 10 minutes.
9. Remove the foil and top with the 2 cups of shredded mozzarella. Bake for an additional 7 to 10 minutes or until the cheese is melted and bubbling. Remove from the oven and allow it to cool slightly before serving.
---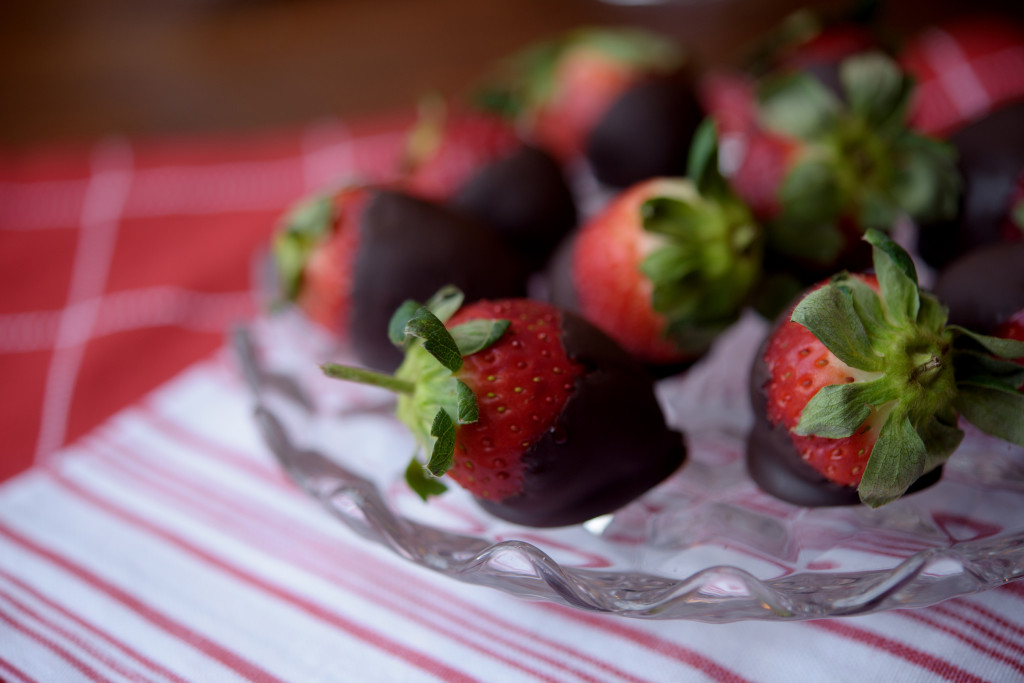 ---
Chocolate-dipped Strawberries
Dipping strawberries in chocolate makes a beautiful dessert that is a treat for everyone. They can be served alone or along with a little store-bought gelato for a quick, elegant and special dessert.
Servings: 4
2 pints ripe strawberries
16 ounces good quality dark or semi-sweet chocolate
1 tablespoon butter
1. Wash the strawberries and dry them well. Line a baking sheet with parchment paper and place the strawberries in a single layer.
2. Place the chocolate and butter in a microwave-safe dish. Heat on high for 30 seconds. Remove and stir. Place the dish back in the microwave for 10 seconds. Stir until the chocolate is smooth.
3. Dip the dry strawberries into the warm chocolate and place them back on the baking sheet to set. Store the dipped strawberries in a refrigerator until you are ready to serve them. These may be made a few hours ahead of time.