This is a fun early-summer menu that works really well if you're dining alfresco—by the pool, on the patio or in the garden. It's also an easy meal to make one night during a beach vacation. We always like to grill seafood when we go to the beach on our annual family trip. Most beach condos and houses provide grills and we always put them to use! This meal is light and fresh, with the delicious flavors of summer. Enjoy.
---
THE MENU
• Cucumber and Lime Mojito
• Creole Tomato Bruschetta
• Cedar Plank Grilled Scallops With Lemon and Herbs
• Fresh Pasta Primavera
Recipes by Tracey Koch
---

Cucumber and Lime Mojito
This is a refreshing cocktail on a warm summer evening. The combination of cucumber, lime and mint is a great balance of flavors—the cucumber tones down the tartness of the lime without overpowering it. It can also be enjoyed without the rum for a real thirst-quenching and healthy drink. This can also be made using stevia or agave in place of sugar.
Servings: Yields one 4- to 6-ounce drink
6 slices seedless cucumber
½ a lime, cut into wedges
2 teaspoons sugar
4 fresh mint leaves
6 ounces ice cubes
2 ounces light rum
3 to 4 ounces sparkling water or club soda
Extra cucumber, mint and lime wedges to garnish
1. Place the cucumber slices in the bottom of a heavy glass or cocktail shaker.
2. Squeeze the lime wedges over the cucumbers and add them to the bottom of the glass as well.
3. Add the sugar and fresh mint. Use a wooden spoon or a pestle to muddle everything together.
4. Fill a tall cocktail glass with ice and strain the muddled mixture over the ice.
5. Pour in the rum and top it off with a splash of sparkling water or club soda. Stir to combine.
6. Garnish with extra slices of cucumber, lime and a sprig of fresh mint.
---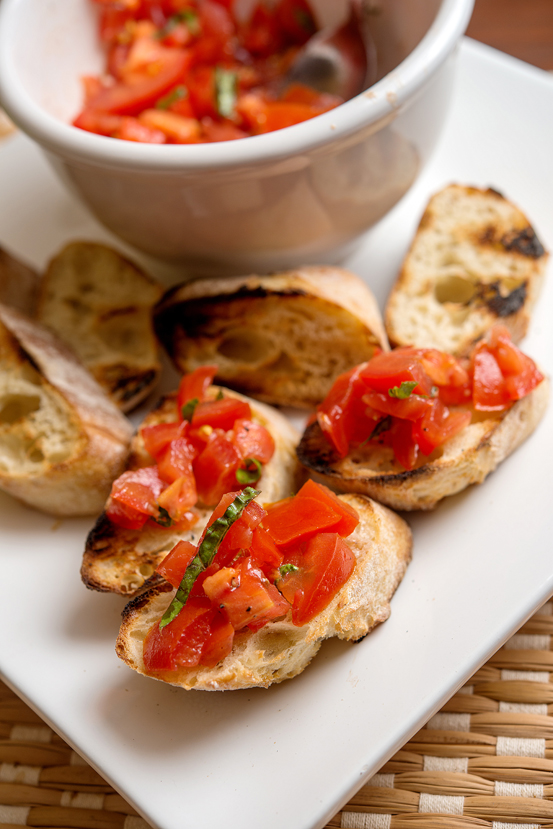 Creole Tomato Bruschetta
This is a favorite recipe to serve, especially in the summer when the tomatoes are ripe and delicious. If you don't have Creole tomatoes, use whatever tomatoes are in season. Roma and heirloom tomatoes work well too. This dish takes 15 minutes to make and if you serve it along with some cheeses, olives and cured meats (think fresh mozzarella and prosciutto) it can make for a lovely lunch or a light supper.
Servings: 6
12 slices crusty French bread
2 cloves fresh minced garlic
½ cup extra virgin olive oil
3 medium-ripe Creole tomatoes, chopped
2 tablespoons balsamic vinegar
¼ teaspoon salt
¼ teaspoon fresh ground pepper
¼ cup fresh chopped basil
1. Heat the grill to 350 degrees and slice the bread into 1½-inch-thick slices.
2. Combine the minced garlic and olive oil. Brush a little of the mixture over the slices of bread. Reserve the rest of the oil.
3. Grill the bread for 2 to 3 minutes per side. Set aside.
4. Place the chopped tomatoes into a mixing bowl. Pour the remaining garlic and olive oil mixture over the tomatoes.
5. Add the balsamic vinegar, salt, pepper and chopped basil. Allow the mixture to sit for 10 minutes to let the flavors to develop.
6. Serve the Creole tomato mixture with the grilled bread slices.
---

Cedar Plank Grilled Scallops with Lemon and Herbs
Scallops are a real treat, and we love grilling or searing them, especially during the summer. Here in Baton Rouge we generally find scallops at places like Whole Foods. Trader Joe's sells wild-caught and flash-frozen Atlantic scallops that are very good quality and easy to thaw. Using cedar planks adds a hint of smokiness to the sweet scallops that balances the flavor quite well. We also find that using the cedar planks helps to cook the scallops slowly and evenly, so they do not overcook and become too rubbery. Cedar planks can be found wherever grilling supplies are sold. We use them for shrimp and fish as well.
Servings: 6
3 to 4 cedar planks for the grill
2½ to 3 pounds jumbo sea scallops
2 cloves minced garlic
1 tablespoon lemon zest
¼ cup lemon juice
¼ cup white wine
¼ cup olive oil
1 teaspoon dried Italian herb blend
½ teaspoon salt
¼ teaspoon black pepper
1. Soak the cedar planks in a good amount of water for several hours or up to 24 hours.
2. Rinse the scallops and pat them dry. Place them into a shallow baking dish and set them aside.
3. In a small mixing bowl, whisk together the remaining ingredients and pour over the scallops. Allow this to marinate for 10 minutes.
4. Remove the planks from the water and wipe off any excess.
5. Heat the grill to 400 degrees. Place the cedar planks on the grill and allow them to heat up—the planks are ready just when they begin to smoke.
6. Place the scallops onto the cedar planks, leaving a couple of inches between them. Close the lid of the grill and cook for 5 minutes.
7. Gently flip the scallops and close the lid to continue cooking for an additional 3 to 5 minutes, depending on the size and thickness. You do not want to over-cook them, or they will become rubbery, but you do want them to be cooked through the middle.
8. Using an oven mitt, carefully remove the cedar planks with the scallops on them and place everything on a baking sheet to make it easier to handle. Serve immediately.
---

Fresh Pasta Primavera
This is a wonderful and easy dish to make for a crowd. You can use any type of pasta and change up the types of vegetables. Using a little of the starchy water the pasta was cooking in to make a sauce is a great chef's trick. You can also add cooked chicken or shrimp to this pasta dish, making it a one-pot meal.
Servings: 6
1½ teaspoon salt, divided
1 pound fresh pasta
4 tablespoons olive oil
2 cloves minced garlic
1 cup sliced baby zucchini
1 bunch fresh asparagus, trimmed and cut in fourths
1 cup fresh or frozen peas
¼ teaspoon fresh ground black pepper
1 cup fresh grated Parmesan cheese
1½ cups reserved cooking liquid from the cooked pasta
1. Bring a large pot of water to a boil and add 1 teaspoon of the salt. Cook pasta according to the package directions.
2. In a large skillet, heat the olive oil and add the garlic for 4-5 seconds.
3. Stir in the zucchini, asparagus, remaining salt and pepper. Sauté 1 minute.
4. Add the peas and continue cooking for another 2 minutes.
5. Drain the pasta, but reserve 1½ cups of the pasta water.
6. Toss the pasta into the vegetables and add the reserved pasta water.
7. Sprinkle in the cheese and toss until everything is evenly coated. Transfer the pasta to a large serving dish and top with more grated cheese. Serve immediately.