Next time you're watching a film, just imagine how bland it'd be without accompanying soundscapes. No snow crunching under boots, creek behind the opening of a door, or shatter when a glass falls to the floor. 
Baton Rouge native and sound designer Mike James Gallagher wants to change the way the world thinks about those sounds and how they're created. To him, sound design is a misunderstood art form, with many of us thinking it's only relevant in dramatic lightsaber battles or explosive war scenes.  
Gallagher, who was named to Variety's "10 Artisans to Watch in 2022" list, created sounds for Onyx the Fortuitous and the Talisman of Souls, which premiered at the 2023 Sundance Film Festival. He was also recently behind the sound of the late 2022 biopic, Weird: The Al Yankovic Story, where he met director Eric Capelle. From there, Capelle asked him to join the sound design team for the comedy series, Die Hart 2: Die Harter, which is slated to premier on Roku in the foreseeable future. 
"(Onyx the Fortuitous and the Talisman of Souls) was definitely my most ambitious project ever," Gallagher told 225 in January. "We all went out to Utah for the premiere, I'm still recovering from that." 
He earned his first Emmy nomination last year—10 years after landing one of his first gigs in Los Angeles, editing pre-recorded Emmy acceptance speeches—for his work on the documentary Lucy And Desi. 
Gallagher first got interested in and involved in the sound scene in Baton Rouge. 
His earliest memories are of his dad playing music from KLSU. Gallagher says his dad would often call the radio station and ask what song they had just played so he could go to the record store and buy it.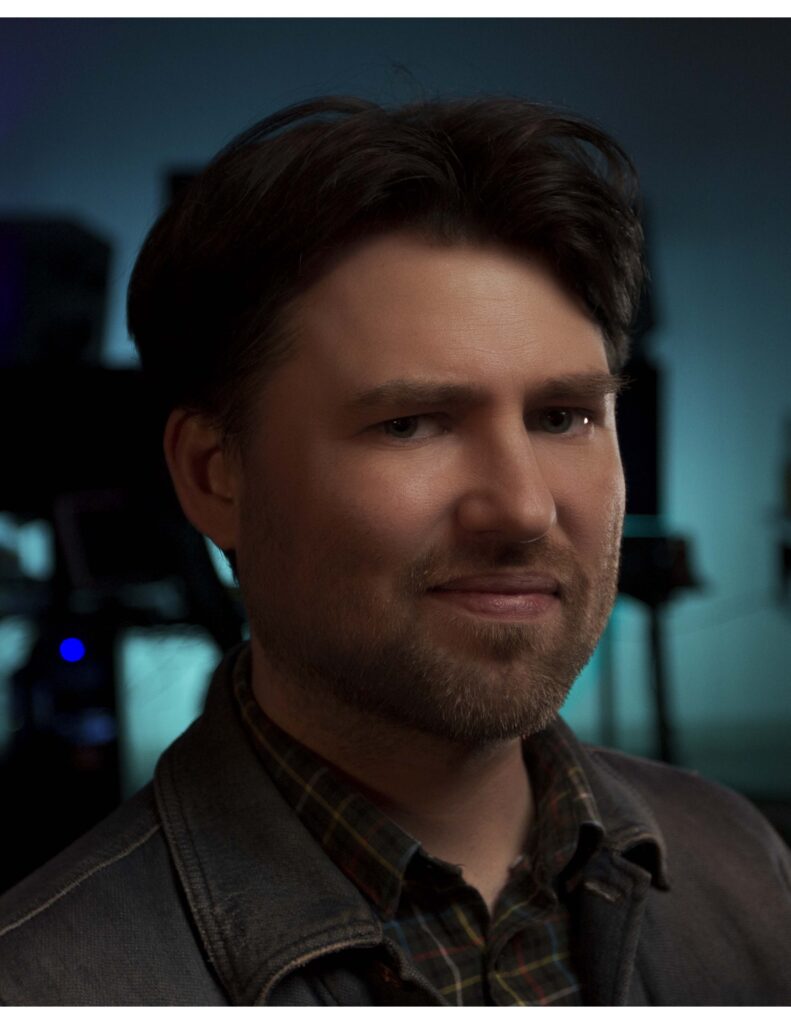 "I can draw a direct line from hearing that crazy stuff to hearing Star Wars for the first time," Gallagher says. 
In his 20s, Gallagher founded and played keytar for local 80's cover band, Werewolf. During that time he produced and directed a video for Werewolf in a battle with fellow local band Meriwether. It was that project that he says sparked his passion for sound and film. Around that time he also started working with Sockit Studio, mixing and recording sound for clients. 
In 2008, he performed in one last Werewolf show at the Varsity Theatre before meeting fellow band member and lead singer John Brown in Los Angeles, where he sought out more post-production jobs.
Ten years of work later, in 2018, Gallagher added another title to his resume: educator. 
"When I was in high school, DVDs were still really popular, and they'd have these really intricate behind-the-scenes videos," Gallagher says. "That stuff blew my mind, the sound stuff specifically. I could watch those for hours."
With the downfall of DVD's came the downfall of those specialty features. Gallagher's disappointment led him to sort through all the DVD's he could get his hands on to rip the behind-the-scenes sound features off to remodel them. His YouTube channel, INDEPTH Sound Design, features these updated videos, which Gallagher uses as a way to spread education on the intricate work of sound design.
In a popular episode, viewers can listen to Gallagher and renowned sound designer Richard King discuss his complicated work on Inception. The two break down King's technical process of creating the sound of the film. He also unpacks popular series like Jurassic Park, Lord of the Rings, and, of course, Star Wars. 
"It's gotten me a lot of attention in a different way," Gallagher says. "It's really cool that I can do the educational part of it while working on these mainstream projects. It's a labor of love."