Sponsored by CareSouth Medical and Dental
Your mouth matters. Most people will admit that they don't take care of their teeth as well as they should. There are plenty of excuses why, but ultimately, your overall health is closely tied to your teeth.
Your mouth is a primary entryway to the body, and poor oral health can have negative consequences for the entire body. Toothaches, gums that bleed, and stinky breath are all indicators of poor oral health. Bacteria from the mouth can easily get into the bloodstream and cause infection and inflammation wherever it spreads.
A private, nonprofit Federally Qualified Health Center, CareSouth Medical and Dental provides comprehensive medical, dental and behavioral health services at its main location in Baton Rouge and in satellite clinics in Donaldsonville and Plaquemine.
---
Here, CareSouth shares a few ways the health of your mouth, teeth and gums can affect your general health.
1. Appearance
Our vision of ourselves, how we are seen by others, and even our employment are influenced by our oral appearance. It's okay if your teeth have seen better days—the dentists at CareSouth don't judge … they understand. Their concern is giving you back your smile.
2. Confidence
A clean and healthy mouth helps boost self esteem. When you're more inclined to smile, you relax and connect more easily with others, promoting overall happiness and well-being. When it goes beyond confidence in your smile, CareSouth patients can also access comprehensive mental health services at the same clinic.
3. Health
Your teeth are closely connected to your nervous system. If you've ever experienced tooth pain like an abscess, you know—you can feel it throbbing in your skull. But there are other physical symptoms that can result from tooth pain. A bad tooth can create stomach issues, nerve tension and even impair your vision. At CareSouth, you can address health issues from head to toe with a full range of affordable healthcare services for the whole family.
---
THE BASICS
Simple steps to improve your health through daily oral hygiene:
•  Brush your teeth at least twice a day for two minutes each time. Use a soft-bristled brush and fluoride toothpaste.
•  Floss daily.
•  Use mouthwash to remove food particles left after brushing and flossing.
•  Eat a healthy diet and limit sugary food and drinks.
•  Replace your toothbrush every three to four months, or sooner if bristles are splayed or worn.
•  Avoid tobacco use.
•  Schedule regular dental checkups and cleanings.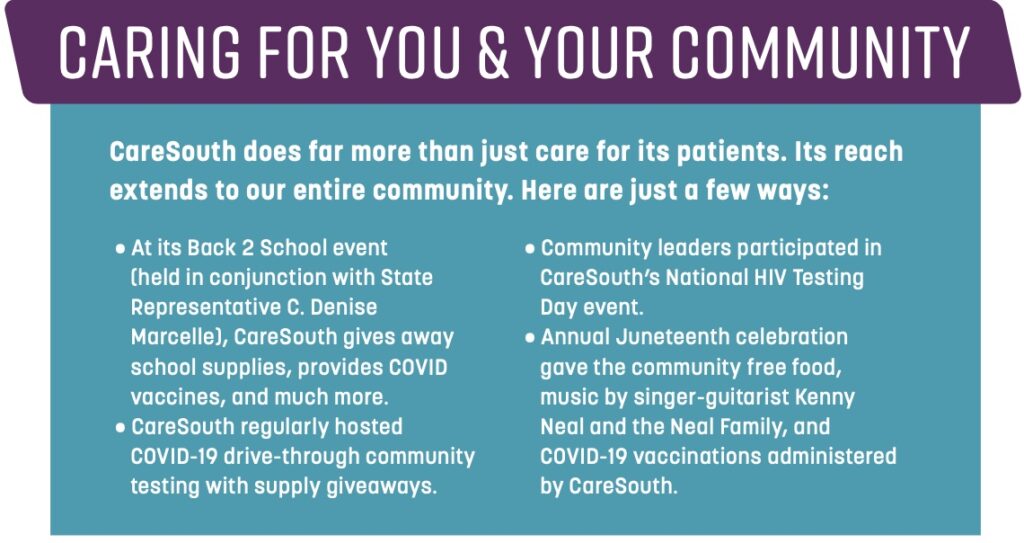 ---
CareSouth Dentistry offers general dental services for the whole family to keep teeth and gums looking and feeling healthy. Having dental services within the walls of its clinics means patients receive continuity of care all under one roof.
Visit CareSouth.org to learn more and schedule an appointment.