Tomorrow night, Baton Rouge's Mid City neighborhood will be bustling with culture and creativity as thousands gather to celebrate local artists and musicians at the 20th annual White Light Night festival and art hop.
This free festival, presented by the Mid City Merchants, features dozens of boutiques, restaurants and establishments opening their doors to the public after hours, celebrating local talents and giving them a chance to showcase their work through live music performances, pop-ups and demonstrations.
Here are just some of the highlights to check out 6-10 p.m. Friday, Nov. 17:
The Market at Circa 1857 will feature more than 20 artists and craftsmen in the complex of shops, which includes Sweet Leather and other vendors. The evening will include live music from Jonathon "Boogie" Long and free food. Check out more on the event here. The Market at Circa 1857 is at 1857 Government St.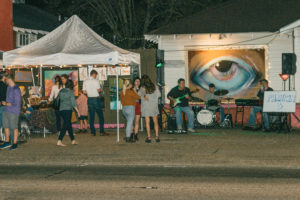 Slash Creative will host Gov't Taco executive chef Aimee Tortorich and her team, as well as Earthly Art by Roya, Folklore Supply Co., Secret Layer Taqueria, Big Easy Cook Co. and a host of other local creatives. Gov't Taco will soon be setting up shop in the upcoming food hall White Star Market across the street. Find out more about the event here. Slash Creative is at 4556 Government St.
French Truck Coffee, joining in on the fun, will be showcasing artists and musicians, selling food and, of course, coffee. Artists include Sam Prather, Raven Jones, Christina Babin, David Goldsmith, Courtney Tate, Emie Hale and Katie Smith. Hydra Plane, Zak Ocmand and Emily McCollister + Hal Lambert will be performing. Find out more here. French Truck Coffee is at 2978 Government St.
Culinary Productions will be hosting live music, art demonstrations and contemporary Creole cuisine. The catering company will feature live painting by Olivia Toney, metalsmith work by Fugu Custom and a musical performance from six-piece band The Semi-Tones. Find out more information here. Culinary Productions is at 3004 North Blvd.
Studio C will be serving up food from Rösch Bakehaus (smoked boudin-stuffed German pretzel buns, anyone?) and the BouillaBabes (offering two types of chili—one of which is vegetarian) and featuring works from artists Leslie Charleville, Sarah Modica and more. Find out more about it here. Studio C is at 3786 Government St.
Mid City Makers Market is hosting a special White Light Night edition, so get your holiday shopping started early and buy from some of your favorite local makers. Find out more here. Mid City Makers Market is held at 541 S. Eugene St.
The Pink Elephant Antiques and The Collective are joining forces for a celebration in their shared parking lot and respective businesses. The Collective serves up food from its Surreal Cafe (including cotton candy and cosmopolitans), while Pink Elephant hosts live music by St. Francisville band Bonfire. Resident jewelry designers Clinda Griffon and Deborah Soroka will be joined by visiting multimedia artist Welcome Youngs. Find out more here. Pink Elephant is at 2648 Government St.
Mid City Ballroom, the newest music venue in town, might be the best place for an after-party after White Light Night. The band Mighty Brother will host an EP release party and performance along with local darlings Ship of Fools and Nice Dog. It all starts at 8 p.m. Find out more here. Mid City Ballroom is at 136 S. Acadian Thruway.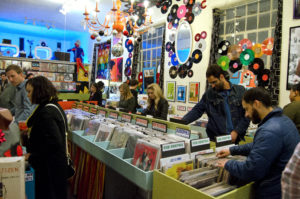 Atomic Pop Shop will have music, Paris Williams on site showcasing his art and, of course, plenty of records for sale. Find out more here. Atomic Pop Shop is at 2963 Government St.
The Radio Bar is another great place for an after-party, but the bar will also be showcasing art from local artists Paul Neff and Charles Barbier all night. Find out more here. Radio Bar is at 3079 Government St.
Time Warp Boutique, in the same shopping center as Radio Bar, will featureLondon Van Oss Botanics, live music and much more. Find out all about it here. Time Warp is at 3001 Government St.
Red Stick Spice Co. will host live music by Hogy And The Healers as well as many local artist, including Carolyn W Rodrigue's Encaustic Art, Fleur de ME Designs, OWL Soap Company, Meadowlark Artistry and Sticks of Fury Knitting. Outside, Cochon Cannery will be popped up in front of the store selling bacon jam grilled cheese sandwiches. You heard that right! Find out more about it here. Red Stick Spice Co. is at 660 Jefferson Highway.
Elizabethan Gallery is hosting its fall show, featuring works by more than 25 artists and music by Kenny Acosta. Find out more here. Elizabethan Gallery is at 680 Jefferson Highway.
Curbside Burgers and Calandro's are partnering for a huge block party with 20-plus art vendors, music from The Josh Garrett Band, food, wine samplings, cocktails and a visit from Santa. Find out more about it here. Curbside is at 4158 Government St.
Festival proceeds for White Light Night will assist in purchasing public art for Mid City. All purchases of original art are subject to zero city sales tax if purchased in the Mid City cultural district. For a full list of White Night Light participants, head to their Facebook page.
A free shuttle service is available to festival-goers, taking you up and down the festival between Jefferson Highway at Goodwood Boulevard and the intersection of Government and 14th streets. Uber discounts will also be offered throughout the festival.
The 20th annual White Light Night Festival will take over the Mid City Art & Design Cultural District tomorrow night, Nov. 17, 6-10 p.m.
Know of another great event happening in Mid City for White Light Night? Let us know about it in the comments!