What do you get when you combine a bike ride, food drive and scavenger hunt? Cranksgiving.
Sound interesting? Head to BREC's City-Brooks Community Park this Sunday to participate in Bike Baton Rouge's event. Participants will be handed a map with five grocery stores and a shopping list with five grocery items. Bikers must pedal to each store, purchase each item and then return with their haul. The groceries will be donated to the Greater Baton Rouge Food Bank.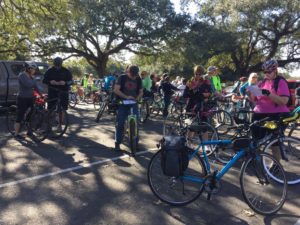 Riders will choose their own route. However, most riders will be able to complete their list while traveling about 10 miles. The fastest riders should be finished in about 45 minutes, with the more leisurely bikers returning in about an hour and a half.
This year's ride will mark Cranksgiving's third year in the Red Stick. The Baton Rouge ride is hosted by Bike Baton Rouge, but Cranksgiving is a nationwide phenomenon. Founded in 1999, there are now more than 80 Cranksgiving rides per year.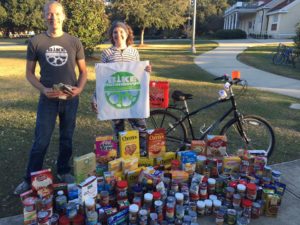 For those who want to ride with junior bicyclists, there will be a family-friendly option, which should be wrapped up in about five miles. Participants will also have the opportunity to team up with Bike Baton Rouge members, who are familiar with bicycling around town.
Participants will need a bike, a helmet, around $20 and a bag or backpack for transporting the groceries.
Cranksgiving will be held at BREC's City-Brooks Community Park this Sunday, Nov. 12. Registration will be open noon-12:45 p.m. The ride will begin at 1 p.m. After the ride, stick around for food, drinks and festivities.
City-Brooks Community Park is at 1515 Dalrymple Drive.