---
After nearly four months of planning, creator and local stylist Carol Meche will hold her first workshop, Brush + Bloom, on Saturday, June 17, at her farmhouse in Central.
When thinking about the idea of starting The Flourish Workshop Series, Meche wanted to create a fun and welcoming space for people to meet others, develop new skills and be introduced to local artists and creators.
At the four-hour event, fourteen guests will join Meche in conversation, food, drinks and lessons on calligraphy and floral design.
Local photographer and creative, TahJah Harmony will teach modern calligraphy. During her lesson, guests will learn everything from how to properly hold their brushes to basic strokes and shapes of letterforms.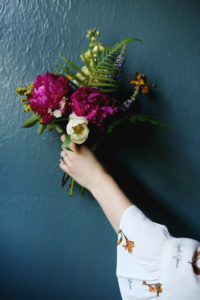 Also, local florist and creator of Merry Floral Mary Johnston will teach floral design. During her lesson, guests will learn how to prepare flowers, how to develop an eye for details and how to use complementary color schemes in floral designs.
"I hope that the people that come just feel so relaxed and refreshed," Meche says. "To me, it's really all about them. I just want them to have a good time and learn something and to feel like they belong and were a part of something."
During the planning process of The Flourish Workshop Series, Meche learned she and her husband will be moving to Michigan.
While this is the first and last event of her workshop series in Louisiana, Meche hopes to encourage other creatives to continue workshops and events that foster community like she hopes to with Brush + Bloom.
The event is 3:30-7:30 p.m. Saturday. Learn more about the Brush + Bloom workshop here and follow Meche on Instagram for updates.