While most people at football games this fall will be sweating or squinting in the light, there will be another kind of glistening happening in the stands: glitzy game-day T-shirts, courtesy of a local women's boutique. 
MAREM Boutique's limited collection of one-of-a-kind, tinsel-trimmed tiger tees give new life to well-loved, vintage and secondhand shirts. Made in collaboration with South Carolina brand carolineliz, each unique shirt is enhanced with shiny strips of fringe along the side. The tops include adjustable sides, making them one-size-fits-most pieces.
The boutique first debuted the collection of LSU-themed shirts this summer and released a second collection this fall. For the newest drop, Emily Rodrigue and Marlo Rodrigue of MAREM Boutique worked with local thrift shop Remember That's Vintage to source more secondhand LSU shirts for carolineliz to embellish.
Emily and Marlo made sure to plan ahead to make this football season one to remember. Despite their matching last names, the duo are best friends, not sisters. They opened their store on Burbank Drive last year after two years of managing an online-only boutique. 
They have since grown quite the following of LSU students and locals looking to get outfits and accessories for any occasion. And, in Baton Rouge during fall, football might just be the biggest occasion to dress up for. Knowing this, they reached out to Caroline Baxley, owner of carolineliz, a brand specializing in upcycled fashion with fringe, satin, ruffled tulle and more. Emily and Marlo became obsessed with Baxley's Tinsel Tops and inquired about collaborating for an exclusive LSU drop for MAREM.
"When Emily first showed me the shirts, I loved the idea of them being one-of-a-kind," Marlo remembers. "Quite often, I've seen girls wearing the same outfits on game day. Knowing how huge game-day fashion is here in Baton Rouge, I just knew our customers would love them. You are guaranteed to be the only one wearing the top."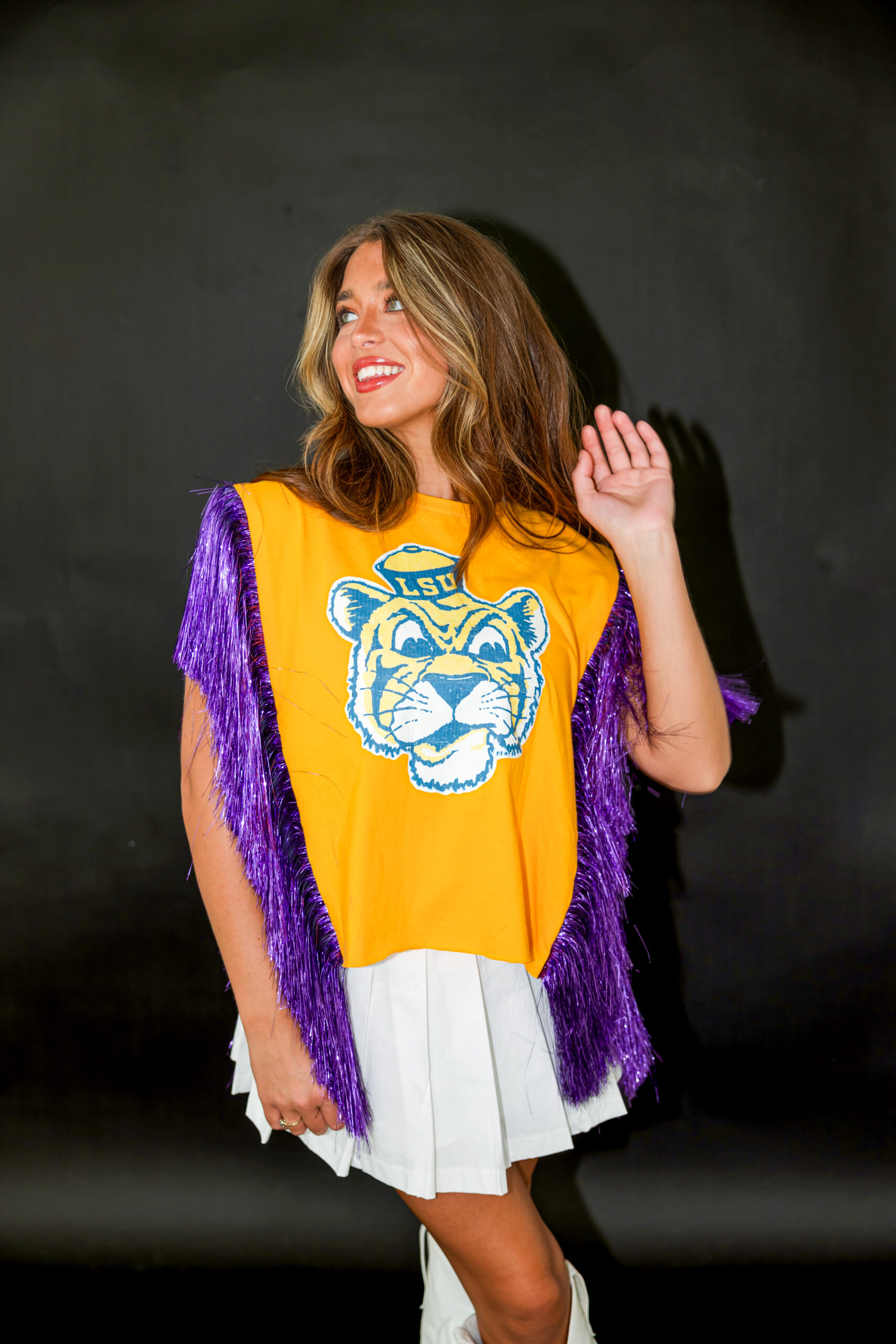 Baxley was only able to find a few LSU shirts in thrift shops near her, so Emily went to work hunting for used T-shirts for the collection. 
After combing through racks, she finally had a nice collection of secondhand shirts that Baxley could transform. 
From there, the three stayed in touch to discuss everything about the look and feel of the new line. 
"It was a very fun process to design every aspect of these tees," Emily says. "I eventually want to design my own line of clothes, and being able to get a little taste of that was amazing."
Baxley also says this collaboration has helped boost her business. 
"I'm very excited to see all the tinsel top styling from MAREM customers for football season and beyond," she says.
Emily, Marlo and Baxley hope that those who sport the custom fashion can be easily spotted in fan-filled stadiums and stand out at crowded tailgates. And based on how quickly the shimmering shirts have been selling, they are quickly becoming a local customer favorite. 
Because in Louisiana, more is always more. shopmarem.com

More glimmering game-day garb
Besides MAREM, here are a few other local boutiques and retailers filling their inventory with plenty of glitter, tinsel and shimmer.
3064 Perkins Road
5720 Corporate Blvd. 
7474 Corporate Blvd., #305 
10000 Perkins Rowe
Sold at multiple local boutiques and online at sparklecity.com
7474 Corporate Blvd., Suite C
4221 Perkins Road 
4631 Perkins Road 
4350 Highland Road
Sold at multiple local boutiques and online at queenofsparkles.com
---
This article was originally published in the October 2023 issue of 225 magazine.