LSU's new Creative Writing's Delta Mouth Reading Series invites acclaimed authors to campus to discuss their work. The second event of the series will host two authors with deep ties to Louisiana: Mona Lisa Saloy, Ph.D., who is the current Poet Laureate of Louisiana; and Olivia Clare Friedman, a poet, novelist and author of Here Lies. The writers will read and discuss their current work on Feb. 10, 6 p.m., in the Grand Salon of the French House.
The event serves as an extension to the annual, student-run Delta Mouth Literary Festival coming up in late April. Zachary Godshall, an associate professor in the Department of English, is the faculty advisor for the series this year. The first event hosted LSU alumna E.M. Tran to discuss her debut novel Daughters of the New Year on Oct. 21 of last year. 
"Part of the goal is to foster, nurture and cultivate a community of writers and people who love literature," Godshall says. "One of the ways to do that is to bring writers to that community and have them discuss their work."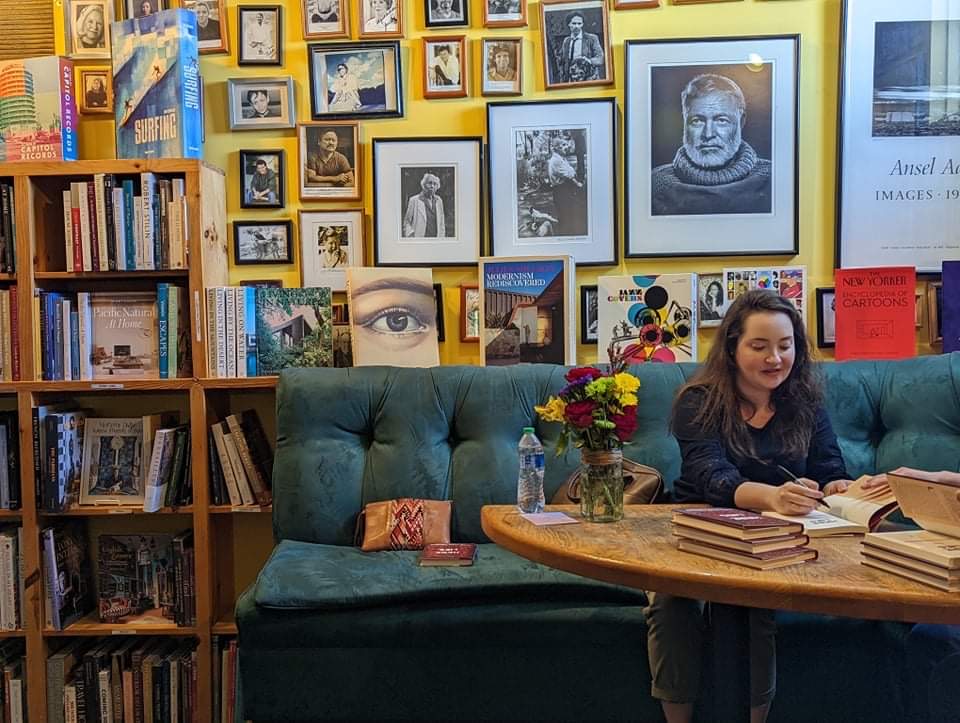 Here Lies, released last year, is set in a future Louisiana upended by climate change. Born in New York, Friedman's family moved to Louisiana before she turned 1 years old. She spent her early high school years in extracurricular activities at Theatre Baton Rouge and the Louisiana Youth Orchestra. She practiced ballet, played piano and the clarinet for her high school band. She moved to Los Angeles during her junior and senior years to act on the TV series Any Day Now. She now works as a creative writing professor at the University at Southern Mississippi.
225 sat down with Friedman to discuss her career, book and upcoming visit to Baton Rouge.
Tell us a little about yourself and growing up in Louisiana?
I grew up in Baton Rouge and went to Runnels School from kindergarten to 12th grade. I loved growing up there, and one of the reasons I was happy to take my current role as a creative writing professor at the University at Southern Mississippi was because it put me back near the area. Baton Rouge was really integral to my becoming a writer. I did so many things growing up in the arts. I just felt really supported through my parents and in all the organizations I was involved in. It made a huge impact on who I am now. 
What will you read and discuss at the Feb. 10 LSU Creative Writing's Delta Mouth Reading Series? 
I'm going to read from my novel Here Lies. The novel takes place in this alternate future in Louisiana. It's a dystopian novel set in 2042. The premise centers on its main character, Alma, who just lost her mother, and the federal government banned burials due to the effects of climate change. The book is really about finding what's on the other side of grief and finding other forms of family in your friends. In the end it's a novel of hope.
For me, Louisiana has been and continues to be such an important place to write about. It's always captured me in its flora. The green of Louisiana is so enchanting, I will continue to write about it. It's not only about it being my home; it's the landscape and people and small towns.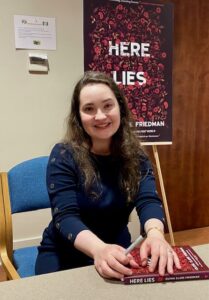 What inspired your idea behind Here Lies? What was the process of creating and writing, and how long did it take you?
We had five generations of women living in our family at the same time; which inspired some of the friendships in the novel. My great-grandmother and great-great-grandmother lived in Vick, so I spent a lot of time there growing up. I modeled the fictional town off of towns like Vick, Effie and Marksville. 
The novel went through several drafts, and they looked very different from what became the book. It took me a long time to find out who my main character was, but as I found Alma's voice, I found my way into the novel. I also started writing in the first few months of the pandemic. It inspired the premise of the novel because during that time, a lot of us did not have funerals and public gatherings to mourn. 
Did you expect your debut novel to be such a hit? 
I really tried to focus on writing the best novel I could. There are so many things completely out of your control, I felt really fortunate that it was happening and it was getting published. My main goal was to write something that I was proud of—that is something I can control. 
What do you think are the most important elements of good writing? What aspects do you tend to focus on while curating and writing stories?
I tell my students to observe the world and be attentive so that you can write it. Even if it's a bird on a tree outside your window, just taking the time to look at what that really is and seeing if you can write it down in your own unique way. … It's about looking at the world around me and trying to record it. 
How did you get into acting? And then, what made you decide to pivot to writing full-time? 
I did a lot in Theatre Baton Rouge. I was Anne Frank in the Diary of Anne Frank, and in all sorts of different plays. I took a lot of acting classes with them and taught some as well. Any Day Now casted its pilot in New Orleans, so I was local casting. I auditioned and got the part, and the show was picked up. So I went to live in LA for five years. The show was on Lifetime for four years. I played the daughter of Annie Pops. it was just a wonderful experience. I stayed in LA and went to UC Berkeley for my undergraduate degree. It was there that I really discovered writing was something I really wanted to pursue.
Can you give us a sneak peak at your next piece or novel?
I've been working on something. It involves female friendships and will take place in Louisiana and Mississippi. These new female characters like to misbehave, I've been having fun with that.
This interview has been edited for clarity and brevity.