---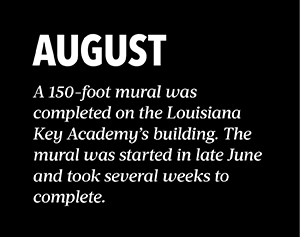 Driving down Government Street, a new mural may catch your eye. Lining the exterior of the Louisiana Key Academy Mural is a 150-foot painting showcasing a row of books alongside reading children. The young children fly and float whimsically along the school's beige-covered wall. The five of them symbolize the fact that one in five children suffer from dyslexia.
The charter academy's mission is to educate children with dyslexia, and the new mural celebrates the education and diversity of its students.
The mural is part of the ArtLIFT project, spearheaded by Mid City Redevelopment Alliance and Mid City Merchants to help raise funds for and to support public art. The project also co-sponsored a mural that went up this summer at Millennial Park. The Louisiana Key Academy building provided the biggest mural canvas in Mid City, according to Marlee Pittman, Mid City Redevelopment Alliance's director of community relations and a Mid City Merchants board member.