---
Unique takes to try around Baton Rouge
---
Arancini made a cameo appearance recently in season two of HBO's The White Lotus, and the Sicilian street food occupies a special place in the hearts of Baton Rouge diners.
Many first experienced it at Gino's Restaurant. Late founder and Sicily native Mama "Grace" Marino introduced the fried rice balls when the eatery first opened in 1966. Served as an appetizer, it's formed from cooked arborio rice, ground beef, peas and spices, then rolled in breadcrumbs and deep fried. Patrons loved the dish, but almost always requested it accompanied by a douse of the restaurant's homemade red sauce, recalls Grace's son Gino Marino, who runs the establishment today.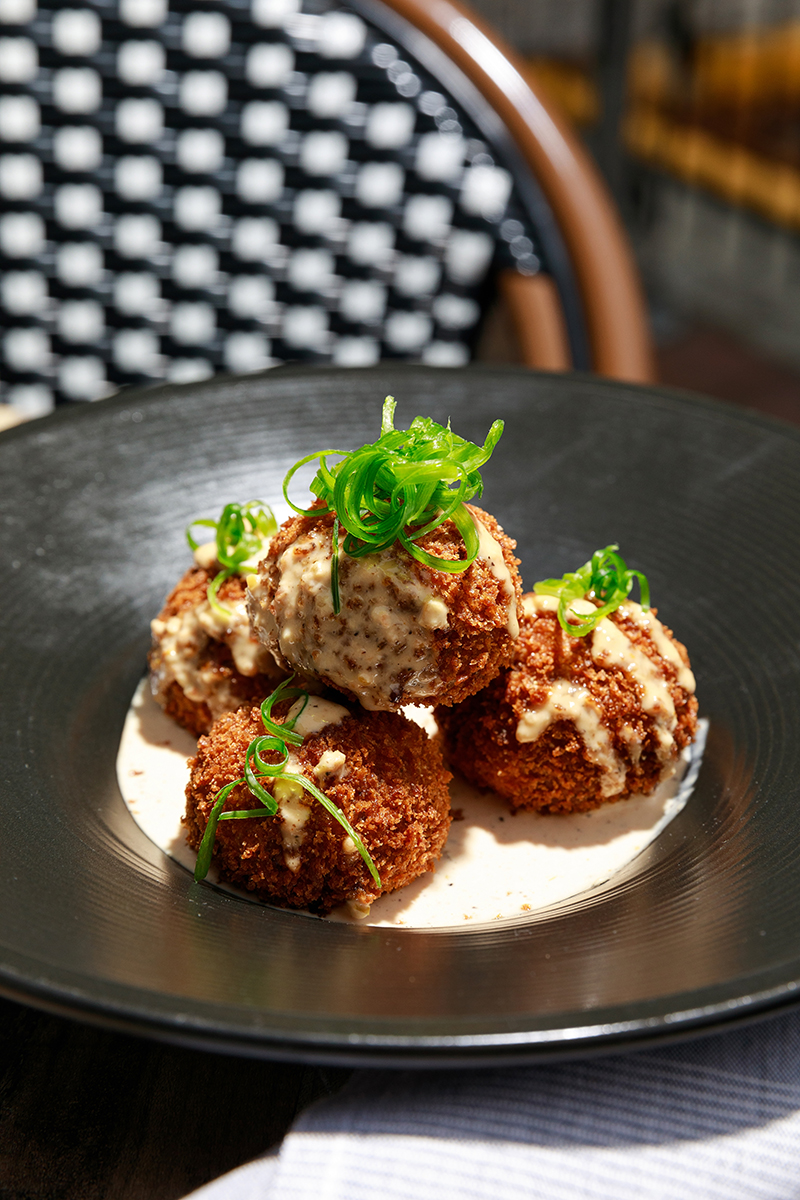 "Nine out of every 10 plates we'd send out would come back to the kitchen asking for red gravy," he says. "So we just started serving it that way."
Grace Marino also introduced a seasonal version of arancini with crawfish tails perched in a pool of "pink" sauce, or marinara with the addition of cream, Marino says.
Along with Gino's still wildly popular arancini, different versions appear across Capital City menus. Beausoleil Coastal Cuisine's crawfish arancini, for example, is prepared with bits of fresh asparagus sautéed with onions and blended with arborio rice cooked with house lobster stock. Crawfish tails are folded in, along with Cajun and crawfish boil seasonings. Each arancini is rolled into a 2-ounce ball, battered with panko breadcrumbs and deep fried, says sous chef Cameron Gautreau, who created the dish. It's served with grilled green onion remoulade.
"We feel like people find a connection between arancini and boudin balls," Gautreau says. "Our goal is to take something familiar and elevate it."
Check out these expressions of arancini, which means "little orange," in Baton Rouge.

Charred corn arancini at Jubans
Blistered corn and rice are the main ingredients in this iteration, which gilds the arancini with fresh cherry tomatoes and parsley garlic persillade sauce. jubans.com
---
Seafood arancini at The Little Village
A shift from the restaurant's traditional beef arancini (served with red gravy), morsels of Gulf shrimp and crab are blended with rice and deep fried in this small plate, then served with roasted tomato cream sauce. littlevillagebr.com
---
Arancini at La Contea
This cheese-centric rendition sees fresh mozzarella, Parmesan and fontina rolled with rice, breaded, fried and accompanied by marinara. laconteabr.com
---
Mushroom and artichoke arancini at Cocha
Cocha blends arborio rice with artichoke hearts and fresh local Lion's Mane 'shrooms from Mushroom Maggie's Farm to create a rich, vegan version, served with horseradish cashew cream sauce. cochabr.com
---
This article was originally published in the January 2023 issue of 225 magazine.