---
Editor's note: This story has been corrected to reflect that Southern Craft's Gose beer is a fermented German-style wheat beer. 225 regrets the error.
---
If you're looking for a reason to enjoy some local craft beer this weekend, look no further than Southern Craft Brewing Co.
The brewery is celebrating its first year, hosting the "Southern Craft 1 Year Anniversary Party" Saturday, April 22, 1-9 p.m. Guests can enjoy Southern Craft brews (including some special ones just for the event), food and live music. Secret Lair Taqueria will be serving gourmet tacos 1-5 p.m. and Dat'z Italian – Authentic Wood Fired Pizza will be serving its variety of wood-fired pizzas 5-9 p.m.
The live music includes Michael Brandt, 2-5 p.m., and Taylor Nauta & Katie Kenney, 6-9 p.m.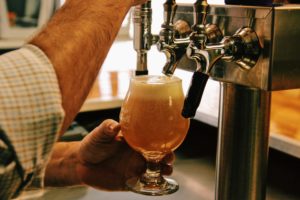 Tickets are $30 on Eventbrite or $35 at the door, which includes eight beers, food and an anniversary souvenir glass. Designated driver tickets are also available for $10 on Eventbrite or $15 at the door. These tickets include food, soft drinks and an anniversary souvenir glass. Part of the ticket proceeds go toward Heritage Ranch Christian Children's Home.
225 Dine sat down with co-founder and co-owner Joseph Picou to talk about Southern Craft's one-year journey and what's next for the brewery.
---
How does it feel to reach your one year anniversary?
It feels great. [It's] nice to see the progress that we've made. It's nice to see how much the word has gotten out. The fans that we've developed out there that really enjoy our beers. Don't get me wrong, we still have more work to do, but it's nice to see the progress that we've made to date.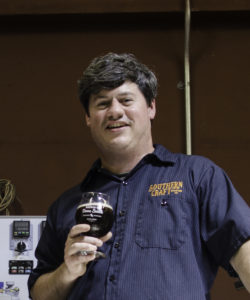 What have you learned about running a brewery?
Definitely don't put all your eggs in one basket. … Everybody out there has different tastes … so if your brewery plans are to have one beer that everybody is going to love and that's all you're going to brew forever, that's not going to work. So, make sure that you have flexibility and you have a bunch of recipes in your pocket because everybody has different tastes and you need to make sure you have a variety of beer. One of the biggest things about the [Southern Craft] tap room here that I think draws people here is some of the pilot brews that we do. Having some new [beers] on tap in here, they can come get [something] they can't get anywhere else. So, the intrigue is very important.
Pilot brews are only available at your tap room?
That's right. 
What are your most popular beers?
The most popular beer that we have right now on the market is Pompous Pelican [a double IPA with raw cane sugar] and it's kind of funny because here in the tap room and festivals, Swamp Sting [a seasonal American ale with Louisiana honey] is probably the most popular one. It's a lighter beer that people that aren't necessarily craft beer people can enjoy. But, Hyla has been our newest release, which is a single IPA [and] has come on strong recently. It's been very popular out there in the market. It's similar to an East Coast-style IPA, which are very popular right now—a lot of people are looking for beers like that.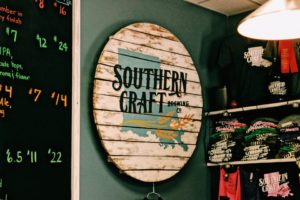 How do you pull in customers who know nothing about craft beer and teach them about it?
I think there's two things there. I think one is having a—for lack of a better word—gateway beer that's available that they can try that's close to these lighter, American lagers that they've been drinking forever … And then when they come here, we can tell them about how the beer is made. The quality that we stick to when we make the beers, the craftiness of it and the creativeness of it. [It] really is what helps educate them on craft beer and helps draw them in.
Are there any beers you're releasing for your one-year anniversary?
So, Hyla we just released. The next major release on the market will probably be a wheat beer that we're working on for the summer. It's called Wayside Wheat. It's going to be brewed with 100% local wheat that we get from right here in Louisiana. It's going to be kind of a German-style wheat beer … none of that is set in stone yet, it's all kind of experimental and in our heads at the moment. But, that's what we're working on for the summer. As far as our one-year anniversary goes, this weekend we're actually going to have several one-off brews that will be available just here for the anniversary party. We have a Gose beer [German-style fermented wheat beer] that is going to be salted with Avery Island salt. We've got a Black Kölsch [German-style lager] that we're going to have available. We're doing a blood orange Pompous Pelican, strawberry Swamp Sting and also an espresso Swamp Sting that we're going to use Cafeciteaux [Coffee Roasters] coffee beans in.
What are you looking forward to in year two?
I think in year two we're looking at continuing to get out the word here in Baton Rouge. Building a larger customer base right here in our local market, in our home market. Obviously putting out some new beers. That's always fun—the creativity part of it is coming up with new beers and putting them out there, and seeing people enjoy them. Then the other part would be continuing to grow Southern Craft, expanding our geographic presence. We're not in New Orleans right now and so, I think that's a goal for year two is to get into New Orleans. 
---
"Southern Craft 1 Year Anniversary Party" will be held at the Southern Craft Brewery, 14141 Airline Highway, Building 4, Suite J. Tickets can be purchased on Eventbrite.
Editor's Note: this Q&A has been edited for conciseness and clarity.