It's soup season, and pots are bubbling in home and restaurant kitchens. Gumbo and its many variations are everywhere, but the Capital City is also brimming with a variety of soups inspired by our diverse culture, local ingredients and evolving culinary scene. "I could eat soup every day," Maureen Joyce, chef-owner of the soup-centric MJ's Café in Mid City, says. "I absolutely love it, and I don't care what the weather is."
It takes time and artistry to create a nuanced bowl of soup—one that is noteworthy and elegant despite its seeming simplicity. Get your spoons ready for slurping. Here are a few of our favorite soups in the greater Baton Rouge area.
Photos by Collin Richie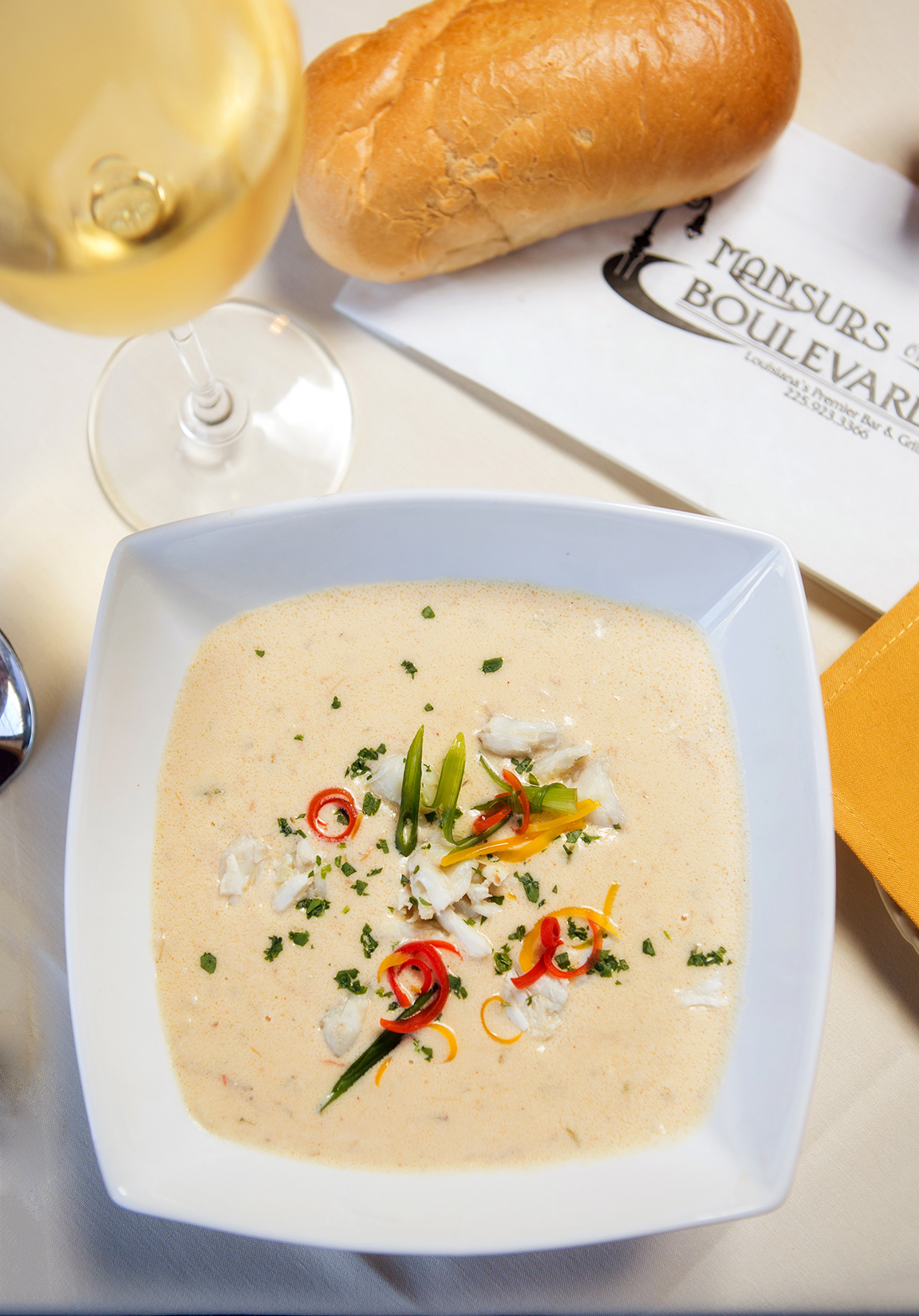 Cream of Brie and Crabmeat Soup
Mansurs on the Boulevard and French Market Bistro
mansursontheboulevard.com and frenchmarketbistro.com
In 1989, Mansurs and French Market Bistro co-owner Tim Kringlie created a soup that fused two decadent ingredients, Louisiana blue crab meat and Brie, then becoming mainstream. The soup went on to win multiple regional and national awards and has become an iconic Red Stick menu item. "We sell it by the gallon," Kringlie says. It's rich and creamy, but not overly so. A touch of vermouth keeps it honest.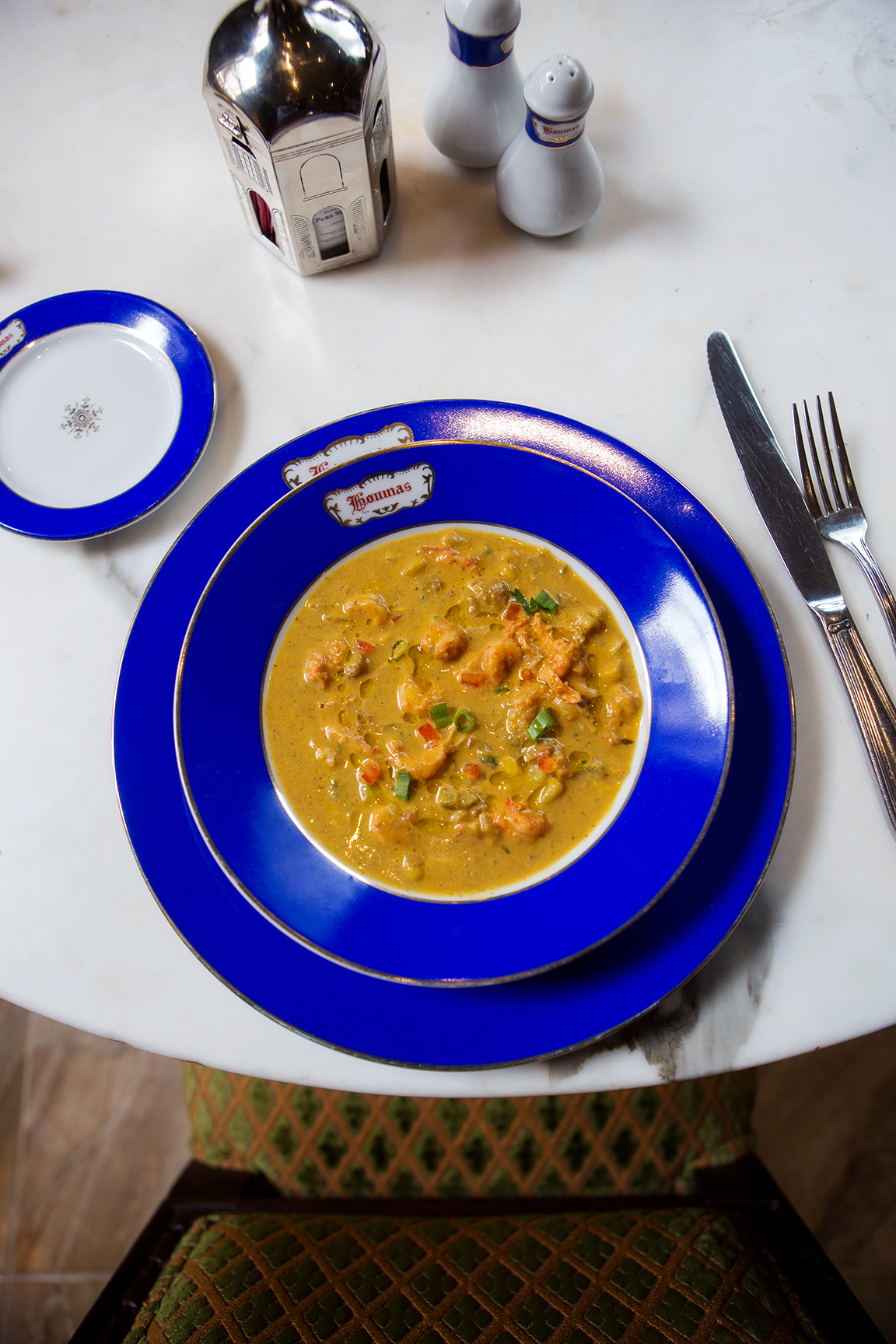 Bisque of Curried Pumpkin, Crawfish and Corn
Houmas House at Latil's Landing
houmashouse.com
When he developed the menu for Latil's Landing, Chef Jeremy Langlois' goal was to fuse regional ingredients with classic technique. His notable bisque presents two Louisiana stalwarts, crawfish and corn, paired with naturally sweet pumpkin, and warm and earthy curry powder. The base of the bisque is house-made crawfish stock and a hidden ingredient that gives it even more local flair: Steen's cane syrup.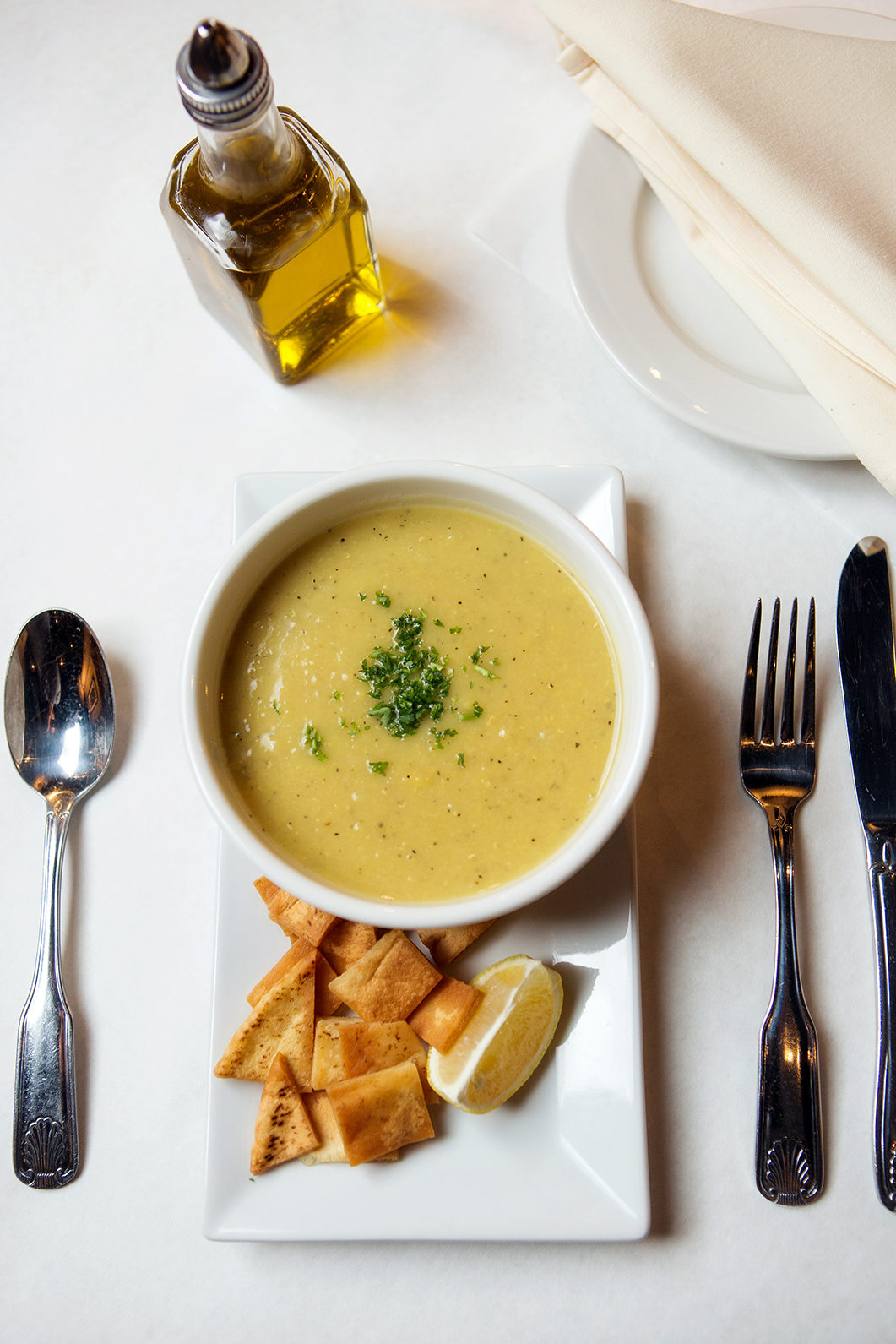 Lentil Soup
Zoroona
zoroona.net
Casual Middle Eastern restaurants are ever-present in Baton Rouge, but one of the newest, Zoroona, stands out for its refined vibe and attention to detail on the plate. Owner Bill Qasem, a veteran of the local restaurant scene, says that everything at the restaurant is homemade, including the memorable starter, lentil soup: a smooth and delicate blend of yellow lentils. Forget lowly. The beans here are elevated to a luscious level.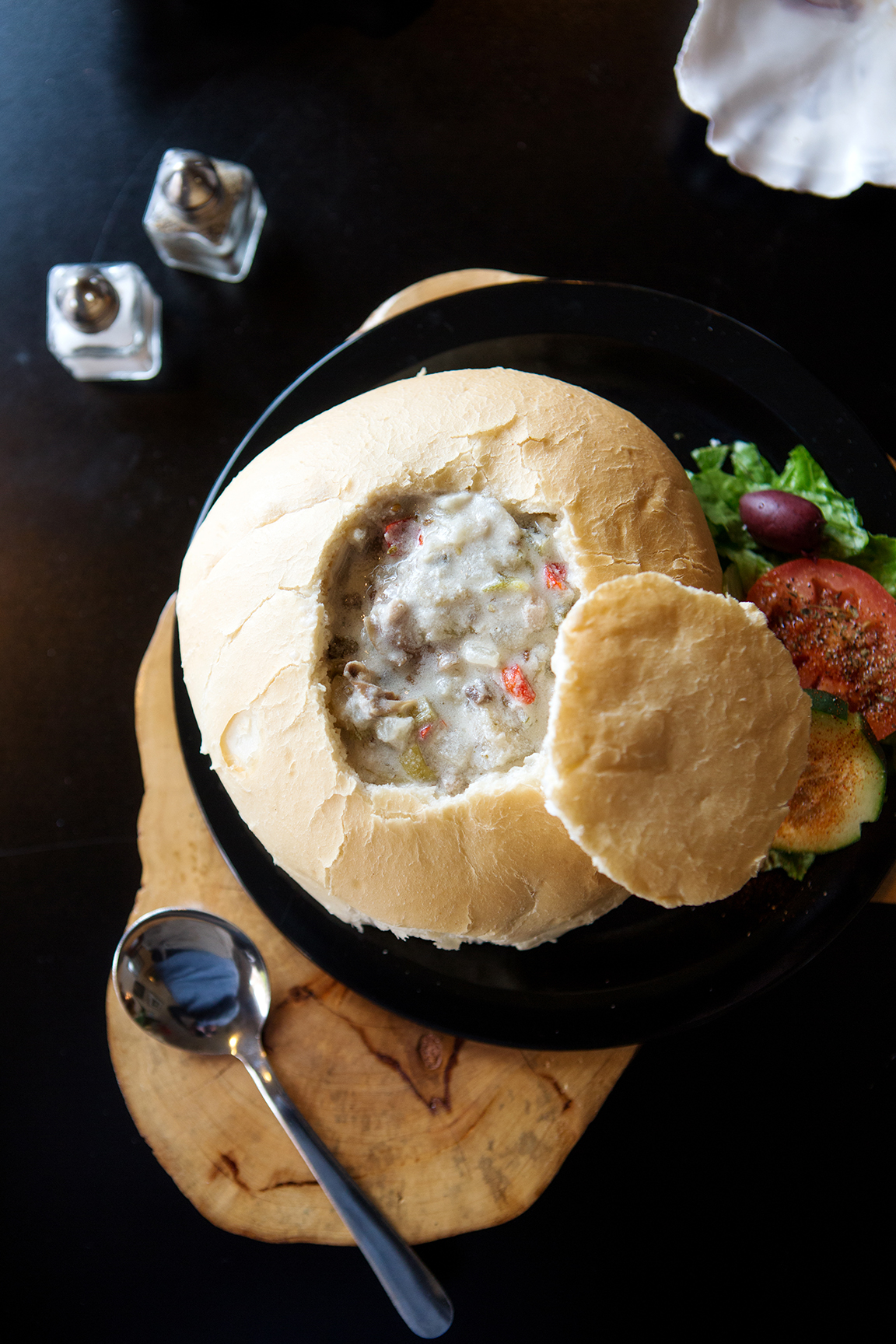 Oyster and Artichoke Soup
Beauregard Gallery and Bistro
facebook.com/BeauregardGalleryBistro
Housed on the site of a former downtown fish market, it's only natural the Beauregard Gallery and Bistro would highlight seafood in its popular soups. A top seller is the oyster and artichoke soup served in an edible sourdough bread bowl. Owner Janet Terrell says plump Gulf oysters are cut slightly to bring out more oyster flavor and then dropped into a creamy base with artichoke hearts and a dash of Herbsaint. The liqueur provides a clean counterpoint against the richness while reminding fans of that other anise-scented oyster dish, oysters Rockefeller.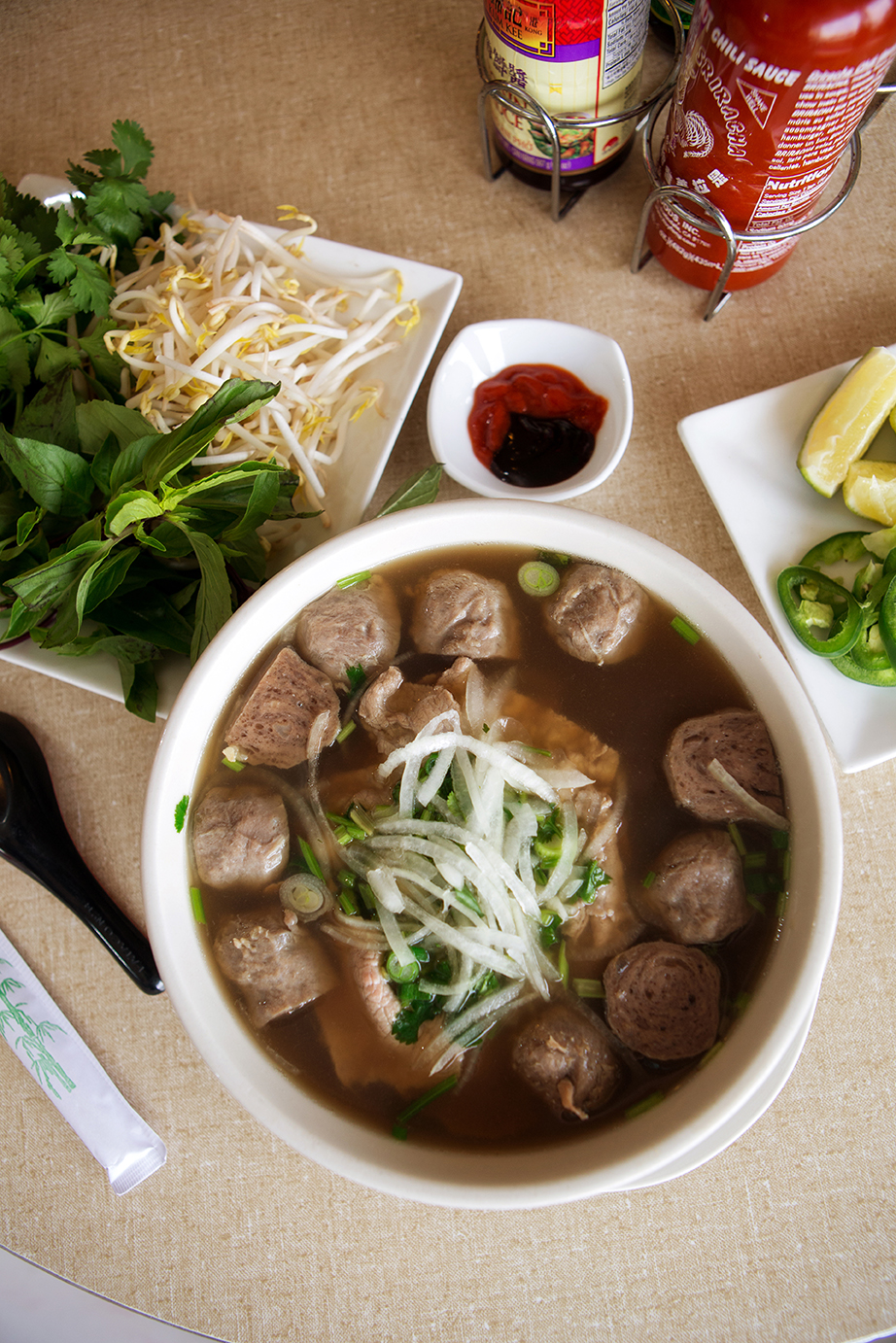 Pho
Dang's Vietnamese Restaurant
Dang's pho is made from marrow-filled beef bones cooked for more than a day, during which time the meat and bones of chicken are also thrown in to add sweetness, says Hoang Truong, part of the family that runs this authentic Vietnamese eatery. Cinnamon is also added to the stock, she says. Among pho's joys is its variability. Choose one or all of several different proteins, including beef tendons, eye of the round, brisket, chicken or tofu and veggies to accompany rice noodles. The requisite toppings of basil, cilantro, onions, sliced jalapeño and bean sprouts are a fresh, crunchy foil against the savory base.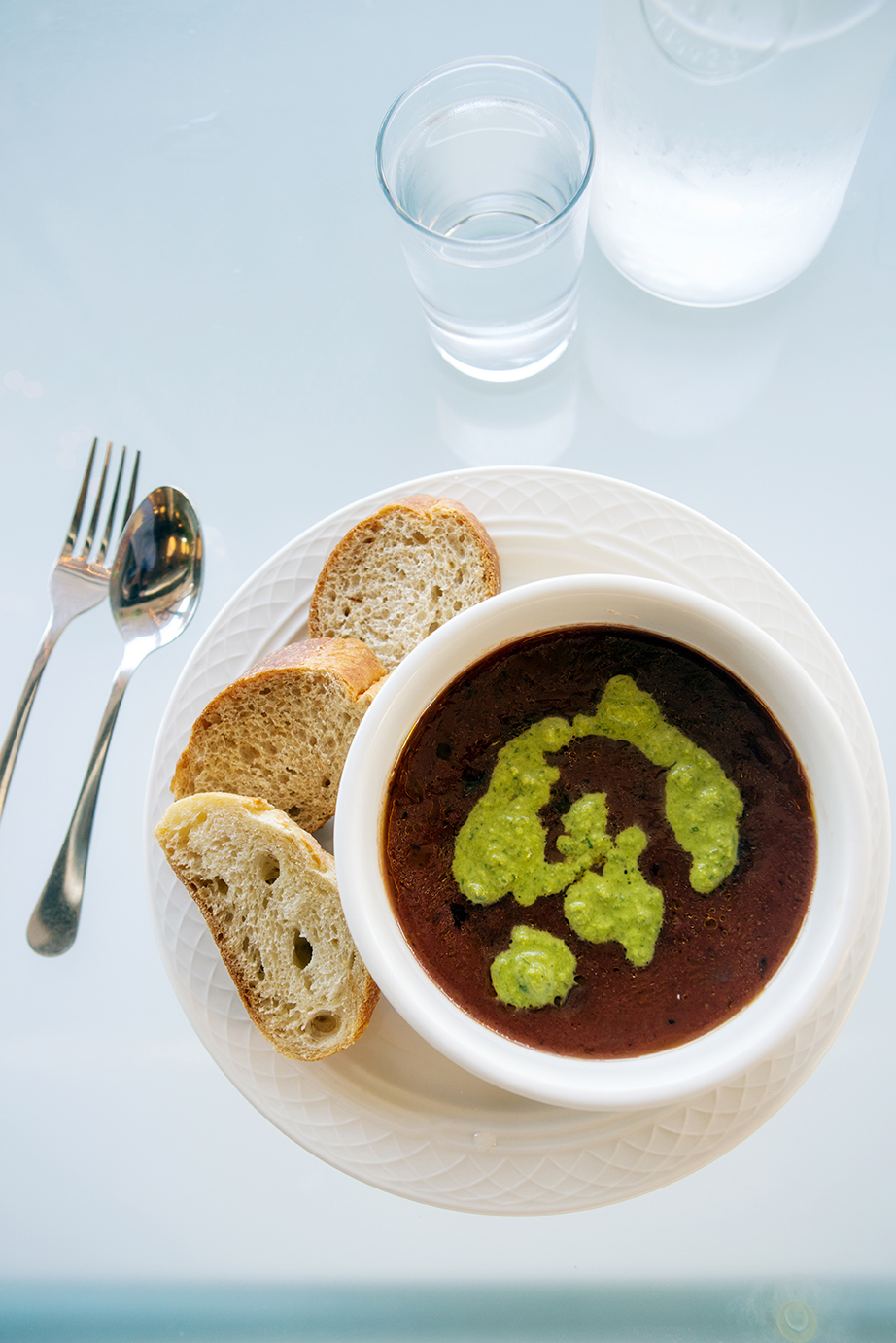 Black Bean Soup
MJ's Café
mjs-cafe.com
Soup is a mainstay on the menu of the vegetarian-vegan MJ's, and each type springs from a master vegetable stock Maureen Joyce makes regularly. She roasts and then simmers veggies, extracting big flavor while using minimal salt. The reliable black bean soup is a favorite among regulars. Joyce tops it with different ingredients depending on the season. Winter sees homemade spinach pesto, while summer brings chopped egg, cilantro and fresh banana.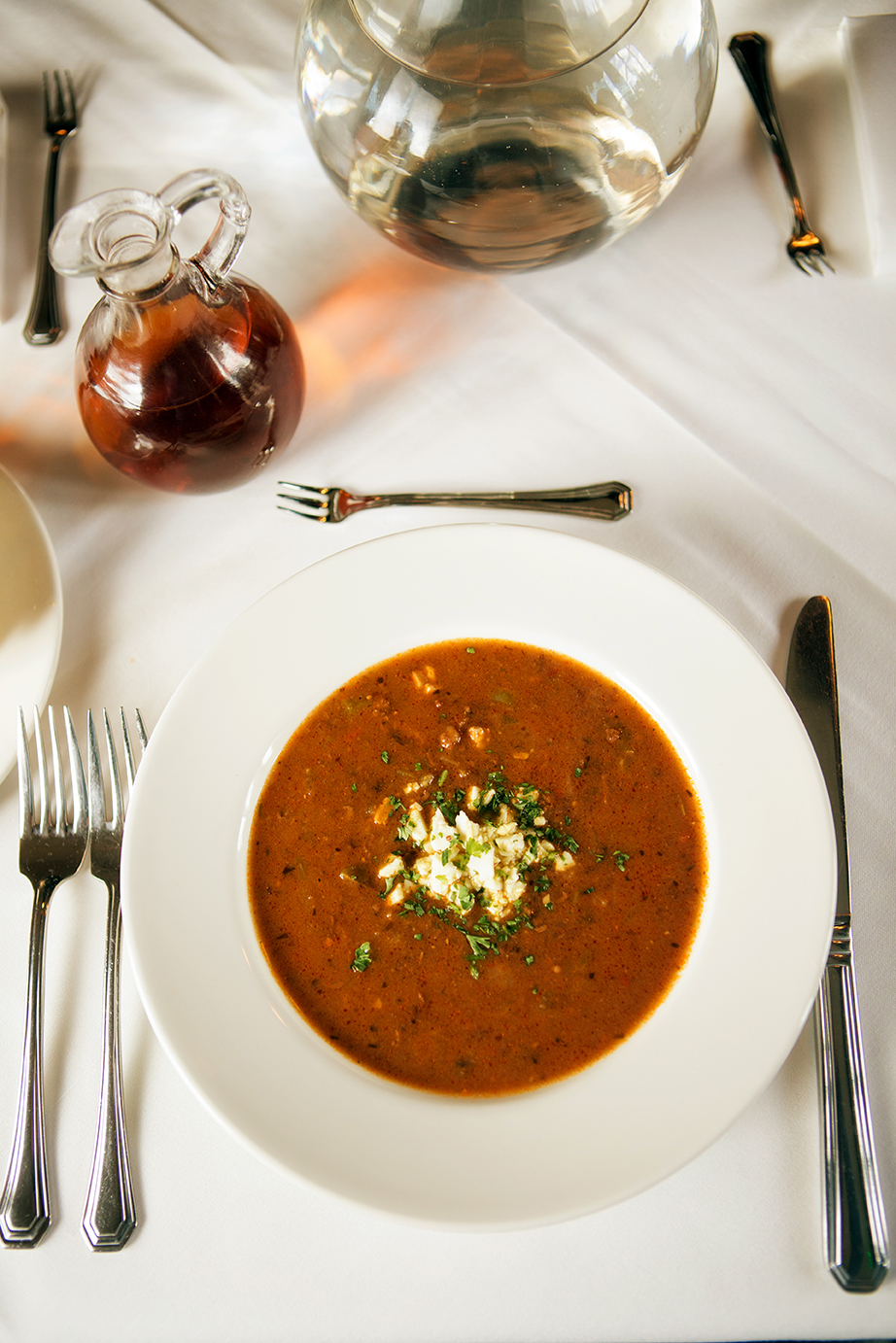 Turtle Soup
Galatoire's Bistro
galatoiresbistro.com
Galatoire's Bistro Executive Chef Kelley McCann and his team make as much as 32 gallons a week of turtle soup from a 100-year-old recipe. The main ingredient is fresh snapping turtle from a Houma farm. It's cleaned, ground and blended with a couple of rounds of secret spices. The mixture is combined with tomatoes, aromatic vegetables, dark roux and house-made veal stock. Set off by sherry, lemon and hard-boiled egg when served, it's a study in rustic sophistication.
Tell us about your favorite soups by commenting on this story below or on our Facebook page at facebook.com/225magazine.