In a home near Government Street that seems to span an entire block, Joey Tipton and Johanna Warwick roast and package small batches of coffee.
Brown paper bags stamped with the name of their growing brand, Pickle Block Roasters, can be found at shops like Tim's Garage and Studio C, and local events like White Light Night and Ogden Park Prowl.
First, to answer perhaps the most oft-asked question about the brand: Pickle Block Roasters does not make pickle-flavored coffee. The husband and wife micro-roasters have given their homes pickle nicknames since living in a former pickle factory years ago. Pickle Block nods to their current home, where their coffee-roasting pastime became a business in 2017.
Tipton, an independent contractor and adjunct professor at LSU, became interested in roasting in 2011. He learned about the process online back when he and Warwick lived in Boston. Warwick, a photography professor at LSU, wasn't a coffee drinker before meeting Tipton. But his interest soon became hers, too.
"We would roast it and be like, 'Oh, that tastes great!" says Warwick, referring to their earlier batches before Tipton began experimenting with different roasts. "Now, we'll do five or six roasts for each bean and taste the different flavors based on the different temperatures. It's more refined, knowing what we're looking for."
This spring, Tipton brought his fluid bed roaster—a small machine popular among small-batch roasters—outside to roast coffee in the couple's garden.
Each batch begins with a bag of green coffee beans from a wholesaler in California that specializes in farm-to-gate coffee. Similar to fair trade, farm-to-gate means the wholesaler meets with coffee farmers, chooses which farmers to work with and determines fair prices, Warwick says.
Every three months, Pickle Block Roasters orders 50 pounds of one kind of bean. "Once that's gone, we move on to another bean," Warwick says. 
This month's batch hails from Columbia. The beans smell sweet and grassy. Tipton attributes the scent to the soil and growing conditions the beans come up in.
"If you smell the green beans, there's typically a little bit of fruitiness to them, at least with the Central American coffees. You should taste that in the roast, too," he says. "Where it's from really affects how you should roast it." 
Pickle Block Roasters focuses on light to medium roasts that bring out fruit flavors, sweetness and chocolate notes. Tipton says most generic coffee has been roasted so long that the notes inherent in the beans are lost to the roasted flavor. He and Warwick choose the best roast for each type of bean, then roast the rest of the batch at that temperature.
The beans roast for eight to 12 minutes. Once finished, Tipton pours the beans into a stainless steel colander to sit before transferring them to a 5,000-milliliter glass beaker (holding about 21 cups).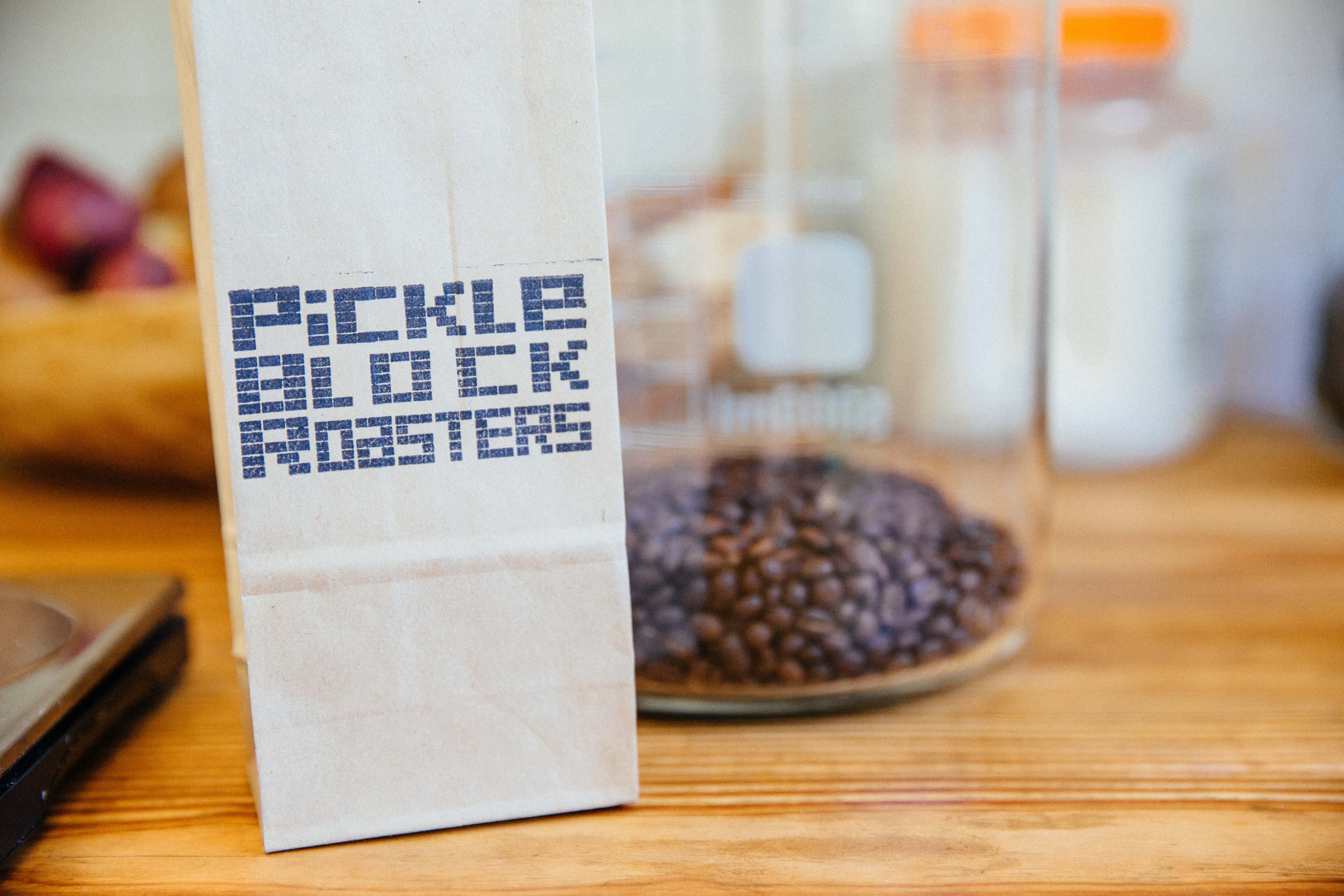 Warwick finishes the process inside their home, printing descriptions of the roast on brown paper bags and stamping the Pickle Block Roasters logo on the front. She bags the coffee in the kitchen.
Selling fresh coffee is one advantage of being a small, local operation. Though roasted coffee tastes best between three days to three weeks, Warwick says, most beans sit on store shelves for weeks to months. She and Tipton restock the shelves of  Tim's Garage with new batches about every three weeks. She encourages customers to place orders on their website so that she and Tipton can prepare the batches fresh for customers.
Pickle Block Roasters has produced 4 kinds of coffee, totaling 200 batches or 50 bags per bean.
"We have customers who follow along, so they're excited when a new bean comes," Warwick says. "It's nice that people want to support small businesses, and they appreciate how small batch this is and how fresh it is."