---
If you're one of those people who claim you can't have a garden because you don't have a yard, Kathryn K. Fontenot would say that's no excuse.
The LSU AgCenter horticulturalist's new book, The Louisiana Urban Gardener, A Beginner's Guide to Growing Vegetables and Herbs, places as much value on container gardening as it does on in-ground gardens or raised beds. "As long as the container can hold eight inches of soil," Fontenot writes, "you can grow a vegetable plant."
That sort of practical advice is strewn throughout the book, a readable, inspiring romp through growing popular seasonal vegetables and herbs in Louisiana. It's an effective primer for anyone eager to source local foods from their own backyard, balcony or windowsill.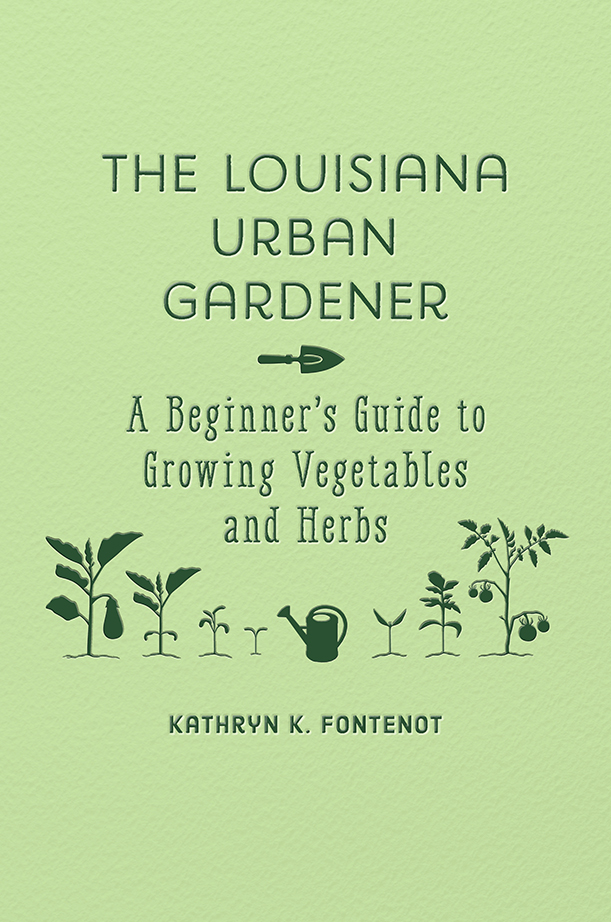 Fontenot is an experienced researcher, but she's honed a breezy style from years of advising schools and community groups around Louisiana about how to install and maintain public gardens. She's also a mother of two young children who like to get their hands in the dirt.
And while she has access to generous acreage at LSU AgCenter's Burden Museum and Gardens to study her research crops, Fontenot also knows what it's like to grow a personal garden in a tight space. In the process of working on the manuscript for the book, she and her husband moved twice, first leaving behind a house with a large yard for a temporary apartment with no yard at all. There, she had a chance to play around with pots like a layman and understand their small-scale appeal. Settled in their new home today, the family has a large garden, Fontenot says, but she still likes to keep several pots.
"They make the garden fun," she says.
The Louisiana Urban Gardener starts with the basics, including tips on establishing and maintaining good soil quality, spacing plants correctly and ensuring there's adequate sunlight and water. There are also tips on how to apply fertilizer and insecticides correctly.
"One of the biggest mistakes people make is not measuring," Fontenot says. "It's so important to use the correct amount."
The next part of the book explores how to grow and manage various vegetables, grouped by taxonomy. For example, a section on the Solanaceae family includes eggplant, Irish potatoes, peppers and tomatoes. Each vegetable gets its own list of detailed, easy-to-read strategies on how and when to plant and how to troubleshoot issues like pests and yellowing foliage. If you're wondering if it's OK to plunk another round of peppers and tomatoes in the dirt this month, Fontenot assures you in this section that it is.
Fontenot first learned about plants while working part time at a Fort Worth, Texas, nursery as a teenager. She moved to Baton Rouge to attend LSU, majoring in psychology. Plants were the furthest thing from her mind until she took a horticulture class for fun.
"A friend told me to take it because the class included getting your own garden plot," she says. "I just loved it. That was it."
She was hooked enough to change her career path, staying at the university to complete a master's degree and Ph.D. in horticulture, ultimately landing a job at the AgCenter. When she's not researching, Fontenot often delivers workshops on gardening topics around town. In fact, those workshops fueled the idea to write a practical, hands-on book about urban gardening.
"It's so much fun, and it's really so much easier than people think," Fontenot says. "Everyone should try it."
---
This article was originally published in the August 2017 issue of 225 Magazine.