I remember the El Magey location fondly from my childhood—as a Chinese buffet. Nestled at the foot of an overpass on Siegen Lane, my family used to have weekend dinners of sweet and sour chicken and egg drop soup there before it changed hands a few times and eventually became what it is now: the only Mexican buffet in town.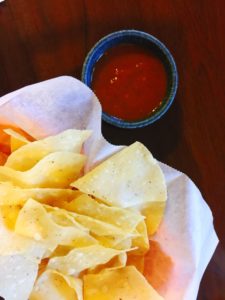 While researching international cuisine in Baton Rouge, I found myself returning to this oft-overlooked location. The driveway is situated in a way that makes it a little scary to turn into from Siegen, so I hadn't been back in years. But all-you-can-eat Mexican food? Worth a little black-diamond driving.
At approach, it's got the first promising sign of good Mexican food: a Mexican grocery next door. Once you're seated, the complimentary chips and salsa delivers on that promise with dreamily paper-thin chips and fresh salsa. Then, the moment of truth. Time to grab your first (of many) plates.
And this is the beauty of a Mexican buffet, especially one like El Magey, which includes plenty Mexican and Tex-Mex favorites. You can try out a little of everything without having to commit to a lot of one thing.
My first plate was stacked with a beef chimichanga doused in white queso, sweet and tangy barbecue chicken, rolled taquitos, chicken enchiladas in a kicky salsa verde, rice and beans and a build-your-own crispy taco with carne molida. Then came a pork tamale. And shrimp fajitas. And stuffed, fried crab in the shell. And then a dessert plate of tres leches, flan, sopapillas and fresh fruit.
For a weekday lunch, it's about $11 to eat until you physically can't anymore—not a bad deal, considering the sheer quantity and quality of the food here. If you're in need of a filling, casual lunch, it's worth a detour off Siegen.
El Magey is at 8290 Siegen Lane. Check the website for buffet hours and a full menu.