I remember the El Magey location fondly from my childhood—as a Chinese buffet. Nestled at the foot of an overpass on Siegen Lane, my family used to have weekend dinners of sweet and sour chicken and egg drop soup there before it changed hands a few times and eventually became what it is now: the only Mexican buffet in town.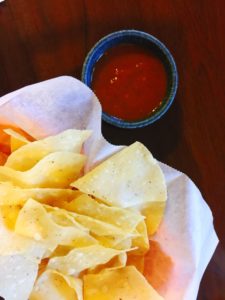 While researching international cuisine in Baton Rouge, I found myself returning to this oft-overlooked location. The driveway is situated in a way that makes it a little scary to turn into from Siegen, so I hadn't been back in years. But all-you-can-eat Mexican food? Worth a little black-diamond driving.
At approach, it's got the first promising sign of good Mexican food: a Mexican grocery next door. Once you're seated, the complimentary chips and salsa delivers on that promise with dreamily paper-thin chips and fresh salsa. Then, the moment of truth. Time to grab your first (of many) plates.