---
About 225's food critic: Benjamin Leger previously served as managing editor for 225 and was the editor of its Taste section from 2012 to 2021, editing, writing and steering the direction of its food coverage in print and online. He is passionate about all things food and food journalism, and has written about the greater Baton Rouge area's cuisine and culture for nearly two decades.

THE BASICS: City Pork took over the former Adrian's Restaurant and Bar near Alexander's Highland Market in summer 2021. Its parent restaurant group, City Group Hospitality, kept its spacious interior mostly the same while providing south Baton Rouge with many of the menu favorites found at its sister location on Jefferson Highway.
WHAT'S A MUST: Grab a brunch cocktail to start and snack on the Salmon Saltine, with house-smoked flaky salmon and crispy, lavash-like crackers. Try the Wild Boar Chile Relleno entree, stuffed with boudin rice and shredded wild boar meat. The Cochon de Lait Benedict offers up a pulled pork-centric take on the classic brunch dish using a thick slice of Texas toast as the base.

The City Pork name has long been tied to expertly prepared meats. From its humble beginnings in 2013 as a deli and lunch spot under the Perkins Road overpass slinging pig-centric sandwiches, to its full-service restaurant on Jefferson Highway a few years later, and to offshoots from its parent group like City Slice and a catering arm, we all know to trust City Pork with a hearty sandwich, some ribs or barbecue, even a meaty pizza.
But how about brunch?
I joined a few friends at the City Pork location off Highland and Perkins one Saturday morning, ready to see how the brand's meat-forward minds translate brunch classics.
We arrived just as the restaurant opened its doors and were quickly ushered past its stylish bar area and to a table near sunny windows as the place began filling up with groups of families and friends.
We browsed the sizable brunch menu and decided to forego cocktails (one too many drinks may have been consumed the night before). But I know from past experience that City Pork makes a mean and spicy bloody mary, a bacon-topped old fashioned and a variety of other crafty drinks.
My table, on the other hand, really needed something to snack on. Enter the Salmon Saltine, which also appears on the regular menu but seemed designed for a brunch spread.
A rustic cutting board held all the components: flaky house-smoked salmon, a relish of capers and sundried tomatoes, thinly sliced red onions and avocado, a bowl of dill aioli and large shards of crisp lavash-like crackers.
It was basically City Pork's version of lox and bagels, and it pleasantly surprised our whole group. Even the one of us who usually avoids seafood couldn't get enough of the salty, smoke-kissed chunks of salmon, and the crackers held up firmly to all the fixings. My only quibble—and it's a minor one—was the dill aioli's sweetness and gloopy texture, but I was otherwise in heaven with this appetizer.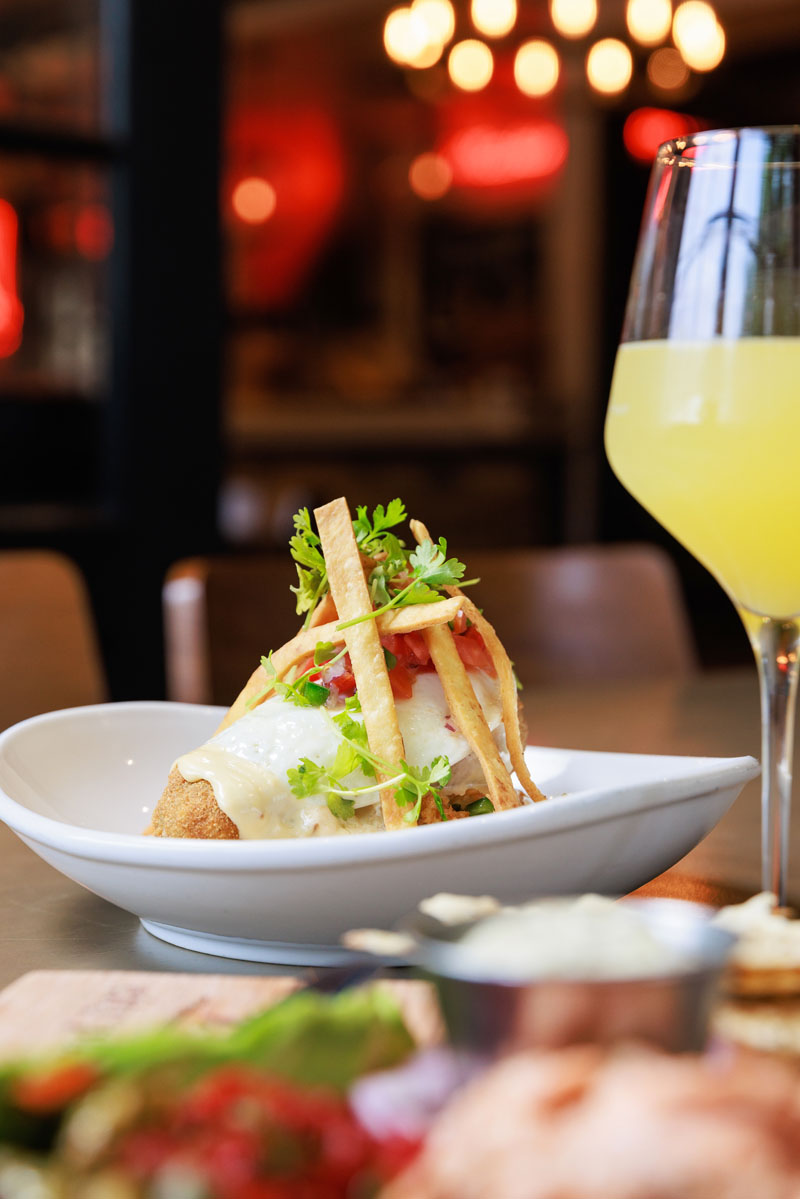 Next up, entrees. We ordered the Wild Boar Chile Relleno, the Cochon de Lait Benedict and—for something a little lighter—the Shrimp Sensation Salad.
The Chile Relleno was enormous. A battered and fried poblano was practically overflowing with boudin rice and shredded wild boar meat, while on top was a flawless sunny-side-up egg and cheese sauce. Long and crispy tortilla strips added some extra crunch, though the sprinkling of pico de gallo (barely a spoonful) seemed almost an afterthought.
We all remarked at the robust, sweet flavor of the meat filling. It was also very tender and not gamey at all. Even after everyone dug in, there was still plenty to take home.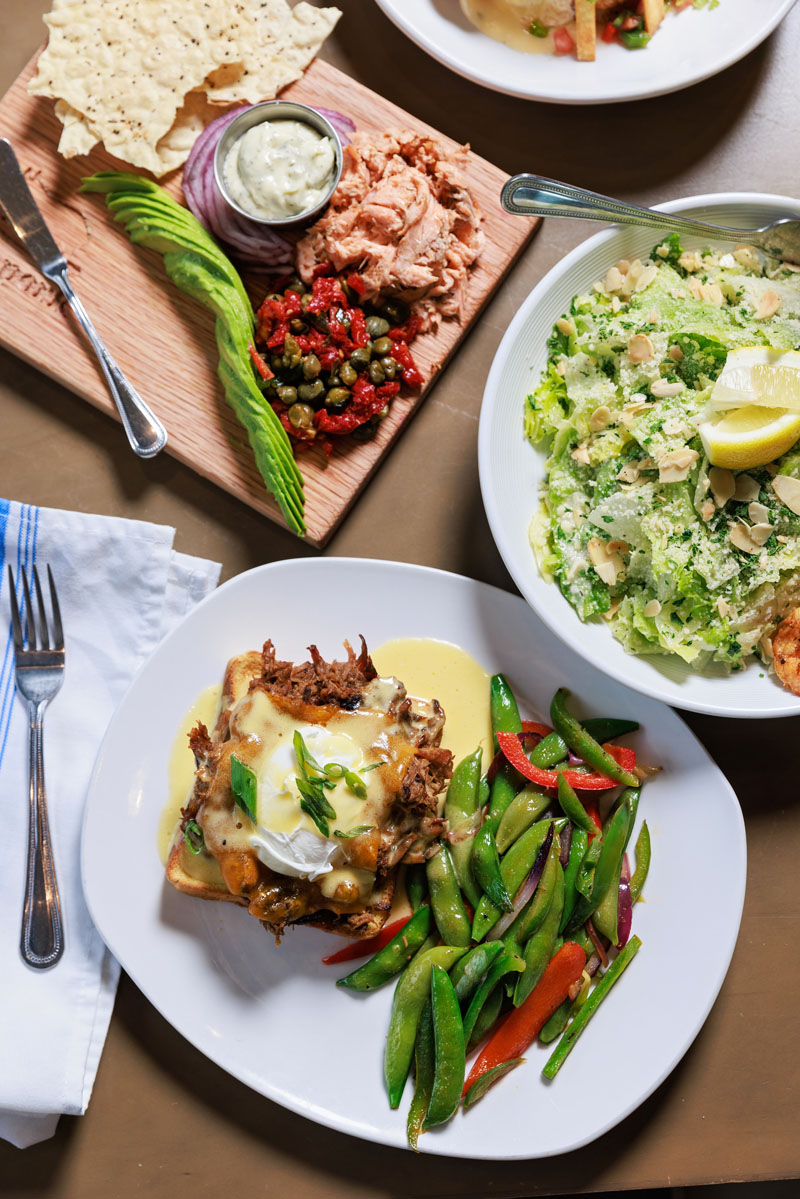 The Cochon de Lait Benedict, though, was probably the best example of how City Pork does brunch: flavorful pulled pork, applewood smoked cheddar and a poached egg atop one extra-thick slice of Texas toast. Everything was drenched in a zesty hollandaise sauce that made this an easy dish to devour. The large side of sliced peppers, onions and green beans contributed color and crunch, but needed more seasoning and less oil.
We tried to counterbalance these heavy dishes with the Shrimp Sensation Salad. But the plate that came out was possibly the biggest on our table. Atop a mound of roughly chopped iceberg lettuce sat five giant tail-on grilled shrimp, slices of almond and two big wedges of lemon. Romano cheese and chopped parsley finished it off.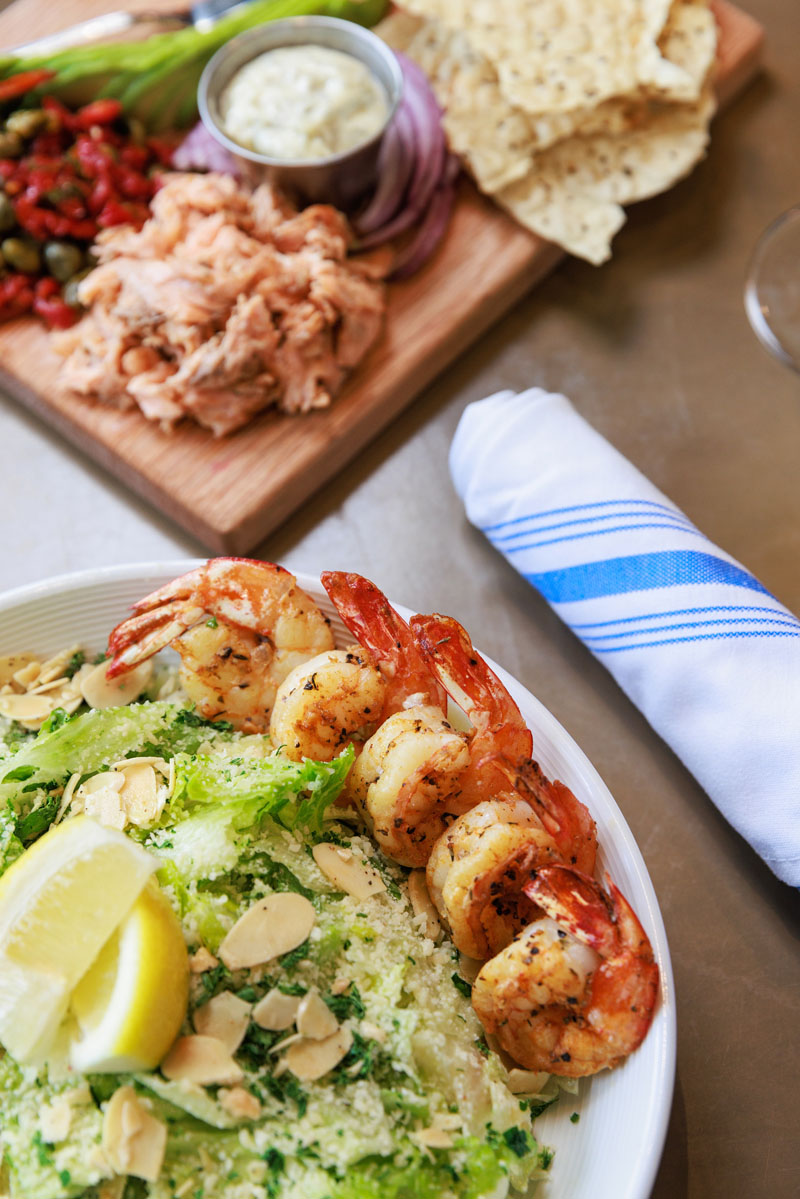 The shrimp were expertly grilled and tasty, but this salad was the meal's one big misstep. Sensation salad is a Baton Rouge classic, much loved for its acidic and garlicky notes. This version was, confusingly, missing that punch and flavor.
We determined it was either underdressed or the components were meant to be mixed in on your own. But the dish was overflowing with lettuce, making it difficult to mix without making a mess on the table. I gobbled up the shrimp and only picked at the rest of the salad.
Three out of four isn't too shabby, though. And City Pork has long earned the trust of Baton Rouge diners for delicious dishes that have become local classics in their own right.
My table left full and with that special satisfaction that follows a good, long brunch.
Among the many things City Pork does right, brunch is clearly right up there.

Monday-Thursday, 11 a.m.-9 p.m.
Friday, 11 a.m.-10 p.m.
Saturday, 10:30 a.m.-10 p.m.
Sunday, 10:30 a.m.-8 p.m.
Brunch, Saturday and Sunday, 10:30 a.m.-3 p.m.
Highland at Perkins location: 18143 Perkins Road E.
---
This article was originally published in the May 2023 issue of 225 magazine.