Something about a meticulously manicured, subdued stretch of lawn indistinguishable from an emerald, unruffled guestroom carpet feels complementary to the two-car garage and the white picket fence, a pre-packaged deal buried in the great collective consciousness at the caramel center of the American Dream, like that loaf of bread laid for bedrock in the bottom depths of your deep freezer—it's never thought about all that much (and, frankly, your hands start to sting if you dig for too long), but it's always there with its promises of a pristine sheen that'll whisper when the wind whips through every uniform blade, "You're home."
But all dreams come at a cost, and in the case of the classic green grass and weed-free flowerbed suburban plot, those costs are all too familiar: time and sweat equity (maybe even a little cursing that Karen next door can overhear), significant financial commitment, environmental apathy and—according to increasingly detailed studies—the really fun one, chemical exposure.
The founders of the landscape firm Swamp Fly call these "wounded gardens."
Since the spring of 2020, Swamp Fly has worked tirelessly toward healing, making local properties even more local, and indeed wilder, both aesthetically and actually, by sidestepping fertilizers, pesticides and herbicides, and focusing on native plants and inventive, sustainable designs through a variety of gardening, land management and green infrastructure projects throughout Baton Rouge and New Orleans and across South Louisiana.
As the "kill your lawn" movement that Megan Garber unwittingly launched in 2015 with her California drought-sparked, Tom Selleck-starring feature for The Atlantic has begun stretching beyond far crunchier cities like Boulder and Austin, it's hard not to look upon the Louisiana-born women behind Swamp Fly as our local guides through what could be the next continental shift in the very language of the landscapes that most immediately surround us at home.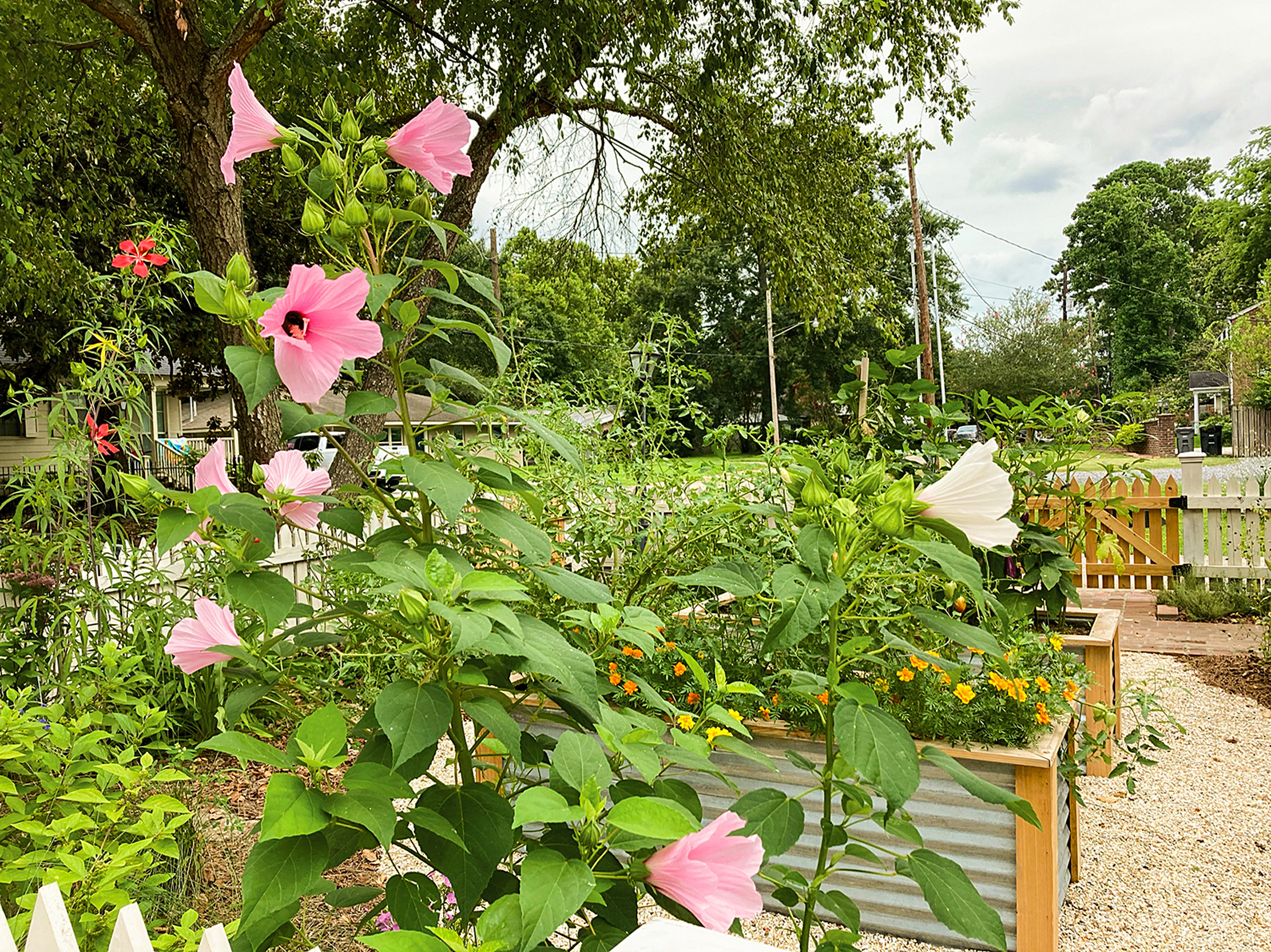 While discussing her initial inspiration for Swamp Fly in early April, co-founder Ashlee Brackeen decries the current visuals on the firm's website with a knowing laugh. All three owners manage a slate of projects, start to finish, plus marketing and a small team of additional garden hands—"It's been a ton of smaller plant installs lately, but most of our planning is going into much larger projects in the next couple months, just getting into the swing of spring," Brackeen adds—though when a web redesign does come, one essential quote is sure to remain: "We are dreaming of a time when the land might give thanks for the people."
Author, professor and lauded environmentalist Robin Wall Kimmerer wrote that, and she often calls nature-focused landscapes not a progressive revolution of thought, but a restoration of lost knowledge.
Swamp Fly co-founder Caitlin Robbins echoes this while digging deep with clients, often underlining the importance of human connection to our environment. "I think planting perennials versus annuals is a kind of first step into this," Robbins says. "And it's more rewarding to learn about the plants in your garden and watch them become stronger every year."
It's this sincere acknowledgment of nature that first drew the third Swamp Fly co-founder, Emily Pontiff, to the team after the long-time friends worked on a community garden together.
"A lot of people are finally wising up that our coast in Louisiana is truly deteriorating, and I think getting more people to engage as part of this ecosystem is really important," Pontiff says, walking the winding gravel path outside the Department of Wildlife and Fisheries and through the Louisiana Native Plant Gardens, a teeming tuft of hilly greenspace with palmettos and coneflowers and dozens of other species, rewilded and maintained by Swamp Fly like an island in a flat concrete sea. "Once you have a sense of place, once you feel that, you don't lose it. You don't forget."
Unlike satellite imagery's proof of our collapsing coast, a homeowner's immediate environment could be deteriorating without her even knowing it.
According to the Environmental Protection Agency, harmful lawn chemicals, some containing carcinogens, can be absorbed through the skin, swallowed or inhaled and can drift and settle on anything nearby like toys, balls, pools and outdoor furniture. The use of lawn chemicals accounts for the majority of wildlife poisonings reported, and when stormwater runoff carries these chemicals into lakes and streams, insects and fish are harmed or killed, causing disruptions to the food chain.
As Swamp Fly grows its client base and gains a community among environmentalists and other natural gardeners across the state, they plan to operate their own nursery to vastly supplement the plants they are currently able to grow at their homes and source locally.
Until that expansion, it's a lot of flexibility and hustle between cities and sources. This is how you know the firm has been busy: recently, Brackeen pulled her car over to the side of a New Orleans street to admire a natural yard when she suddenly realized it was a past Swamp Fly project.
"I thought, I can't believe I forgot about this, and I loved how well it had come into its own,'" Brackeen recalls. "Because we had planted a lot of it from seed and it had grown so well. It was so beautiful, I was staring, and all over again I became proud of what Swamp Fly is doing."
Often, that charge is to give people a vision, a miniature retreat, or a place for contemplation and meditation, at their home. Inspired in part by Japanese gardens that create "scenes" with specific moods, Swamp Fly considers height, texture and seasonality in an intricately maximalist way.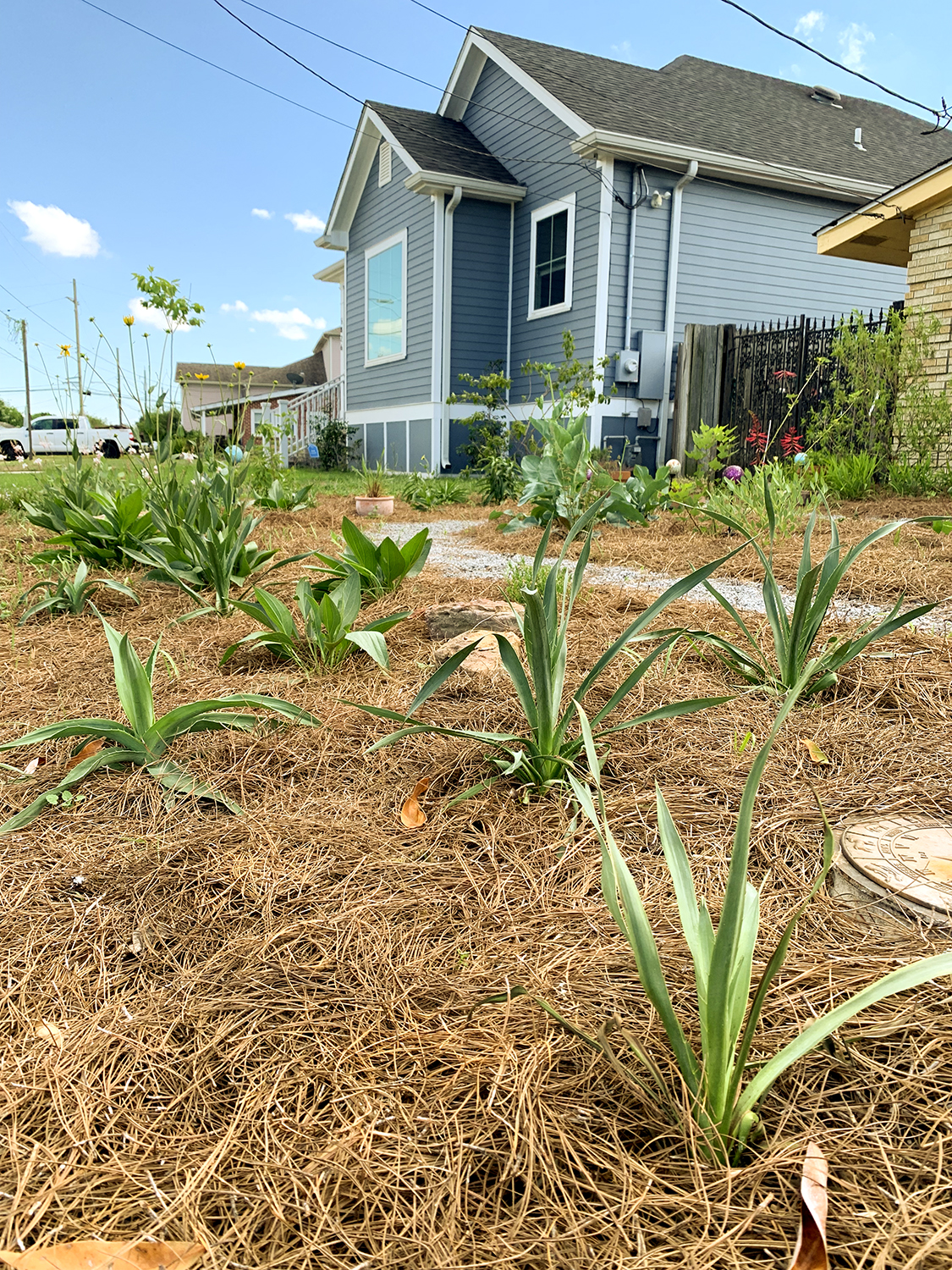 "Native plants can still have a formal garden feel to them," Robbins says. "Not everything has to be totally wild looking. The important thing is sustainability."
Variety, too, is key for the relatively small-scale canvas of a residential patch of ground, though. Robbins describes their eclecticism as intentional and essential, as it is eco-friendly and regionally specific. "Understanding bloom colors, how plants will look next to one another, and basically envisioning it all at least a couple years down the line is so important," she says.
With sharp angles and loads of one-and-done annual plants, more typical and sterile gardens can be colorful reminders of modernity rather than escapes from it. "But gardens can be a retreat from the stress of daily life," Brackeen says. "To just sit in a natural space and enjoy the wild beauty? That's special."
Beyond creating evocative visuals in unique outdoor spaces that naturally evolve through the seasons—with different "stunners," as Brackeen calls them, coming out to play at different times—Swamp Fly ensures each design or rewilding project is centered on the land itself and its many inhabitants, a focus they believe will pay dividends for generations.
"We're trying to be as scientific as possible about every decision, which is quite a feat," Brackeen says. "Our native plants are inviting pollinators and creating a genuine habitat. And that's healthier for the soil and the water, healthier for animals and insects, and healthier for us."
---
Benevolent blooms
Native plants offer a variety of benefits to humans, wildlife and the Earth itself, according to the U.S. Forest Service: They provide shelter and food for wildlife, they don't need fertilizer, they require less water, and they promote biodiversity. These native plant species are all found in Swamp Fly's garden at the Louisiana Department of Wildlife and Fisheries.
---
This story originally appeared in inRegister. To keep up with inRegister, subscribe to the free [email protected] e-newsletter here.