If you're ever a guest at Michelle Neustrom's home and end up using her bathroom, you won't be hard-pressed to find good reading material—it's all over the walls.
Neustrom had dreamt of Mod Podging her bathroom walls with tear sheets ever since she was a child, when she remembers seeing a similar treatment at a family friend's home.
"The hardest part was deciding which [side of the] pages I was gonna show," she says. "Because for the rest of their lives, the other side will be glued to the wall."
Neustrom, a font-fanatic book designer at LSU Press, used an X-Acto knife to cut out spreads from a 1940s type specimen book, Lettering from A to Z. She married them to the walls with wallpaper adhesive. The whole process took a day and a half, but the pristine finish showcasing the stunning typography spreads made the time worth it.
"I really love fonts," Neustrom says. "They have a personality and a soul—there's always a story behind them."
This love of objects with soulful backstories manifests throughout her entire four-bedroom, two-and-a-half bathroom Woodland Ridge home, which she shares with her underwriter husband, Ryan, and their calico cat, Minou.
"I always prefer something that has a history and isn't just particle board from some big-box store," she says.
Her unique possessions range from a vintage English rotary phone her husband ordered from eBay as a Christmas present ("It doesn't work at all, but I always loved putting my finger in the dial to make it go round," she says) to a 1960s Ice-O-Matic ice crusher she unearthed in her grandmother's garage.
The items from her grandmother's home are among Neustrom's most treasured. Her grandmother died suddenly from a stroke at the age of 82, shortly after evacuating Slidell following Hurricane Katrina. Neustrom's family sorted through her belongings and her garage full of antique and vintage gems. Neustrom found a china cabinet, but it had an unappealing greenish-yellow finish.
"After my mom helped me sand it down and paint it matte black, it looked completely different. It's a piece of my grandmother, too. It was something that no one wanted, but with a little paint and love, it's become my favorite," she says.
But not all of her pieces have a past. As a self-proclaimed lover of the bargain hunt, Neustrom also has a soft spot for a certain Swedish design behemoth.
"Our white $399 Ektorp Ikea couch certainly didn't start out with a story, but it's traveled with me through many, many moves," she says. "Now it's got one."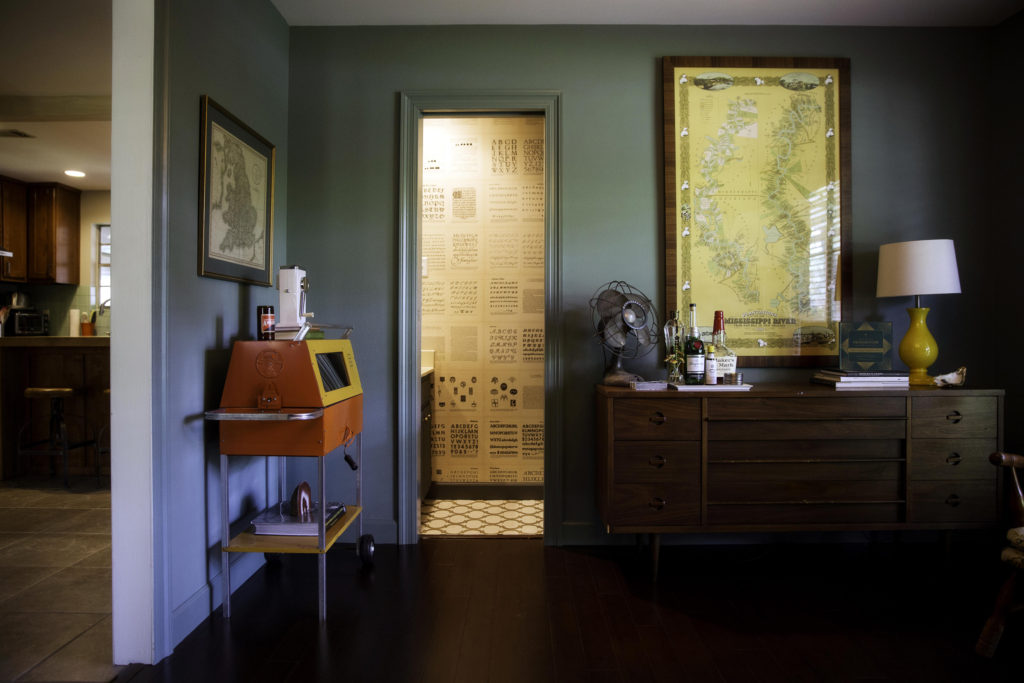 Down the river. Neustrom won a vintage map of the Mississippi River at a high school's silent auction for about $200.
Mid-century modern. Her step-dad's mid-century-modern dresser still shows a glaring burn mark from an unattended candle. She'll never be able to get rid of the mark, but that's OK. "I don't care," she says. "It has a history."
Animal behavior. A papier-mâché rhino head hangs above the fireplace in the back living room. It was made in Haiti from repurposed cement bags covered with book pages. Neustrom found it at Anthropologie.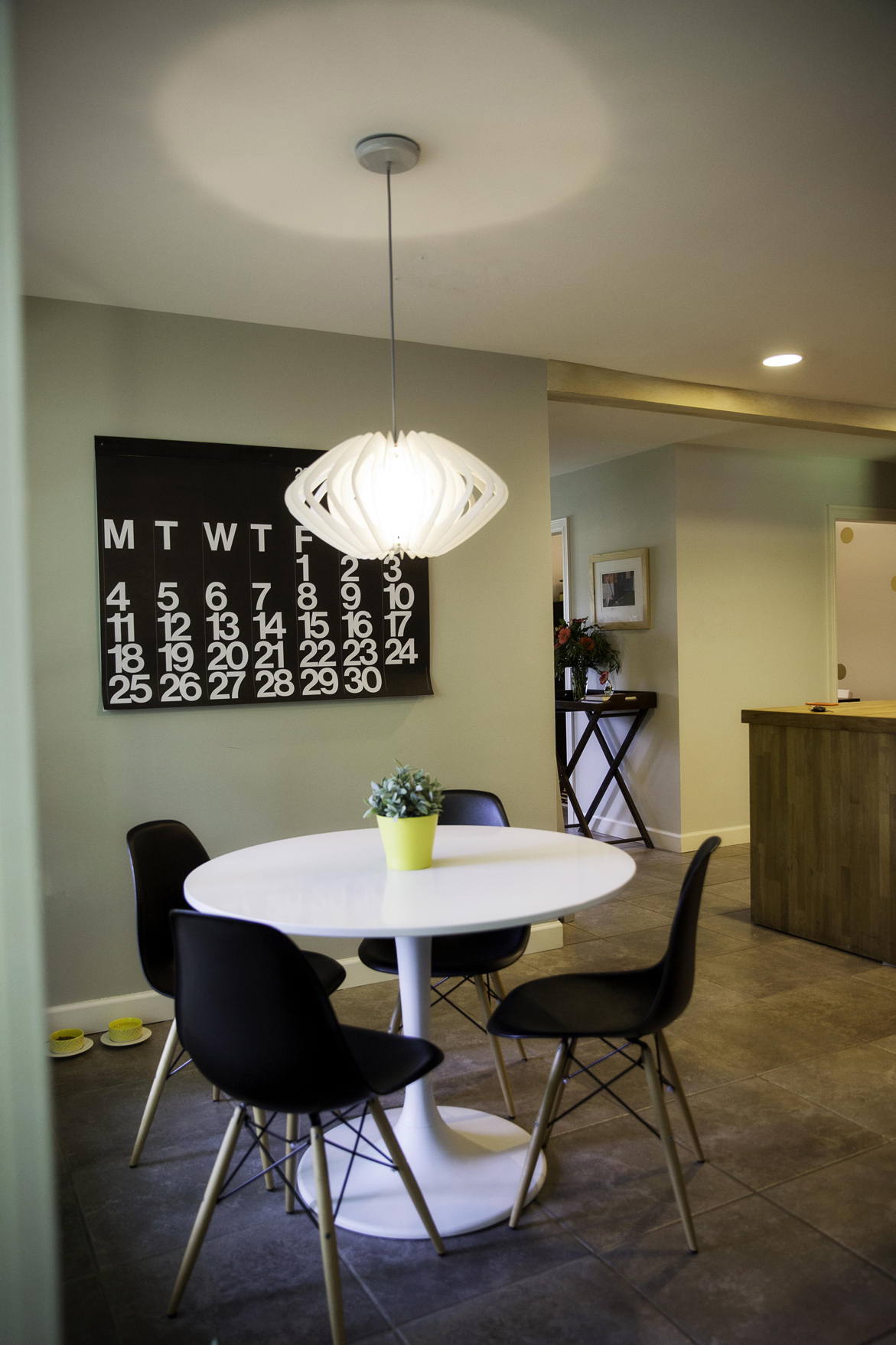 Days of our lives. A giant, black and white wall calendar hangs behind her dining table. "I hope I get a Stendig calendar every year for the rest of my life—they usually sell out," Neustrom says. "I always want it to be somewhere in my space."