---
Dr. Curtis Chastain lives with royalty—the kind who indulges in treats from her loyal subjects and catches any Frisbees thrown her way.
Yes, the internal medicine doctor's 3-year-old Australian shepherd, Emmie, is the queen of his house and his heart. And she expanded her reign last year when she was named the Companion Animal Alliance's FurBall Queen.
The FurBall Court of about 12 pups is nominated by the community. Royal titles, from King and Queen to Lord and Lady, are dished out based on the amount of awareness and funds they helped CAA raise in the months leading up to the event and on the big night.
To win the coveted top dog title, Emmie wowed donors with her Frisbee tricks and adorable face and helped Chastain reel in over $22,000 for CAA.
Chastain learned about CAA and its mission to help stray and surrendered pets just last year through Michael Hackett, a friend who approached Chastain about participating in the FurBall. Though he's from Baton Rouge, Chastain admits that he had never heard of the shelter, which he believes may be the case for others in the community.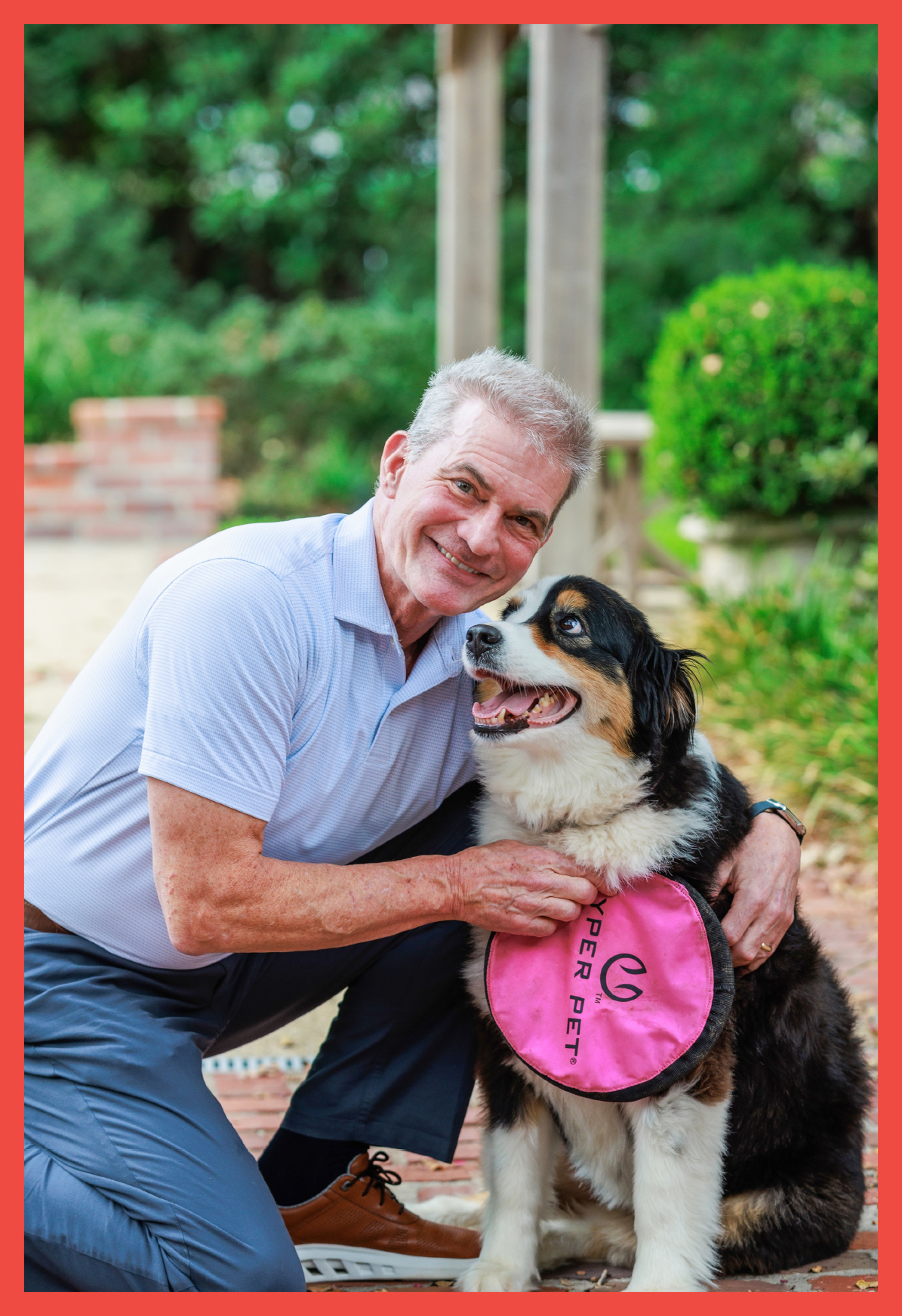 "All it took was a trip to CAA," he says. "I'd never been there. … It's so well-kept. It's clean. The people who work there are all volunteers. These animals are great-looking animals, but they just need a home. And, I said, 'Okay, I'm in. I'll do it.'"
The loving dog owner admits the decision to add the now-beloved Emmie to the family wasn't quite as immediate.
While grieving the death of his first Australian shepherd, Ellie, Chastain found himself looking through listings from her same breeder, and saw one for a new bunch of Aussie pups. So, Chastain and his wife, Chanel, hesitantly decided to go meet them.
At the encounter, one tiny dog wouldn't stop following Chanel around, and they knew they had to take her home. When contemplating what to call her, Emmie—a name strikingly close to Ellie—fit her perfectly.
"We've never had a dog grow on us like Emmie," he says. "If I love this dog this much, it just makes me more aware of how important it is for other dogs to be loved right now."
Though Emmie is technically a queen, Chastain says she's not totally aware of her title. He says she's just content with catching her pink Frisbee, splashing in the pool and taking weekend fishing trips with her pet parents.
The FurBall has had a lasting impact for Chastain, though. He says he's not done advocating for CAA's cause and encourages other animal lovers to help out in any way they can.
"It doesn't matter how much money you donate," he says. "But collectively, we as a community can do that to protect these beautiful animals and keep them from a death that nobody would want their animal to have." furballbr.org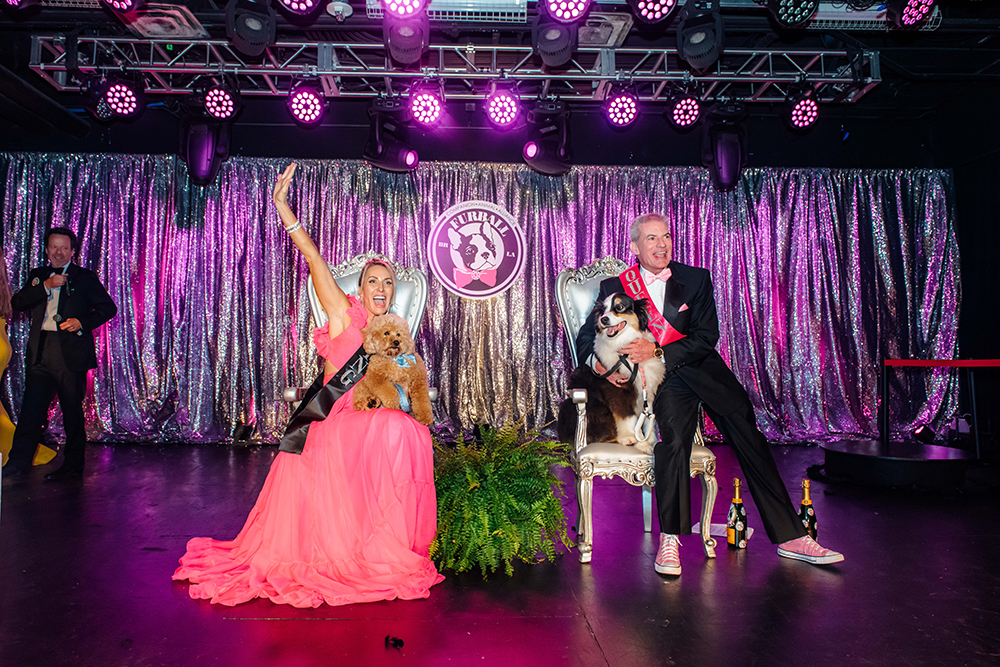 Stepping out
Stray pets and shelter animals are always in need of funds to help with supplies, food and care. Though there are small events and supply drives held year round, here are some annual fundraisers for local animal shelters around Baton Rouge—and what they benefit.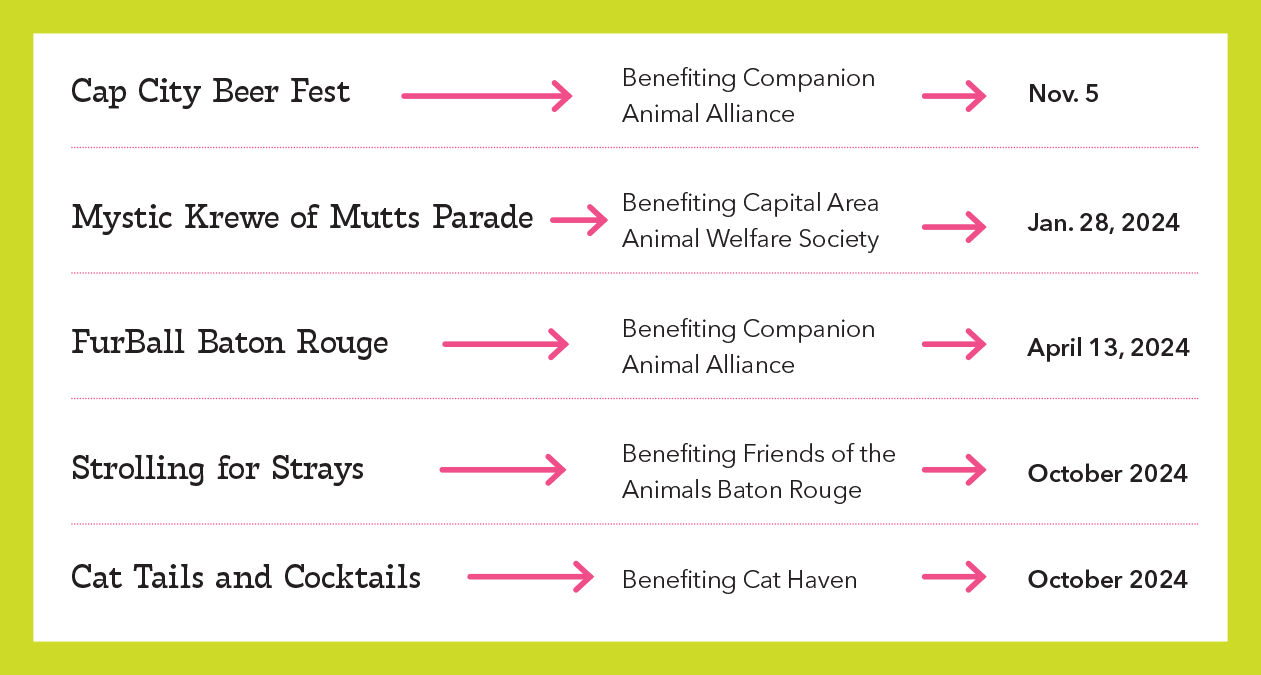 ---
This article was originally published in the November 2023 issue of 225 magazine.